Remote-Controlled Vibrator
Admit it: Girls masturbate too. Maybe you've been single for too long, or the BF's out of town, or just because you feel like it, dammit. It's normal, every girl has sexual desires.
Some girls' desires are more niche, and can't be fulfilled with just their fingers or regular sex toys. They want erotic literature, exhibitionism, or to have their sexual pleasure controlled by a partner.
In a bold attempt to satisfy all these desires at once, a local startup created Vibease, the "world's first wearable smart vibrator".
What Vibease Is
Retailing at S$119, Vibease is a small silicone vibrator. You can use on its own, or control the toy via remote when you sync it to the accompanying iPhone or Android app.
The Vibease app includes an audiobook library, which includes everything from raunchy erotica to the soothing sound of crashing waves. When synced, the vibrator makes a specialised sequence of vibrations, pulsating in time to what you're listening to.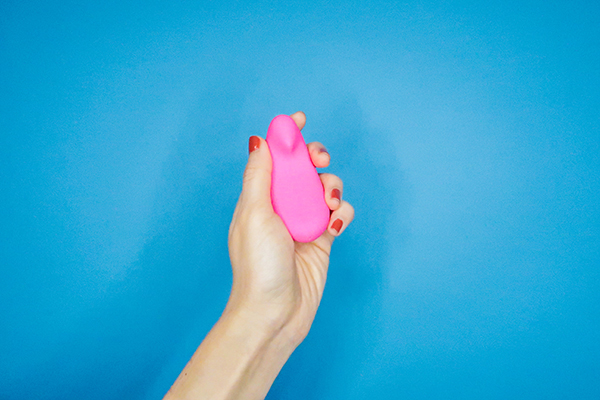 You can even have it buzz to music, set custom vibration settings, and record your own voice to get off to (if that's what you're into).
But the feature I was most looking forward to trying was the remote control. Created to help LDR couples have sexy time, the app lets your partner take control of your vibrator.
First impressions + Testing the vibrator alone
Unlike chunkier external stimulators on the market, Vibease was a cute lightweight toy which fit in the palm of my hand.
I liked how the curved shape fits nicely over my lady bits, with the main pleasure point right on the clit. Also, I could wear it comfortably under clothes, and even walk, run and jump around.
The vibrator has five vibration settings, each with different intensities and pulsing patterns. I found the first two settings too gentle for my liking, but the rest got me well aroused. My favourite was the third one, which had a steady throbbing rhythm.
While I was plenty satisfied, I decided to go for Round 2 using the audiobook feature.
A man with a deep, sexy British accent read a lit erotica about wanting his wife (me, apparently) to miss work and have sex with him. As the fantasy heated up, the pulsing got more intense. While I did get a kick out of it, I didn't find myself climaxing by the end of the story.
It could be because the scenarios were unrelatable and took the realism out of it, so I couldn't stay in the moment and focus on the pleasure. Left high and dry, I called up my boyfriend to initiate Phase 3.
Letting my boyfriend take control
After giving access to the vibrator through the app, he was able to control the toy's speed, strength, and choose from eleven different pulses.
The vibrations alone were amazing, but combined with the idea of my partner having full control over my orgasms? So hot.
Even though I'm not high-key into BDSM, I know I'm a total sub. Something about surrendering myself completely was a huge turn-on. So naturally, the remote control worked wonders.
I tried inserting the vibrator, but the curved shape made it difficult. But being an external-stimulation kind of gal, this didn't bother me. And while I could use the toy comfortably hands-free, I still preferred holding it down on my clit as it made the vibration more intense.
Since my boyfriend wasn't present to gauge my reaction, he was initially pressing buttons in a random order, before I realised I could use the app's chat function to give feedback. And once we found the jackpot combination, I experienced true bliss. Twice.
The only issue I had was the one-sided nature of it, especially if we're both after some long-distance lovin'. Though the app allows two-way Vibease control for lesbian couples, all I could offer my guy was Snapchat videos.
Vibing With Vibease
Overall, I liked the remote control feature best. (And by best, I mean a lot.) And though the vibrations were good for me, you'd probably want to pair it with a dildo if you need internal stimulation.
I also liked how the vibrator is almost noiseless and can be discreetly worn under clothes. Maybe next time around, I'll take it out for a spin in public and have my partner tease me to hell and back. Spicy!
Also read: