How To Rent In Singapore
In 2019, I evolved into a ~full-fledged~ adult by moving out of my childhood home. That's right, at 25, ya gurl puts the roof over her own head and gets her own bread.
If you're considering having your own space, here's a guide on how to rent in Singapore as a single millennial—including choosing a house, having roommates (or not), figuring out your budget and what the tenancy agreement should entail.
This is part 1 of a 2-part article on what to expect when you rent a house in Singapore. Part 1 covers how to choose a place and what to look out for when signing the lease.
Living alone, with friends or a landlord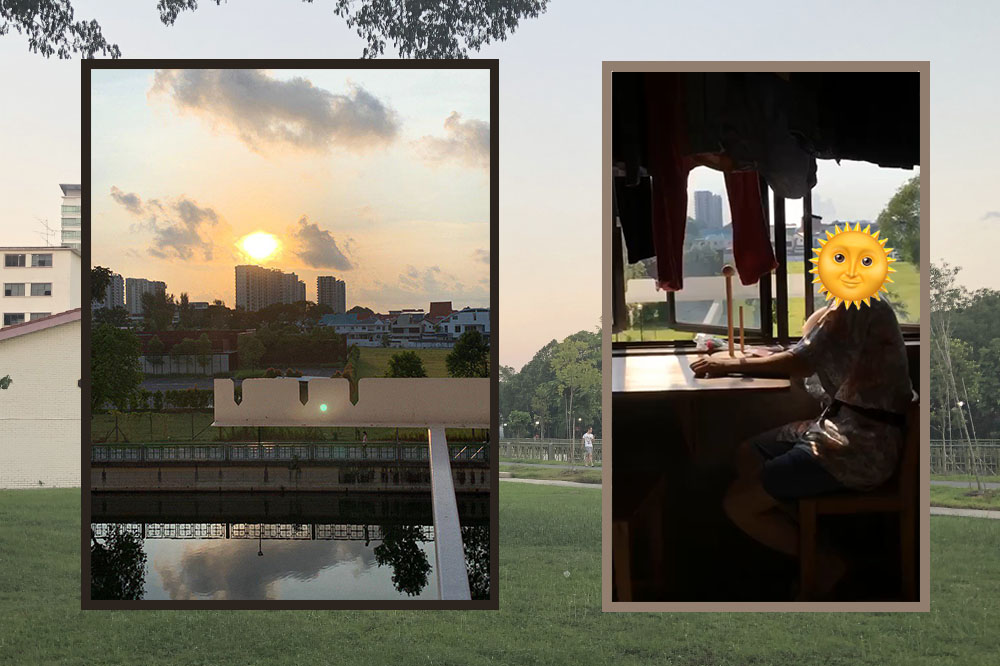 View from my kitchen window feat. my housemate enjoying the sunshine
The first step of moving out is deciding what you want from your new space. I wanted to have privacy, a comfortable living space and the ability to host friends for dinner. Studio apartments were way out of my budget; choosing to live with a landlord or strangers would mean I'd probably spend most of the time confined in my room.
So, co-living with friends made sense. Currently, I live with my best friend and her boyfriend in a four-bedroom HDB flat. The third bedroom's wall was knocked down so we have two usable bedrooms and a gigantic living room to do the mad hangz in.
The only downside is you have to consistently make the effort to communicate, compromise on household chores and be nice to one another; if not, the friendship is over.
Choosing a good location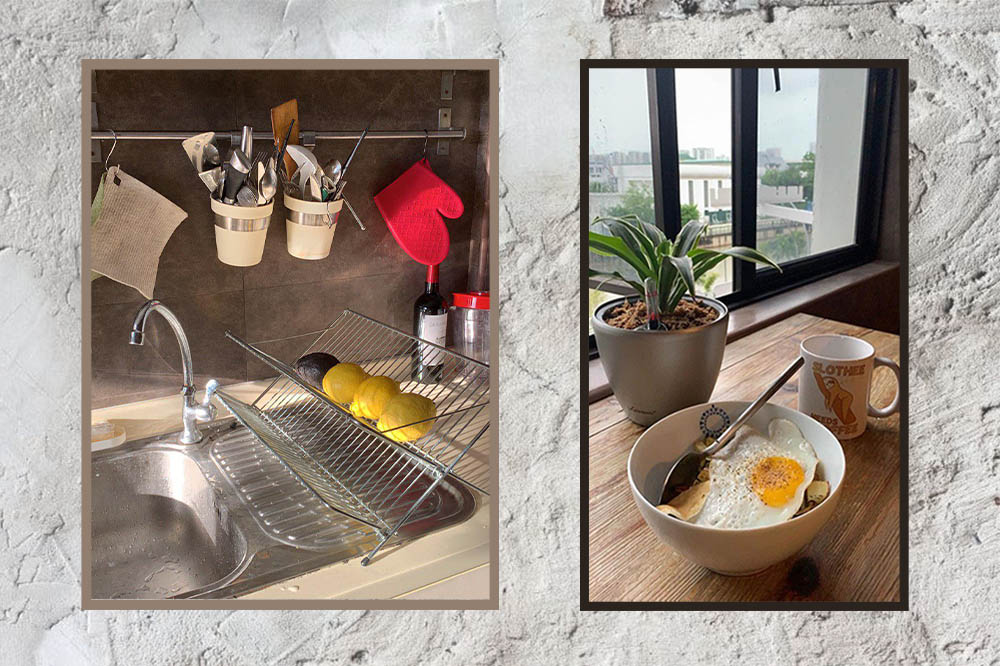 Nothing screams "unable to buy a house" louder than purchasing avocados for breakfast
Choose a location according to your needs; there is no such thing as a 'best' area to live.
For my housemates and I, our apartment requirements were:
– Large communal living area (so we can hang outside our rooms)
– Maximum 10-minute walk to the MRT
– Well-ventilated toilets that are not gross
– Everyone can get to work in 30 minutes, tops
– Bonus if there are nearby hawker centres and FairPrice/Cold Storage outlets
If you're already shelling out on rent, choosing a rental that is well-connected to the public transport system will save you tons. I used to Grab to work every other day. Now that I live 8 bus stops from the office, I save $50 a week and wake up at 8.15am on weekdays (work starts at 9am).
Some will say living in less central areas such as Woodlands or Tampines is preferable due to the lower rental prices. That works but only if you have the discipline to ignore ride-hailing apps and have the patience to spend around 3 hours commuting each work day.
Some popular areas
Chinatown: expensive AF but hello, Maxwell Food Centre and Ann Siang Hill. If you're yoga-obsessed, you'd be glad for the many nearby yoga studios to choose from. Plus, it's super-convenient for those who work in town.
Farrer Park/Little India: amazing food options and Mustafa is a stone's throw away. The houses available here are big but tend to be old.
Geylang/Kallang: central location, tons of good food, but some parts of Geylang can get quite shady at night.
Katong/East Coast: nice beach strolls and cute cafes but if you don't drive, getting anywhere will take a hot minute.
Also read:
Singaporean Girl Shares Story Of Renting A Place With Partner At 23 Years Old & Lessons On Co-Living
Figuring how much you can actually afford for rent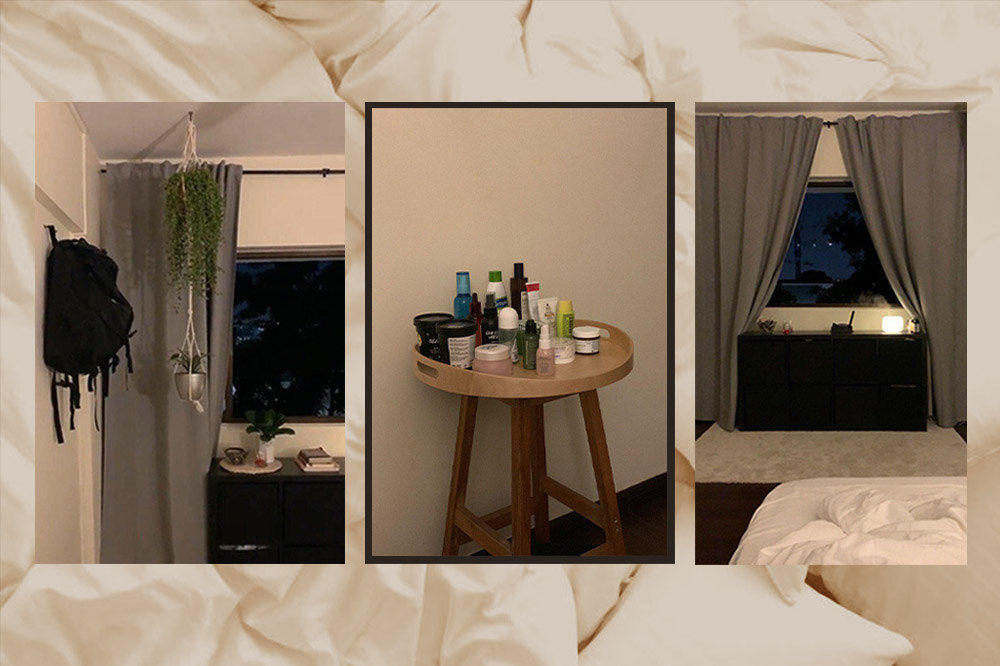 If you're gonna spend a lot on rent, the least you can do is make your room look nice
I followed the conventional advice and made sure my rent did not take up more than a third of my salary.
But I made a rookie mistake and didn't factor in having to pay for WiFi ($15 to $25); cooking gas, water and electricity fees ($40 to $60); and my phone bill ($60). Also, you'll probably be legally obliged to service your air con quarterly ($60 to $80). I'd say to have a comfortable spending budget, make sure your rent and bills don't cost more than 40% of your salary.
Looking for and viewing apartments
Finding your dream place is like choosing a wand at Ollivanders. Just like how the wand chooses the wizard, you'll know the house is the right one when you see it. Attend lots of house viewings; I was lucky and only had to view 10 flats.
At the viewing, make sure the house is in good condition. That means all appliances are working, there's no mould or mildew growing. Ask which direction the sun comes in and if there's a breeze moving the air through your house; you don't want to live in a furnace.
To source for apartments, use websites such as 99.co and Property Guru. Alternatively, hire a property agent to do the work for you.
If you engage a property agent, you'll have to pay a commission fee, which varies according to the lease period and agreed rental rate. You should not have to pay the landlord's agent commission but it's good to double confirm.
Negotiating rent
When you do find your dream place, bargain down your rent. From experience, landlords tend to quote a higher price because they expect potential tenants to lowball them.
If you have a 'good tenant profile' (i.e. Singaporean working professionals) and are seeking to rent long-term, use that as a bargaining chip to push for a lower price.
Signing the lease and moving in
Assuming all goes to plan, you'll be presented with a tenancy agreement. Do not be a dumbass and sign without reading the terms and conditions.
The document should state:
– The correct address and how long your tenancy term is
– How much the rent is and what date the rent is due each month
– If you're allowed to have pets/parties/rent to other people
– Air con servicing contracts (if applicable) and any utilities agreements
– What happens when things are damaged (e.g. if the washing machine is broken, does the landlord pay? And if they do, how much will they cover?)
– In the event you have to terminate the lease, what happens (i.e. how much will you have to pay as penalty and if there are exceptions to this rule)
– Full inventory of what the landlord owns
Read Singapore Legal Advice's full tenancy agreement guide and clarify any matters you're unsure about with the property agent/landlord before signing the agreement.
Prior to moving in, your landlord should have deep cleaned the house and gotten rid of any pest problems. Know that you might receive property tax letters at the end of the year, and make sure your landlord pays for it.
When you've gotten the keys, take pictures of all damaged areas of the flat (if any) and let the property agent/landlord know. This is not only insurance to protect yourself from paying additional repair fees when you move out, but also to let the landlord know that your flat might need fixing.
Paying Rent In Singapore
The biggest question you should ask yourself if you want to move out and rent in Singapore is: does it make sense to you? Consider your finances, mental health, freedom and how well-equipped you are to handle household chores.
If all goes to plan and you follow these steps, huzzah, you now have a place to call your own (till your lease expires)!
This post was first published on 14 January 2020 and last updated on 30 September 2023.
Also read:
Single Millennial's Guide On How To Budget For Rent In Singapore And Still Be Able To Treat Yourself