Wearing Rimmel's Foundation To The Gym
Call me impractical, but I do wear light makeup to workout. Usually, it just involves a dab of concealer and filled-in brows. I think it's less about vanity than the feel-good confidence it gives me, which magically gets my butt to do squats.
So when I was aggressively encouraged to be a guinea pig to put Rimmel's new 25HR breathable foundation through a HIIT class, I said, "Why not?". What better way to test breathable makeup than to go out of breath (literally)?
Nowadays, there are more long-lasting makeup products on shelves than the number of hours in my life. These high-coverage formulas are more often used on a night out than at a gym, lest they clog pores and smudge on towels.
So to see if Rimmel's new foundation could last, conceal my acne scars, and 'bluff' people into thinking I look 'naturally glam' while working out, I decided to put on a full face of makeup before heading to a HIIT class at Garage Circuit.
Spoiler alert: It was better than I expected.
Applying my makeup pre-workout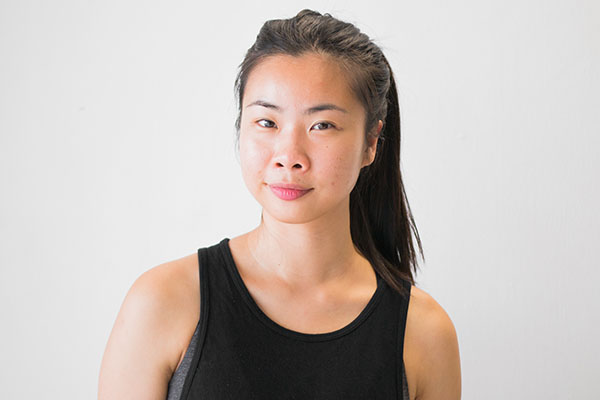 Starting with a clean face, I first sprayed on a liberal amount of Rimmel's Insta Fix & Go 2-in-1 Primer & Setting Spray to help my makeup sit better on my skin. I loved the fragrance of the cucumber-scented spray, and how it dried quickly into a non-sticky finish.
Still, I was slightly concerned about the hint of alcohol I could smell as such formulas usually cause my sensitive skin to breakout in the long run. But unlike most alcohol-based formulas, the primer/setting spray didn't leave my skin stinging uncomfortably after.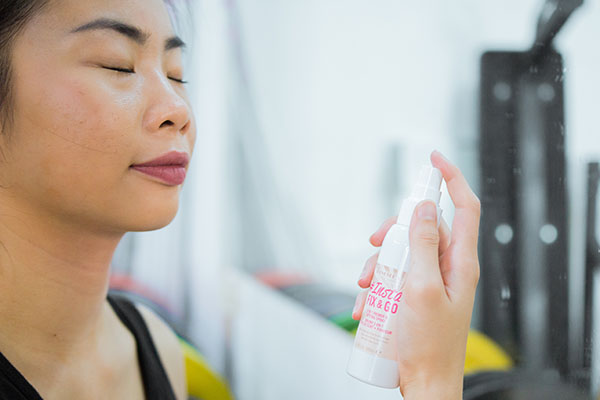 Then, I dabbed the Lasting Finish 25HR Breathable Foundation in the neutral shade, #300 Sand, onto my cheeks, chin and forehead using the convenient doe-foot applicator attached to the bottle cap.
Afterwards, I used a foundation brush to blend out the liquid formula. While you can use a sponge or your fingers, I feel brushes get the formula right into my pin-prick scars for better cover up.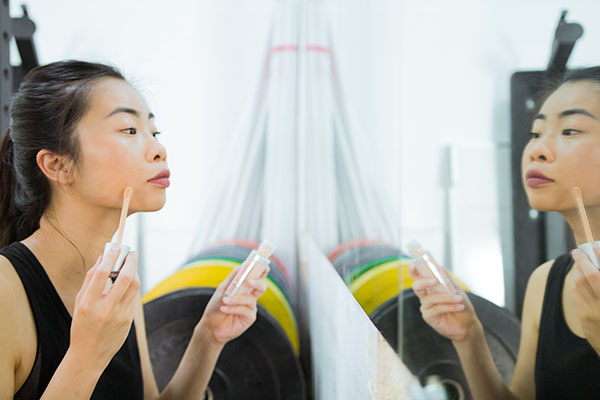 To conceal my acne marks, I prefer full-coverage foundations with staying power. For my everyday makeup look, I wear the Tarte Amazonian Clay 12-Hour Full Coverage Foundation and have the Smashbox Photo Finish Foundation Primer hold it in place.
So I liked how the Rimmel Lasting Finish 25HR Breathable Foundation easily covered redness and dark spots without looking or feeling cakey with just one layer.
I did my entire face in 30 seconds (no joke) and didn't have to reapply on areas my usual foundation usually sheered out.
Best of all, the formula dried into a semi-matte finish with a slight pearl sheen that looked like my-skin-but-better.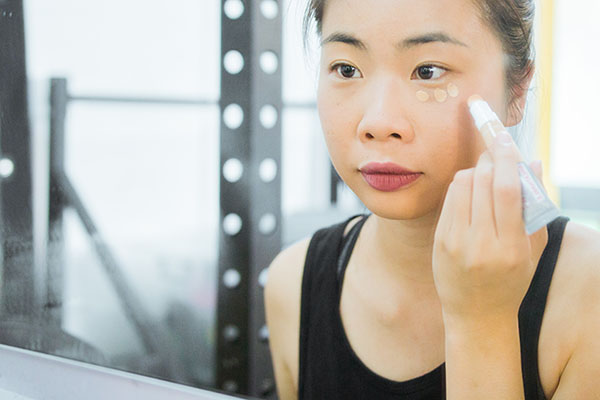 As the foundation provided sufficient coverage for my dark eye circles, using concealer was not a necessary step. I could have skipped it, but they said "go big or go home" so I tried the Lasting Finish 25HR Breathable Concealer in the neutral shade, #200 Light, under my eyes anyway.
Raring to work out, I quickly did my brows, layered on some mascara, dabbed a spot of colour onto my lips and cheeks, and set my look with a layer of Insta Fix & Go 2-in-1 Primer & Setting Spray.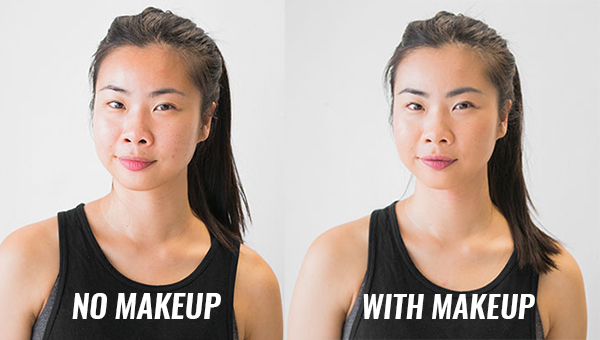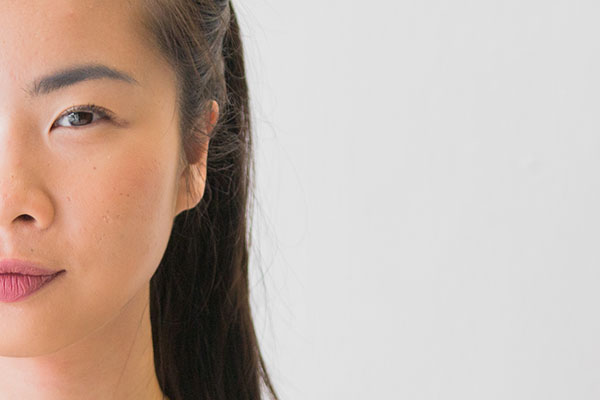 During the workout
By the end of my warm-up, which consisted of three sets of ten burpees and five lunges each leg, I was pouring sweat.
After recovering from almost fainting, I did the actual HIIT workout which was a combination of jump squats, pushups, air bicycling, and a modified form of bear-crawling.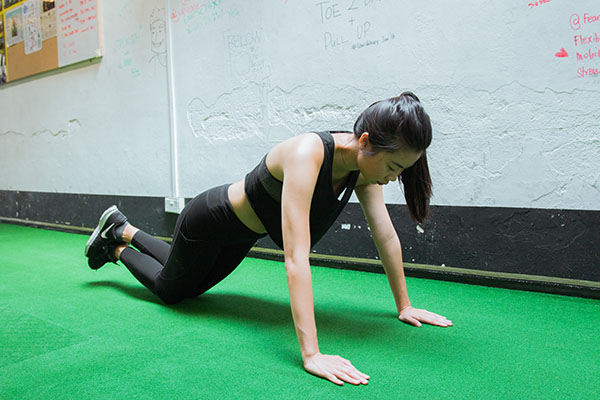 Throughout the workout, beads of perspiration kept getting into my eyes. So aside from feeling the fire in my thighs, I was also blind as a bat.
Makeup check after the workout
After laying on the floor for a bit, I mustered enough willpower to stand up to check my foundation in the mirror.
It could have been my salt-stinged eyes that were deceiving me, but I looked exactly as I did before my workout, albeit with an extra layer of 'highlight'.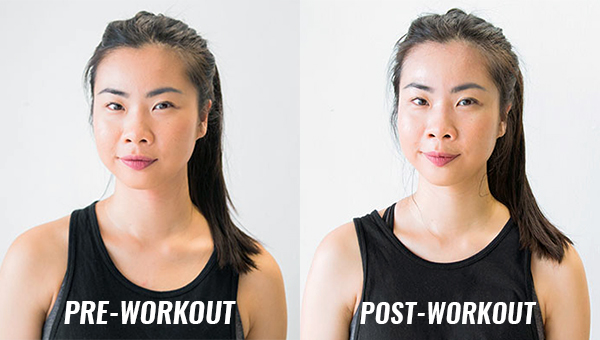 Verdict: I died a brutal death doing HIIT but I still looked pretty rad.
I was genuinely surprised to see the foundation holding up supremely well. There were no streaks or cracks despite dabbing my face with a towel.
The foundation didn't dry out my skin either, or crease into the fine lines of my face like some matte foundations tend to do.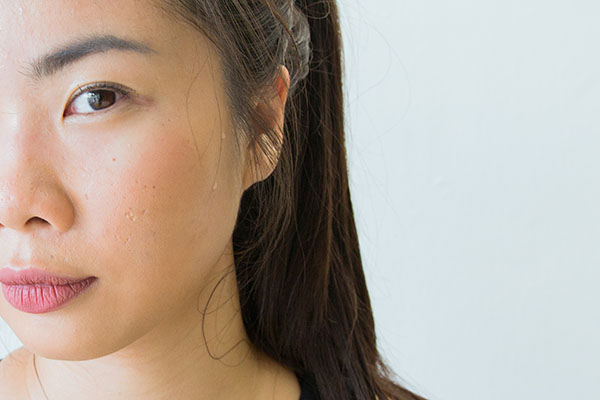 Final thoughts
Throughout my workout, I felt I wasn't wearing any foundation at all. The formula was lightweight, breathable, and felt like second skin. I even forgot I was wearing makeup, save for the feeling of matte lipstick on my lips.
I've been brand loyal to Tarte's foundations for the past three years, but after trying the Rimmel Lasting Finish 25HR Breathable Foundation, I'm defo going to make a switch.
Rimmel's New Makeup Releases
Five hours after my workout, I went home, meal-prepped and lolled around in bed. I Facetime-d my boyfriend and even he noticed how good my skin looked.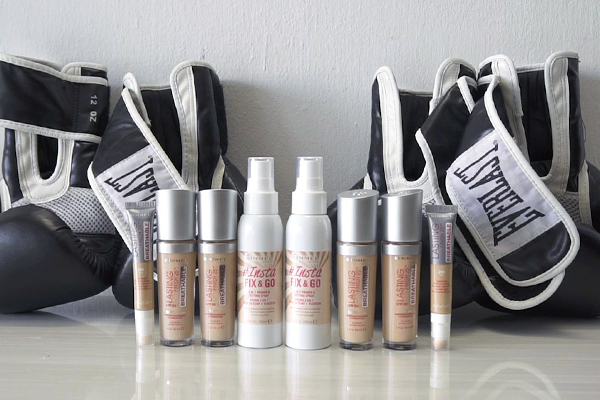 Lasting Finish 25HR Breathable Foundation | Lasting Finish 25HR Breathable Concealer | Insta Fix & Go 2-in-1 Primer & Setting Spray
So if you want to #befearlesslynude, hop on board and get the new Rimmel collection on the Watsons website or shop at major Watsons stores.
For ZULA readers: Score 30% off the Lasting Finish Breathable 25HR Foundation when you flash the following image to the cashier.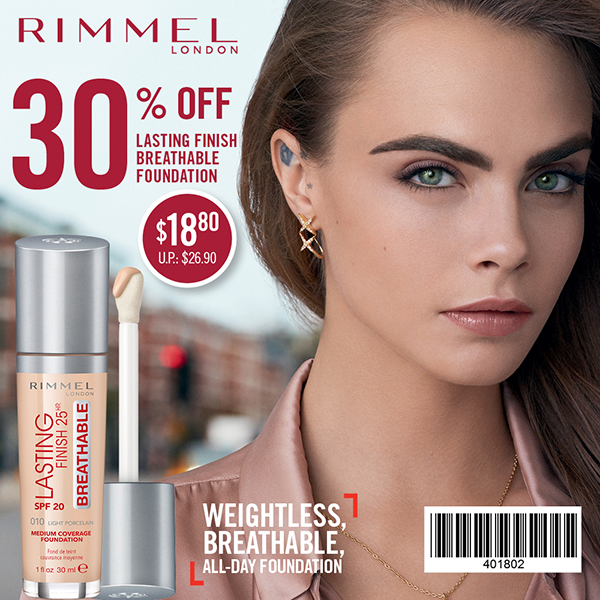 This post was kindly sponsored by Rimmel.