Romantic Proposals In Singapore
Many Singaporeans' idea of proposing is usually to go "BTO aimai", apply for BTO and then propose.
While practical, this way of asking for a girl's hand in marriage could take the romance out of things. Deep down, many girls still daydream of a fairytale proposal which involves fairy lights, snow-capped mountains (or Bukit Timah Hill), and their prince charming on one knee.
So whether you're a soon-to-be groom who needs proposal ideas or a wife who wants to reminisce about the time you said "I do!", here are some real-life stories from Singaporean couples to swoon over.
1. He proposed in the high cliffs of Santorini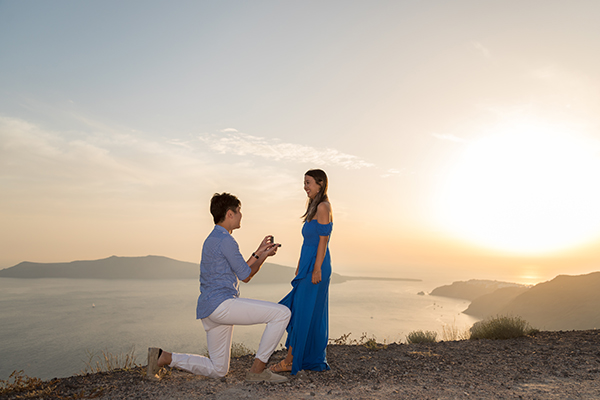 My boyfriend and I had planned a holiday in Greece. My friends hinted I was going to be proposed to, but I didn't buy it because the trip was a last-minute 2-for-1 flight deal.
But during the journey, I got increasingly suspicious. In his itinerary draft, he made note of a restaurant, "Romantic and great for proposal". But what confirmed my theory was a pop-up notification on his phone which read, "Did you remember the ring?"
On my birthday, we booked a photo tour and drove to Santorini's high cliffs, which had a breathtaking view. He proposed at sunset and we celebrated our new chapter with glasses of champagne.
Jess, 28
2. He proposed on Mount Everest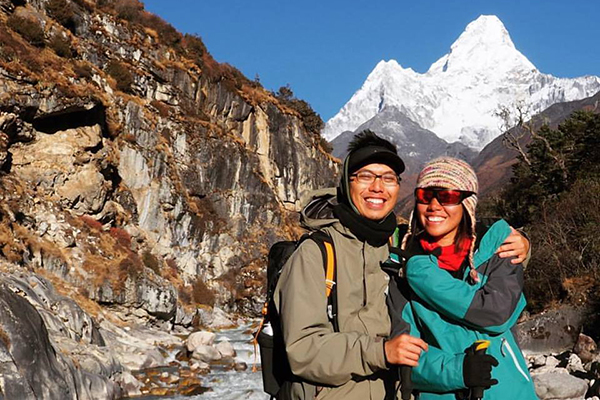 We were at the base camp in the Himalayas, at an altitude of 4620m. Exhausted from our trek and freezing, we huddled together in our sleeping bags, talking between coughs and wheezes.
Suddenly, he sat up, saying he had an important question. The room was dimly lit by the moon and stars, but I could still see the intensity in his eyes. My heart started to race, and I jokingly said, "Ask me tomorrow, I'm sleeping already."
But he asked anyway, and I said yes immediately. We hugged and laughed, on the verge of tears. Despite the physical exhaustion and pain in our bodies, all we felt in that moment was sheer joy.
Sharon, 31
3. She wasn't expecting me to propose romantically
My girlfriend knew I wasn't the romantic type, so I decided to surprise her by making the proposal big and cheesy.
I took her on a walk to Henderson Wave while our friends set up the area. Along the way, we saw a proposal happening at Mount Faber. I said, "That's so lame", and she rolled her eyes.
As we got closer to the surprise spot, we could see flower petals and candles on the ground. I told her, "Great, another proposal." Honestly, I didn't realise it was ours, because I left my friends to plan the decorations.
When we reached and saw our friends, both of us were surprised. But I quickly regained control of the situation by getting down on one knee and proposing, and she happily said yes!
Reddit user Myr0n
4. He proposed with candles at the top of Seoul Tower
After three years of dating, my boyfriend took me to Seoul on holiday. On the last day, he was acting weird and fidgety, but I didn't think much of it.
We went up to the observatory of Seoul Tower, and I discovered the reason for his nerves. There were tons of candles laid out in a heart formation. Before I could even comprehend what I was seeing, he got down on one knee and pulled out a ring.
As he spoke, his hands were trembling so I took them in mine. He had prepared a whole speech about how lucky he was to be in love with his best friend. I said "yes" the second he finished talking.
Annabelle, 37
Also read:
5. He proposed at the finish line of my marathon
It was my first time running a marathon, the 2013 2XU Compression Run.
At the end of the race, my boyfriend got down on one knee and popped out a ring. Our running club friends held a huge banner saying, "Kaitlyn, will you marry me?"
It was kind of embarrassing how hundreds of spectators were looking at us, and I was all unglam and sweaty. But, I still loved it. We were surrounded by loved ones and there was a thunderous applause when I said yes.
Kaitlyn, 36
6. I proposed in Paris and failed twice before succeeding
I proposed to my girl in Paris. Afraid of being obvious, I pretended to look at other cities before "settling on Paris". I even called off the trip a few times to throw her off.
When we were there, I had to plan three different proposals because each kept going wrong. Plan A, at Île aux Cygnes, was foiled by wet weather, just as I was getting into my proposal speech.
Plan B was supposed to happen over a romantic brunch at Luxembourg Gardens. But, I forgot to account for the fact that our cakes and pastries would attract bees.
Finally, Plan C in Tuileries Garden worked out. I bought chocolate orbs which came in their own tiny boxes and swapped one out for the ring. When she picked that box up, I got down on my knees and successfully completed my speech. I guess third time's the charm!
Reddit user BearbearDarling
7. I proposed in front of the castle at Disneyland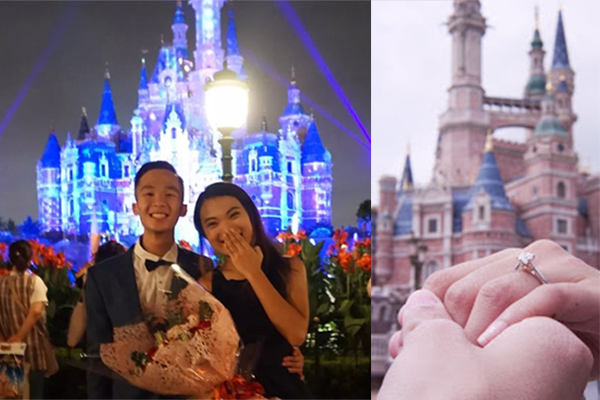 Xiu was a huge Disney fan, so I wanted to give her a big fairytale proposal at Disneyland. As we had dinner in the castle, the rain poured outside. I began to worry the outdoor proposal wasn't going to happen.
In the meantime, I showed her the video I prepared, a compilation of heartfelt messages from Xiu's friends and family. Fortunately, the rain stopped soon after, and I brought her to the venue, right in front of the castle, where we had the best view of the fireworks.
I'm embarrassed to say my speech was a mess ("I'll love you like how Mickey loves Minnie"? Seriously?) but she said yes! And as fireworks lit up the sky, I knew this night would be a tale as old as time.
Glenn, 30
8. He serenaded me as we walked through the woods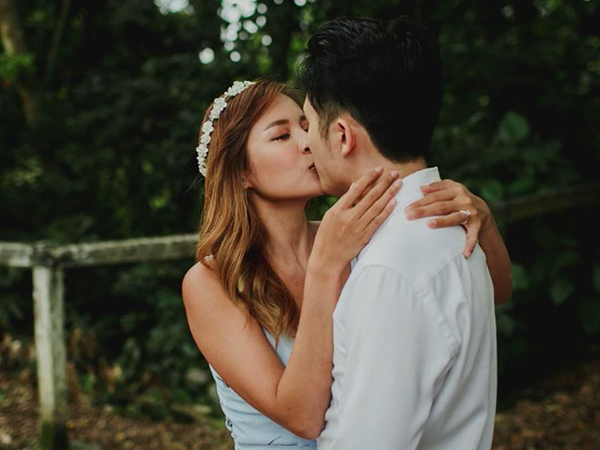 He walked me down memory lane through the woods, where six trees were decorated with six years of our photos and memories. As we walked, musicians serenaded us to my favourite songs.
At the end of the path, he blindfolded me and walked me further down to where all my loved ones were waiting, with balloons and the widest smiles on their faces.
And then he popped the question! It was the most perfect moment in my life. I felt like the luckiest girl in the world.
Elaine, 24
Romantic Marriage Proposals
To all girls out there, I hope you all get your fairytale proposals. And to all guys, good luck!
Also read: