2017 SEA Games Women Sailing Champions
Two weeks before the 2017 SEA Games, a mishap during a boat setup caused Singapore sailor Yukie Yokoyama, 20, to tear her shoulder cartilage.
"We were in Greece for the world championship. While setting up our boat for a training session, the mast fell and I instinctively stretched out my arm to cushion its fall."
"The 10kg mast smashed my right arm and I felt an intense pain. I couldn't lift my arm so I couldn't do warm-ups, I couldn't sail. I couldn't even wear my shirt properly," Yukie says.
Doctors and fellow sailors alike advised them to skip the biennale games. They reasoned, with Yukie's injury, it was unlikely they'd win anything; better to focus on recovery instead.
But determined to race, Yukie and her partner, Cheryl Teo, 18, took their chances and headed to Langkawi, the venue of this year's games.
To their surprise and the disbelief of their teammates, they won the women's 470 gold with the sailing equivalent of a photo finish.
"Nobody thought we'd won because the mostly Malaysian crowd were cheering so loudly. Our coach actually had to go double-check the results."
"It was only after seeing it on the official scoreboard did he say, 'Oh okay, let's take out the flags and celebrate'", Cheryl laughed.
So what was the secret to their victory? Apparently, sheer determination, lots of swearing and a bunch of 'magic' rocks.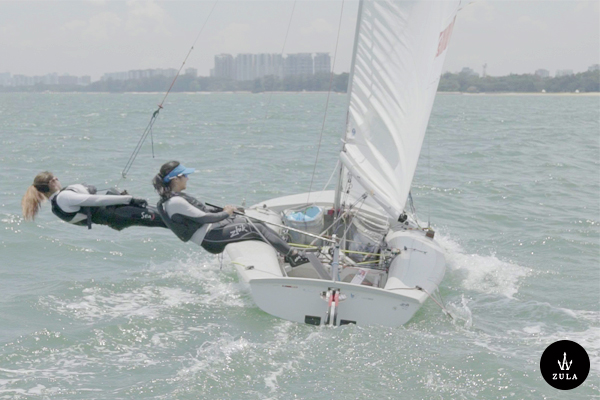 Winning the race with 'magic' rocks
Prior to every SEA Games race, Yukie threw rocks around their boat.
"Since I was 12, I've made it a habit to throw stones at the front and sides of the boat. I'll say a prayer for whatever I need twice before I throw it. It's a pre-competition ritual that helps me get in the zone," she shares.
Despite her prayers, worries about her injury still plagued Yukie, which caused her to make a blunder at the start of the first race.
The pair fell behind their Malaysians counterparts, who seized the opportunity and took the lead. Undeterred by their dismal start, Yukie and Cheryl managed to catch up and built a slim one-point lead over their Malaysian competitors.
It was only in the tenth, close-fought race which determined their gold.
"That day, there was light wind, so we asked the jury if we could have another race to salvage our scores. They said yes, but only if the breeze picked up. So I asked Yukie to throw her stones and pray," Cheryl shares.
"I asked her to chant four times instead of the usual two but she chanted six times instead. The wind came out of nowhere, hitting 28 knots (52 km per hour) and we instantly capsized."
"I remember yelling at her while we were trying to right the boat, 'See lah, why you chant so many times!'"
As the last race began, Yukie and Cheryl put in their best efforts, screaming and swearing the whole way through. It was only in the final 5m, did they manage to pull ahead and edge out their competitors.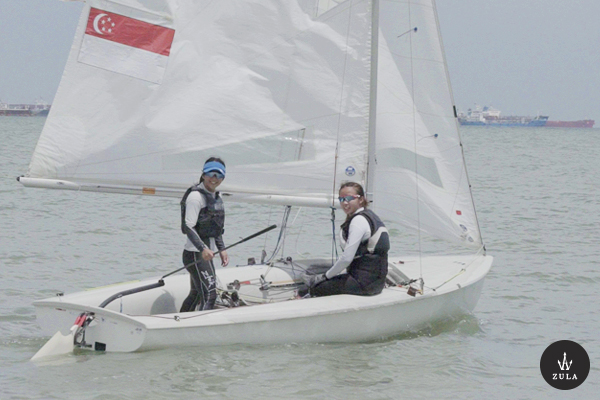 Sacrifices made for a smooth-sailing future
Though Cheryl and Yukie joke about how their win and sailing prowess boil down to a couple of magic rocks, it can't be further from the truth.
Like other full-time, professional athletes, their lives centre around their sport. Aside from sticking to a strict training schedule and diet, prioritising sailing means having to make sacrifices.
Both sailors don't party or stay out late like most peers their age. Cheryl even skipped her best friend's birthday party because she was at a sailing training camp.
"I made the very tough decision not to sneak out to go for the birthday party. I prepared everything already, I even brought a bag and a dress! But I just couldn't bring myself to go because I knew it was wrong."
Making the choice to forgo their social lives and give up school was a calculated decision. Yukie and Cheryl were well-aware of what they were sacrificing to achieve their Olympic dreams.
"We enjoy studying, but it's tough to excel in both at the same time. The future of our sailing career is uncertain, so the dream to sail in the 2020 Olympics is a now or never kind of thing."
"Because of Tokyo 2020, I'll only finish Uni at the age of 25 or 26. If we go on to Paris 2024, I'll only finish Uni at the age of 30. I wanted to get married at the age of 30, but that's impossible lah!" Cheryl laments.
"But it's okay," she assures us, "Sacrifices have to be made, I'm sure we'll have time to do all these regular things when I'm done with sailing."
Nodding in agreement, Yukie adds, "For now, we're going to try our best to qualify for the Olympics, celebrate the small things and just enjoy being full-time sailors."
The sailors are still in the process of setting up a Crowdfunding page. But if you'd like to stay updated on their Olympic journey, you can follow their Facebook page.