Sanrio x 7-Eleven Stores in Taipei
Visiting convenience stores when overseas is always a fun experience. You get to explore interesting meals, snacks and drinks that you can't find in your home country. Well, Sanrio and 7-Eleven Taipei just took things to the next level by collaborating on 2 stores. By collaborating, we don't mean coming up with some merch and calling it a day. No, these 2 stores are the real deal, with everything from the decor to the packaging and, of course, the merch, featuring your favourite Sanrio characters.
There are 2 stores, the main store at Hankou Street in Wanhua District and the sub-store at Zhonghua Road in Zhongzheng District. According to Google Maps, they're a short 7-minute walk away from each other, so you can visit both in the same afternoon.
The main store
Source
Sanrio fans will have a hard time keeping it together once arriving at their destination. Pink bricks line the store front, while Pompompurin, My Melody, Cinnamoroll, Gudetama, Kiki and Lala look on at you from above. As the Queen Bee of the Sanrio universe, Hello Kitty gets a leading role, appearing in life-size form not once but twice. She's there to greet you at the entrance, as well as the minute you enter the store.
Source
Before you've even made it into the store, you'll probably want to get your fill of photos at the entrance. On the left, there is a glass partition stuffed full of plushies of the 6 Sanrio characters featured in this store. Don't forget to get a shot in front of the neon lights proclaiming "Stay cute" along with Hello Kitty's iconic bow too.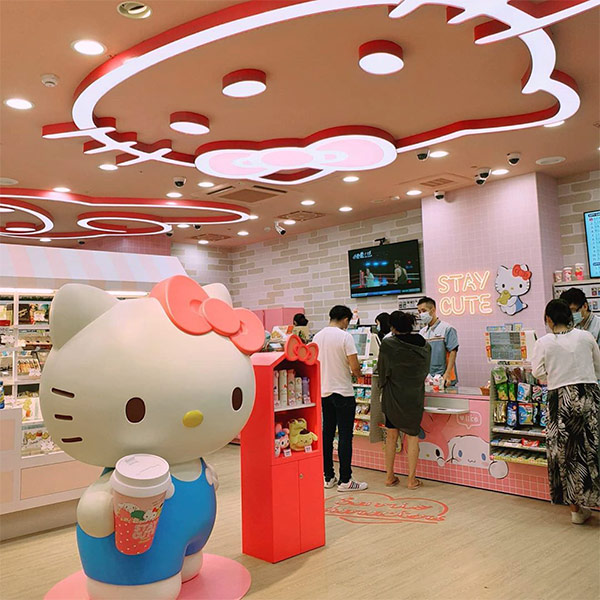 Source
Step past the doors and you'll find the gracious host holding up a giant version of the Sanrio x 7-Eleven exclusive takeaway cups you can get at the store. A standout feature of both stores are the massive lights on the ceiling bearing the silhouettes of the characters.
Source
The walls of the store are also lined with colourful wallpaper featuring our main cast.
Source
There's a Memphis-style backdrop, as well as one with rainbow stripes.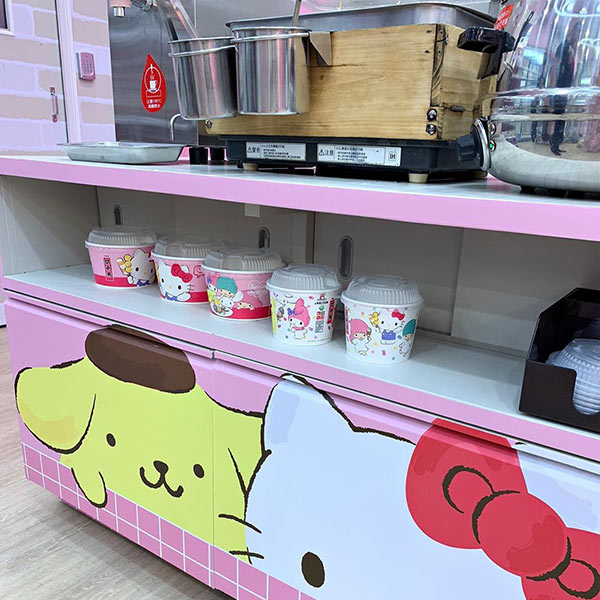 Source
Besides coffee cups, there are also exclusive disposable tea cups and oden bowls designed for this store.
Source
The main store also has a small sit-down area where you can bask in all things kawaii while dining on your oden or sipping on your coffee.
Source
While chilling out, you can also check out the merch on offer.
Sanrio x 7-Eleven's main store is at No. 73, Section 2, Hankou Street, Wanhua District, Taipei City, Taiwan.
Also read:
The New Sanrio Cafe Has Aesthetic Decor & Food For Those Looking Forward To Their Next Tokyo Trip
The sub-store
Source
After you've had your fill of the main store, stroll over to the sub-store. It's located in the same building as Just Sleep hotel.
Source
Many of the features such as the ceiling lights are the same, albeit in a more compact layout.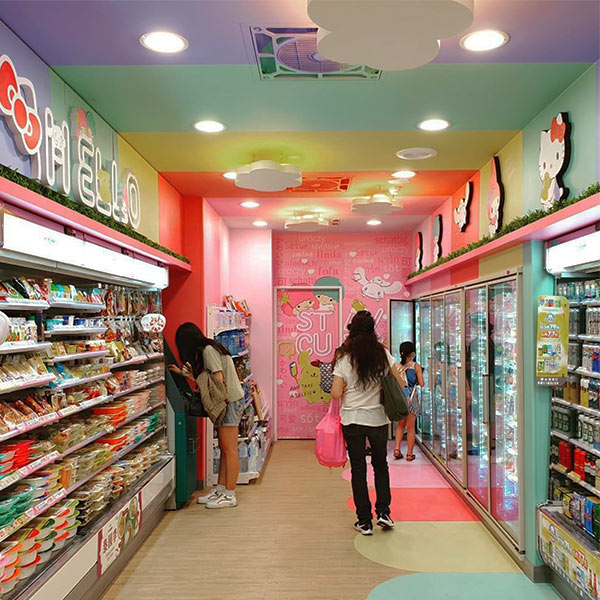 Source
Rainbow stripes line the walls from floor to ceiling, punctuated by motifs of the characters.
Source
The merch available here includes the standard plush toys to more unique offerings like bike helmets.
Sanrio x 7-Eleven's sub-store is at No. 41, Section 1, Zhonghua Road, Zhongzheng District, Taipei City, Taiwan.
Sanrio x 7-Eleven Stores in Taipei Are Totally Kawaii
Whether or not you're a Sanrio enthusiast, these 7-Eleven stores are worth checking out in real life. Add them to your Taipei itinerary and make sure your phone battery is fully charged before heading over.
Also read:
These Kawaii Sanrio Glasses With Matching Stirrers Starring Hello Kitty & Friends Will Soon Be Available At 7-Eleven