Sanrio x Pili Merchandise
While the Actually x Sanrio collection brought us picnic-perfect supplies, Sanrio has yet another unique collaboration. This one will remind you of all the old Chinese dramas you'd watch with your grandparents as a kid. 
The collection includes the Sanrio characters on special colour changing tumblers, light-up mirrors and diffuser stones along with other items, all designed to pay homage to the popular Taiwanese puppet show, Pili. 
In the collaboration, the Sanrio characters have all been given a makeover to look more like Wuxia drama characters with Hello Kitty rocking blue brows, Kuromi with luscious purple hair and even Pompompurin looking smart in a golden cape. Trust us, you've never seen them quite like this before.
Hello Kitty Plushie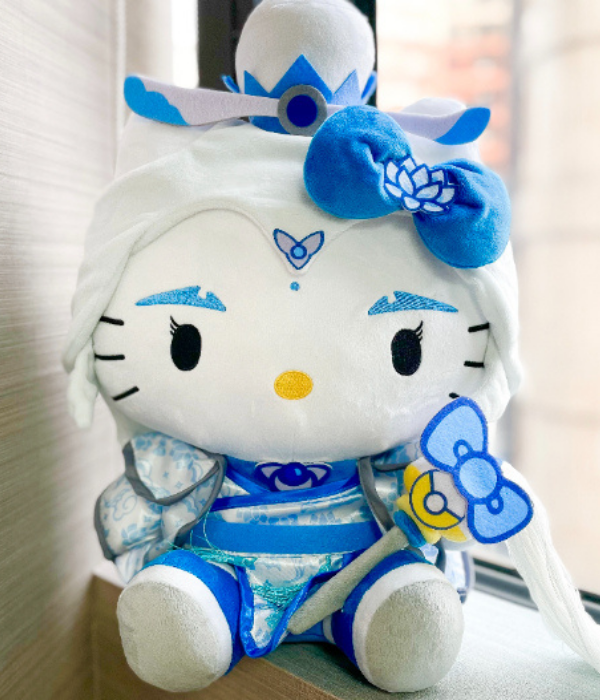 The collaborations frontrunner, Hello Kitty comes as a plushie dressed head to toe in blue. The plushie gives off Chinese warrior-princess vibes with her white hair and bow sceptre — a fitting gift for any kid aspiring to be the kind of princess who fights her own battles. 
Tumbler

The collection also has 2 designs of a straw-top tumbler in the colours pink and blue. The blue tumbler has Hello Kitty printed on the front, still wearing her special blue outfit from earlier. The other design in pink features My Melody in a lovely white and pink dress, channelling her inner damsel in distress with a pink fan in hand.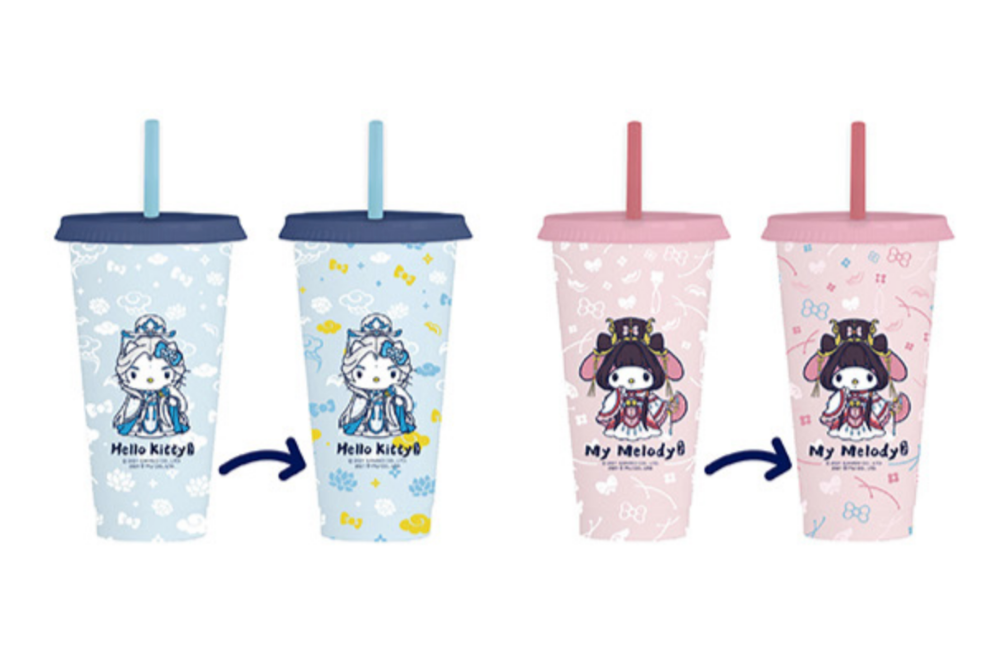 While the tumblers on their own are sights to behold, pouring a cold drink into the cup reveals even more precious patterns. This feature is a good way to help signal when the contents of the tumbler are starting to warm up so you don't end up with a subpar, lukewarm drink. 
Coasters

Pair the tumblers with coasters, which are also included in the collection to double-up on the Sanrio sweetness. The hexagon-shaped coasters comprise of 7 different designs, each with a different Sanrio character wearing their Wuxia-themed apparel. 
The coasters can be used to keep your wooden tables free of watermarks, or line them up and use them as room decor to add colour to the space. 
Sanitiser Bottles

These sanitiser spray bottles are also part of the collection and feature Kuromi, Hello Kitty and My Melody dressed in their traditional ensembles on the front. The shape of the bottle makes it easy to refill and with 3 colours to choose from, you can match with your besties and stay safe altogether. 
Light-Up Mirrors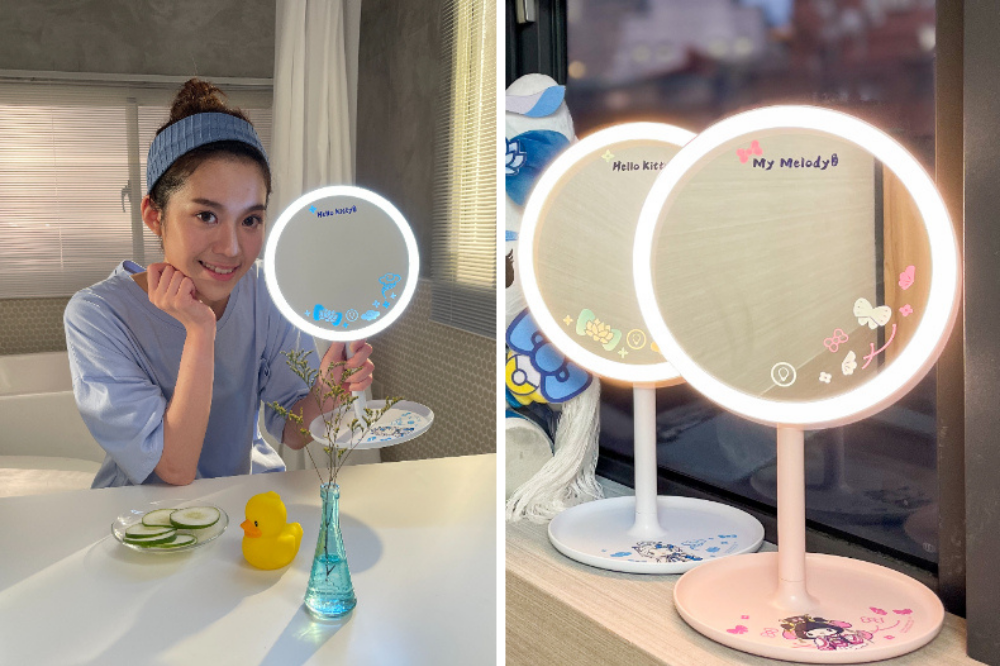 This collection also includes this light-up mirror that not only helps you keep your makeup looking sharp, but can be used to store knick-knacks at the base as well. 
The mirror in white features Hello Kitty while the pink, with My Melody. Both have a button on the mirrored surface that can be used to switch the light on or off. With the light-up mirror, you can do your make-up even before the sun's up  — no more scrambling to find well-lit areas around the house.  
Bluetooth Earphones

If you're not one for AirPods and prefer something with more colour, this collection has 2 specially designed Sanrio Bluetooth earphones. The carry case are accompanied by either Hello Kitty or Badtz-Maru printed on the cover.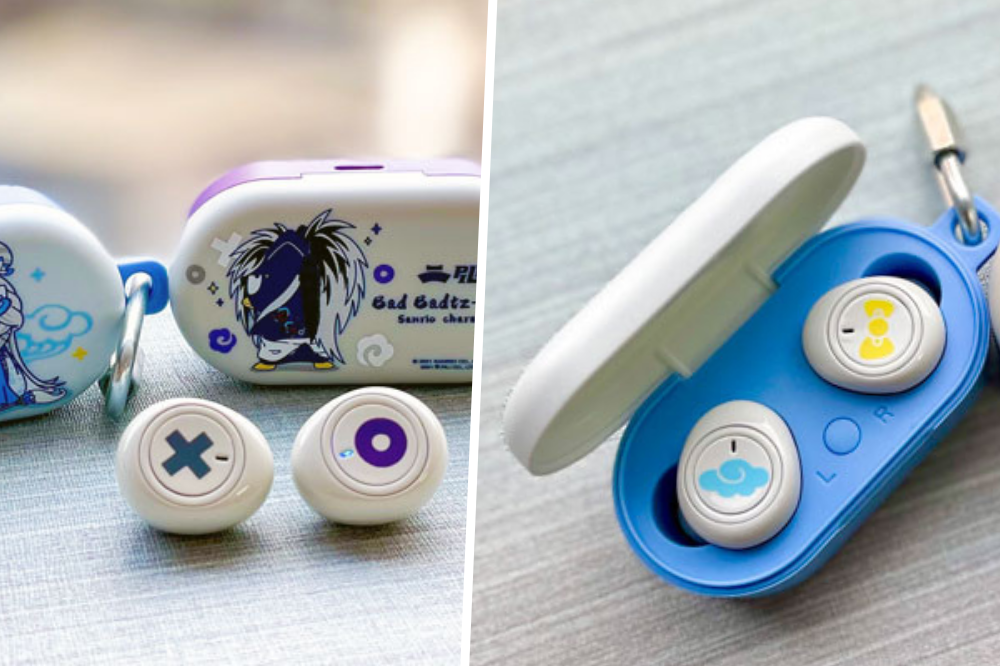 The earphones themselves are different from the usual Bluetooth earpieces, with an X and O, printed on each side for the Badtz-Maru design while a cloud and bow can be found on the Hello Kitty version. They're both pretty dope pairs of spiffed-up earphones. 
Yoga Mat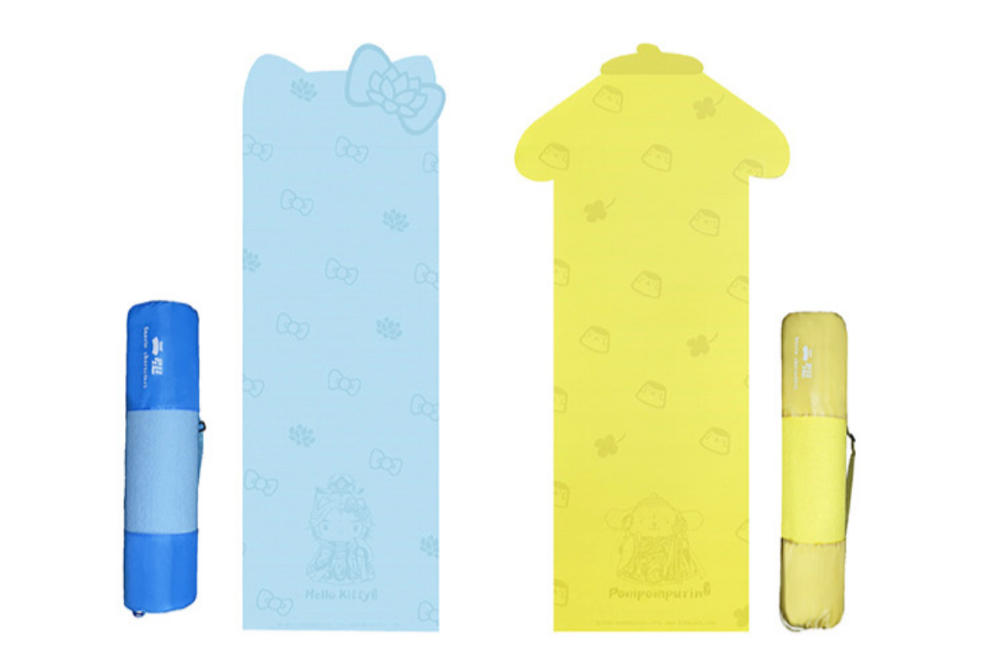 The collection even has some specially shaped yoga mats so you can try out stunts just like in your favourite dynasty warrior-dramas. 
The mat options are in either blue or yellow, with Hello Kitty printed on the blue mat with the top shaped to resemble her ears. The yellow Pompompurin mat has the outline of Purin's ears and barrett with pudding patterns all over the surface of the mat. 
Both include a carry bag so you can store the mat neatly or take it out for some beach-side yoga.
Floor Mats

These floor mats are coloured white, meaning they can match easily with your other room decor. There's a choice of Pompompurin flying about the sky on a golden eagle or Cinnamoroll looking flustered in a white martial arts robe and hat outfit combo.
64GB Flash Drive

Along with the other special accessories, the collection features 64GB flash drives with designs of all the characters in this collaboration. These thumb drives combine style and convenience all into one, affording a large amount of storage in a single drive.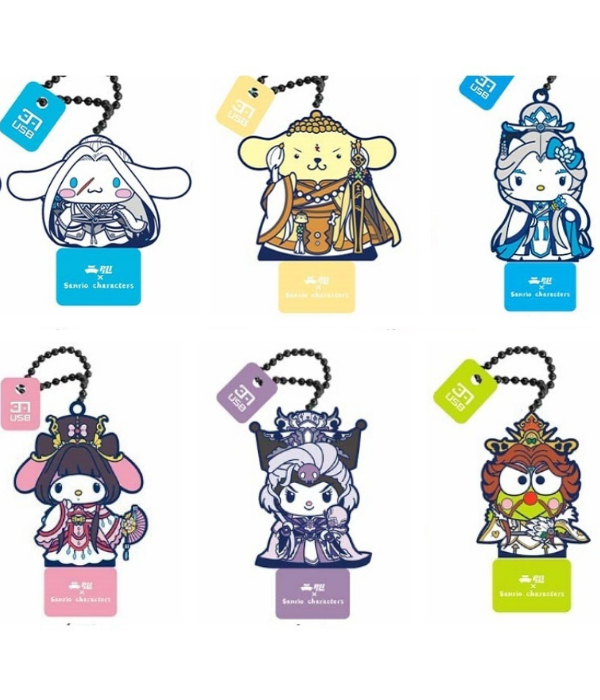 You can take your pick of 1 of the 7 specially-dressed Sanrio friends thumb drives which are packaged in collectable containers that you can keep on display in your room. 
Diffuser Stone

The final and definitely most unique item in this collection are diffusers or fragrance stones with the Sanrio characters carved onto each one. These stones can be placed in your car to freshen up the space while simultaneously adding some elegance, leaving your vehicle looking and smelling atas. 
Sanrio x Pili Merch To Remind You Of Your Favourite Wuxia Dramas 
This collection comes following the release of a special edition Sanrio Characters and Pili Puppets show spin-off in Taiwan, which portrays Hello Kitty and friends as traditional Chinese "martial artists". 
Each item is redeemable with a point system with more details on redemption and the items on FamilyMart Taiwan's website. The collection is sadly not available in Singapore yet, but you can check out these Sanrio pouches and bags, sold locally, instead. 
Also read:
By Invite Only Has A Limited Bucket Bag With BBT & Acai Designs To Flex Your Love For SG Food Culture