Santorini Blue BTO
With the COVID-19 pandemic still looming above our heads, our desire to travel continues to burn as strongly as ever. While some of us are dreaming about the clear blue skies and stunning shores of Santorini, Singaporean interior design firm The Interior Maison made use of these views as inspiration for a BTO design. Featuring a palette of calming blue shades, the result is every traveller's dream.
Dining and living space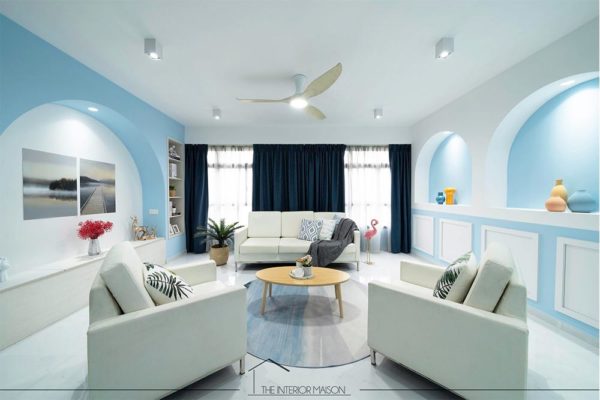 Upon stepping into this BTO flat, the light blue and white walls in the living room immediately prompt us to think of clear skies. The cool undertones of the chairs and cushions amp up the calm vibes. Bright vases, home decor items and plants make for a nice balance of a cosy and peaceful interior. 
Coming home to these calming sights after a long day of work certainly sounds like heaven. The matching blue, grey and white watercolour-style rug is the perfect finishing touch that pieces everything together.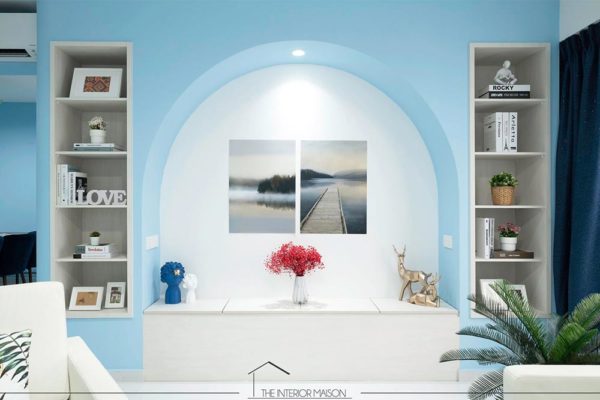 The living room walls also have distinctive arches and built-in shelves. This unique design serves as a lovely space to display art and knick-knacks. It's always the small details that make a space feel like home.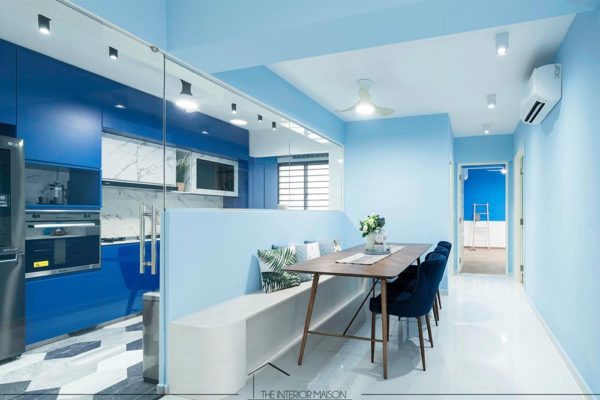 The dining room takes on a more minimalist feel, with a simple wooden brown table accompanied by a white bench and dark blue dining chairs. It's separated from the kitchen by a glass wall and door, which is a clever way to make sure that when someone is cooking, the fumes do not extend to the rest of the house.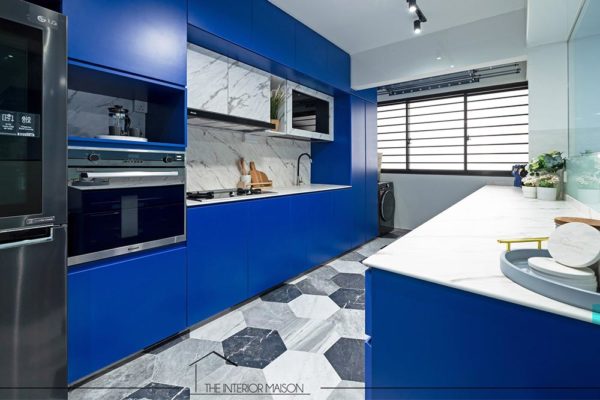 Inside, cobalt blue cabinets and marble accents add a modern and contemporary touch.
Also read:
This Tiffany Blue 4-Room Bidadari BTO Looks Straight Out Of The Set Of Mad Men
Bedrooms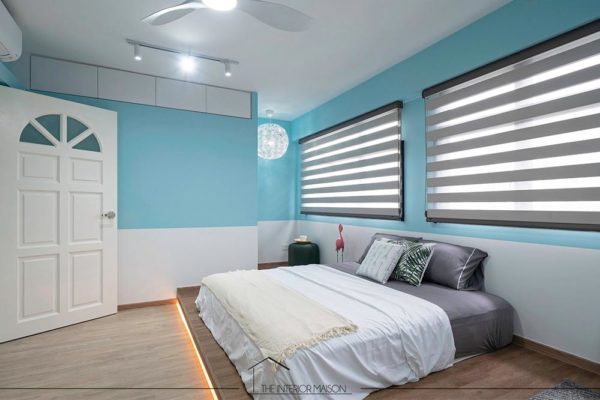 The two-tone bedroom walls are divided between turquoise and white, which make for a fresh and easy sight for sore eyes before one hops into bed. The bed itself rests on a platform with glowing orange lights underneath, reminding us of the beautiful sunsets at Santorini.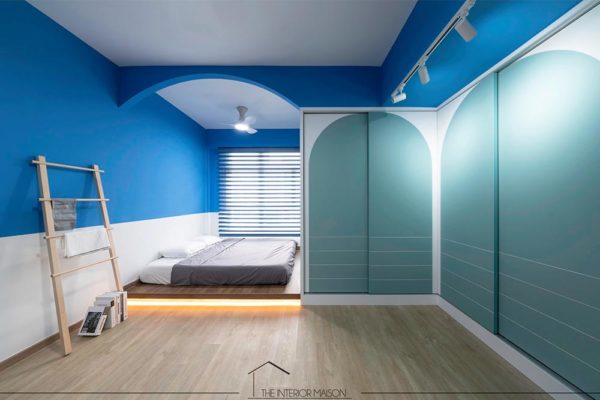 The second bedroom follows a similar structure of the bed platform and two-toned wall design. This time, a darker shade of blue is used. Large wardrobes make up the other half of the room, continuing the Santorini theme of distinctive arches as its exterior design. The room decor is kept minimal, with a wooden ladder for hanging clothes and stacking books. With this minimalist design, there is ample space for morning yoga sessions to kickstart your day.
Bathrooms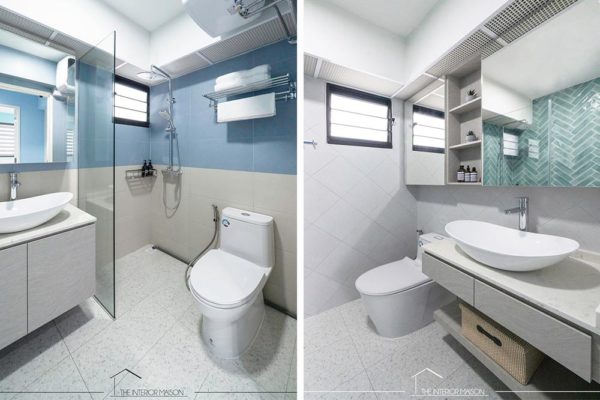 One of the bathrooms has, you guessed it, blue and white walls as well. Only this time, instead of painting a two-tone wall, tiles have been used to achieve the same effect. The green herringbone tiles in the shower area of the other bathroom provides a pleasant colour change. Lastly, the terrazzo flooring in both bathrooms reminds us of the pebbles and shells one can find along the shores of Santorini.
This Santorini-Inspired Blue BTO Flat Will Satisfy Both Minimalists and Travellers
Sadly, it seems like we still have a long way to go before travelling for holidays becomes a norm again. However, we hope that you've been inspired to design your home just like your favourite holiday destination! 
If you're looking for more inspiration on minimalist interior designs, check out The Interior Maison's website.
All images courtesy of The Interior Maison.
Also read:
This Minimalist Pastel Pink HDB Flat Looks Straight Out Of A Wes Anderson Movie