Pink HDB Flat
Whether you're a new homeowner or simply like to fantasise about what your future home will eventually look like, you're probably spending this time trawling through Pinterest for some inspiration. Now, you can also take a look at some ideas from local interior designers with designs catered for HDB units.
This pink HDB flat design was shared by Creatology, an interior design studio set up by 2 graduates of the Nanyang Academy of Fine Arts (NAFA), on its Facebook page. As a Jeffree Star enthusiast, it immediately reminded me of his famous pink house. If you're a Wes Anderson fan, you will also be sure to appreciate the pastel hues and minimalist interior design.
Living room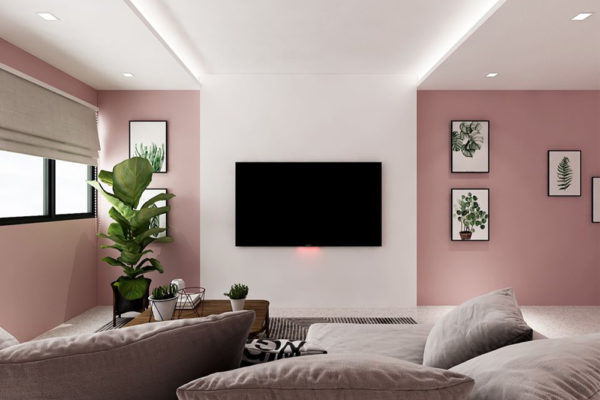 The living room has walls in a muted pink with a fiddle-leaf fig tree and succulents as decor. Illustrations of green leaves on the walls give a cohesive feel and bring the outdoors in.
Furniture in grey and brown shades complement the pink walls, with all the colours blending together harmoniously to create a warm and homey atmosphere for the living room.
Also read:
Minimalist Interior Design In Singapore: How To MUJI-fy Your Home, Pick The Right ID, Plus Cost-Saving & Design Tips
Dining area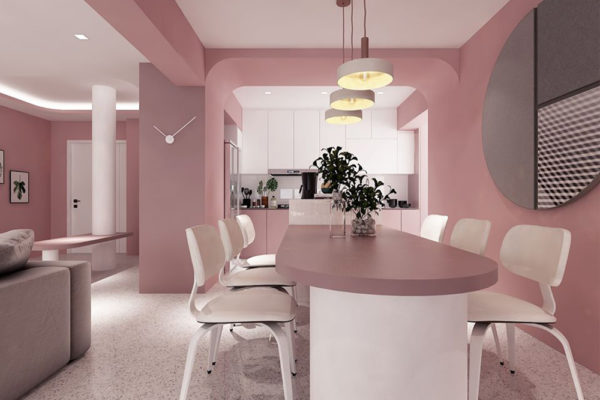 Right behind the sofa is a dining table with sleek white chairs. Three simple yet elegant lamps hang above the table to give you a bougie dining experience.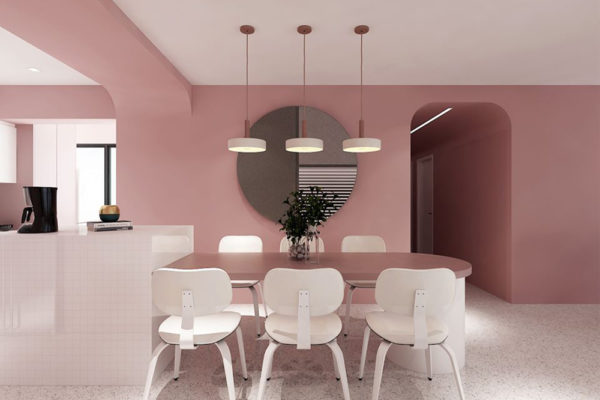 The area sections off into an IG-worthy kitchen. The dining table is side-by-side with the countertop, so you can entertain your future guests while prepping a fancy dinner for them. 
A large circular artwork in grey anchors the space and provides the perfect contrasting touch.
Corridor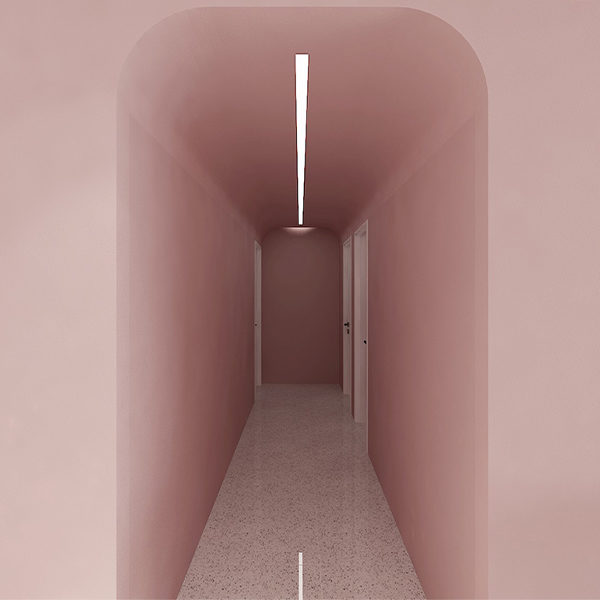 The route to your room can now resemble The Grand Budapest Hotel with the pastel pink walls and ceiling, along with the white terrazzo flooring. 
A Millennial Pink HDB Flat For The Modern Homeowner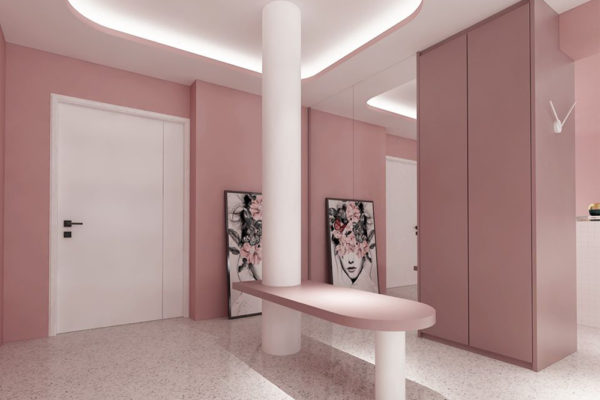 Having a spacious house is a dream for many Singaporeans living in apartment units. This pink HDB flat design by Creatology utilises space-saving storage and design tricks, allowing you to achieve your dream in a stylish and modern way.  
Also read:
How To Renovate BTO Flats Under S$20,000 (S$630/month For 3 Years) With Quality Materials For Budget Singaporean Couples
All images courtesy of Creatology