Shiseido Sailor Moon Makeup
Shiseido will be launching a limited-edition Sailor Moon makeup collection to celebrate the upcoming Sailor Moon Eternal movie.
The collection is an official collaboration between Shiseido and Sailor Moon, under the Japanese beauty brand's Maquillage range.
The makeup set will be available for pre-order on the Premium Bandai website for ¥7,150 (~S$92.47) from 20 August 2020. The products are also expected to hit retail stores, so you might be able to get your hands on the individual items instead of the full set. Prices for the individual items range between ¥2,600 (~S$33.62) and ¥3,500 (~S$45.26).
The collection
Source, source
Set the stage for your makeup look with Shiseido's Maquillage x Sailor Moon Dramatic Skin Sensor Base EX. This makeup base lives up to its "Skin Sensor" title as it promises to prevent oily skin from getting too greasy, or keep your skin moisturised if it's usually dry.
The packaging features Sailor Moon's oversized silhouette in pink. The bottle itself depicts Sailor Moon with her long ponytail surrounded by numerous stars. The metallic bottle cap is decorated with shiny star embellishments.
There are 2 versions of this base; namely, Tone Up and Natural. Those with dull skin can opt for Tone Up, which comes in a lavender hue to brighten your skin. 
The suggested retail price is ¥2,600 (~S$33.62) for now, but the actual retail price may vary in stores.
Also read:
ETUDE x Disney Tsum Tsum Collection Has Lip Tints That Bobble Sideways So You Can Have Fun While Touching Up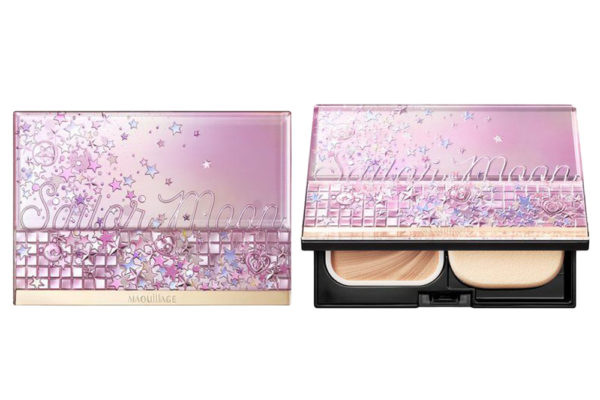 Source
Shiseido's Maquillage x Sailor Moon Dramatic Powdery UV is a compact foundation powder that will win you over with its easy application and smooth finish. It also gives you the extra UV protection you need on top of your usual sunscreen.
The mirror case is in a pinkish hue with some semblance of a holographic glass surface. The text "Sailor Moon" is embossed in cursive font. Little decorative stars seem to be pouring down and gathering at the bottom of the case design.
The product has a suggested retail price of (¥3,500, ~S$45.26), though it may vary in different stores.
Source
The set includes a Maquillage x Sailor Moon pouch that has a subtle Sailor Moon motif. Use it as your makeup pouch and fit all your Shiseido Sailor Moon items in it.
Shiseido Sailor Moon Makeup Adds Bling To Your Makeup Collection
No doubt the new Shiseido Sailor Moon items will stand out in your makeup pouch with their glossy pink sheen. The products will soon be available for pre-order on the Premium Bandai website as a full set, while delivery is expected to happen in September 2020.
Also read:
The Sailor Moon x Colourpop Collection Is Out Of This World And Includes Holographic Body Glitter
Cover image: Source, Pexels/Miguel Á. Padriñán