Singaporean Film Director Ang Geck Geck
When Singaporean director Ang Geck Geck speaks on set, a group of men sit in silence and listen with respect. She is the only girl seated behind the lens, among industry veterans—videographers, producers, cameramen—who are twice her age and size.
But off duty, the 30-year-old seems more like a wallflower in a crowded room, occasionally apologising during our chat for being unable to talk about herself.
The former model and stylist was once a banquet waitress, door-to-door ice-cream seller, Kopitiam cashier and waitress, admin girl at UOB's credit card department, and an events sales executive.
But after juggling jobs since she was 13 and living off cup noodles for a year, her directing portfolio now boasts a commercial in Shanghai and a short film (Black Mirror) in Korea.
This year, she was one of only two Singaporeans across Southeast Asia selected for the 2018 SEAFIC film awards. Her first movie Ah Girl is scheduled for casting in end 2019 with producer Fran Borgia, 
Fran was the Singapore Line Producer for recent hit film Crazy Rich Asians.
Yet, Geck is candid is about how she still struggles to stay afloat sometimes.
It's hard to survive in a place where we say you have to "eat grass" to survive in the local arts scene, even more so for creatives like Geck whose films surround taboo topics.
Where writers shut the door on sensitive issues such as child sexual abuse in Singapore, she opens another.
Her award-winning short film Broken Crayon tells the story of a 9-year-old boy who was exposed to pornography by an older family member and the consequences after.
With monosyllabic lines and functional shots, her films feel like morbid fiction straddling reality behind closed doors. She doesn't tell you the funnelled, censored story behind headlines; she shows you the story itself, of how perpetrators are groomed.
Where most of our local hit films centre around comedy, Geck's work is a refreshing nod to an era that could have been paved by Sandi Tan's long-lost Shirkers.
Her other notable short films (free to watch online) include Rice Chicken Wine, Happy Birthday, and Three Little Pigs.
Grew up without knowing she had a birthday
Most of her films centre around home and family, which is why Geck tells me she is inspired by her observations of real life.
After her parents' divorce, she was raised by her grandparents and struggled to find her identity as a child. As a result, she often sought validation in tiny ways, such as altering her handwriting in class to match her partner's and 'inventing' her own birthday.
"I never knew when my birthday was. People said I was born from the dustbin! So I envied other kids who could celebrate their birthdays in class."
Now that she's older, she'd buy a plane ticket at random and fly off to find her headspace. Or spend time looking through Pinterest to overcome her artist's block.
"I enjoy finding deserted spots. I feel nostalgia and I get excited when it comes to life after we transform it for a shoot."
Lately, she's been into works directed by Hirokazu Kore-eda and Edward Yang.
Entering the world of filmmaking
But, filmmaking wasn't always Geck's dream. The former NTU Art, Design and Media graduate majored in Film only because the other modules involved drawing—a skill too demanding for a girl who could only "sketch stickmen".
Even in her male-dominated film class, she was often assigned roles handling makeup and wardrobe. So, it was a surprise when her peers were rendered speechless after her first screening.
"The film ended, and there was silence. I thought, 'Is it that bad?'" she laughs. "But then, everyone clapped! People said I was good, so I realised maybe I am good!"
By the time she graduated, Geck had worked with top local directors and bagged first prize in the Singapore Short Film Awards 2013 for Broken Crayon.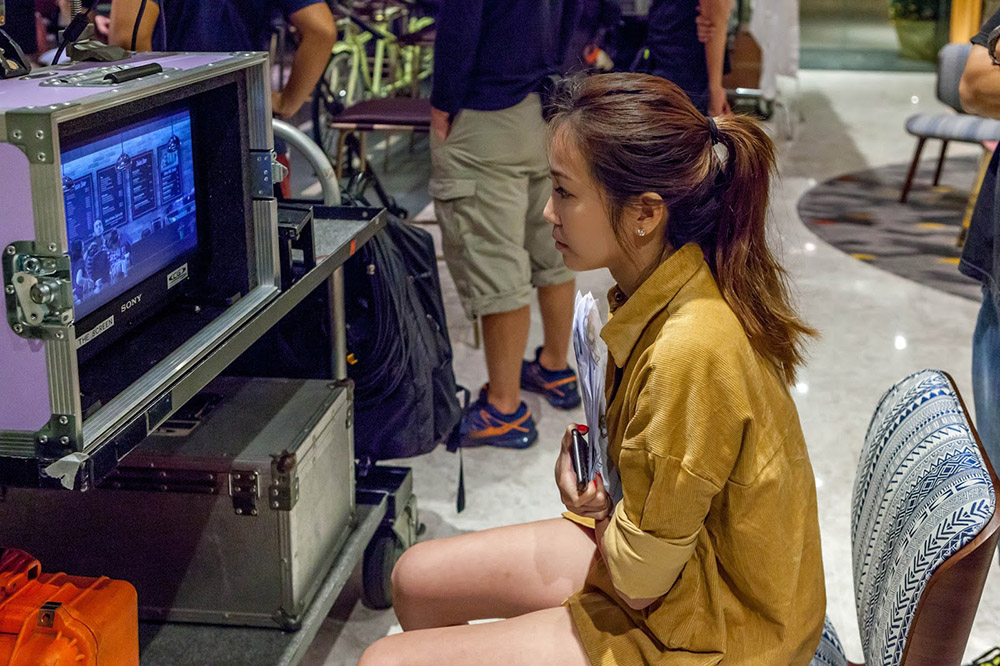 Challenges
Yet, not one to rest on her laurels, she emphasises the importance of consistency. "You must keep going. If you stop for three years, people will move on."
Aside from pandering to the subjective tastes of the creative industry, she also has to deal with criticism, yelling, and financial desperation. Often, she has to clinch commercial deals in order to fund her short films which could cost up to five digits.
Other struggles include the lack of crew members, budget, and support because Singaporeans are spoilt for entertainment choices.
"While there are many schools teaching the foundation of filmmaking, there aren't specific courses for other smaller but equally important roles like script supervision. Filmmaking is a lot about collaborative work."
"Sometimes I get jaded when I am uninspired or have financial woes. It can be hard juggling jobs when you need time, energy and focus to plan a script. I also have to contribute to some of my grandparents' bills, and the cost of living on my own."
Advice for aspiring filmmakers
To aspiring filmmakers, this is her advice: be willing to sacrifice time and money to do a film that resonates with you; apply for grants or competitions; talk to like-minded industry friends to turn an idea into a concrete plan.
"Because no matter how good you are, how would you find opportunities if you never show your work to anyone?" Geck stresses, recalling how she clinched deals at industry events during her school days.
We live in a city pervaded by a view that Singaporean creatives cannot compare to overseas counterparts. But, she believes it's important to never forget that films can give a "voice to the minority" when our unspoken truths are silenced.
And if she can help someone "feel less alone", then she has made filmmaking meaningful.
2018 SEAFIC film award nominees:
Singapore: 'AH GIRL' – Ang Geck Geck / 'AJOOMMA' – He Shuming
Laos: 'RAISING A BEAST' – Xaisongkham Induangchanthy
Thailand: 'ARNOLD IS A MODEL STUDENT' – Sorayos Prapapan
Indonesia: 'CROCODILE TEARS' – Tumpal Tampubolon
Also read: