SK Jewellery x Disney
If there's one thing that we love about Singapore, it has to be the mix of modern and traditional infrastructure. 
Incorporating iconic landmarks like the Dragon Playground and shophouses with our favourite childhood Disney characters, SK Jewellery is bringing us a new Mickey Loves Singapore collection featuring gold-plated figurines and gold bars with exclusive designs.
The collection
Each gold-plated figurine in this collection is framed with a themed setting.
Kickstart your walk down memory lane by following Mickey and Minnie on a journey to the most recognisable playground in Singapore — the Toa Payoh Dragon Playground.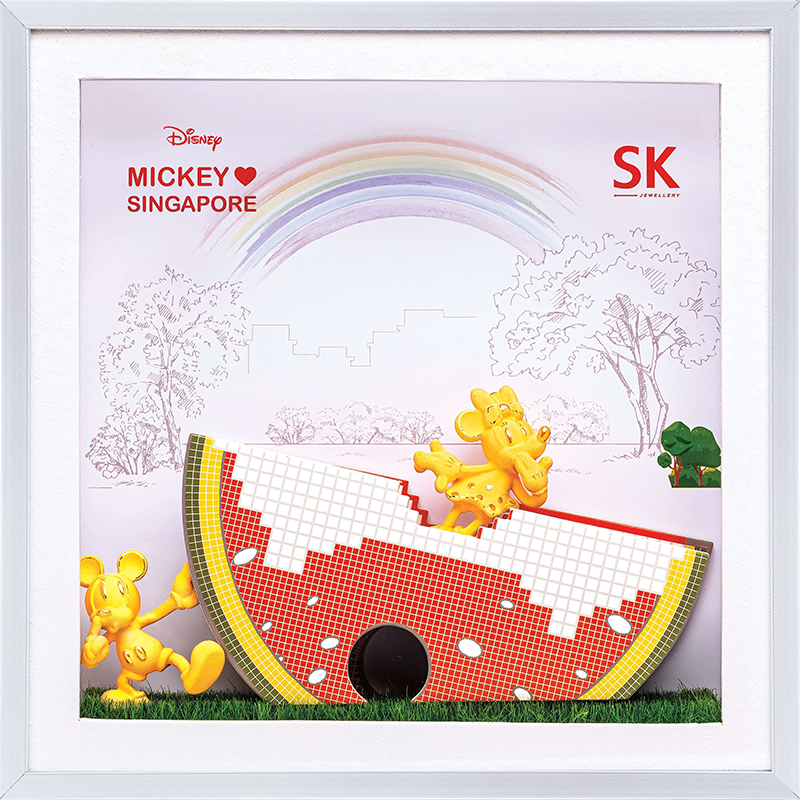 Reminisce on your childhood memories of playing hide-and-seek at your neighbourhood playground by displaying this Watermelon Playground piece in your home.
If you're more of a Goofy fan, the Elephant Playground frame is perfect for your collection.
SK Jewellery is bringing us a new Mickey Loves Singapore collection featuring gold-plated figurines and gold bars with exclusive designs.
Spot the Donald Duck figurine standing on top of the Pelican Playground as he waves to other Disney friends in the distance.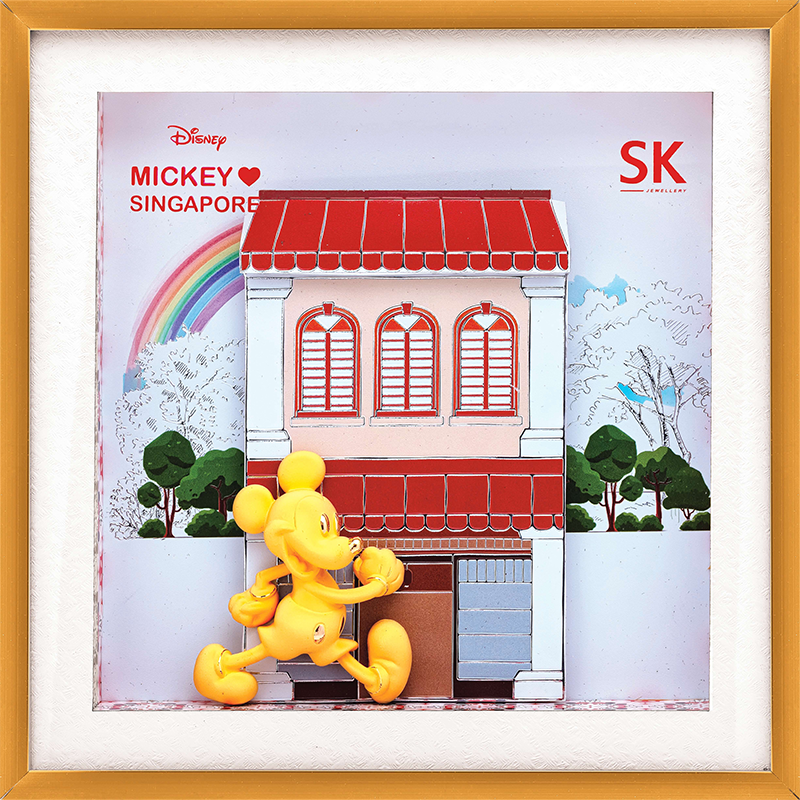 Alternatively, if playgrounds aren't exactly your vibe, the Peranakan shophouses might just suit your home aesthetics better.
With intricate details on the storefront and window sills, this frame features Mickey strolling down a colourful shophouse with a rainbow in the background.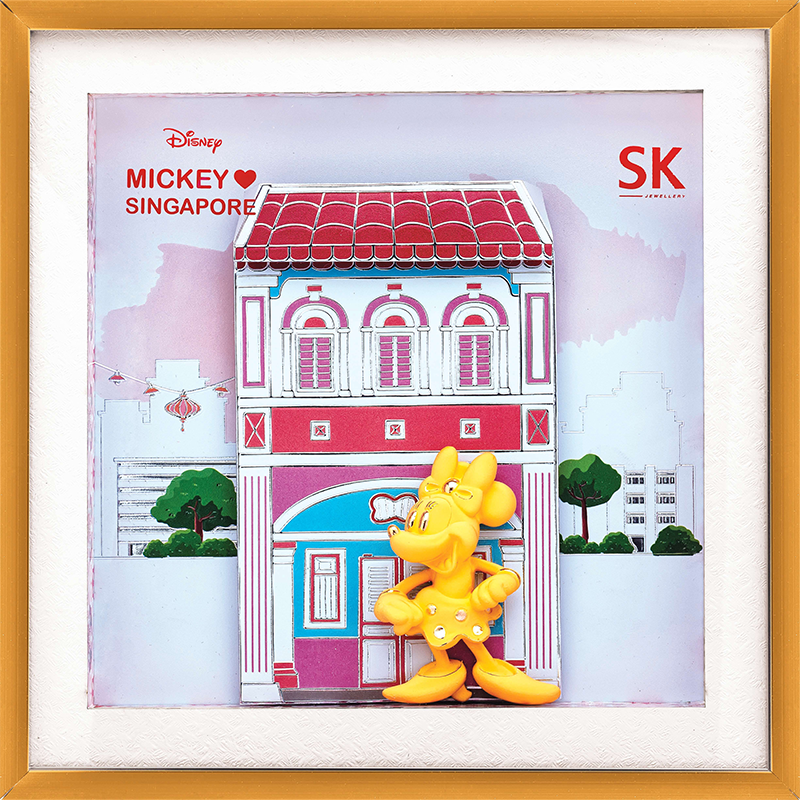 Get yourself the Minnie version and connect the two frames together to form a beautiful picture of Mickey excitedly walking down the stretch of shophouses to meet Minnie.
Each of these figurines is plated with 999 gold and retails for $399 in-stores and on their official website.
Besides the gold figurines, there are specially crafted 999 Pure Gold bars that are perfect gifts to impress your loved ones with.
For the first design, you can go on a trishaw ride with the two lovebirds, Mickey and Minnie, and explore the old heritage sites together.
Fun fact: if you've never been on a trishaw IRL, you can still head down to Albert Mall Trishaw Park to hitch a ride from the Trishaw Uncle!
Gather your friends and get this Mickey and Friends Singapore Tour Gold Bar as a commemoration of your friendship. This gold bar features the characters on an old-school double-decker bus, touring around iconic landmarks like the Merlion and Marina Bay Sands.
Enjoy the present day with this Mickey Loves SG MBS Gold Bar. It lets us all appreciate how far we've come while admiring the modern infrastructures shown on this exclusive piece.
Each of these gold bars is priced at $169.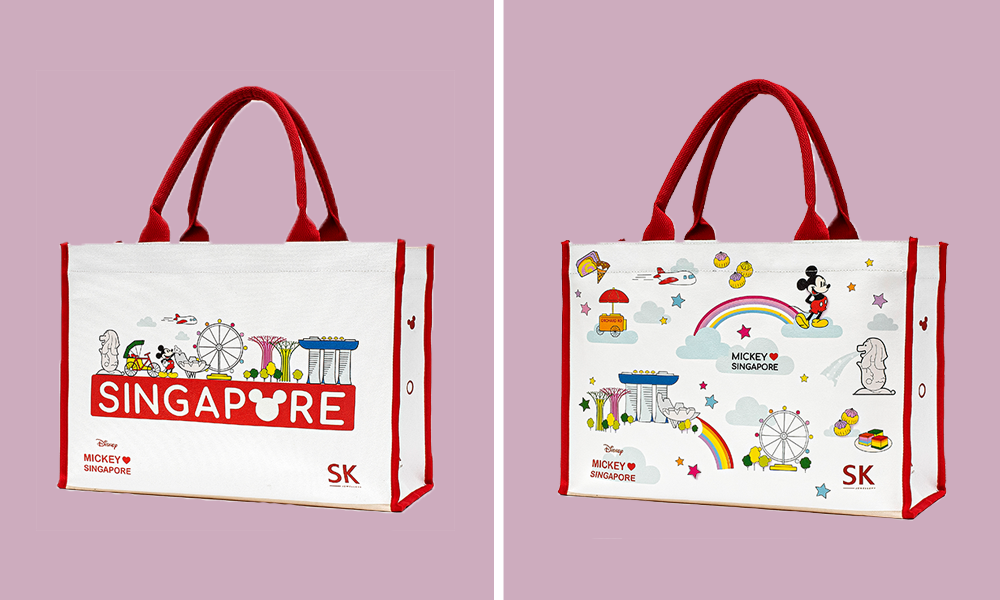 As part of the National Day celebration, you can also redeem this free tote bag that is covered with cute illustrations with every purchase of $300 on a single product.
The SK Jewellery x Disney Collection Allows You To Reflect On Our Progress As A Nation In Style
From the myriad of cuisines to our safety, there are many things to be thankful for in this Little Red Dot of ours.
Celebrate Singapore's 57th birthday by supporting locals with SK Jewellery's nostalgic Mickey Loves Singapore collection.
You can find out more about this collection or view more Disney pieces like earrings and necklaces on the official SK Jewellery website.
All images courtesy of SK Jewellery.
Also read:
These Pokémon Engagement Rings Feature Customisable Starters & Birthstones For A Unique Proposal