Skincare Tips When Travelling
We've all been through a scenario like this ‒ getting caught up in an overseas trip, but just as we're about to explore a new territory, our skin decides to not cooperate and start breaking out. Goodbye, flawless selfies. 
Be it unwelcomed acne or itchy eczema, skin troubles that appear out of the blue when travelling are indeed a bummer. But hey, that doesn't mean you can't prevent them. 
It is normal that your skin "freaks out" in a new climate, especially with changes in air quality, temperature, and humidity. To help you better take care of your skin when travelling, here are 6 lesser-known tips by frequent holiday goers you may want to try out for yourself during your next voyage. 
1. "Apply sunscreen as it is the first line of defence"
Image courtesy of Amanda
"The last time I travelled was to France a year ago, and I will be heading to Thailand this July. As an avid traveller, I know my skin is the most sensitive on planes because of the altitude change and the dry atmosphere. It becomes tight and uncomfortable, and goes into overdrive by producing more oil to compensate. 
To combat this issue, I slather on lots of moisturiser and sunscreen even when I'm on the plane. Since you're literally closer to the sun as well, sunscreen is your first line of defence when it comes to anti-ageing.
I realised many travellers make the mistake of applying the same amount of skincare even when they travel to countries with a cooler climate. Since colder countries tend to be a lot drier, a thicker and heavier set moisturiser should be used instead." 
Advice to those who are travelling soon: "If you wanna travel light, at the very least bring a toner, moisturiser and sunscreen!"
– Amanda, 29
2. "Go the extra mile to apply lip balm before sleep"
Image courtesy of Nicole
"People tend to think that skincare products are not necessary when travelling because they can always buy them overseas. But new products might not suit your skin, so it is always best to bring along what your skin is already familiar with. This way, you get to save a few bucks and prevent breakouts. 
I recently went on a vacation to South Korea during the Spring season so it was much colder than in Singapore, falling to around 10 degrees at night. Thankfully, I stuck with my usual skincare routine, and even went the extra mile to apply lip balm before sleep ‒ not something I would typically do in Singapore. 
The last step is actually important since it protects your lips from getting dry and cracked overnight. No one enjoys waking up to chapped lips so even if you feel like heading straight to bed after a day of activities, it is worth spending those extra seconds putting on lip balm." 
Advice to those who are travelling soon: "Although travelling is tiring and you just want to sleep, don't skip out on skincare! Your skin will thank you for the next day when you're out, especially if you want to look nice for your Instagram pictures. Maintaining your skin is always important no matter where you are."
– Nicole, 24
3. "Focus on double cleansing before going to bed"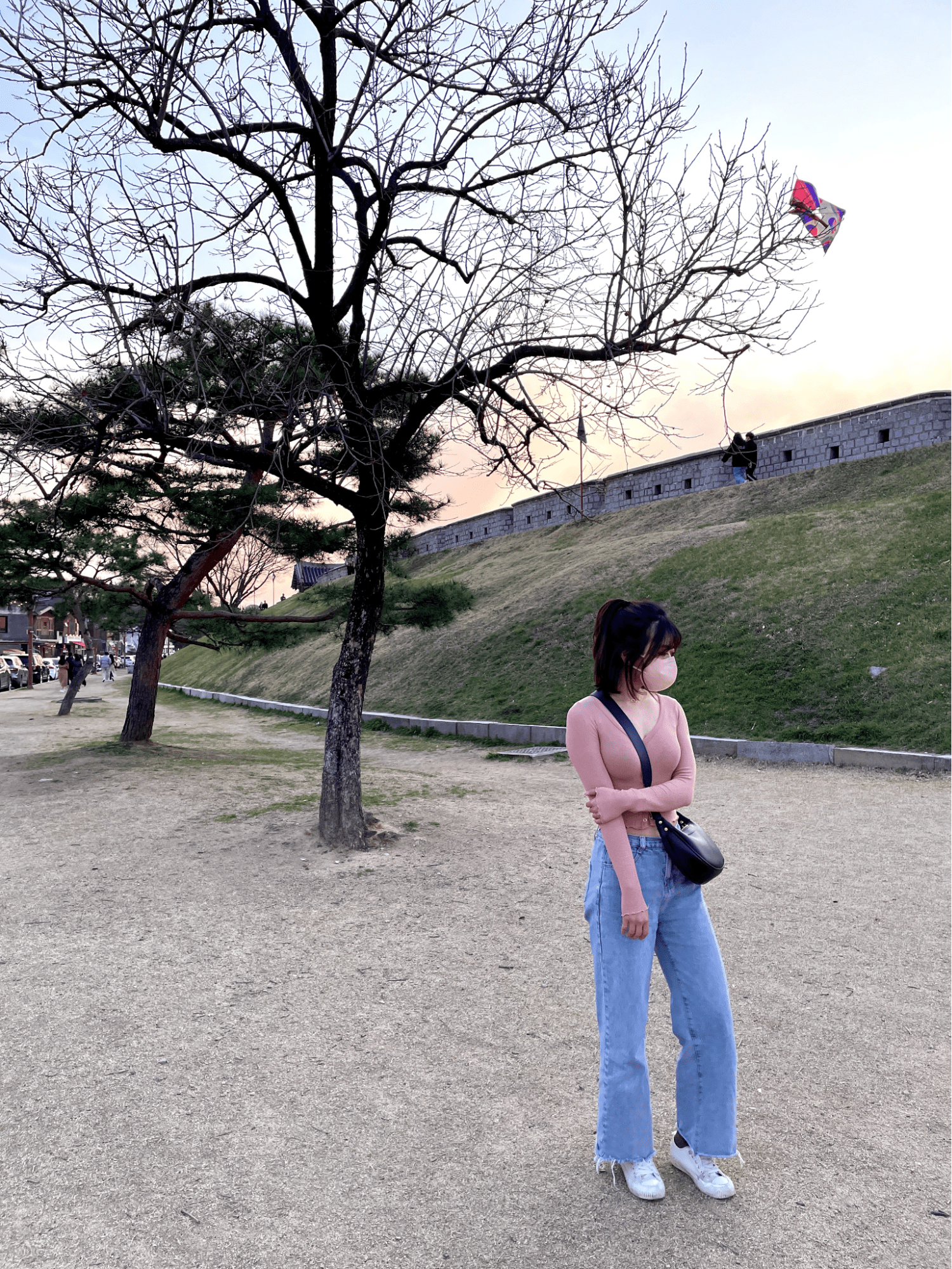 Image courtesy of Cindy
"There's nothing better than having the feeling of a clean face before you go to bed after a day of adventurous exploring. As a former air stewardess, I realised the importance of double cleansing as it helps to remove pollutants that you might not see with the naked eye. Since a clean face is also a healthier one, your skin will better absorb the products that you apply. 
To add on, you should never miss out on using sunscreen as part of your daily routine as it helps to block out harmful UV rays that speed up the ageing process. Since sunscreen also protects your skin from blue light emitted from phones and laptops, it is similar to killing two birds with one stone."
Advice to those who are travelling soon: "As the saying goes: "you reap what you sow", remember to take care of your skin even when you're having fun overseas. It takes a lot of effort in maintaining the flawless, dewy skin that everyone dreams to achieve."
– Cindy, 29
4. "Try not to wear makeup when you're travelling on long flights"
Image courtesy of Joelle
"I think one reason why breakouts happen when travelling is that many make the mistake of wearing makeup on for long flights. As the air is usually cooler and drier at higher altitudes, your skin produces more oil to compensate for the lack of moisture. So just imagine having makeup and oil on your skin ‒ the combination sounds nasty and it is something I would avoid.  
While I don't suggest boarding the plane barefaced since UV protection is necessary, I recommend just a layer of moisturiser and sunscreen so your skin gets to breathe better. You can even pack a small bottle of water spray to hydrate your skin once in a while. 
During my recent trip to the U.S., I realised that pimple patches are my life savers as they help to control my erratic breakouts from the change in the climate. Other than that new addition to my makeup pouch, I also pack along sunscreen, facial masks, moisturiser, and cleanser. 
Advice to those who are travelling soon: "If you have limited luggage space, invest in travel-size products instead."
– Joelle, 19
5. "Avoid using skincare products provided by the hotel"
Image courtesy of Bry
"I take extra care of my skin when travelling because I tend to get breakouts overseas. Depending on where I stay, I can get paranoid about the bedsheets not being fully sanitary even after washing – you never know how clean the previous room occupant was! 
I try to avoid using the skincare products provided by the hotel as well. I have the impression that they are usually of poor quality and my skin might not react well to them, which is why I always recommend bringing your own tried and tested products. Normally, I pack along my own face wash, toner, moisturiser, and sunscreen.
I used to think I only needed to apply sun protective skincare when I'm going to summer destinations and not winter countries. But I recently read online that this mindset is wrong. UV rays are present no matter the weather, so it's encouraged to be disciplined and apply suncare every day. 
One thing I'm guilty of is also using sample-size products and small bottles when travelling. While this is convenient, it's not environmentally-friendly and I hope to be more mindful of it in the future."
Advice to those who are travelling soon: "Use environmentally-friendly and recyclable packaging. Also ensure to apply sunblock often, to give you as much protection from harmful effects of the sun and blue light as possible."
– Bry, 30
6. "Include Vitamin C in your daytime routine"
Image courtesy of Angie
"I have relatively normal skin but when I visit countries with dry weather, like during my most recent trip to France in June, my skin tends to peel and flake. Apart from my usual skincare essentials like makeup remover, face wash, toner, and moisturiser, I also include products with Vitamin C and sunscreen of at least 50+ SPF for extra protection and hydration. 
I believe simplicity is the best so I keep my skincare routine short and easy to allow me to travel light." 
Advice to those who are travelling soon: "Skincare doesn't stop at your face! Remember to cleanse, moisturise, and use SPF on your entire body." 
– Angie, 21
Take care of your skin on-the-go with Eau Thermale Avène
As shared by fellow travellers, going overseas can bring about skin concerns and changes. But with the necessary precaution and suitable products, there's nothing that can stop you from achieving that glow to look and feel good about yourself. 
If you're looking for an environmentally-friendly brand to add to your arsenal of skincare, enter Eau Thermale Avène ‒ Europe's top dermo-cosmetic brand. On top of working with WWF Singapore by supporting coral restoration in our Little Red Dot since 2021, they have also just released their latest sunscreen range that is water-resistant, and boasts an ultra-broad spectrum sun filter.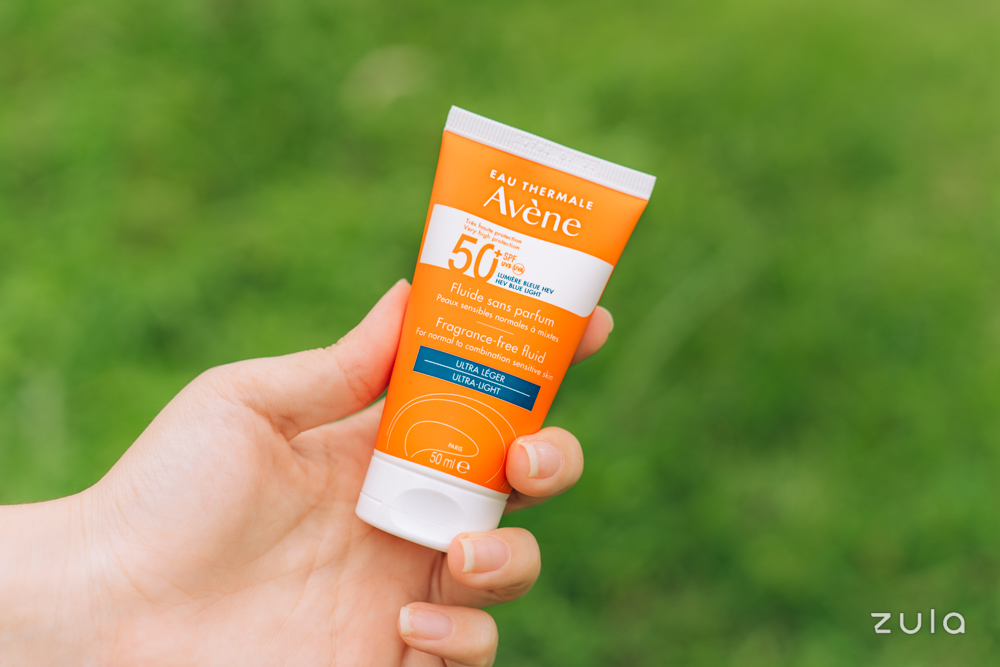 Thanks to Eau Thermale Avène's extensive research, their sunscreen contains a patented filter TriAsorB, which protects against harmful rays invisible to the naked eye, like UVB, UVA, and HEV blue light up to 450nm. ICYMI, blue light is emitted from the sun and plenty of electronic devices.
In comparison, blue light emitted from the sun is capable of penetrating deeper than UVB and UVA, into our innermost skin layer. This eventually accelerates skin ageing and causes more intense and lasting skin pigmentation. Yikes.
Plus, the sunscreen is free from nanoparticles, silica, and acrylates ‒ typically found in SPF from other brands ‒ that are harmful to the body. What's more, their sunscreen goes through numerous tests and is proven to be toxic-free to the three key species of marine biodiversity: coral, phytoplankton, and zooplankton. Now you can apply skincare guilt-free, knowing that you're also doing your part for Mother Earth.
Available in four formulas ‒ fluid, cream, tinted, and cleanance ‒ Eau Thermale Avène's sunscreens cater to every skin type. Those with normal to combination skin can try out their Fluid 50+ sunscreen as it has an ultra-light texture, invisible finish, and non-sticky consistency. 
Folks with dry and sensitive skin can choose either their Cream 50+ or Tinted Cream 50+ sunscreen, as they have a velvety texture that doesn't leave a white cast, and offer up to 8 hours of hydration. While the former provides a subtle finish, the latter guarantees a bright and radiant complexion after application.  
On the other hand, their Cleanance 50+ sunscreen suits those with oily skin and blemishes. The ultra-light texture leaves your skin with a dry finish, and it even limits the appearance of scars. This means you'll have that confidence boost before you head out and about for your day. 
Rest assured after applying any of the sunscreens, makeup application will still be easy. 
Aside from protecting your skin with sunscreen, complete your look when you add a layer of dew to your skin with Eau Thermale Avène's Thermal Spring Water Spray. Not only does it help to calm and soothe sensitive skin, but it also strengthens the skin's protective barrier ‒ perfect during a long-haul flight overseas or after a workout.     
Even if you're not flying across borders for leisure or work, Eau Thermale Avène's Thermal Spring Water Spray is suitable for casual outdoor situations too. Think romantic picnics with bae and beach days with your fellow girlies. 
It also helps to combat Singapore's sweltering weather by cooling you down, and alleviate red and sensitive skin. 
If you relate to feeling guilty about using skin care products that don't promote greener living, you'll be relieved knowing that Eau Thermale Avène uses eco-designed packaging that is recyclable and made from 64% recycled plastic. 
Additionally, their boxes are sourced from managed forests, and Eau Thermale Avène mindfully doesn't print out leaflets for their products. What's more, their suncare range is formulated to be octocrylene-free to ensure zero impact to the marine organisms.
That's not all ‒ Eau Thermale Avéne products also come in travel-friendly sizes, which means easily slotting them in your everyday bag or luggage when travelling overseas. 
Level Up Your Skin Care Routine And Sun Protection With Eau Thermale Avène 
Even if we don't necessarily feel it, the sun is always radiating harmful UV rays and HEV blue light, and our skin unknowingly suffers from additional blue light emitted from electronic devices and LED lights. Plus, WFH or staying indoors are no excuse to not apply a layer of SPF to protect your skin against pigmentation and ageing.
As the saying goes "prevention is always better than cure", so your skin will be grateful when you protect and treat it with the right skincare products. Eau Thermale Avène's latest sunscreen range and water spray allow you to do so while also promoting a greener living lifestyle. The sunscreen and Thermal water spray triple pack retail at $49.90 and $19.90 respectively. 
You can get your hands on them at any Watsons, Guardian, and Unity outlets, or on Eau Thermale Avène's official Shopee and Lazada store. For more information and promotions, visit Eau Thermale Avène's Facebook and Instagram. 
Cover images courtesy of Angie, Nicole, and Amanda.
Photography by Tasha Sun. 
This post is brought to you by Eau Thermale Avène.
Responses were edited for grammar and clarity.