DIY Sneaker Mask
Chinese artist Wang Zhijun is known for tearing up your favourite sneaker and repurposing it to create an air filter mask. From Yeezys to Nikes, no sneaker is safe from his nifty hands as he uses his DIY creations to make a statement about pollution in China.
Now, face masks have suddenly become ubiquitous. And once again, Wang's Instagram account is in the spotlight. Let's take a look at his most recent works, including one he created after learning about how the COVID-19 pandemic has reached crisis levels in Italy.
A mask dedicated to Italy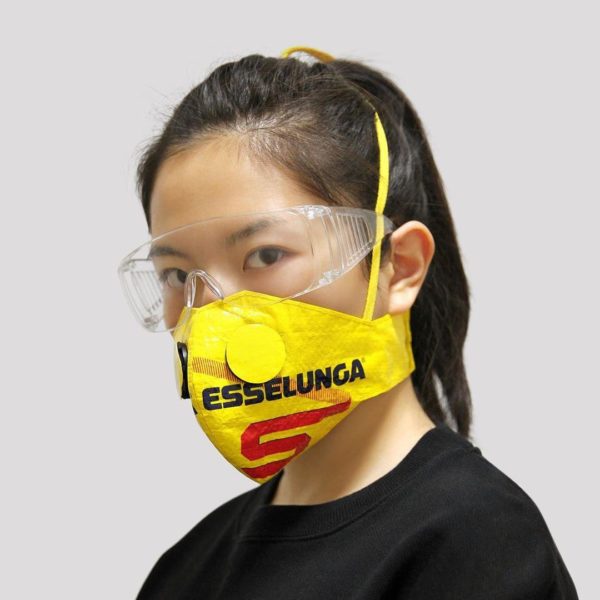 Wang's latest mask is made using a shopping bag from a supermarket chain in Italy called Esselunga. Accompanied by the simple caption "IT #Esselunga #Milan and #Italy", the artist showed his support for Italians during this difficult time.
In an interview with design magazine Domus, he recalled how hearing the news about the virus outbreak in Italy reminded him of his trip to Milan for a mask project. While he was there, he visited the local Esselunga market. He said, "In my mind, the yellow Esselunga shopping bag could be a special symbol of the daily life in Milan and Italy. It's a extreme tough time to all the people who have to face and struggle [with] the virus since the beginning of this year. Lack of supply is the same issue in most countries all over the world, not only mask, food and medication." 
In another Instagram post, he emphasised that "If my works could make you to pay more attention, no matter understanding or misunderstanding, like or hate. It doesn't matter. This time, we — human beings have to face this global incident together." He walks the talk by using his skills and platform to raise awareness on the situation in Italy. Wang urges us all to "increase public awareness, change each one's mind and daily behavior" in the face of this pandemic.
Inspiration and collaborations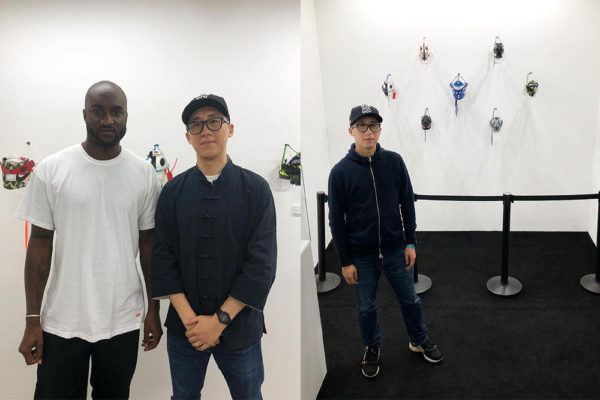 Wang with Virgil Abloh (left), Wang with his sneaker masks (right)
Wang first dreamt up the concept of his sneaker mask in 2014. It was after he witnessed the severity of the air pollution in Beijing during his weekly jogs. Wanting to combine form with function, Wang assembled his first mask using a pair of sneakers and a Nike jacket. More masks made using limited-edition sneakers from Adidas, CLOT and Off-White followed. 
Soon, he found himself being approached by major brands to work on special commissions and projects together. He has since worked with companies from Nike to Louis Vuitton. His Yeezy Boost 350 V2 sneaker mask is even part of the permanent collection of the Museum of Modern Art in New York. 
Nike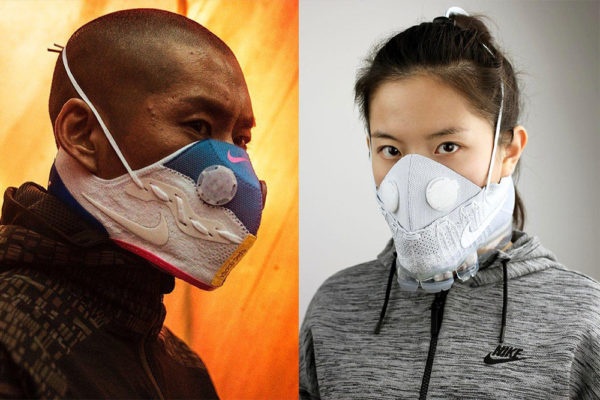 Wang's first mask was created using Nike products. So it's no surprise that the brand's products continue to star in Wang's DIY projects. 
For a collaboration with Nike Korea, Wang used a pair of Nike Epic React trainers to make this mask inspired by the Korean flag (left). 
The Air Vapormax is a common pair among sneakerheads. Wang made the shoe into a gas mask in grey (right) while keeping the iconic transparent sole as a detail on the mask.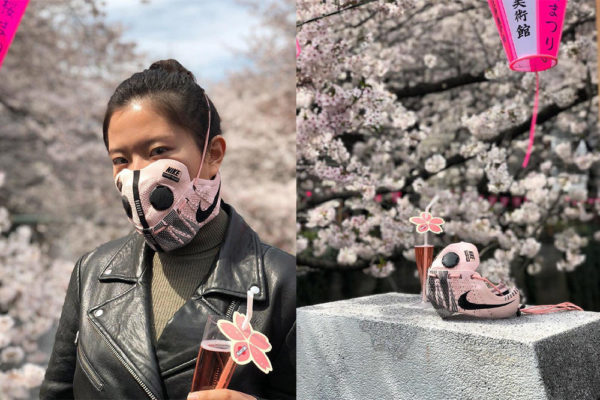 As we all know by now thanks to Starbucks' sakura collection, it is cherry blossom season. This mask was made from a pair of pink running shoes from Nike to mirror the sakura in Tokyo.
Supreme x Nike

This shiny gold sneaker is the wildly coveted Supreme x Nike Air More Uptempo. Wang had no issue tearing up the ~US$1,000 pair for his mask adventures. 
Also read:
IKEA's Viral Bucket Hat Is Now Actual Official Merchandise To Help You Nail The Hypebeast Look For US$3.99
Adidas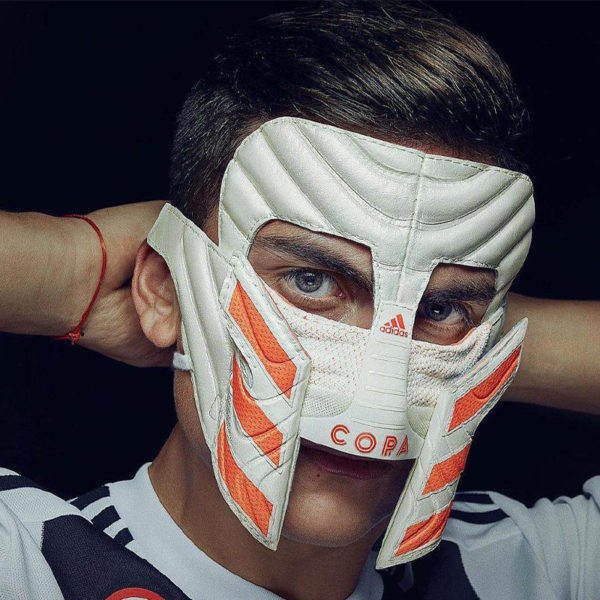 Wang has also worked with Adidas on a Gladiator-inspired mask for Paulo Dybala. The 26 year-old footballer plays for Juventus, aka the same team that Christiano Ronaldo is in. 
His mask was made from the COPA 19+ football boot. Wang disclosed that the shoe was particularly difficult to deal with due to its unsymmetrical structure.
Fila

Wang attempted to make a massive rabbit mask using 3 pairs of FILA x FR2 sneakers. The rabbit ears are actually the insoles of the shoe.
Iron Man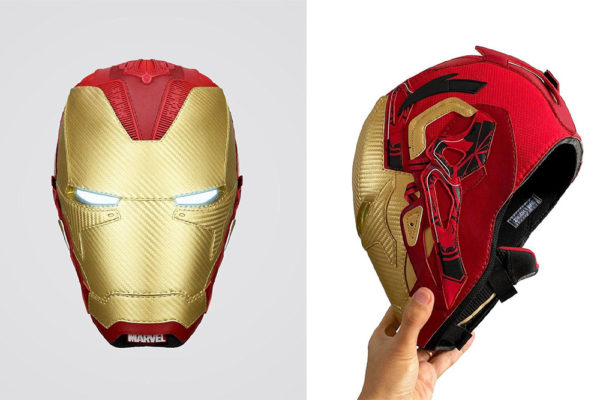 Wang hasn't just worked with sportswear brands. This masterpiece is a testament to Wang's amazing craftsmanship. The mask is a replica of the actual Iron Man headgear, and was done in collaboration with Marvel.
Zhijun Wang's Sneaker Mask Does More Than Just Giving You A Cool Look
Wang has chosen to raise awareness about air pollution and now the COVID-19 situation with his over-the-top masks. 
Disclaimer: The effectiveness of Zhijun Wang's masks is yet to be proven even with his use of 3M filters. It is recommended that you put on a surgical mask or an N95 mask if you are suffering from any flu-like symptoms and check the WHO website on proper mask usage.
Also read:
Nike Will Be Releasing 7 New Sneakers On Air Max Day 2020 Including Pink, Metallic & Camo Designs
All images: Source