IKEA KNORVA Bucket Hat
IKEA's iconic FRAKTA bag has been used to create all sorts of DIY fashion products, from IKEA sandals to dresses and more. Now, the Swedish company has released a new accessory, the KNORVA bucket hat, which is set to become a fashion statement in its own right. 
The IKEA KNORVA bucket hat retails for US$3.99, a total steal. For now, however, it is only available in the US.
A closer look
Bucket hats have made a comeback in recent years and are now a streetwear essential. Brands from Adidas to Vans to Prada have put their own take on the hat, and it can take any outfit from blah to hypebeast-worthy.
The IKEA bucket hat comes in a striking blue that can be recognised a mile away. It measures 8.9 cm (height) by 15.9 cm (diameter), and is one-size-fits-all, so you, your baby niece and even your doggo can wear the hat together.
To keep the hat in tip-top condition, you are advised to wash it by hand and with warm water.
Also read:
This Bride's Genius IKEA Bag Hack For Peeing In A Wedding Dress Has Made The Lives Of All Brides Easier
Inspired by the IKEA FRAKTA shopping bag
IKEA's bucket hat is made of 100% polypropylene, the same material as the FRAKTA shopping bag. The FRAKTA bag strap detail has been replicated on the bucket hat as the polyester strip that goes around the circumference of the hat.
Go for a matching look by pairing the hat with the bag, which you can get on the IKEA Singapore website for $0.90.
DIY IKEA mask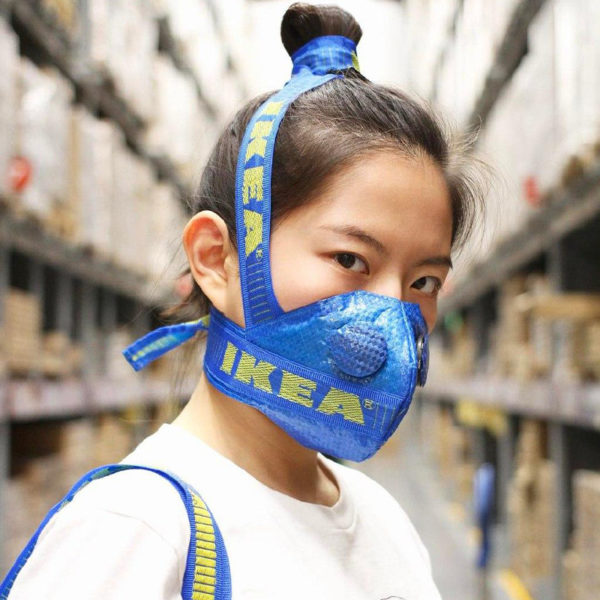 Source
Way before face masks made the headlines due to COVID-19, Chinese artist Zhijun Wang was making air pollution masks from sneakers. Amidst the Nike Air Presto and Yeezy Boost masks, he also DIY-ed a version using the IKEA FRAKTA shopping bag. The strap of his mask even doubles as a hair band for a hassle-free mask-wearing experience. 
Disclaimer: This mask is presumably for artistic and aesthetic purposes only. If you are coughing or sneezing, please wear a surgical mask or an N95 mask. You can refer to WHO's advice on when and how to use masks properly during this period.
The IKEA KNORVA Bucket Hat Is The New Streetwear Essential
The hat is only available in US stores and on the IKEA US website for now. In the meantime, you can patiently wait for them to be available in Singapore while munch on your IKEA meatballs.
Also read:
Beauty Everywhere Challenge: IKEA – Dreamy #OOTD Spots For Your Next Furniture Hunting Spree