Starbucks Siren Anniversary Collection 2023
With the hot and humid weather all year round, it's natural for Starbucks to come up with another cool nature-themed collection to celebrate their upcoming anniversary. 
Filled with exciting drinkware, the new Starbucks' Siren & Earth collection will be a definite staple in your growing Starbucks merch collection. This 25 piece series also features additional lifestyle items such as an online exclusive shot cup set and a snazzy Bearista Crossbody bag. It drops from 13 September 2023, so mark your calendars. 
The collection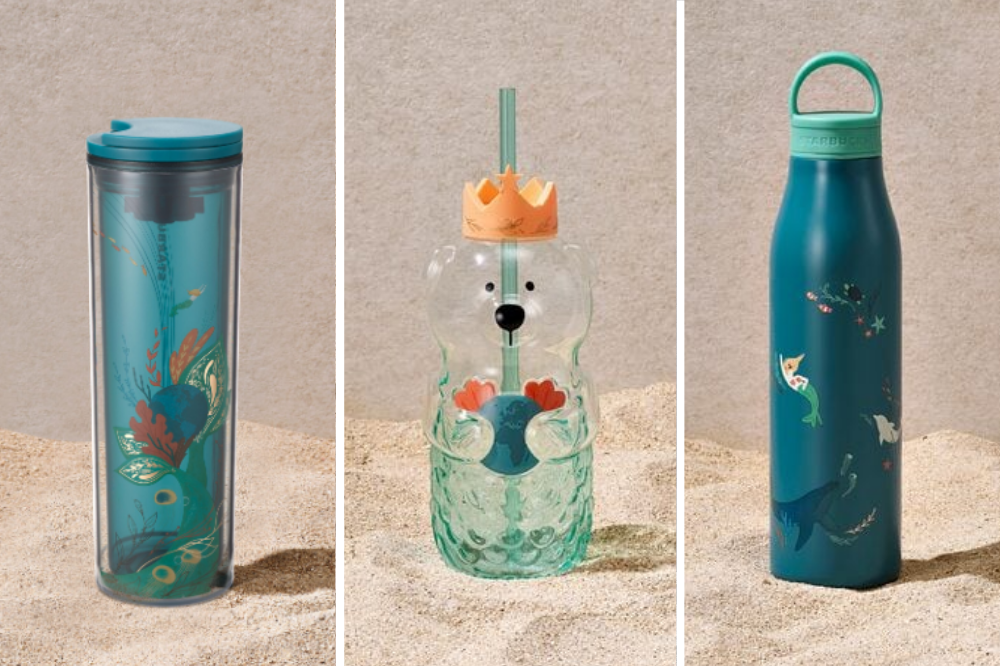 From left: 16oz Blue Siren Tail and Earth Tumbler, $30.90; 20oz Bearista Glass Bottle, $52.90; 20oz Sea Friends Stainless Steel Water Bottle, $52.90 
With this underwater Siren-themed collection, your Monday blues will surely disappear. Take a sip out of these bottles and tumblers to keep you cool and refreshed.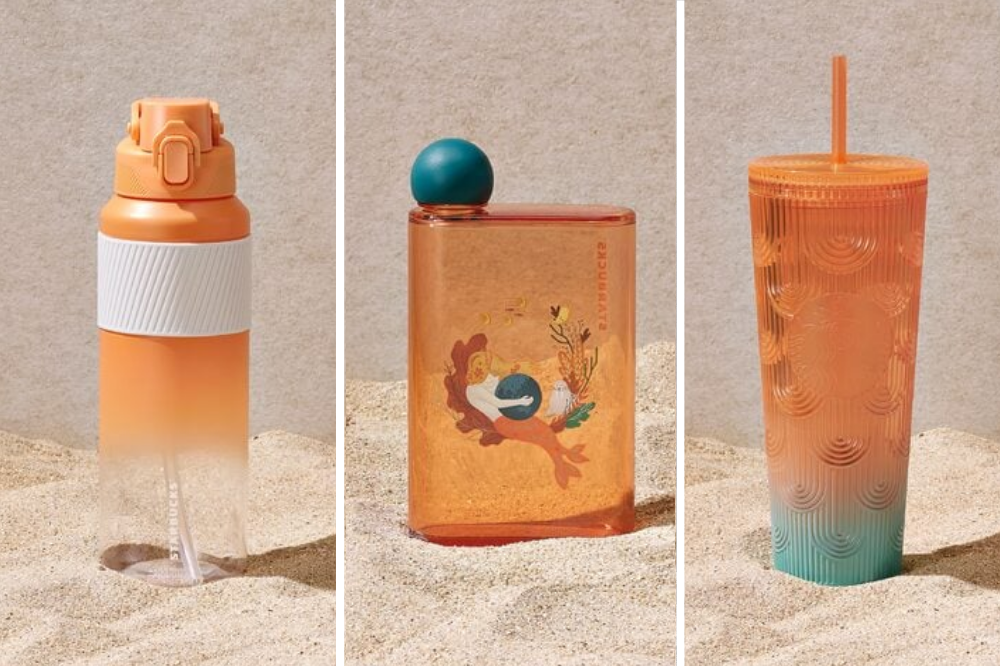 From left: 35.4oz Orange Gradient Water Bottle, $34.90; 14oz Orange Water Bottle, $26.90; 24oz Orange and Green Cold Cup, $39.90 
If blue isn't your colour, you can go for one of these vibrant orange bottles or cold cups. Impress your girl gang with the simple yet fun patterns.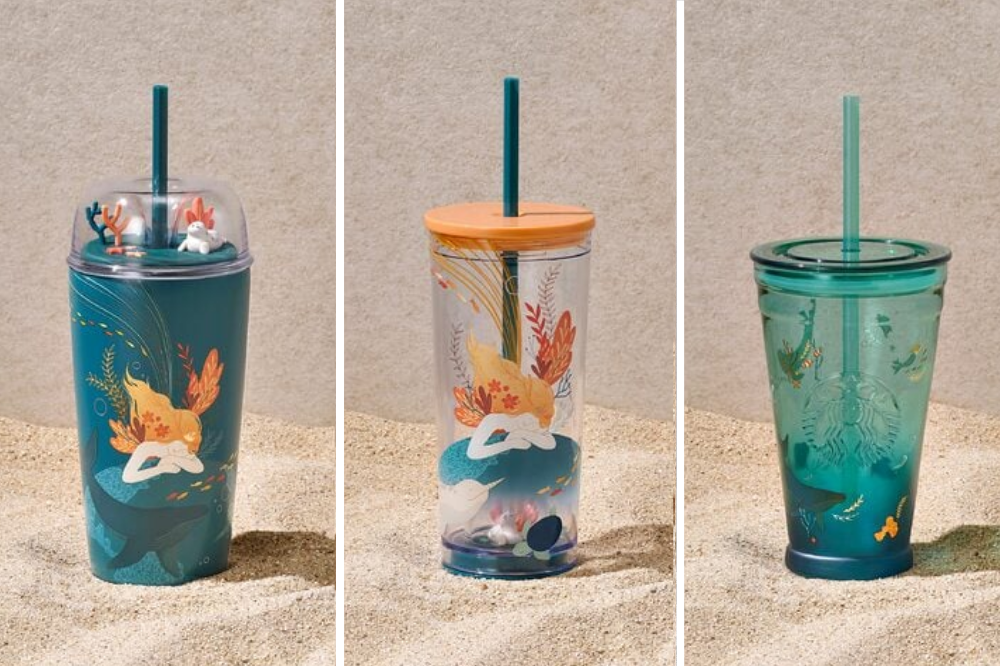 From left: 16oz Sea Friends Stainless Steel Cold Cup, $52.90; 18oz Cold Cup, $32.90; 16oz Sea Friends Regrind Glass Cold Cup, $32.90
Beach days aren't complete without a chic cold cup to enjoy your chilly drinks from. These azure blue cold cups will definitely add charm to your casual days out with your BFF.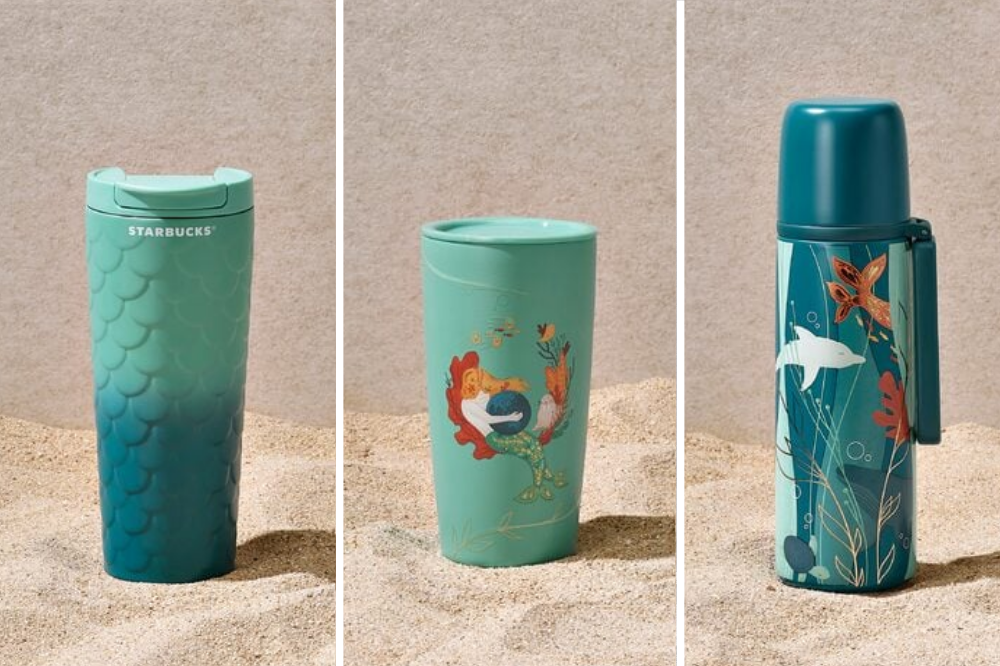 From left: 16oz Gradient Scales Stainless Steel Tumbler, $48.90; 16oz Turquoise Stainless Steel Tumbler, $48.90; 17oz Under the Sea Stainless Steel Tumbler, $69.90
Although sirens and mermaids are two different creatures, these designs would definitely make The Little Mermaid proud with unique scaly textures or adorable motifs of seaweed and sea animals. Start off your mornings by taking a swig of your favourite coffee from one of these tumblers.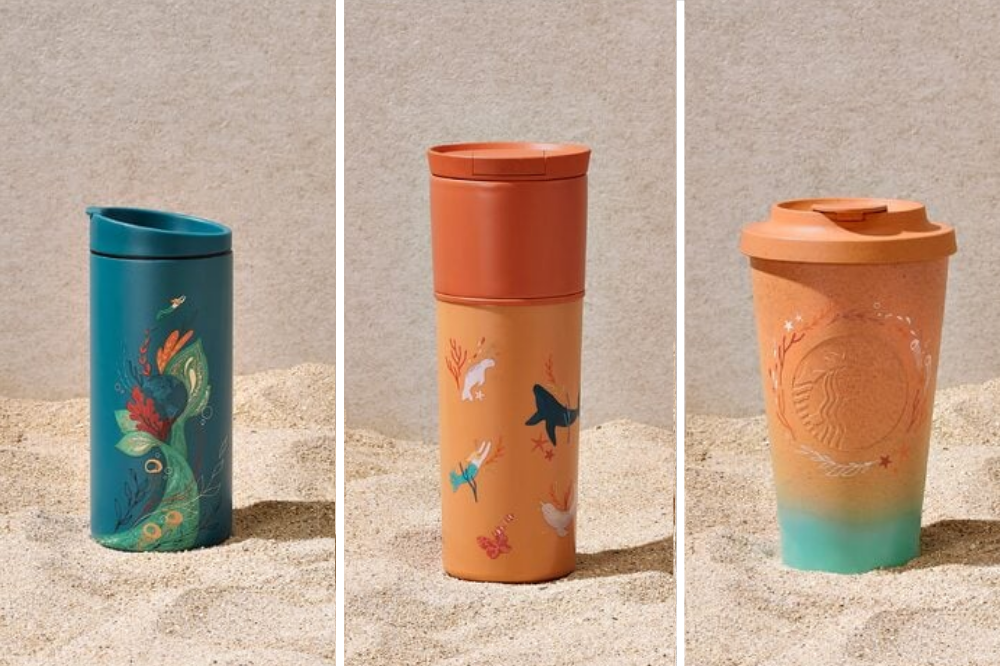 From left: 12oz Blue Siren Tail Steel Tumbler, $49.90; 16oz Orange Ceramic Tumbler, $44.90; 15.5oz Orange and Green Gradient Ring Tumbler, $32.90
If you haven't had enough of the underwater themed drinkware, fret not as there are the Siren Tail, Orange Ceramic and Orange and Green Gradient Ring Tumblers. They will remind you of the great blue ocean with their coral prints.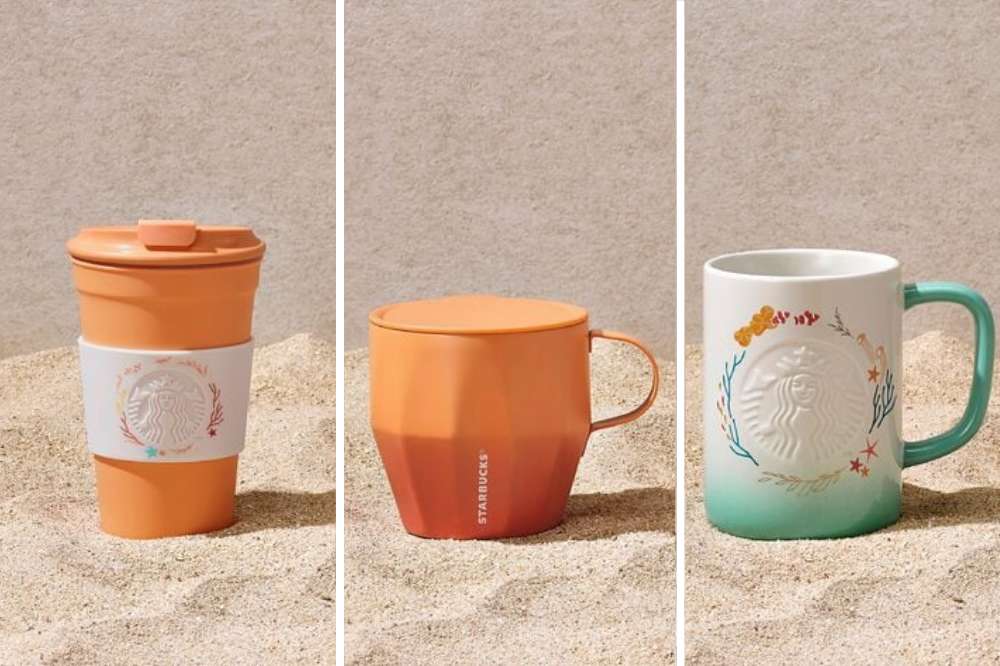 From left: 12oz Orange and White Ocean Ring Tumbler, $26.90; 14oz Orange Faceted Stainless Steel Mug, $34.90; 16oz Green and White Gradient Ocean Ring Ceramic Mug, $34.90
If you're thinking about having matching cups with bae, add a pop of colour to your everyday drinkware with one of these intricate mugs for a chill coffee date.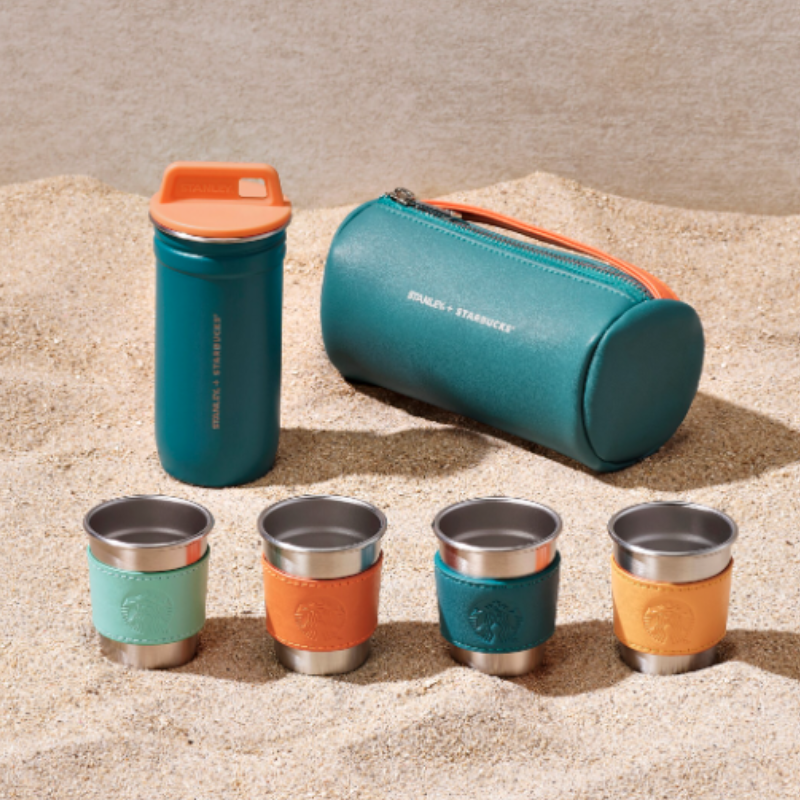 What's more, you can get an online exclusive shot cup set which contains four pieces of 2oz cups for a fun beach day out. It comes with an orange and turquoise carry case and metal container to store your booze. This set retails for $99.90.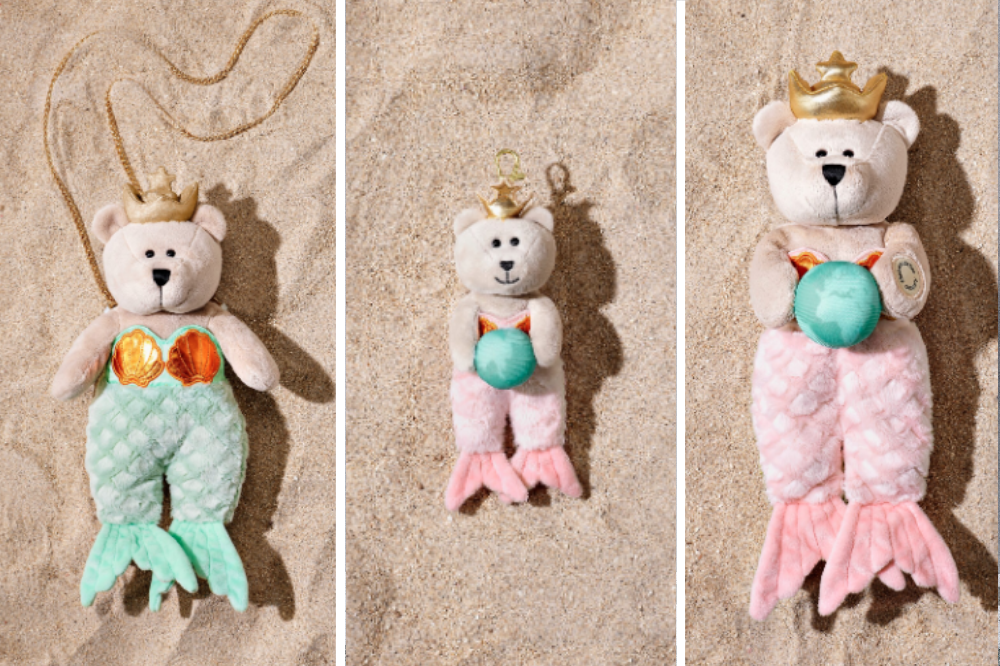 From left: Bearista Cross Bag, $59.90; Bearista Bear Keychain, $25.90; Bearista Bear, $47.90
A Siren collection isn't complete without Starbucks' signature Bearista. This time, the mermaid Bearista is transformed into a Crossbody Bag so you can wear the beloved mascot everywhere you go. Or, if you prefer something lowkey, you can opt for the mini keychain.
You can also snuggle up with the Bearista Bear during your rest days. BTW, these three Bearista items are only available in selected stores so do check out the website for more information.
Feel The Summer Breeze With Starbucks' New Siren Anniversary Collection
It's your chance to dive right into the new Starbucks Siren Anniversary collection this month. This nature-inspired series will launch on 13 September 2023 on Starbucks official website, Lazmall, ShopeeMall and in-stores, while stocks last. 
All images courtesy of Starbucks.
Also read:
Starbucks' New Mid-Autumn Festival Collection Has Rabbit Motifs To Accompany Your Mooncake Feast