Starbucks Disney Collection
Previously, Starbucks served impressive collections such as the Blackpink and the Summerfield series. Now, the iconic coffee brand is launching an even more charming collection, with a touch of Disney magic. 
The new Starbucks Disney collection includes a wide selection of adorable drinkware, ornaments, umbrellas, and tote bags for a cosy and laidback look. This special series will be available for purchase starting on 19 September 2023, so set your alarms. 
Drinkware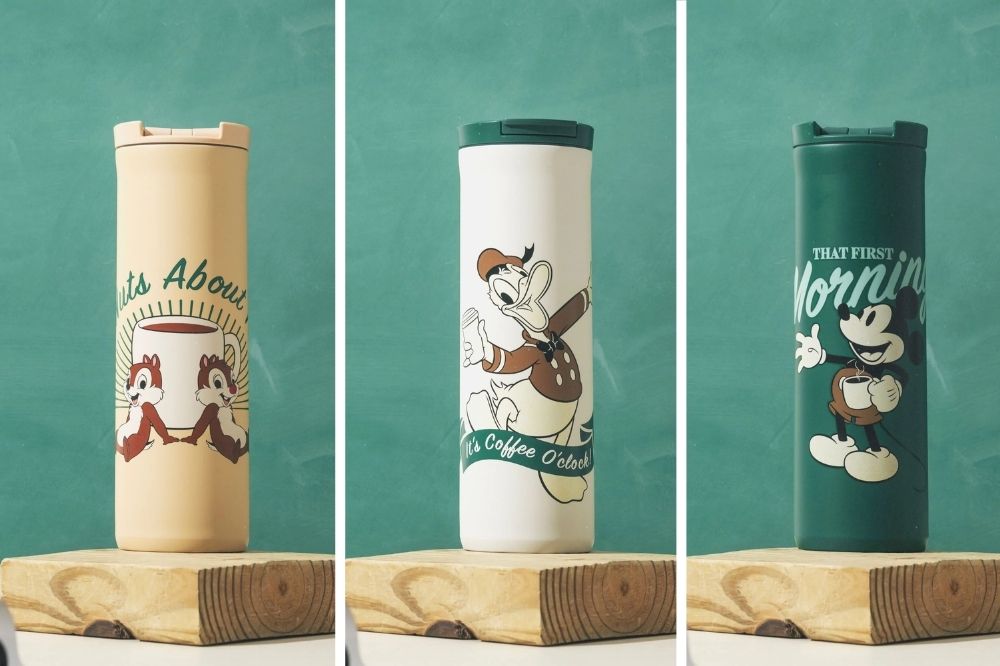 From left: Chip and Dale Stainless Steel Tumbler, Donald Duck Stainless Steel Tumbler, Mickey Stainless Steel Tumbler
If you're a huge fan of the OG Disney fam, these stainless steel tumblers in earthy tones will be a great addition to spruce up your desk at work or school. You can choose your favourite Disney characters, such as Chip and Dale, Mickey Mouse, and Donald Duck, and enjoy designs of them savouring a lovely cup of coffee.
Each Stainless Steel Tumbler is 16oz, and retails at $55.90.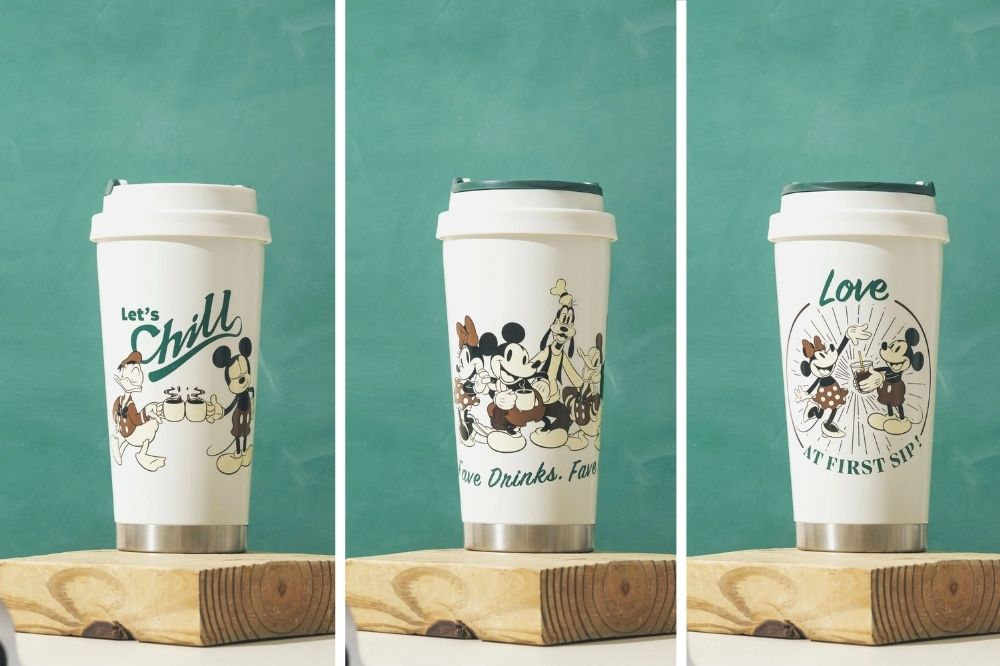 From left: Mickey & Donald Duck Stainless Steel Tumbler, Mickey & Friends Stainless Steel Tumbler, Mickey & Minnie Stainless Steel Tumbler
Alternatively, go for this stainless steel tumbler variation. Unlike the aforementioned designs, these ones feature a metallic rim at the base, and various motifs of Mickey and Friends. Rest assured that each tumbler comes with a trusted flip lid that prevents accidental spills. 
Each Stainless Steel Tumbler is 16oz, and retails at $55.90. 
From left: Donald Duck Bring On The Day Stainless Steel Tumbler, Minnie Made For Me Stainless Steel Tumbler, Mickey Magical Day Stainless Steel Tumbler
Whether you're going out or chilling indoors with friends, staying hydrated is very important in Singapore. Quench your thirst in style with one of these tumblers capable of keeping your drink chilled for up to 9 hours. 
Minimalist lovers might also find their interest piqued, thanks to the simple design that features a motif of a Disney character. 
Each Stainless Steel Tumbler is 16oz, and retails at $55.90.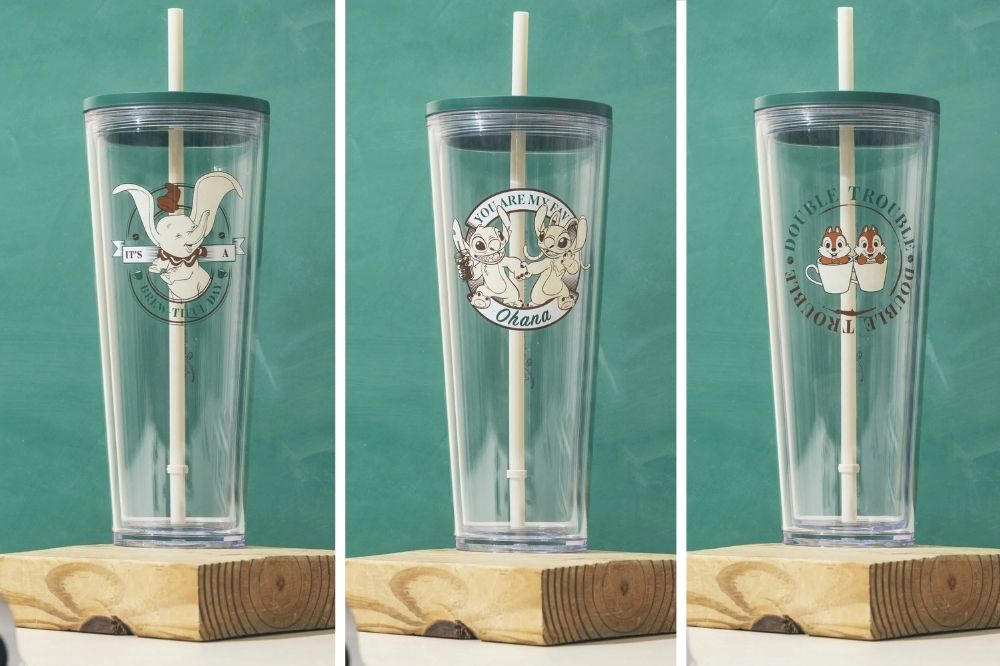 From left: Dumbo Cold Cup, Stitch and Angel Cold Cup, Chip and Dale Cold Cup
For the unacquainted, cold cups are Starbucks' signature drinkware, so it's not surprising that they appear in this collection. Featuring Dumbo, Stitch and Angel, and Chip and Dale, the cold cups are no doubt adorable additions to a Disney lover's collection. 
Each cold cup is 24oz, and retails at $29.90.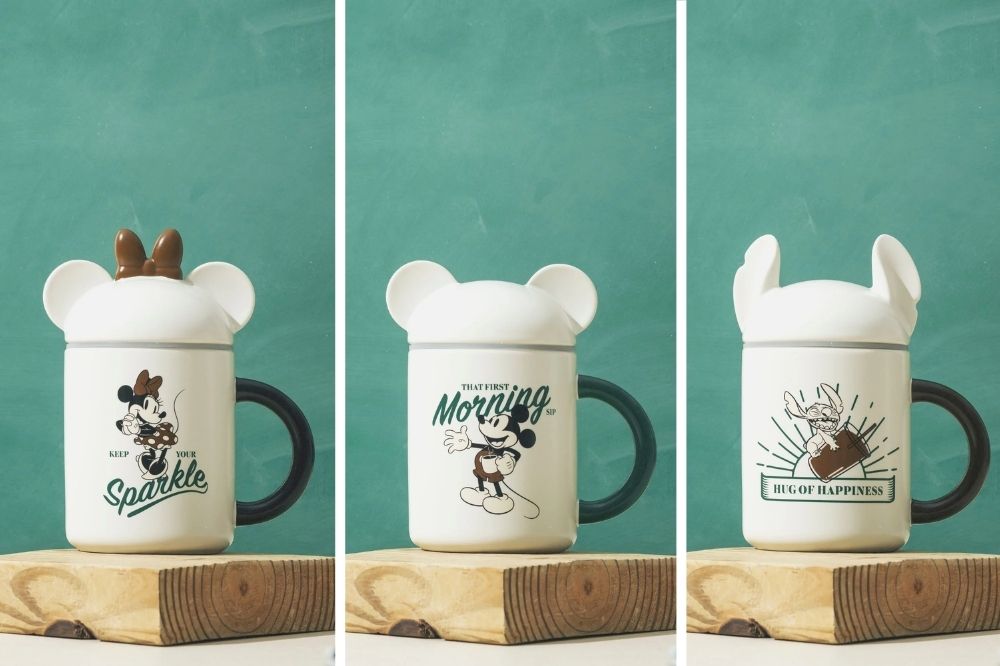 From left: Minnie Ceramic Mug, Mickey Ceramic Mug, Stitch Ceramic Mug
While most people consider the functionality of an item, some prioritise aesthetics instead. But with these ceramic mugs, you can have both. 
Depending on the Disney character you choose, each mug features a unique lid with 3D-shaped ears. For instance, the Minnie design comes with an additional ribbon, and the Stitch one showcases its iconic ears. 
Each ceramic mug is 12oz, and retails at $39.90. 
Lifestyle merchandise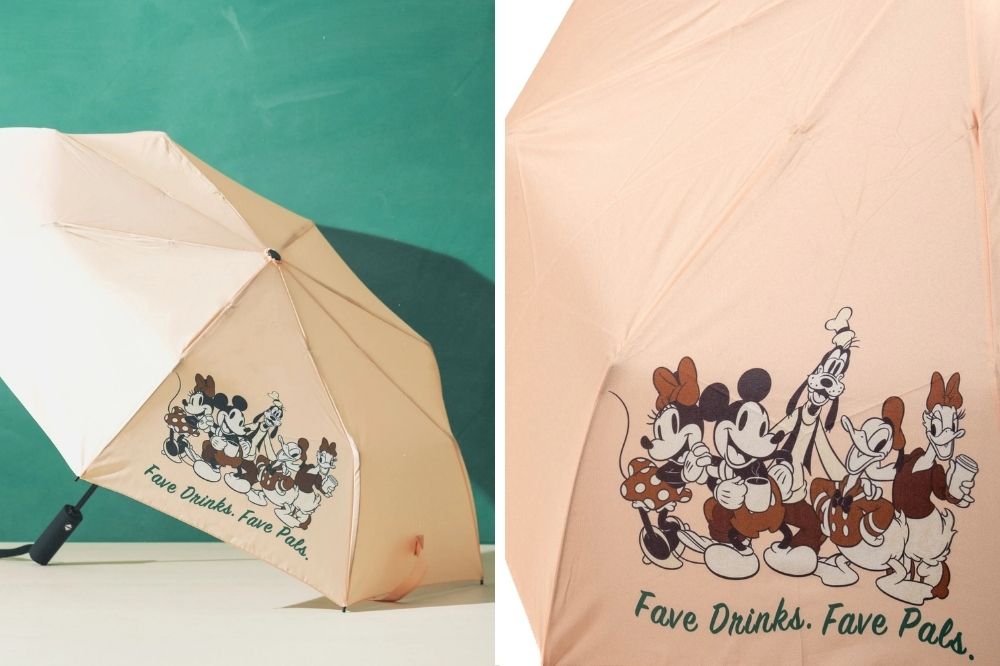 Starbucks Disney and Friends Fave Pals Travel Umbrella
Like Rihanna's song 'Umbrella', true friends are those who have your back whether it is rain or shine. Show appreciation to your BFFs when you gift them a Mickey and Friends umbrella, which is available in three designs.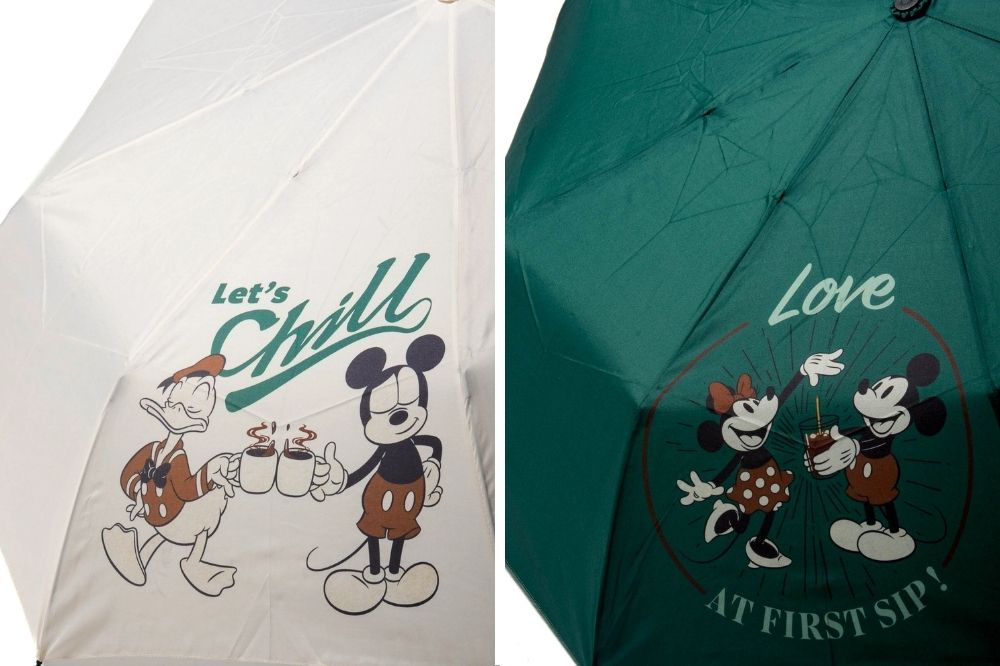 From left: Starbucks Donald and Mickey Let's Chill Travel Umbrella, Starbucks Mickey and Minnie Love At First Sip Umbrella
The one in orange pays tribute to Mickey and Friends, while the ones in off-white and dark green feature the friendship and loving relationship between Donald Duck and Mickey, and Minnie and Mickey respectively. 
Since these umbrellas are also foldable, they occupy little space in your bag. 
Each Disney umbrella retails at $49.90.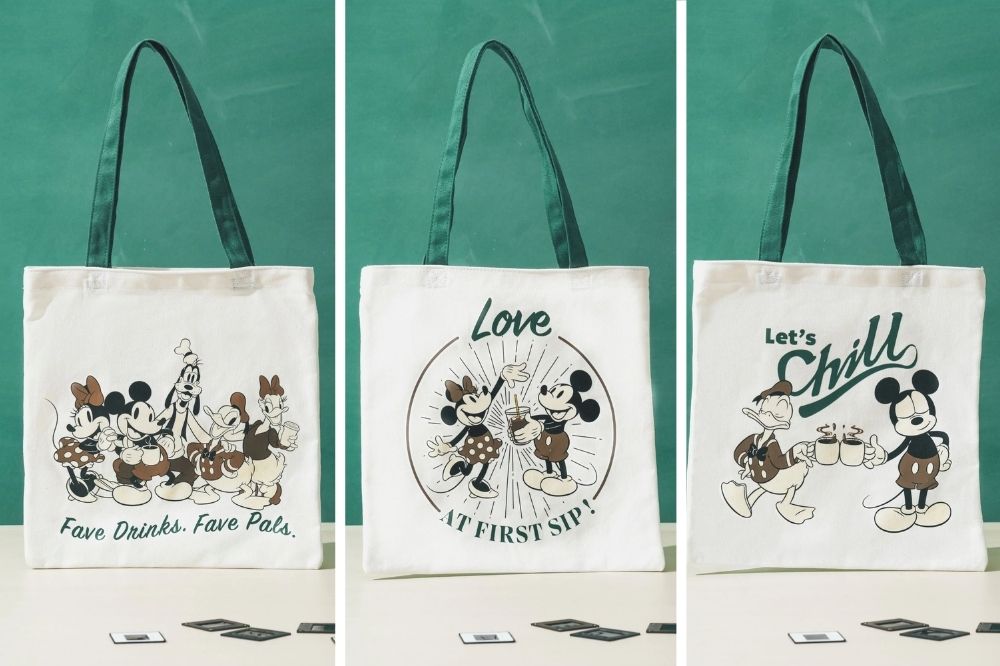 From left: Starbucks Mickey and Friends Fave Pals Tote Bag, Starbucks Mickey and Minnie Tote Bag, Starbucks Donald Duck and Mickey Tote Bag
Tote bags are essentials that need no introduction. Be it for a quick errand run, or a casual date with bae, these Starbucks Disney tote bags are excellent for any look. Most importantly, these totes also come with an interior pocket, so you can keep small items organised without misplacing them. 
Each Starbucks Disney tote bag has dimensions of 35.5cm x 0.8cm x 59.6cm, and retails at $39.90. 
Ornaments and pins
Apart from the collection launch, there are also purchase-with-purchase merchandise for Disney and Starbucks lovers to bring home. 
While some might think that Christmas is still far from happening, there's no harm in preparing in advance with the Ceramic Ornament Cups. These mini drink replicas are a perfect way to celebrate the holiday season, and add a special touch to an otherwise boring Christmas tree. 
The Ceramic Ornament Cups are available from 19 to 26 September 2023. 
These designs are available from 27 September to 3 October 2023
Here is another way to subtly express your love for Disney characters. There are enamel pins that feature motifs seen in the collection, which you can place either on tote bags or denim jackets for a lil' extra something.  
These designs are available from 4 to 10 October 2023
Since the designs change every week, those keen on purchasing the enamel pins will want to take note of the dates that they are available. 
To purchase the ornaments and enamel pins, simply top up $9.90 for your favourite premium with any transaction in-store and on the Starbucks online store. 
Add Magic To Your Growing Collection With The New Starbucks Disney Collection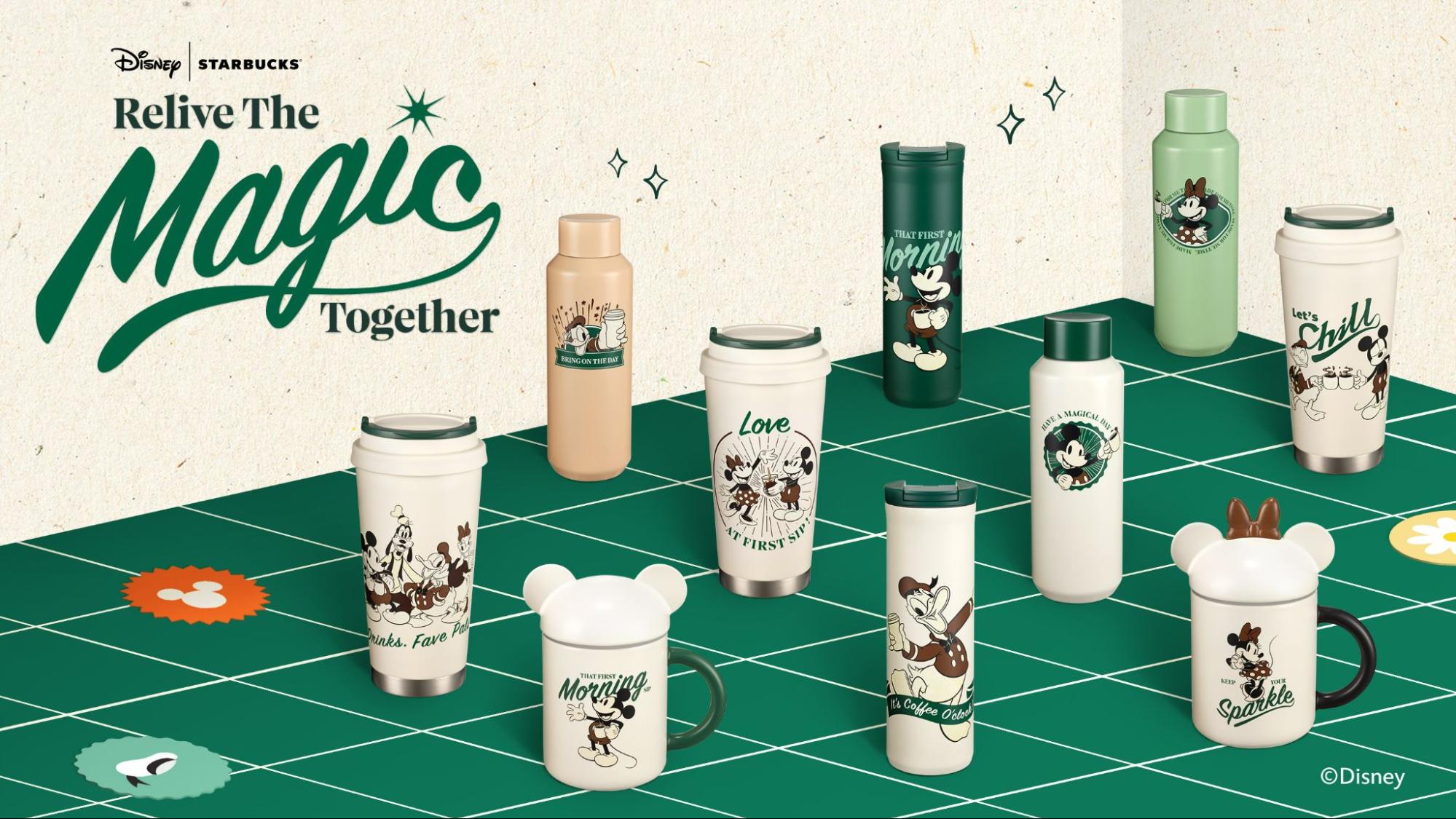 With this year being Disney's 100th anniversary, it looks like we won't be short of Disney merch, and now Starbucks has joined the celebration. 
You can snag the collection when it launches on 19 September 2023 in-store and on Starbucks online store at 10am. The collection is also available on Lazmall and ShopeeMall from 12pm on the same day. 
All images courtesy of Starbucks. 
Also read: 
Starbucks' New Mid-Autumn Festival Collection Has Rabbit Motifs To Accompany Your Mooncake Feast