Starbucks x Blackpink
Fans of Blackpink, aka Blinks, and Starbucks enthusiasts can now enjoy the best of both worlds in the second half of 2023. The global beverage brand has recently announced a new collaboration with the iconic girl group, following their first collection launched in Thailand in 2021. Read on to find out more about this highly-anticipated collection. 
Drinkware
Similar to before, the new Starbucks x Blackpink collection showcases drinkware and lifestyle products in, obviously, black and pink hues.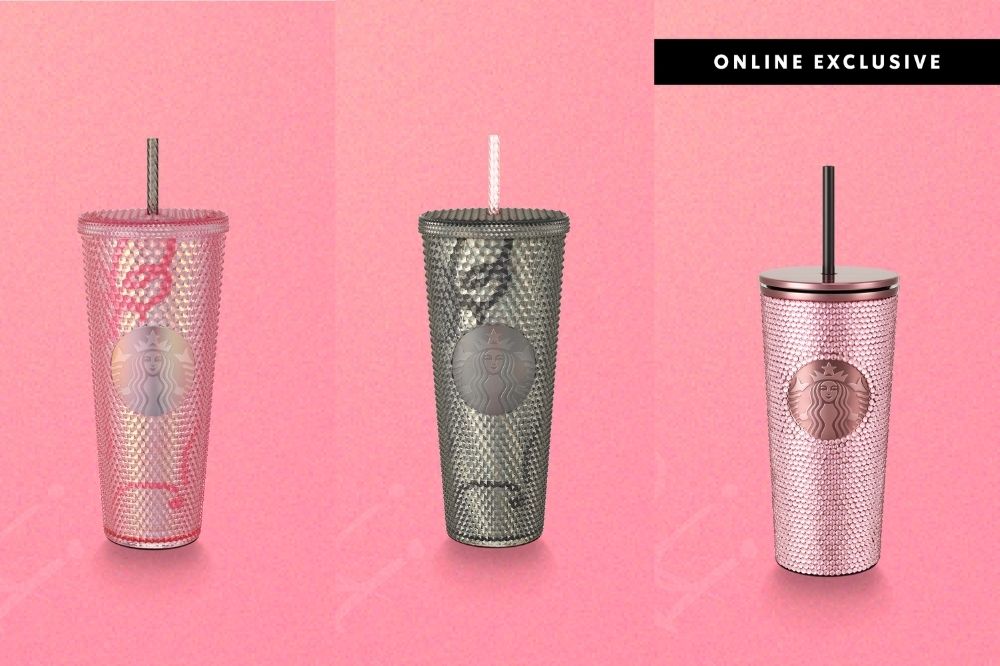 From left: Pink Blink Cold Cup 24oz, Black Bling Cold Cup 24oz, Pink Rhinestone Stainless Steel Cold Cup 16oz (online exclusive)
Stay hydrated while sipping your favourite Starbucks drink with these cold cups, available in black, pink, and pink rhinestone. 
The first two designs feature doodles inspired by the girls' autographs in a darker shade of their respective colour ‒ offering the closest experience to having them personally sign your cold cup. The rose rhinestone cold cup, on the other hand, presents a sleek appearance with its metallic lid and black straw. 
Fun fact: The Pink Blink Cold Cup and Pink Rhinestone Stainless Steel Cold Cup are Jisoo's and Lisa's picks from the collection respectively.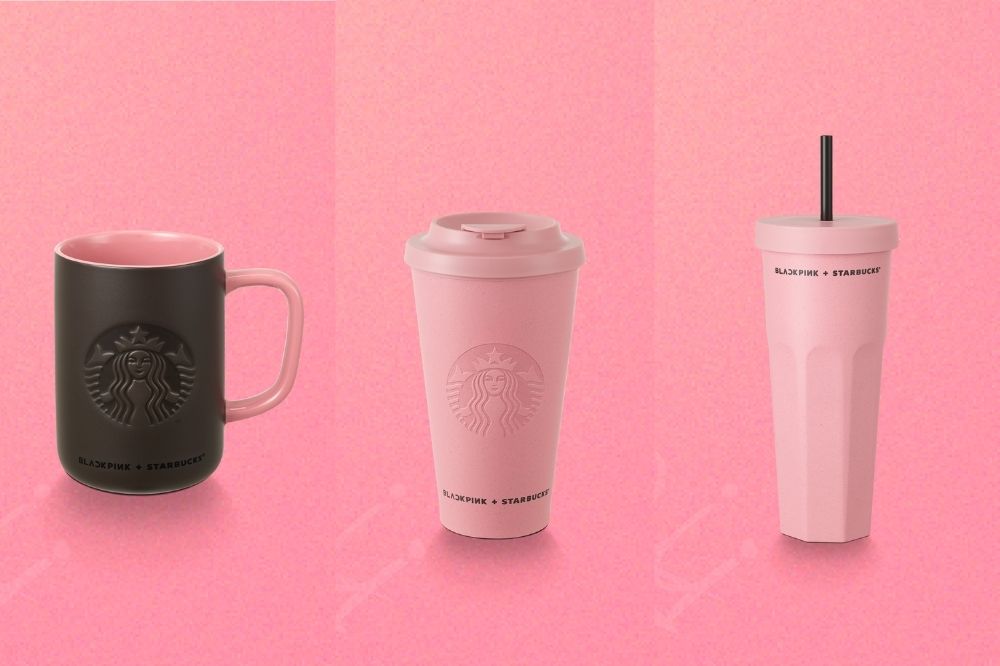 From left: Black Regrind Ceramic Mug 16oz, Pink Coffee Ground Tumbler 15.5oz, Pink Coffee Ground Cold Cup 14oz
Cast your gaze upon Jennie's favourite item from the collection ‒ a black mug with a pink interior and handle. If your bias from Blackpink is Rosé, consider getting the matte pink tumbler, which she has chosen as her favourite. Make sure to snag it before it is gone. 
Alternatively, there is also a matte pink cold cup with a black straw that suits those who prefer a simple and aesthetically-pleasing design.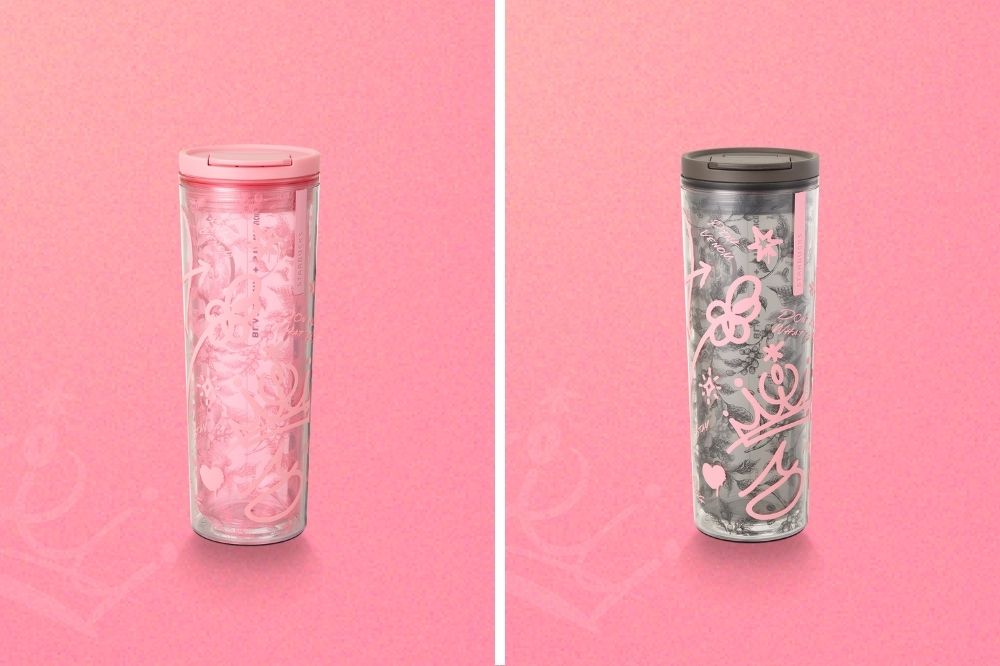 From left: Pink Doodles Tumbler 16oz, Black Doodles Tumbler 16oz
Apart from the aforementioned drinkware, the collection also sees water bottles and tumblers that feature Blackpink's doodles layered on top of each other.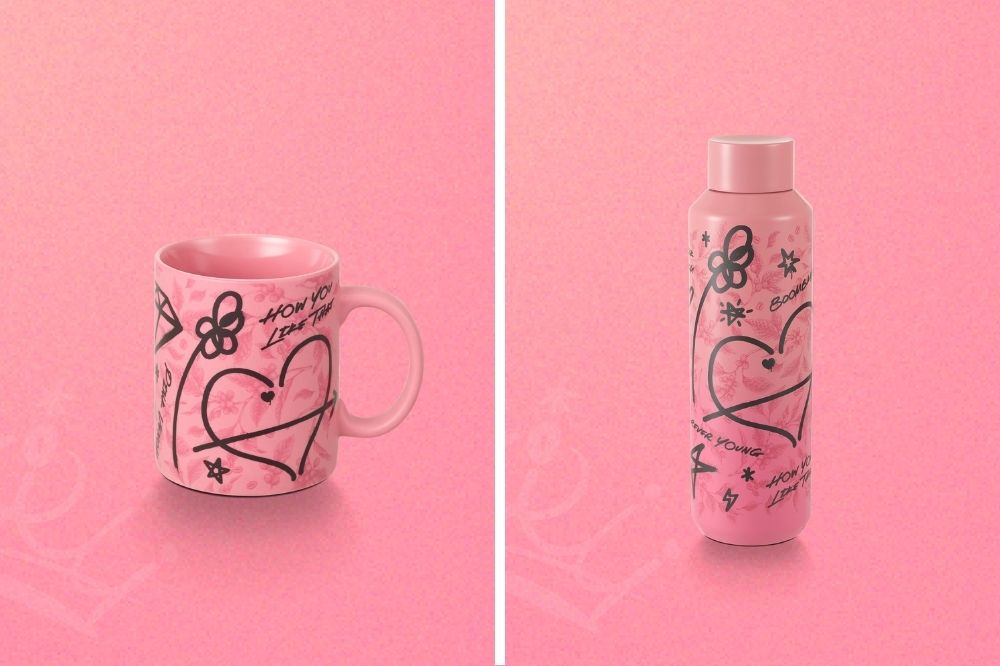 From left: Pink Doodles Ceramic Mug 12oz, Pink Doodles Stainless Steel Water Bottle 20oz
Paying tribute to Blackpink's hits like "How You Like That" and "Boombayah", the Pink Doodles Ceramic Mug and Pink Doodles Stainless Steel Water Bottle feature scribbles of the song titles alongside doodles repeated in the collection. 
Lifestyle products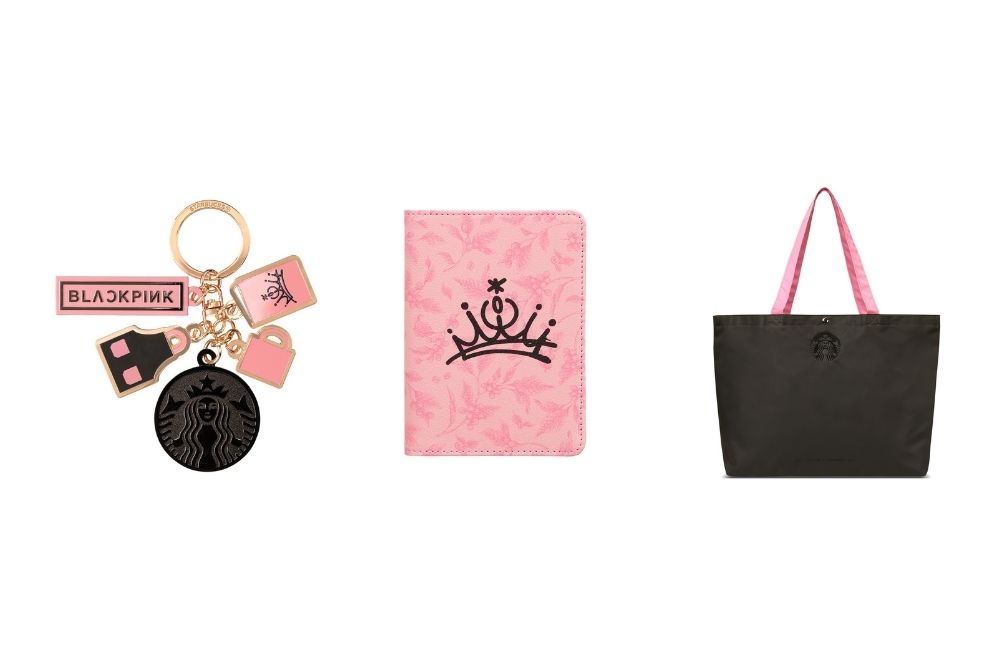 From left: Keychain, Passport holder, Tote Bag
ICYMI, Starbucks occasionally releases lifestyle items like tote bags and foldable chairs. In this collection, fans are also treated to keychains, diaries, posters, aprons, and bags. This means you can also surprise a Blink by gifting them with one of these stylish collectibles.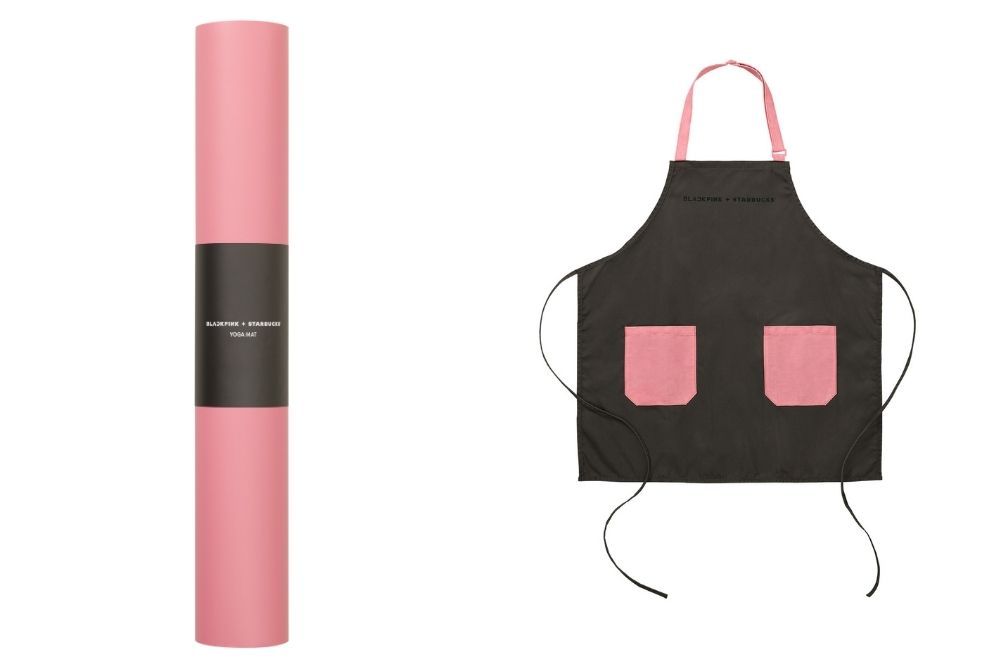 From left: Yoga Mat (online exclusive), Apron
Not forgetting fitspos and those who enjoy whipping up meals, the collection also has an online exclusive yoga mat in pink, and a black apron with pink pockets.  
Resuable cup & gift cards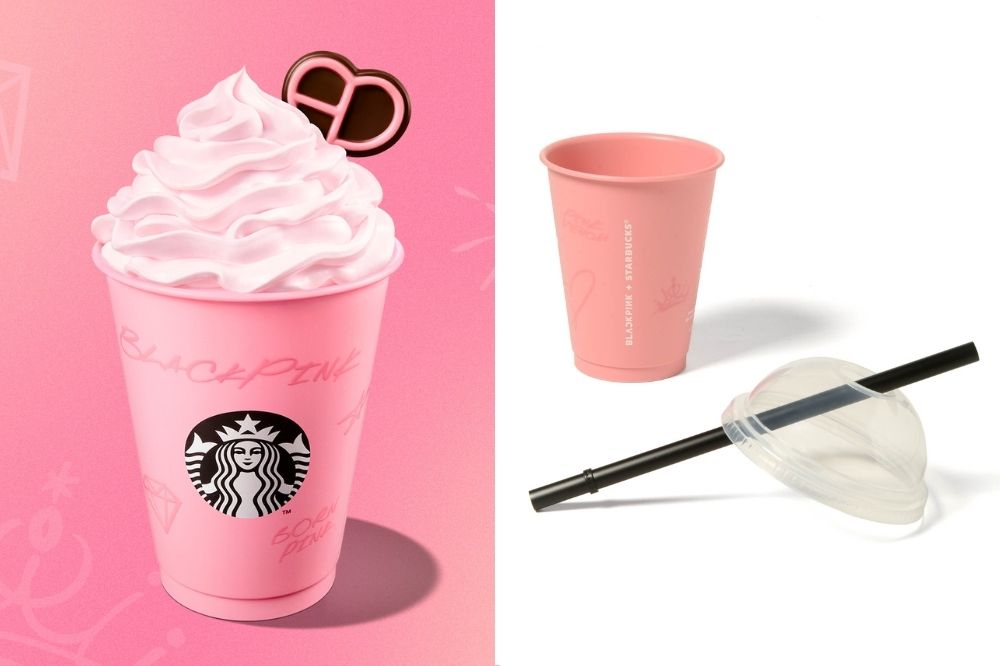 The Blackpink Resuable Cup 16oz is available at $8.90 each with any purchase of a Blackpink Strawberry Choco Cream Frappuccino
Contributing to sustainability and greener living, the collaboration between Starbucks and the girl group also includes a pink reusable cup that comes with every purchase of the Blackpink Strawberry Choco Cream Frappuccino. 
P.S.: Starbucks Rewards members get first dibs on trying out the new drink starting from 24 July 2023, 10am, at any Starbucks store.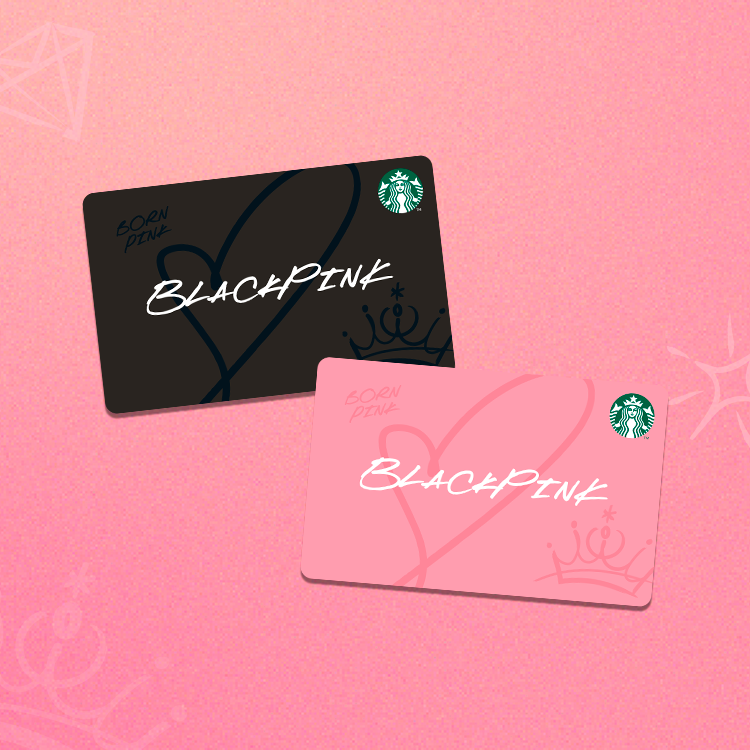 Look no further if you're getting a gift for a Blackpink fan ‒ Starbucks also offers Blackpink-themed gift cards. These gift cards are available with a minimum load of $30, and each customer is limited to four gift cards per purchase.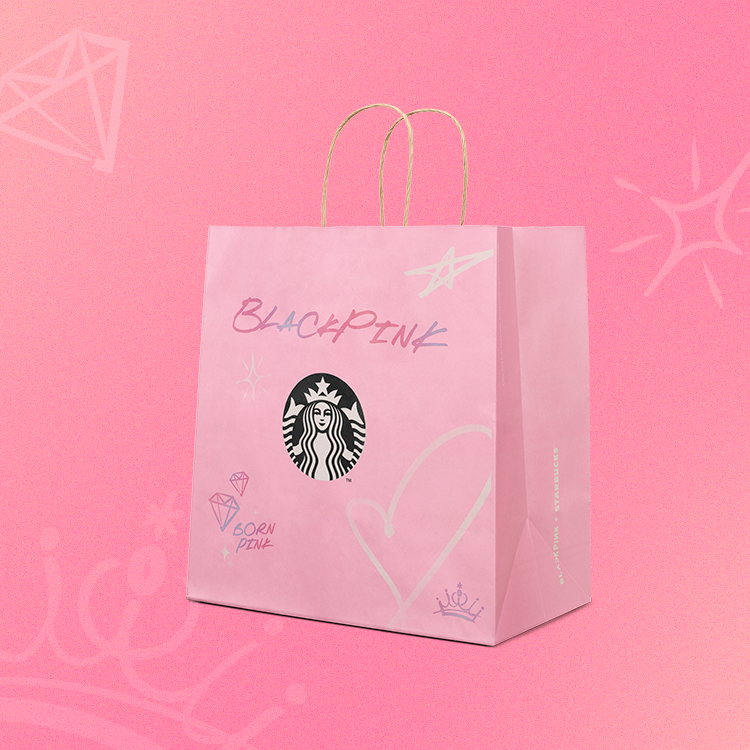 As an aesthetic way to pack your Starbucks x Blackpink purchases, the beverage brand will also provide exclusive Blackpink shopper bags. Note that an additional 10-cent bag charge will apply to your purchase. 
The New Starbucks x Blackpink Collection Has Chio Drinkware For Blinks 
Starting from 25 July 2023, 10am, the Starbucks x Blackpink collection will be available for purchase at selected Starbucks outlets, on Starbucks' official online store, and on LazMall and Shopee Mall.   
Considering how the previous Starbucks x Blackpink collection sold out within a day, fingers crossed that Starbucks will have more stocks available for Blinks this time around. 
All images courtesy of Starbucks.
Also read: 
Starbucks Singapore's New Pastel Wonderland Collection Has Whimsical Drinkware For A Soft Girl Vibe