Starbucks Rewards Singapore
There are over 1 million registered Starbucks Rewards members in Singapore. If you're reading this, you're probably one of them. After all, if there's anything Singaporeans have a nose for, it's a good deal… and rewards programme. While the existing membership perks are already nothing to sniff at, it's about to get a lot more (ahem) rewarding. To celebrate 10 years of Starbucks Rewards in Singapore, the coffee chain will be releasing weekly exclusive merchandise and offers to Starbucks Rewards members here.
Read on to find out what the weekly launches are, and how to get your hands on them!
Weekly exclusive merchandise 
From 5 October
First up, these 2 super chio 24oz Studded Cold Cups. Take your pick from a metallic "oil slick" or pink version, and take heart in the fact that your Cold Cup is cooler than everyone else's. They will be retailing for $39.90 each.
From 12 October
Starbucks Taiwan's Halloween 2020 collection focuses on black cats, and week 2 of Starbucks Singapore's member-exclusive merch involves these 2 12oz Halloween mugs. They will be retailing for $26.90 each. Hopefully, they're a preview of what's to come in Singapore's own Halloween 2020 collection.
Also read:
Starbucks Taiwan Just Unveiled Its Halloween 2020 Collection & It Is Purr-fect For The Spooky Season
From 19 October
Next up, the Siren Bag collection. The Starbucks mascot's serene mien appears on a series of bags for every occasion. There's a sling pouch ($18.90) for your handphone, as well as a backpack ($32.90).
There's also a tote bag ($35.90) and even a hip pouch ($29.90) so you can rep your favourite coffee chain all day erryday.
From 26 October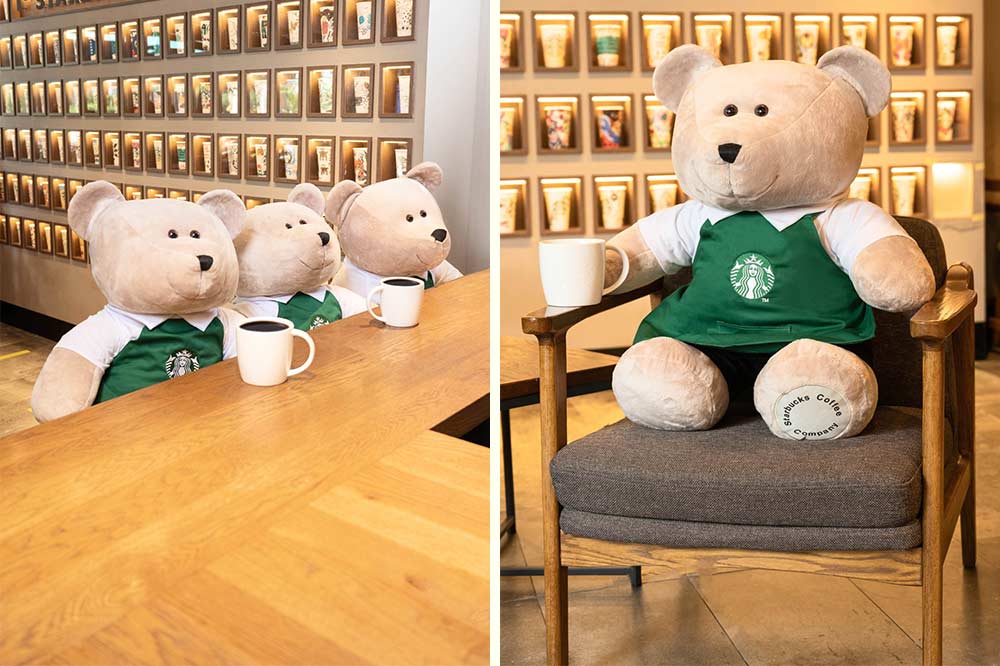 While the rest of the Starwards Rewards merch is open to all members in Singapore, the last series is exclusively for Gold members only. The Giant Starbucks Bearista Plush is only available online, and is retailing for $169 each. Imagine chilling out with this guy, as you sip on a cuppa. Monday blues won't be a thing anymore.
Starbucks Singapore Has Exclusive Merchandise For Its Rewards Members To Thank Starbucks Stans

For those of you who are feeling FOMO cos you're not a Starbucks Rewards member yet, don't be disheartened. You can be one instantly by registering and adding an activated Starbucks Singapore card to your account. This can be done on the members' portal or on the Starbucks Singapore mobile app. There are 3 tiers in total: Welcome, Green and Gold. Each tier entitles you to rewards such as free drinks, free cake with every drink purchase during your birthday month, and more.
Visit this dedicated Starbucks website to find out more about what it has in store to celebrate 10 years of Starbucks Rewards in Singapore. The Cold Cups, Halloween mugs and Siren bags are not available at stores located at Changi Airport (besides Starbucks Jewel). Purchases are limited to 4 pieces per item in a single transaction. Happy collecting!
All images courtesy of Starbucks.
Also read:
Starbucks' New Minimalist Mason Jars & Denim Moleskine Planners Will Help You Zhng Your Workspace