Salvaging Trash From Bins For A Sustainable Singapore
If, like me, you stay in an HDB estate, the sight of elderly folks digging through rubbish and recycling bins shouldn't be foreign to you. All my life, I've been attuned to seeing mostly white-haired grannies and grampas dipping an entire arm into the bin, pulling out cardboard, glass bottles and cans, before bagging them up and tottering away.
Social studies teacher Bianca Tham pilfers through trash on a regular basis too—except she's far from elderly. The 26-year-old is a freegan, someone who partakes in activities to get by for "free" with a waste reduction motive. 
Some common freegan habits include participating in clothes swaps, giveaways, trades, food rescues, freecycling and also dumpster diving.
But unlike other freegans, Bianca doesn't just salvage usable and almost-new items disposed in both recycling and trash bins. She goes the extra mile to rehome these items too.
Dumpster diving & freecycling to save items from turning into trash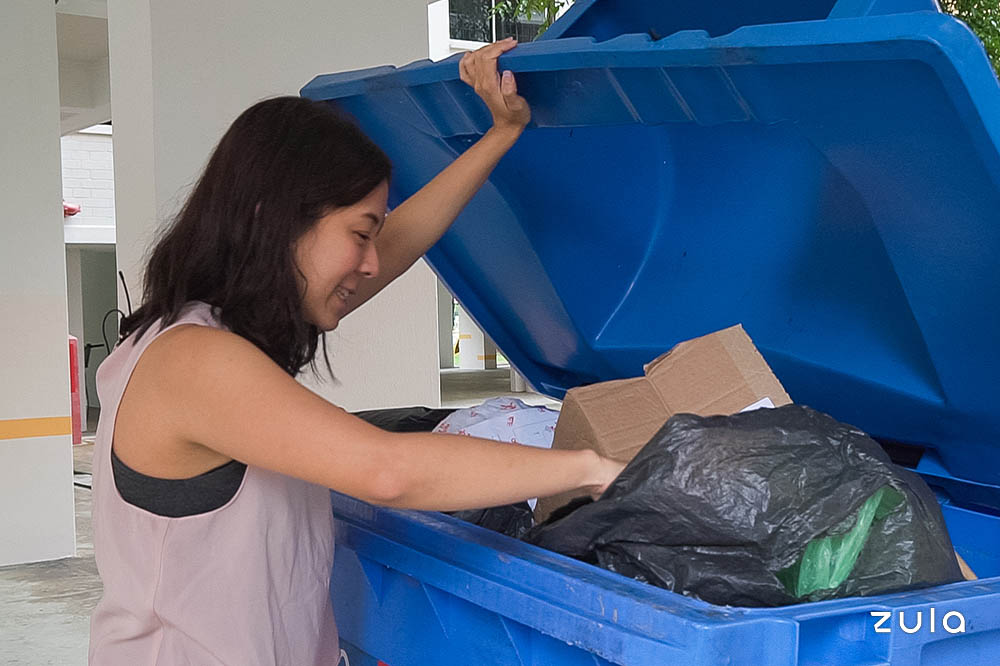 Bianca pilfering through the blue recycling bin
Bianca started her dumpster diving journey out of sheer curiosity a little over 2 years ago. She found herself peering into the ubiquitous blue recycling bins dotted across Singapore as she went about her day. What she discovered was a recurring trend of unrecyclable and contaminated items that were still usable being deposited into the bins.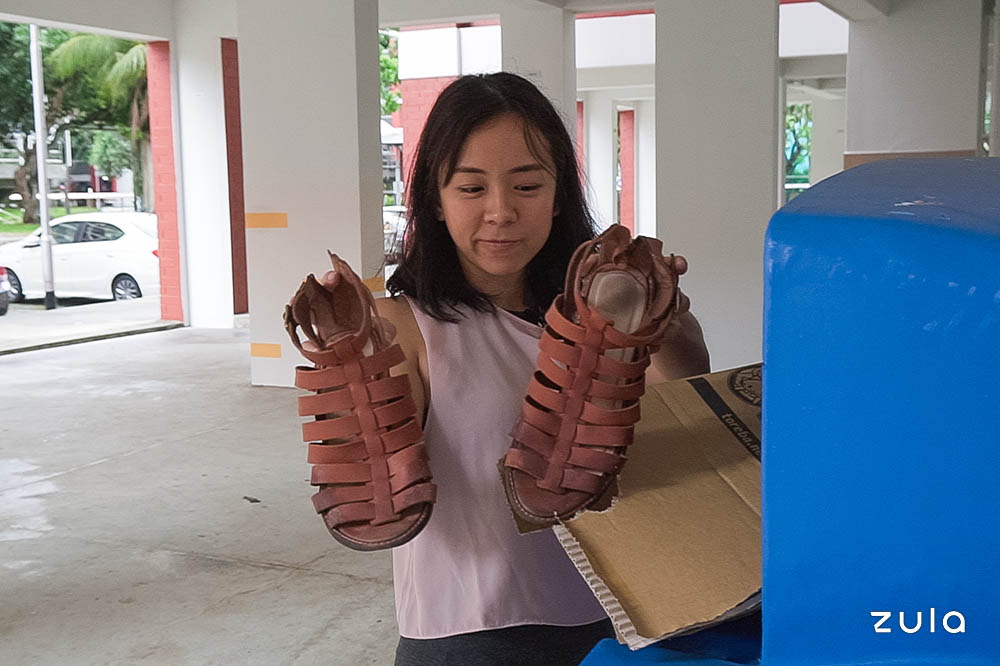 Shoes, like other clothes, accessories and textile waste, cannot be recycled
"[Non-recyclables deposited] into the bins contaminate it and its contents. [Once] they throw something in that doesn't belong [there], the whole bin is wasted," Bianca shares.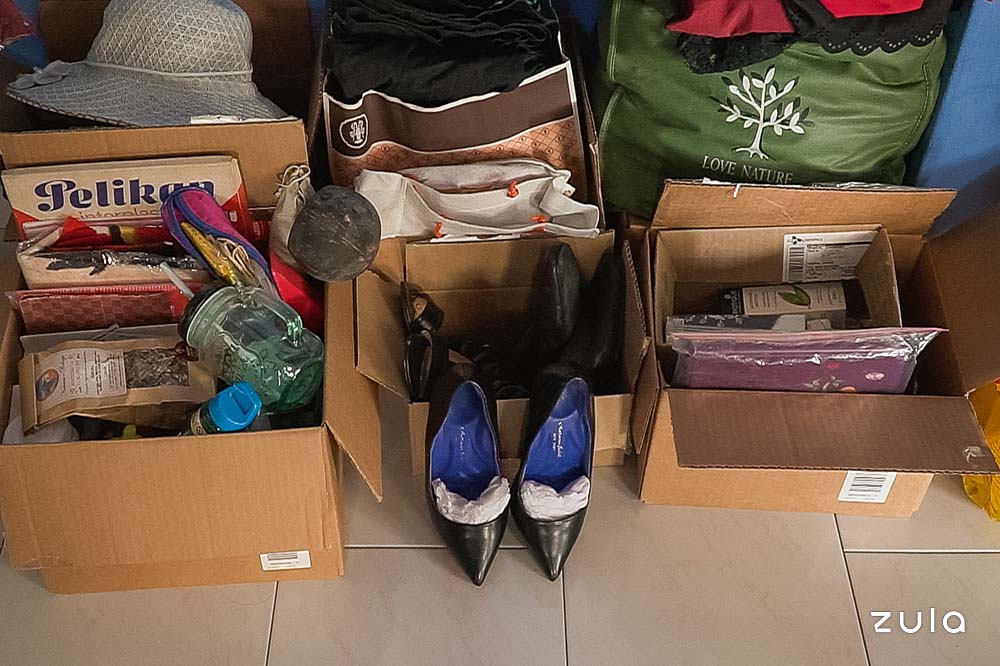 Some of her loot
Over the years, Bianca has rescued anything from clothes and toys to furniture, kitchenware and electronics from the bins.
Rehoming the rescued items
If she comes across an item that can be given a new lease of life or freecycled, she brings it home and first gives it a thorough wipe down.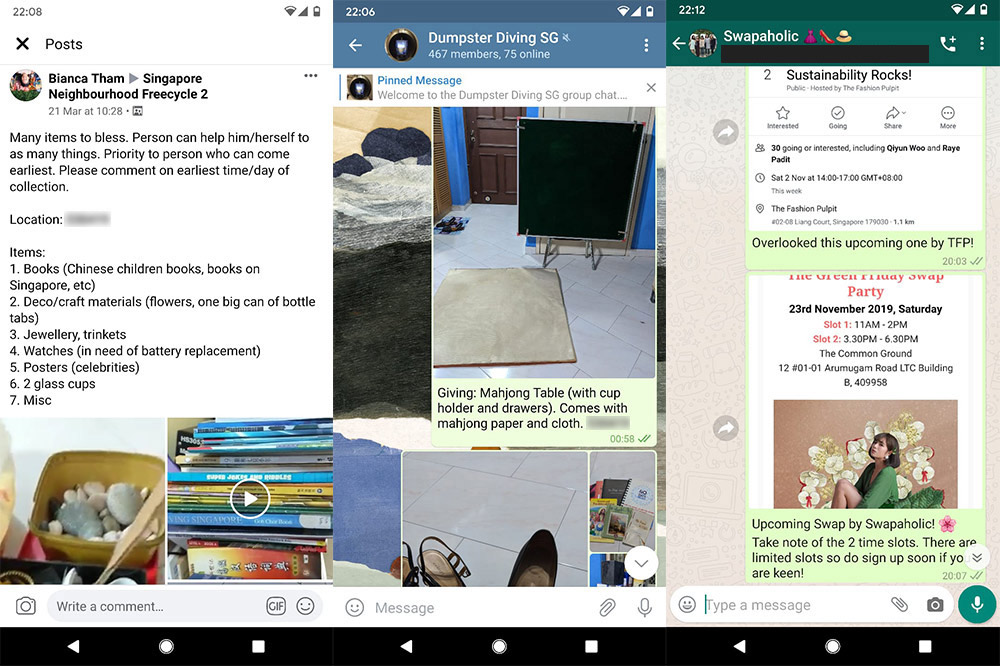 Facebook, Telegram and Whatsapp freegan group chats  
She keeps whatever she needs before sorting the rest neatly into categories. She then lists the items on freegan, dumpster diving and freecycling Facebook, Telegram and Whatsapp group chats. 
"I may not see use in it, but someone will want it. This just really goes to reaffirm us that one man's trash is another man's treasure."
She shares that infant products like toys and educational materials, as well as ladies' apparel, are great finds for her main beneficiaries: new mothers and domestic workers.
Those keen on claiming the listed items simply have to leave a comment or drop her a DM indicating their interest. Based on a first come, first served basis, Bianca then arranges the collection with the recipient.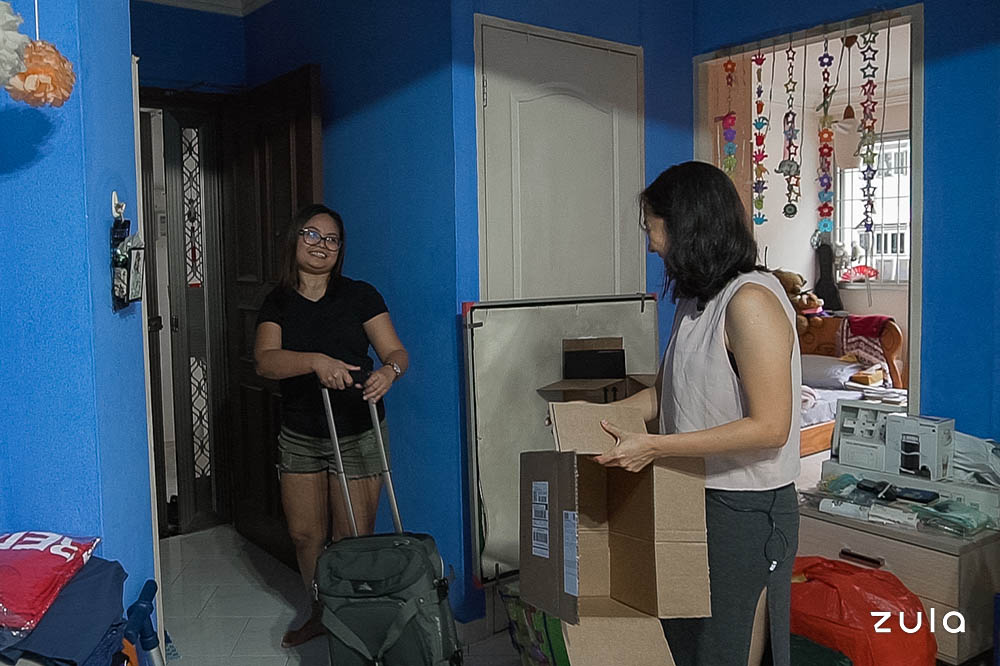 A beneficiary collecting a suitcase salvaged by Bianca
She initially dedicated an entire room to store and display the items to facilitate convenient browsing when beneficiaries drop by, but it has since been converted into a study. 
She now stores them in a corner of her living room. Since it's a shared space with her family, this requires a much higher level of commitment to keep organised. 
Like most people, Bianca's mother was initially rather apprehensive towards the idea of her reclaiming items from trash and recycling bins. But over time, after seeing how the service benefits others, her mum has become increasingly supportive.
It all started with a PETA video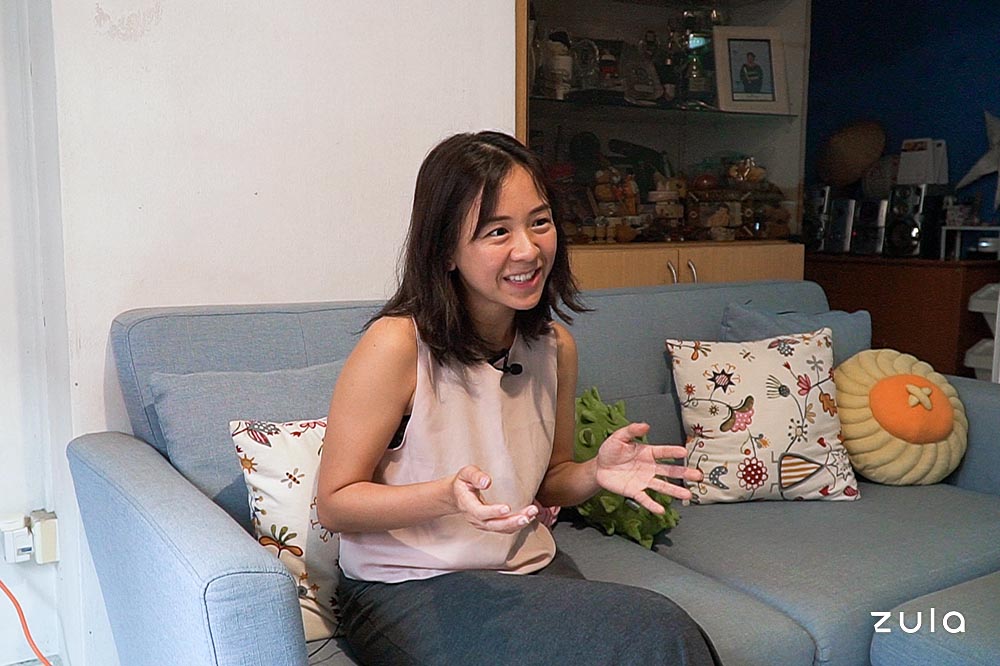 Bianca sharing how it all started with a PETA video and a spirit for change
Bianca's freegan journey started when she chanced upon a video by People for the Ethical Treatment of Animals (PETA) in secondary school. It revealed scarring footage of how animals were being inhumanely treated and tested on in factory farms and labs for consumer products. 
This motivated her and her mum to stop supporting unethical fast-moving consumer goods (FMCG) brands. She soon realised that cruelty and unethical practices are everywhere, especially in the beauty and fashion industry. 
This spurred her to go on a year-long retail fast from unethical brands three years ago. In the process, she learnt about other ways to obtain goods, like clothing swap events. These alternatives provided her avenues to give her wardrobe a facelift without spending a dime. 
As a self-proclaimed former shopaholic, the switch was a challenge for her at first. But as time went by, she had an epiphany. To buy and support consumerism—ethical or not—is to promote damage to the environment. 
Making mindful purchases
Manipulated by attractive offers, we often fail to question how these products can retail at such low rates.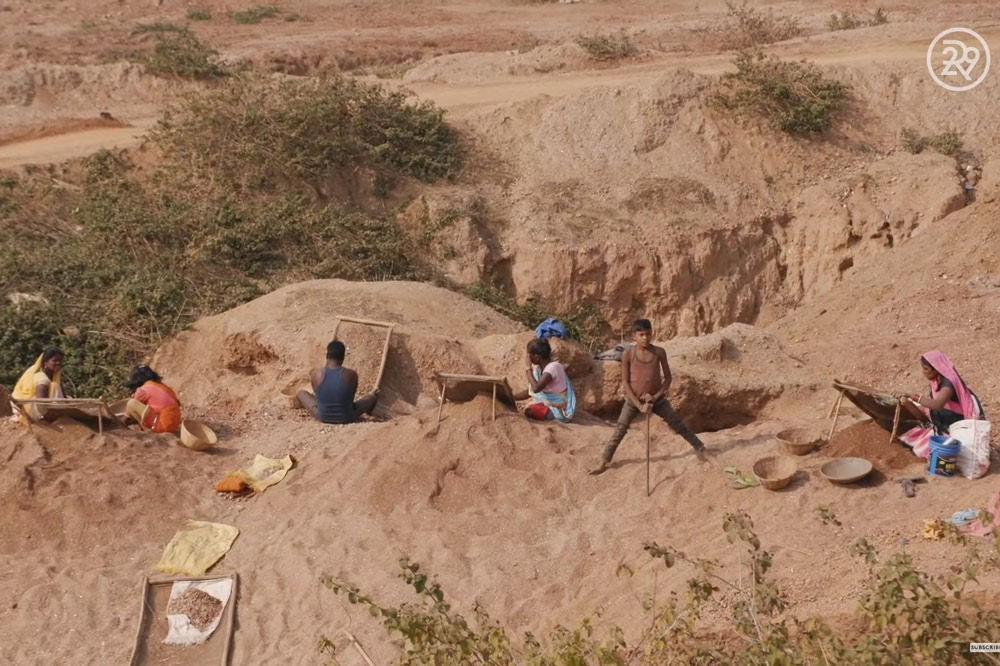 Indian children mining for mica, an ingredient commonly used in makeup, under dangerous conditions
Source
"Most of the time, [products] are manufactured for cheap in impoverished countries. The workers don't earn [a] fair wage and are often exploited and forced to work in dilapidated factories.
"Some brands are also guilty of labeling [their] products as 'vegan' or 'cruelty-free' when really only one component or ingredient was sustainably sourced."
Whether it's groceries or cosmetics, we need to start being more conscious and deliberate in understanding what goes into the products we consume. 
"My hope for the future is for Singaporeans to be more mindful of the brands they are supporting. Recognise that they have the consumer power to affect how businesses do their operations," Bianca says.
Hopes for a more sustainable Singapore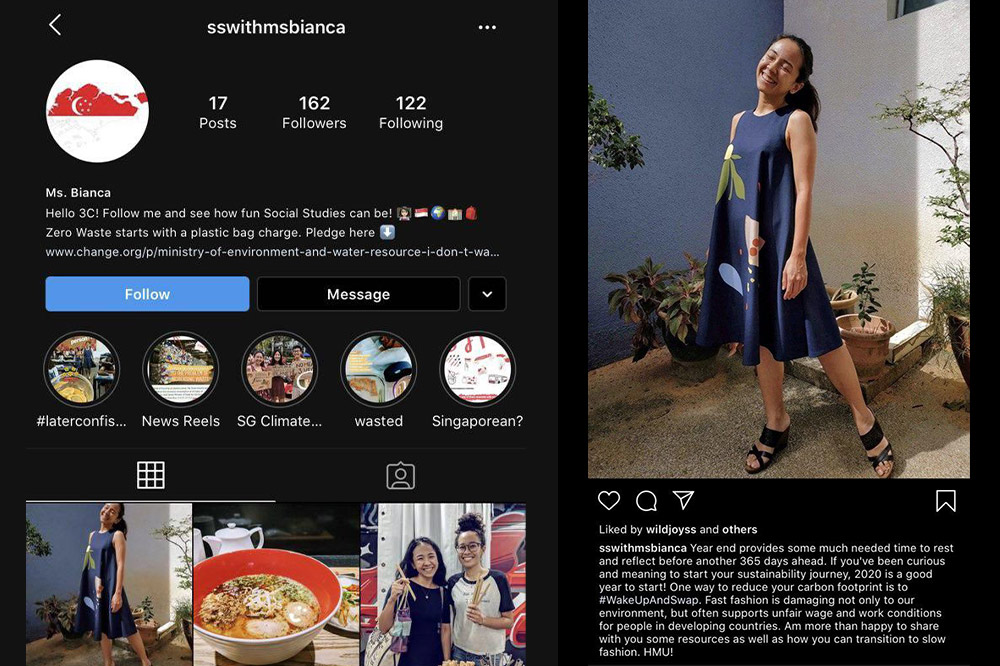 Source
Without convenient and achievable measures made accessible to the public, encouraging people to start adopting sustainable practices would be an almost-impossible feat. 
As an educator, Bianca imparts her sustainable practices to her students through relatable and engaging platforms, like Instagram.
"I try my best to document my eco habits on [my] Instagram account to show my kids how easy it is and thus, they would be able to adopt the habits easily too."  
She shares that for starters, we can be more conscious about the brands we support to channel funds into good work. We can also refrain from consuming plastic unnecessarily with simple measures like bringing our own reusable utensils. 
"I think one thing Singaporeans love is bubble tea. If we are able to not just bring our own straws but our own bottles too, we would be able to save so much plastic."
More importantly, to expedite progress, we need to encourage the government and large corporations to effect regulations that disallow unethical practices across society. 
Journey To A More Sustainable And Ethical Singapore 
As an advocate of environmental consciousness myself, Bianca's story reinforced my belief that there is indeed so much more we can do, but are not yet doing. Adopting a conscious mindset overnight is certainly an impossible task, but we will get there, step by step.
"Everyone is on their own journey. I am on mine now, [and] while it may seem advanced, I started somewhere too. So, just start where you are and try your very best," Bianca says.
Here are a few resources for those who are interested to learn more about sustainable habits in Singapore:
1. A comprehensive list of items that can and cannot be recycled by the National Environment Agency (NEA).
2. Be informed of the regulations of the industry with this detailed Sustainability Guide for Boards by Singapore Institute of Directors (SID).
3. A beginner's guide to sustainable living in Singapore.
Also read:
Singapore Zoo's First Female Elephant Keeper On Why Not All Zoos Are Prisons: Nursyafiqah Mohamed Yusof
Photography by Cheryl Chiew & Wong Xin Hui.