Uniqlo Disney Princess Songs UT Collection
One of the best parts about watching Disney cartoons is singing along to the songs from the movie for days, sometimes years, afterwards. Let It Go might be the earworm of choice for kids today, but '90s kids continue to fall back on their repertoire of nostalgic favourites during karaoke sessions. Even though you can now only belt out the songs in the shower, Uniqlo has an upcoming Disney Princess Songs UT collection that puts the spotlight on some of these childhood tunes so you can still rep them while you're out and about.
The collection consists of 5 Womens' t-shirts, 4 Girls' t-shirts and 3 Girls' dresses.
Womens' designs 
For many girls, The Little Mermaid was their favourite Disney movie growing up. Sure, we might now question why Ariel was so willing to give up her voice for a bro she'd only just met. But there's no denying that Part of Your World remains a poignant plea about wanting to fit in, which remains a universal theme.
Every OST needs a good mix of ballads and upbeat tunes. The Little Mermaid has a great mix of both, which could be why it's the only movie with 2 t-shirts as part of the Disney Princess Songs UT collection.
The second tee in the line-up is based on the singalong classic, Under the Sea. We've definitely experienced our fair share of troubles this year. But as Sebastian wisely tells Ariel, "Such wonderful things surround you / What more is you lookin' for?" It's a timely reminder that despite everything going on in the world, there's still a lot to be thankful for out there.
Thanks to the 2019 remake starring Naomi Scott and Mena Massoud, a new generation of kids got to appreciate A Whole New World. This design sees Princess Jasmine and Aladdin embroidered onto a dark t-shirt for a cool contrast of colours and textures.
Beauty and the Beast also went through a live-action remake in 2017. In front, the iconic rose is a hint of what's to appear behind. Of course, the featured song could be nothing other than "Tale as Old as Time".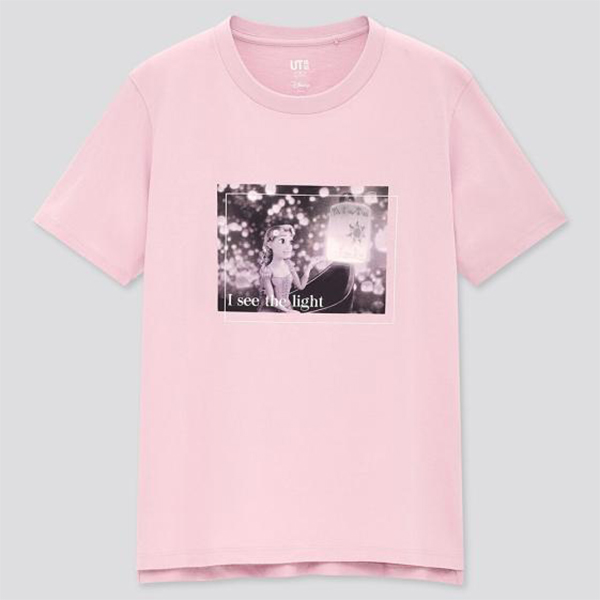 The last entry in the collection is from the 2010 movie, Tangled. If you're not familiar with the song "I See the Light", go listen to it on Spotify. Sung by Mandy Moore and Zachary Levi, the song is an underrated gem that is more than deserving of its own tee.
The Uniqlo Disney Princess Songs UT Collection Is A Singalong Session Waiting To Happen 
The same princesses appear on the Girls' t-shirts and dresses, so you can get matching pieces for you and your daughter or niece. All 12 designs are currently available on Uniqlo Hong Kong's website, but Disney fans in Singapore will have to be patient for a while more. According to Uniqlo Singapore, the collection will be launching on our shores soon, so watch this space for updates.
In the meantime, you can get your hands on the Uniqlo x Sanrio UT collection, which is already in stores.
All images courtesy of Uniqlo.
Also read: 
Uniqlo x Sanrio UT Collection Features Hello Kitty & Aggretsuko As Rock Stars, KTV Fans Can Relate