Unity's New VivoCity Flagship Store
A visit to the pharmacy is often a humdrum affair. We browse the sterile aisles for a bit, pick up what we need and head out. Unity's latest flagship store at VivoCity, however, has gone the extra mile to change your mind about the everyday pharmacy.
What sets this store apart is its advanced interactive functions, so you can get a skin analysis, experiment with hair and makeup looks virtually, and even consult a doctor online. There's also a section for mums and kids, so you can pick up nursing and infant essentials at the same time.
Here's what to look out for at the new Unity at VivoCity.
Olay Skin Analyser
The Olay Skin Analyser takes the guesswork out of your skincare equation
Shopping for suitable skincare products can be like playing a game of Russian roulette. Introduce one wrong product to your routine and you may experience a sudden breakout.
Snap a selfie at the screen of the Olay Skin Analyser and fill in the questionnaire for a speedy assessment. The skin analyser will reveal your skin's age and recommend the right Olay products to address your skin's woes.
YouCam Virtual Makeup Tool
The YouCam Virtual Makeup Tool lets you try on makeup and hair colours
Experiment with different beauty looks using the YouCam Virtual Makeup Tool. Like augmented reality filters on Instagram, the device utilises an impressive facial recognition technology that lets you browse the beauty section and try out makeup virtually.
Since lipstick and blush shades complement different undertones of the skin, it can be tricky figuring out how they'll look like against your complexion. The virtual tool will help you find the most flattering hues from the selection found in-store to suit your skin tone, and you can even try on foundations for a shade match.
Find out if pink hair suits you using the YouCam Virtual Makeup Tool
If you've been itching to try a bold new hair colour, try YouCam's Virtual Makeup Tool. It lets you experiment with a range of shades from Liese. After you've found a colour you're happy with, pick it out from the shelf at the store.
Free personalised makeovers
If you want to see whether a particular makeup look flatters you, approach one of the friendly beauty advisors at Unity so you can recreate it for your next dinner date. They provide quick 1-on-1 makeovers, so don't be embarrassed to request for one.
Also read:
5 Health Screenings Women In SG Should Get In Their 20s For Early Detection & Peace Of Mind
Health checks

To ensure that your health is in tip-top condition, routine health screenings are a must for peace of mind. You can request for a free health check from Unity's resident pharmacists at the counter.
The Omron Body Composition Monitor used in the health check
Health checks are performed in a private consultation room at Unity, where you'll be asked to step on an Omron Body Composition Monitor. The machine measures your body mass index (BMI), skeletal muscle, resting metabolism, visceral fat and body age. Blood pressure measurement can also be conducted upon request.
With the data gathered from the digital scale, the pharmacist will provide advice on how to manage your health.
If you're looking to lose weight or quit smoking, he or she will also be able to devise an effective plan to help you get started.
In-store medical consultations
Besides helping you look good, Unity also provides services to help you feel and live well. If you need a fast diagnosis and prescription for common ailments, jump the queue and beat the crowd with the Telemedicine feature at Unity's pharmacy.
Head to the pharmacy counter and ask the pharmacist to arrange for an on-the-spot video consultation with a professional doctor. After the doctor formulates a treatment plan, you can collect your medical certificate (if applicable) and prescription at the pharmacy counter immediately.
If you're too unwell to drag yourself out of bed or are struggling with a packed schedule, you can also access the Telemedicine feature online. An email containing your MC (if applicable) and prescription will be sent to you after your consultation. You can then pick up your medicine at selected Unity stores, including this VivoCity store.
For mums & babies
For the mums and mums-to-be, Unity also has a section with essentials such as diapers, infant formulas and baby wipes. Thanks to an exclusive Mothercare partnership, Unity offers products for newborns and toddlers, so it's easy to pick up toys, bibs and sippy cups.
Nursing mothers seeking natural support for healthy breast milk production can turn to lactation supplements from Legendairy Milk and organic herbal teas from WHITETREE Tea.
Unity's New Flagship Store At VivoCity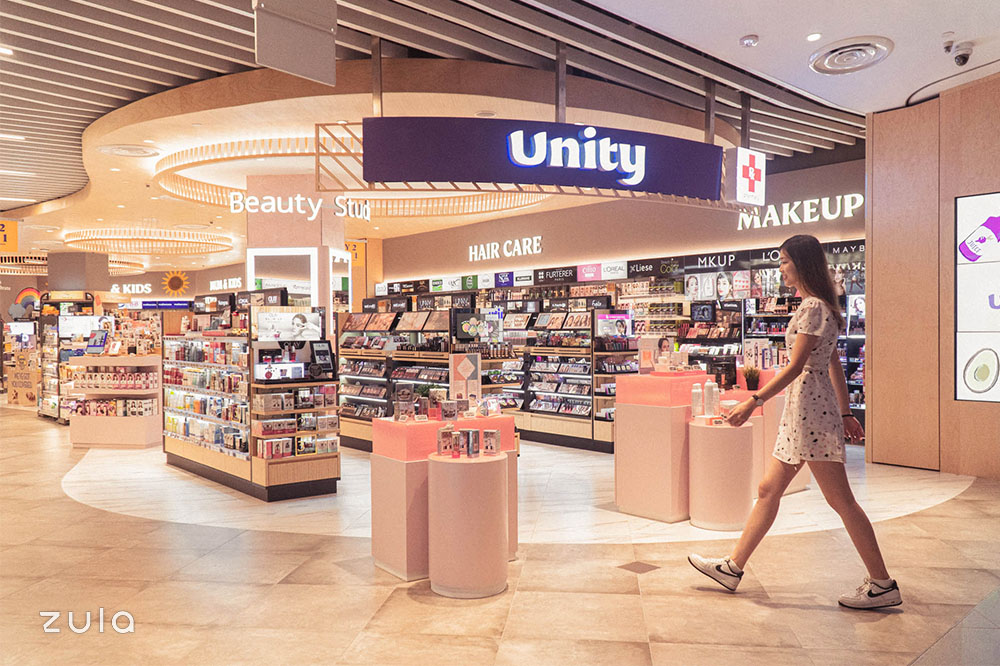 To experience this unique one-stop shop yourself, visit Unity's new store at #01-23 VivoCity!
There's also an ongoing contest happening on Unity's Instagram page, where participants will stand to win one of 10 Unity goodie bags worth over $50. The contest will run from now until 20 September 2019. Head over here to participate!
This post is brought to you by Unity.
Photography by Sebastian Tan.
Also read:
7 Express Facial Treatments Around Singapore's CBD For A Quick Complexion Pick-Me-Up From $68