Vegan Cafes In Singapore
People often associate vegan food with salads and pricey green stuff, but the reality is that it isn't. Insta-worthy vegan cafes in Singapore selling delicious plant-based dishes are aplenty, and worth every penny paid. 
In this list, we explore 10 such vegan cafes around Singapore to keep your tummy, wallet and IG feed satisfied.
1. Smoocht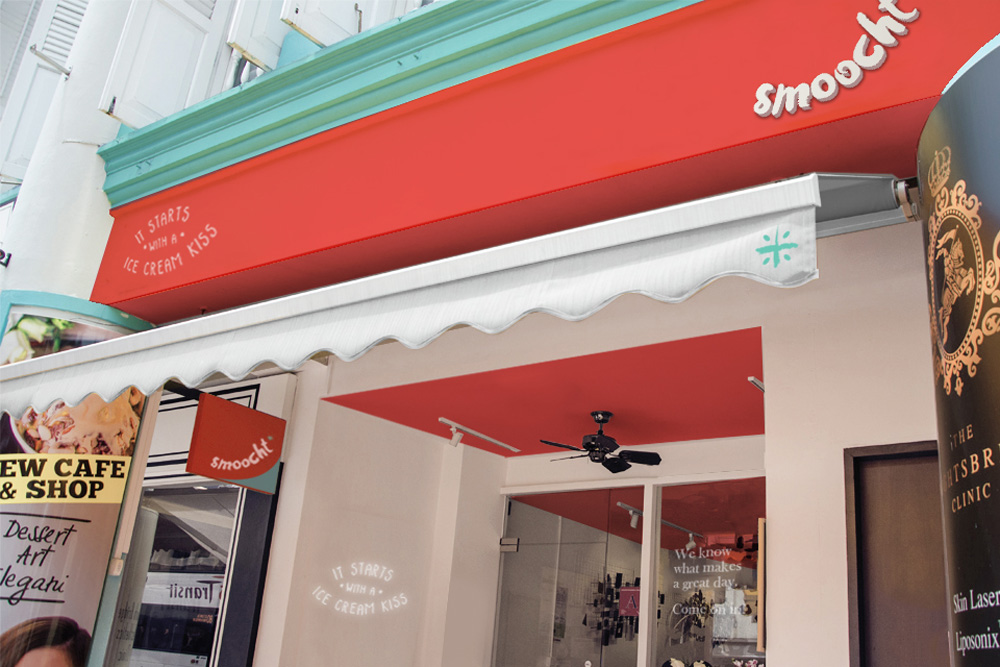 Source
Smoocht is known for its signature vegan 'r'ice cream', made from organic crystal brown rice, organic evaporated cane sugar, real fruit and pure nut butters. The refreshing colour palette of red, mint and white resembles watermelons and cream, and could totally pass off as one of those aesthetic cafes in Seoul.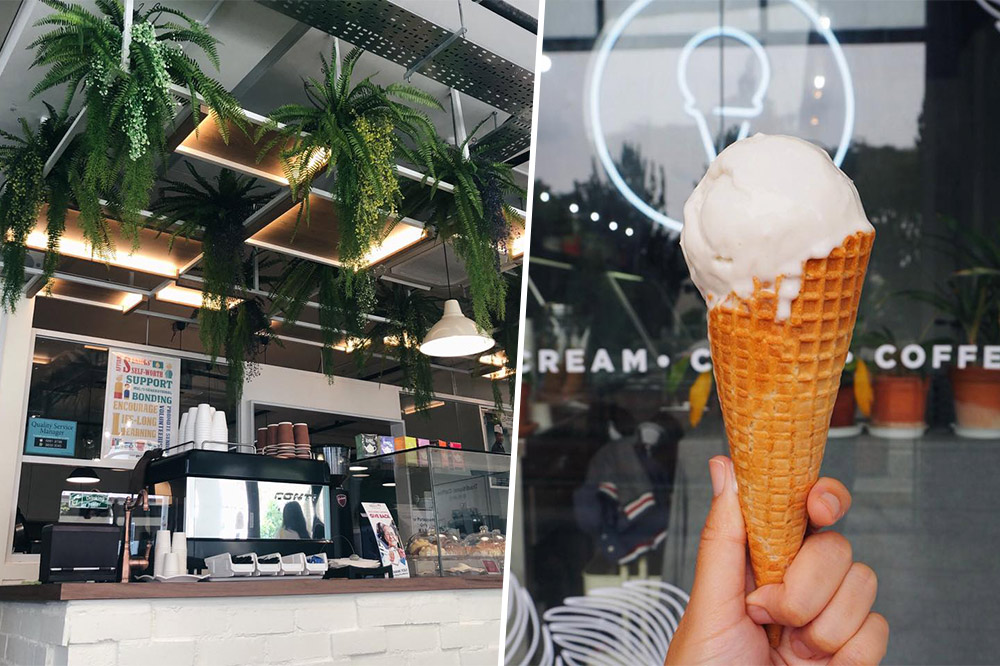 Source
Its interior is just as IG-worthy too, with ferns that give the space a relaxed, tropical ambience. With a wide selection of flavours to choose from, the menu will leave you spoilt for choice. Popular flavours include Thai Tea, and The Perfect Matcha. The ice-cream goes at $3.50 for a scoop and $6.50 for two.
Waffles, brownies and smoothies are also available for you to jazz up your dessert experience. If sweet things aren't what you want, you'll be pleased to know that they serve savoury mains including pizza and pasta too.
Jurong East
Address: 319 Jurong East Street 31, #01-58, Singapore 600319
Opening hours: 12pm to 9pm (Sundays to Thursdays) | 12pm to 9.30pm (Fridays to Saturdays)
Sin Ming
Address: 8 Sin Ming Road, #01-03, Singapore 575628
Opening hours: 12pm to 10pm (Sundays to Thursdays) | 12pm to 10.30pm (Fridays to Saturdays)
Website | Facebook | Instagram
2. Soul ALife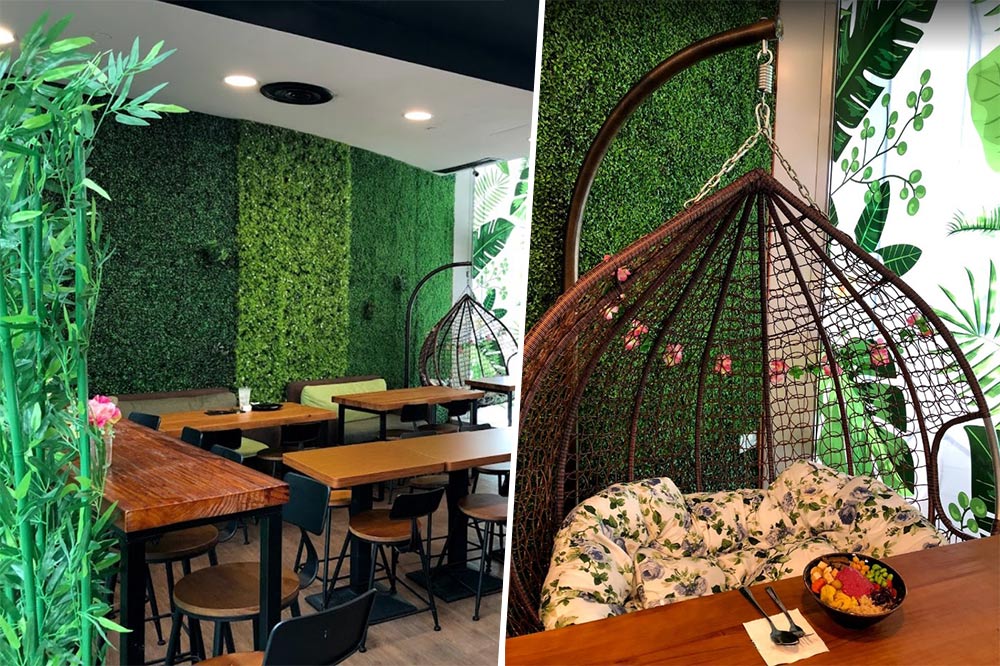 Source, Source
If you're vegan or dine at plant-based eateries often, Soul ALife should be no stranger to you. Easily recognisable by a suspended rattan seat, this green diner has creepers and plants galore, filling the space with a sense of serenity and tranquility.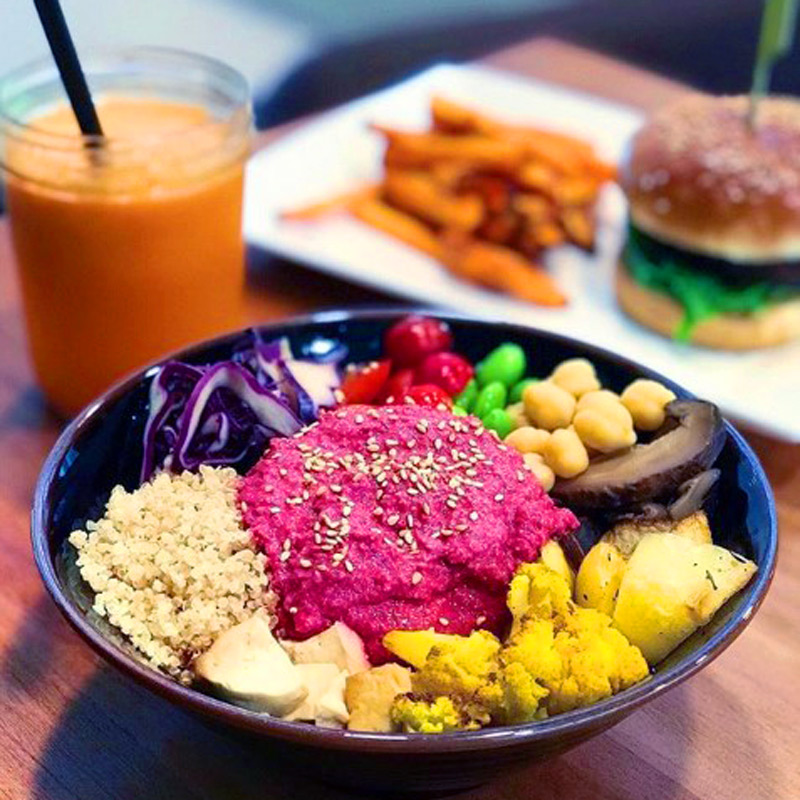 Source
Must-tries include the famous Buddha Bowl—a spread of beetroot hummus, edamame, quinoa, chickpeas and more, retailing at $9.90 a bowl. Its Crispy Spicy Burger is another great choice, served with a mushroom patty substitute and a side of vegan coleslaw, retailing at $12.10. Wheat-free options are also available for those with gluten sensitivities.
Address: 5 Changi Business Park Central 1, #02-40, Changi City Point, Singapore 486038
Opening Hours: 11.30am to 9.30pm (Daily)
Website | Instagram
3. NomVnom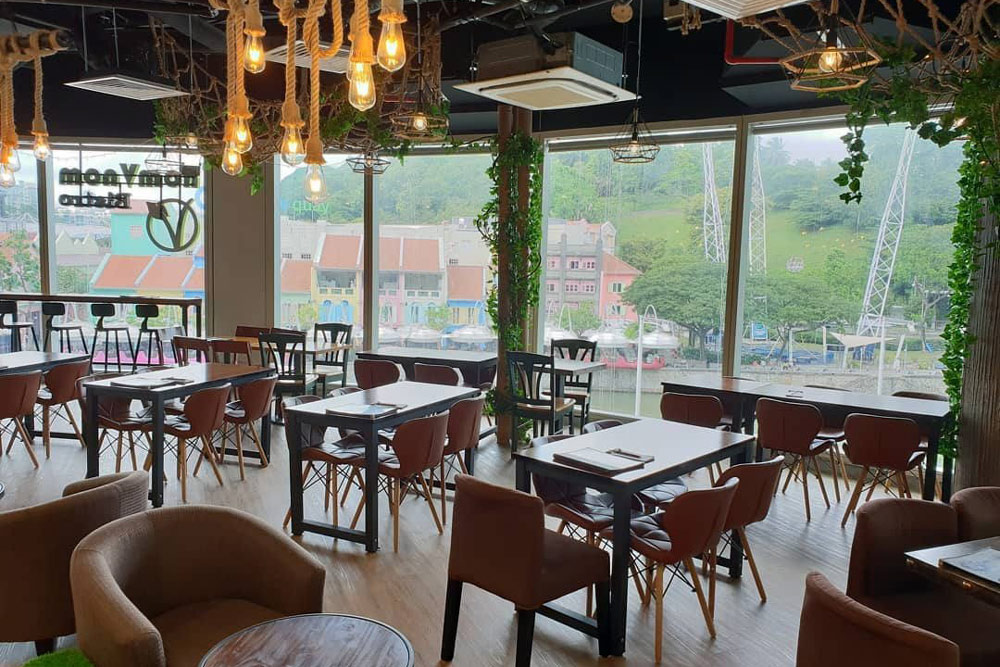 Source
Overlooking the scenic Singapore River is one of NomVnom's two outlets, and it adopts a marine-inspired concept. Creeper vines drape down pillars, fishing nets stream across the ceiling and incandescent light bulbs suspend from thick nautical ropes to give the cafe a warm, muted glow.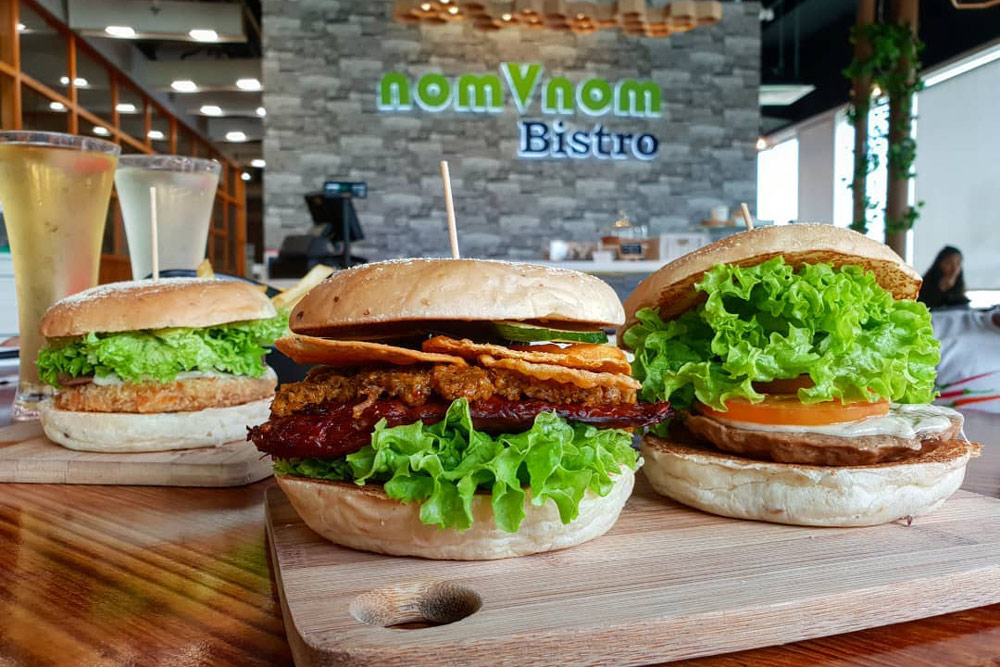 Source
Going at $11.90, its PCT burger—packed with grilled portobello mushrooms, vegan cheddar cheese and truffle mayo, is often recommended by regulars. For alcohol lovers, vegan beers are available too.
Central Clarke Quay
Address: 6 Eu Tong Sen Street, #03-105, Singapore 059817
Opening Hours: 11am to 10.30pm (Daily)
Tai Seng
Address: 18 Tai Seng Street, #B1-02, Singapore 539775
Opening Hours: 9am to 9pm (Daily)
Website | Facebook | Instagram
4. Wholesome Savour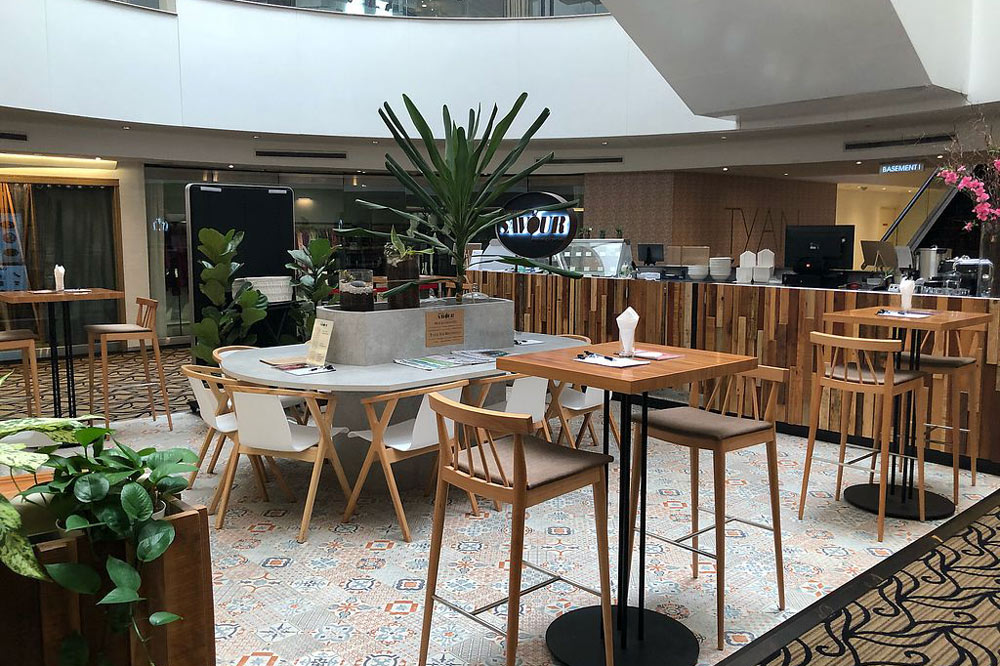 Source
If you're having some midday pancake cravings, give Wholesome Savour a visit. Situated in the basement atrium of Palais Renaissance, it is a great place to catch up with your girlfriends over all-day breakfast.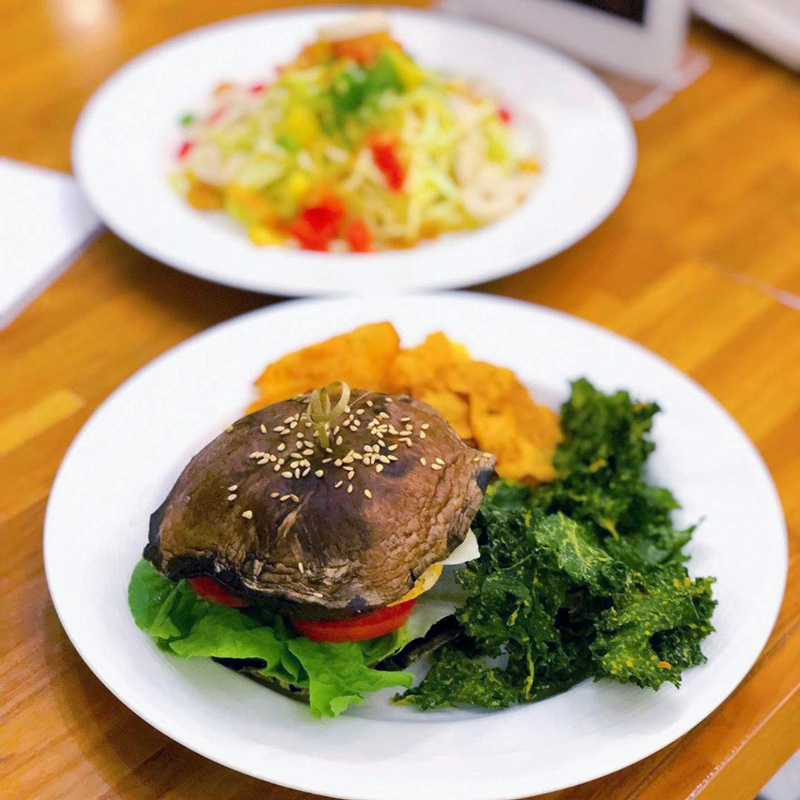 Source
For $20, you can get the Portobello Burger, where the typically non-vegan burger buns are substituted with portobello mushrooms. You get the sweetness of the juicy mushroom, the tartness of the beetroot patty and the creaminess of the melted vegan cheese. All in all, a burger comparable—and maybe more flavourful—than your typical non-vegan ones.
Address: 390 Orchard Road, #B1-06A, Palais Renaissance, Singapore 238871
Opening Hours: 11am to 9pm (Tuesdays to Sundays) | Closed on Mondays
Website 
5. Kind Kones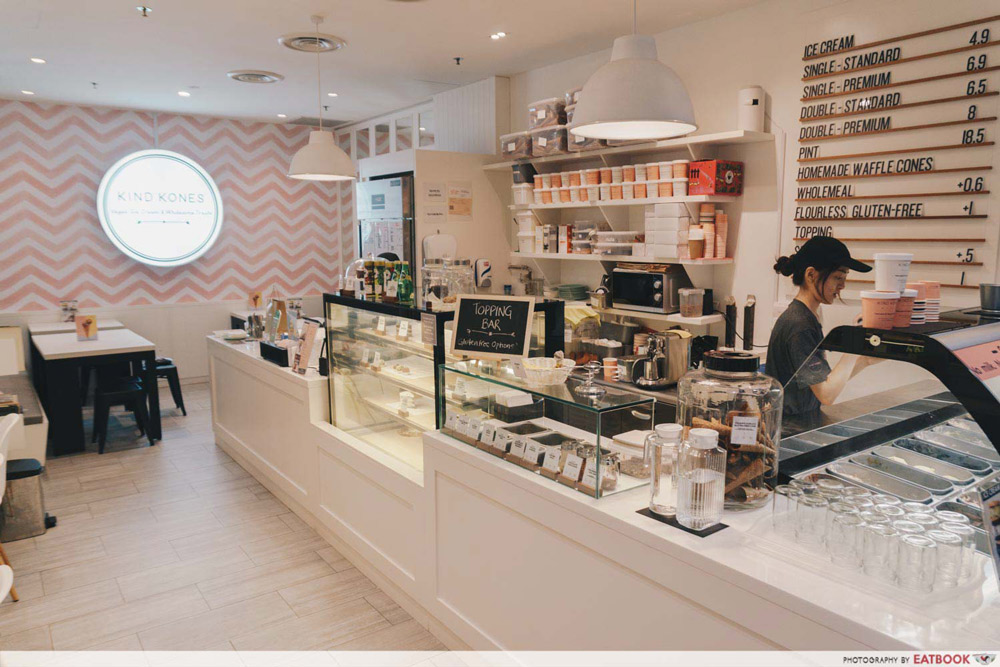 Another ice cream place, Kind Kones is an aesthetic millennial pink paradise. Located in the basement of Forum The Shopping Mall, this is a great place to drop by for a midday snack if you're shopping in town.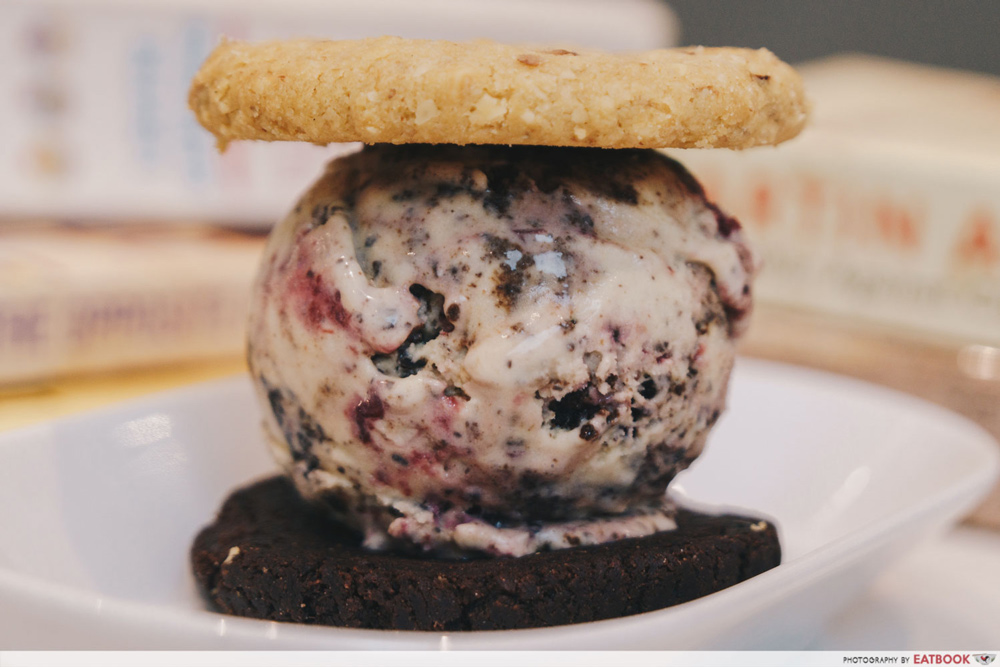 While its vegan ice cream is fabulous on its own, the Ice Cream Sandwich ($8) allows you to enjoy a generous scoop of ice cream sandwiched between two vegan cookies. But if you just want to keep things simple and classic, a single scoop of standard flavours cost $4.90 and premium flavours go at $6.90. Flourless and gluten-free cones come at an additional dollar. Some must-tries include Pandan Gula Melaka and Durian.
Address: 583 Orchard Road, #B1-27, Forum The Shopping Mall, Singapore 238884
Opening hours: 10am to 10pm (Daily)
Website | Facebook | Instagram
6. Afterglow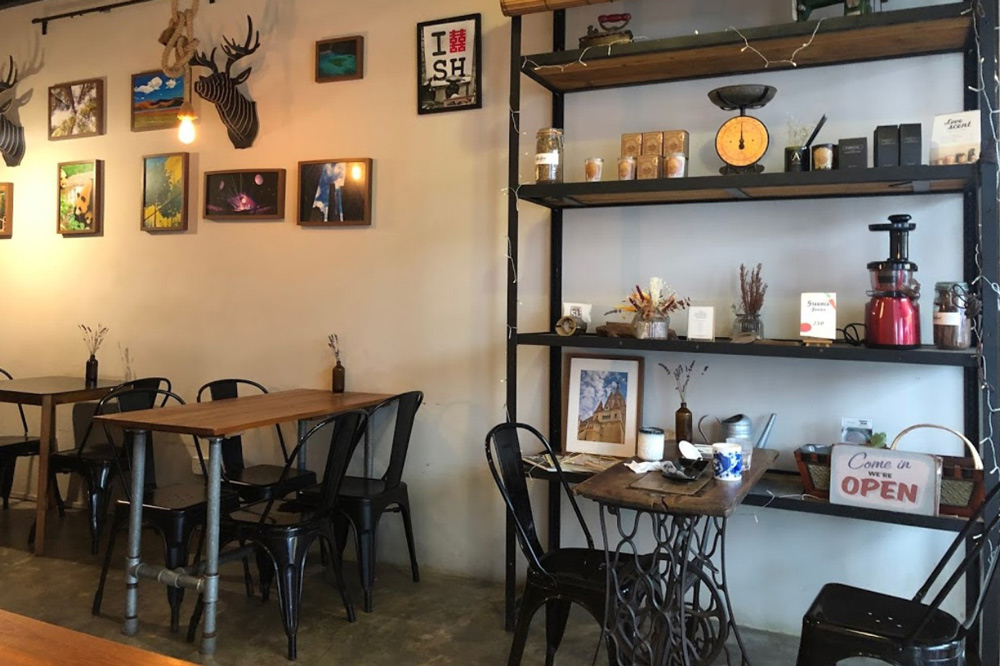 Source
Afterglow is paradise for those who love all things vintage. It adopts a rustic theme with furniture upcycled from steel pipes and retro sewing machines. Warm lighting creates a relaxing ambience in this cafe.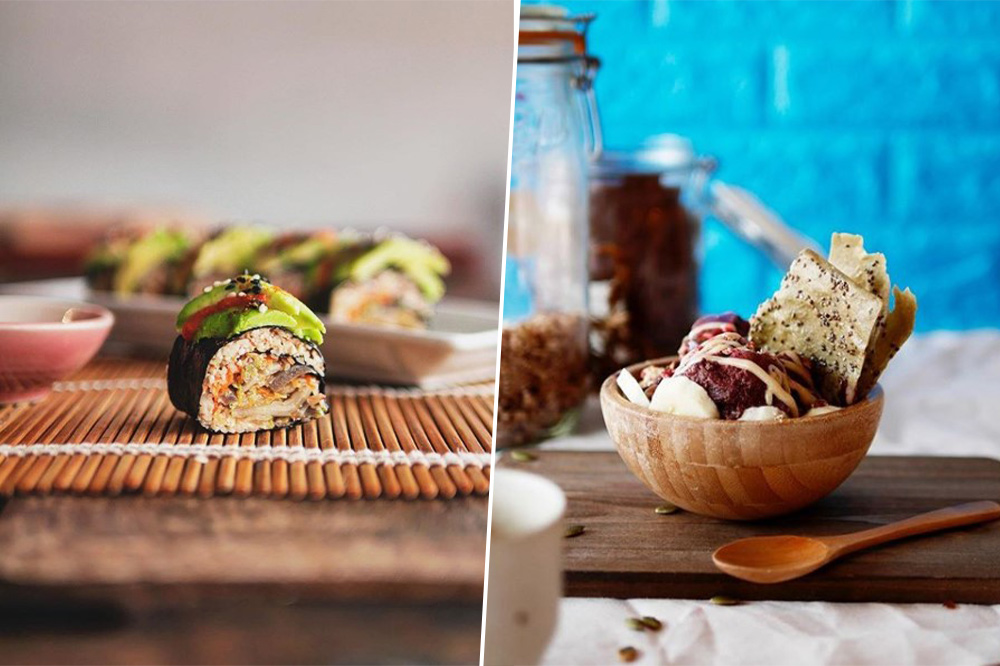 Source
Whether you're vegan or just a health nut, you'll be able to find something you'll like. On top of a fully vegan menu, most dishes are free of refined sugar, artificial sweeteners and gluten, with the exception of breads and flatbreads. There are also keto options for those on a low-carb diet. 
If you're visiting for the first time, try the Afterglow Kimchi Avo Rolls. Made with almond sushi 'rice', house-made kimchi and topped with fresh avocado, this yummy roll goes at $14. 
Address: 24 Keong Saik Road, Singapore 089131
Opening hours: 12pm to 10pm (Mondays to Saturdays) | Closed on Sundays
Website | Facebook | Instagram
7. VeganBurg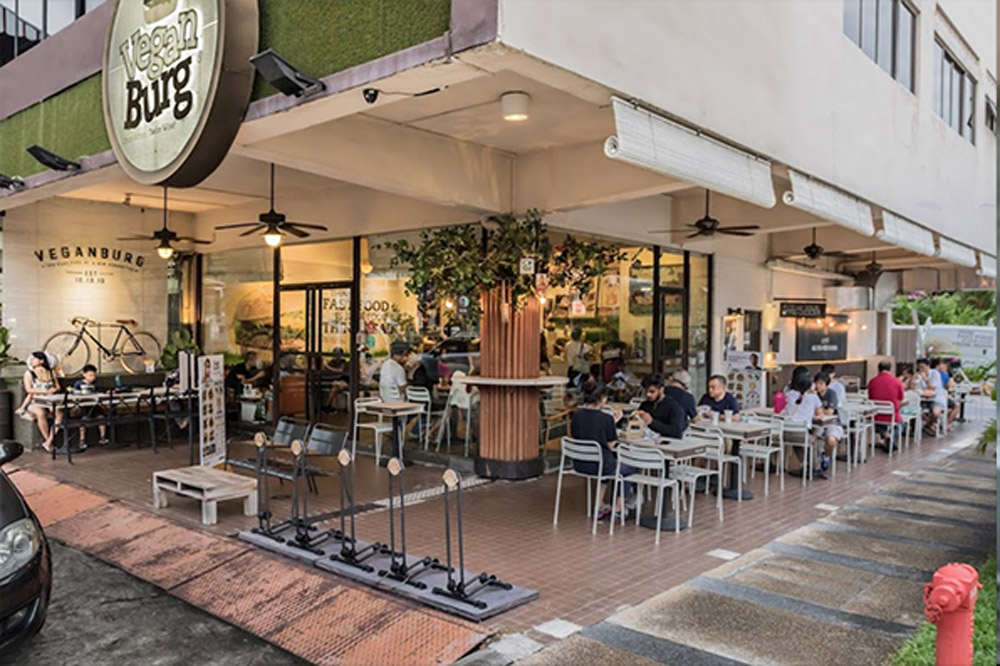 Source
At VeganBurg, you're welcomed by an industrial facade made up of a vintage bike on display against rattan blinds, wooden crates and steel bike stands. With indoor and al fresco dining available, this fast-food chain is great for any occasion. It is, however, more accessible for those living in the east.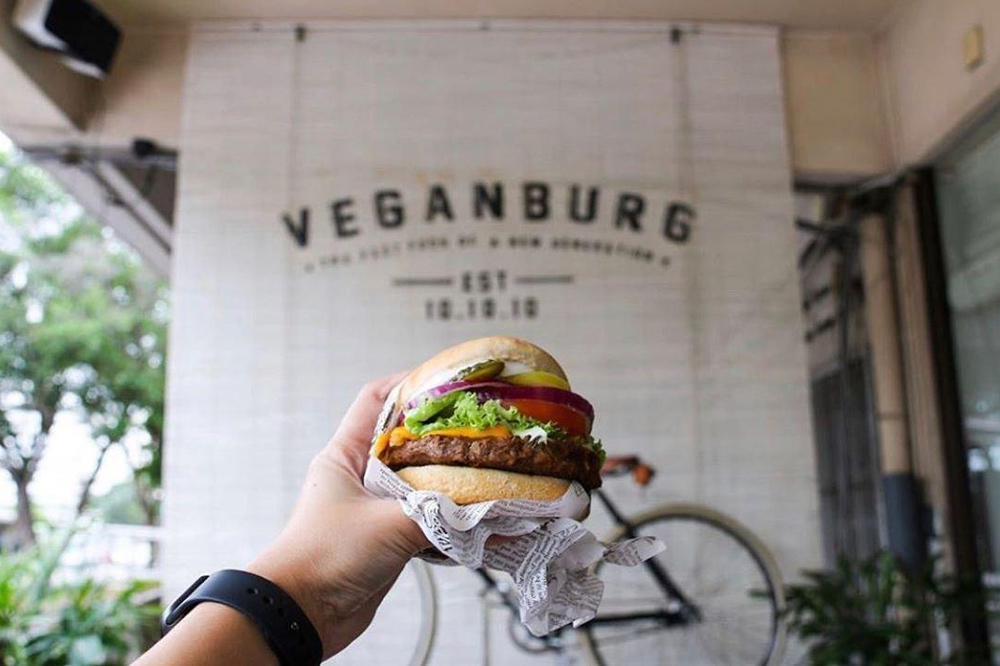 Source
The Char-Grilled Satay Burger has received high praise as a must-try. Retailing at $10.90, it packs a succulent grilled soy patty topped with fresh veggies, pineapple rings and a rich satay sauce. 
Address: 44 Jalan Eunos, Singapore 419502
Opening Hours: 11.30am to 10pm (Daily)
Website | Facebook | Instagram
8. Joie Restaurant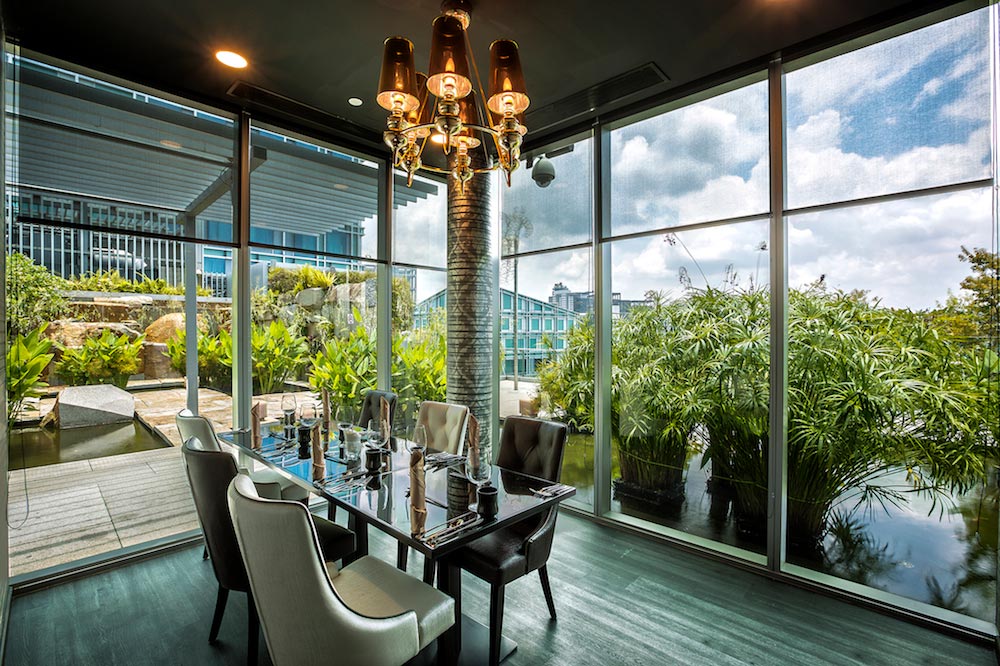 Source
Located in the roof garden of Orchard Central, Joie Restaurant makes fine dining accessible to vegetarians. While they're not entirely vegan, their menu is completely free from meat. A 6-course lunch is priced at $39.80++, and a 7-course dinner goes at $69.80++.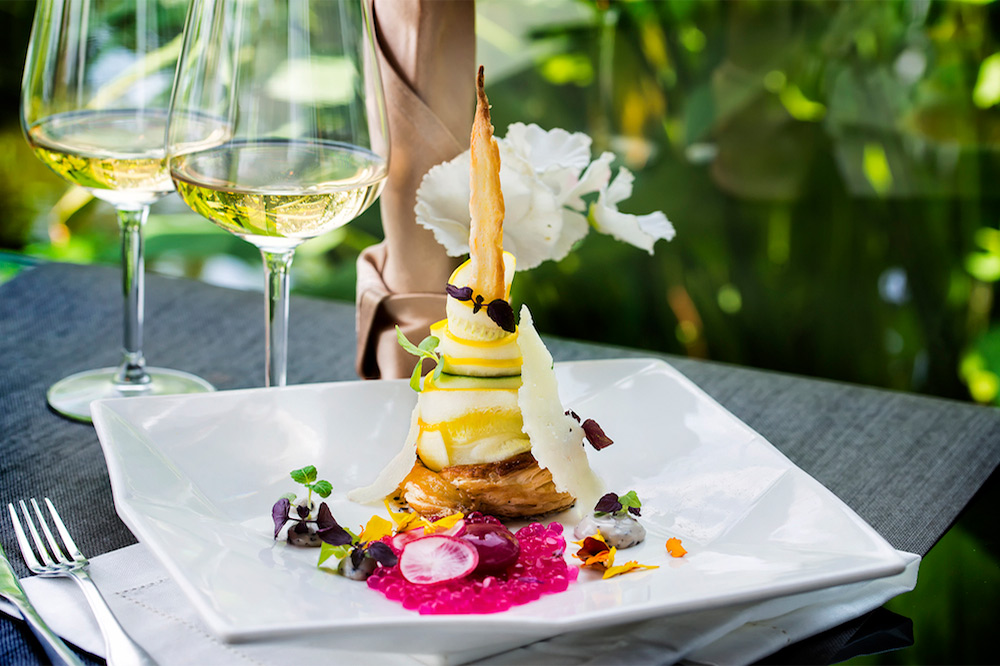 Source
The dishes here are creative and packed with flavours. Some dishes to check out are the umami Japanese Kunbu Broth with hand carved Tofu and Vegetable Sashimi on Ice with Oyster-Leaf Shooter Glass. While the latter may not taste like the real deal, it may just do the trick for new vegetarians who are still trying to curb the craving for sashimi. For something more conventional, try their Truffle Risotto. 
Address: 181 Orchard Road, #12-01, Orchard Central, Singapore 238896
Opening hours: 12pm to 3pm, 6pm to 10pm (Daily)
Website | Facebook                                                                                          
9. The Living Cafe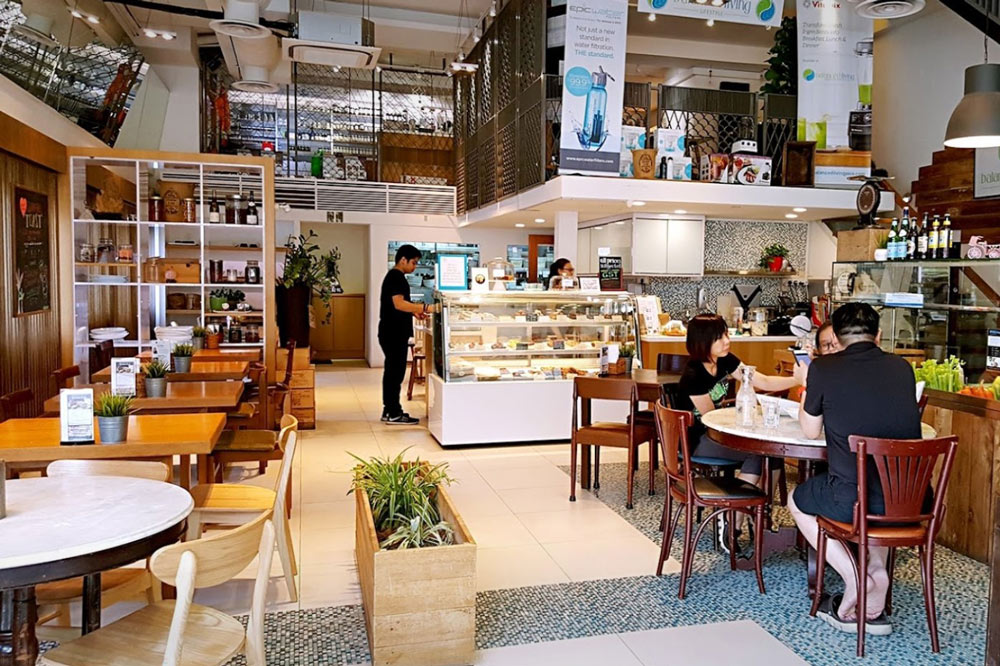 Source
If the MUJI aesthetic—often characterised as wooden and minimal—strikes your fancy, you might be interested in The Living Cafe.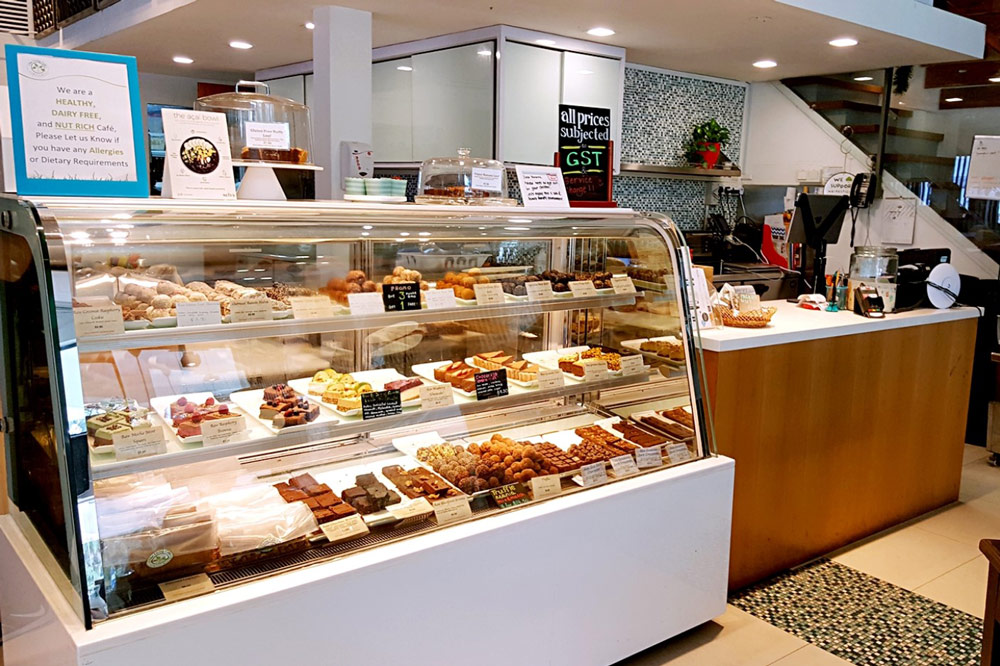 Source
This highly inclusive dining spot has vegan, vegetarian, gluten-free and nut-free options available, so you'll be able to enjoy a wholesome experience here, without worrying about dietary restrictions. Its Pad Thai Noodles ($16.50) made with zucchini noodles and its Chocolate Avocado Mousse ($11.50) are often heavily recommended by regulars. 
Address: 779 Bukit Timah Road, Singapore 269758
Opening hours: 10am to 7pm (Mondays to Tuesdays) | 10am to 8pm (Wednesdays to Fridays) | 9am to 8pm (Saturdays to Sundays)
Website | Facebook
10. Loving Hut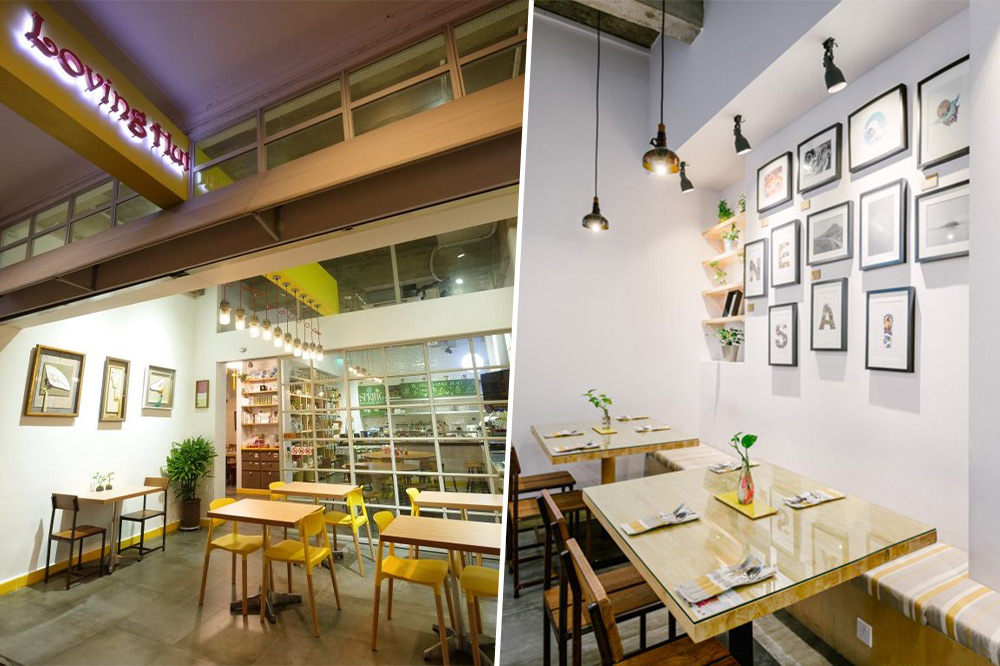 Source
Loving Hut specialises in vegan Singaporean dishes, but serves a variety of other cuisines as well. Situated along a quiet stretch of shophouses along Joo Chiat Road, this is a wonderful spot for date night with bae. 
While there is no particular theme, the yellow and white colour palette makes this place a relaxing dining spot.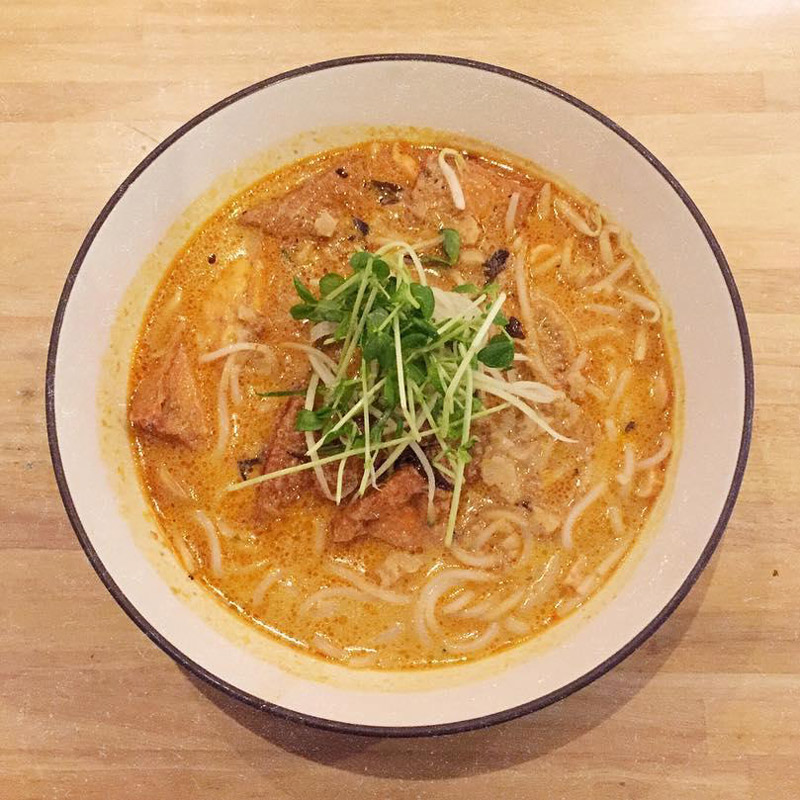 Source
Some crowd favourites include Nyonya Laksa Lemak ($9.90), Vegan O-Luak ($12.90) and Aglio Olio Supremo ($12.90). You'll be impressed by how indistinguishable these classic dishes taste in comparison to the original.  
Address: 229 Joo Chiat Road, #01-01, Singapore 427489
Opening Hours: 11.30am to 2.30pm, 6pm to 9.30pm (Mondays, Wednesdays to Fridays) | 11.30am to 9.30pm (Saturdays to Sundays) | Closed on Tuesdays
Website
IG-Worthy Vegan Cafes In Singapore To Enjoy Wholesome Plant-Based Food
Whether you're in the mood for a hearty meal, a quick bite or even a sweet treat, these 10 #aesthetic vegan cafes in Singapore have you covered.