Aesthetic Cafes in Seoul
With trendy clubs, beauty stores and thrift shops at every turn, Seoul has no shortage of cool spots in the city. Of course, Instagram-worthy cafes are a dime a dozen too. To help you plan your itinerary, we've narrowed down a list of 10 of the most aesthetic cafes in Seoul.
1. Dore Dore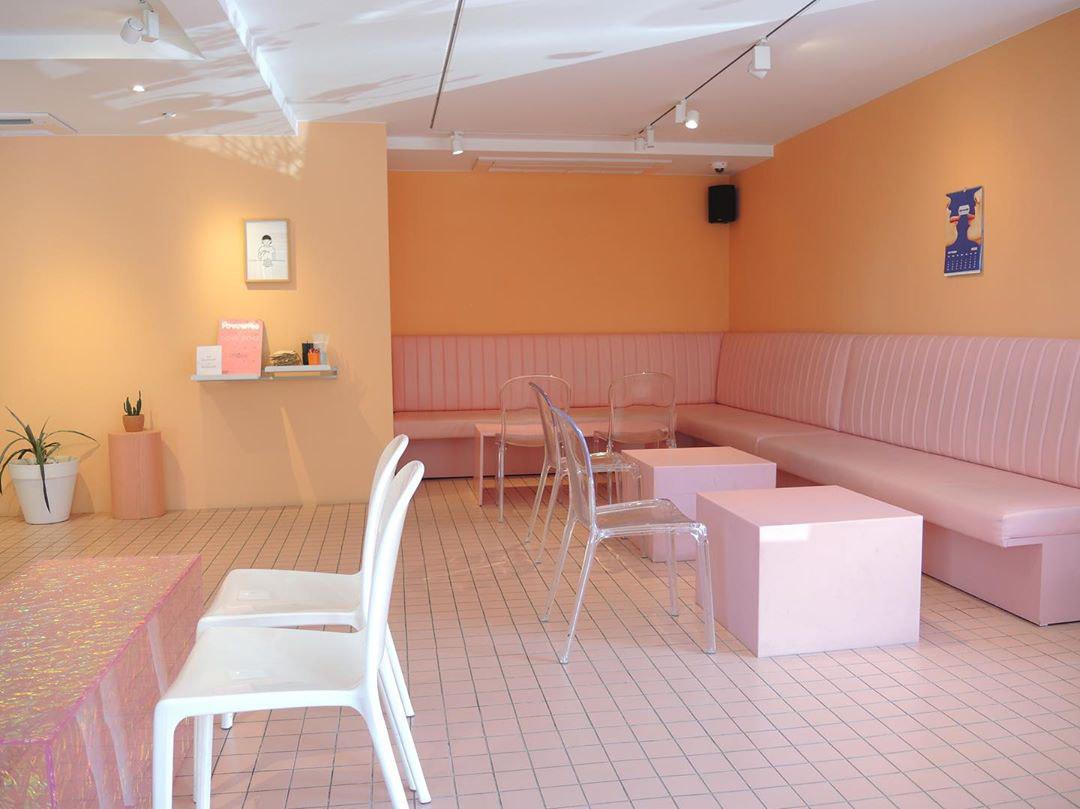 Garosu-gil is peppered with clothing stores, but millennials also flock to the area for Dore Dore, a cafe that occupies 4 floors of its building. Each floor has a different colour scheme—we're partial to this pink layout on the second level.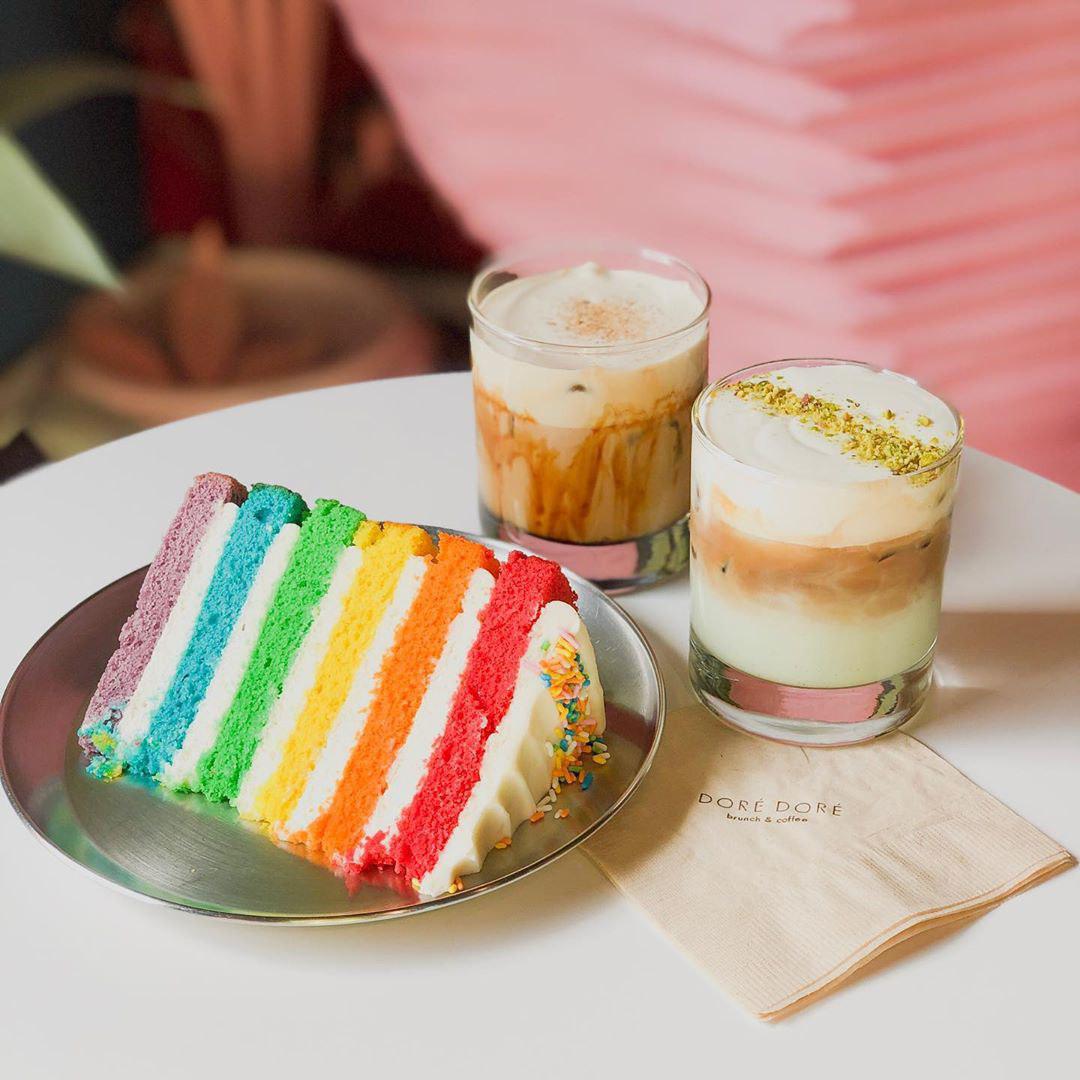 Dore Dore serves up brunch and dessert. If you're visiting the cafe, try its signature Rainbow Fresh Cream Cake. It's made with light layers of whipped cream between each multi-coloured tier.
Address: 40 Dosan-daero 15-gil, Sinsa-dong, Gangnam-gu, Seoul, South Korea
Opening hours: 10am to 11pm (Daily)
Website | Facebook | Instagram
2. Cafe Skön
Situated within a villa, Cafe Skön is furnished with clean white walls punctuated with pops of colour.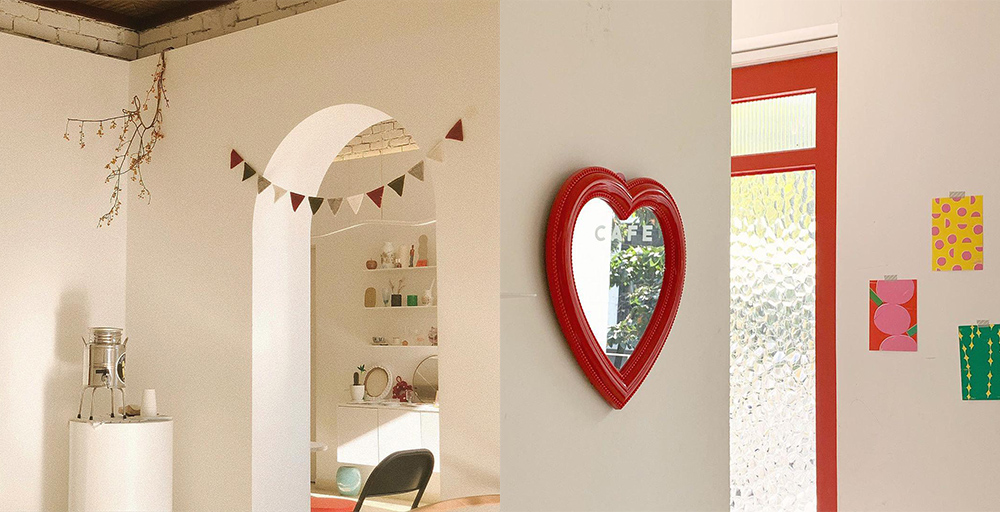 When you enter the cafe, you'll see works of art by emerging Korean artists up on the walls, as well as an adorable heart-shaped mirror for all your selfies.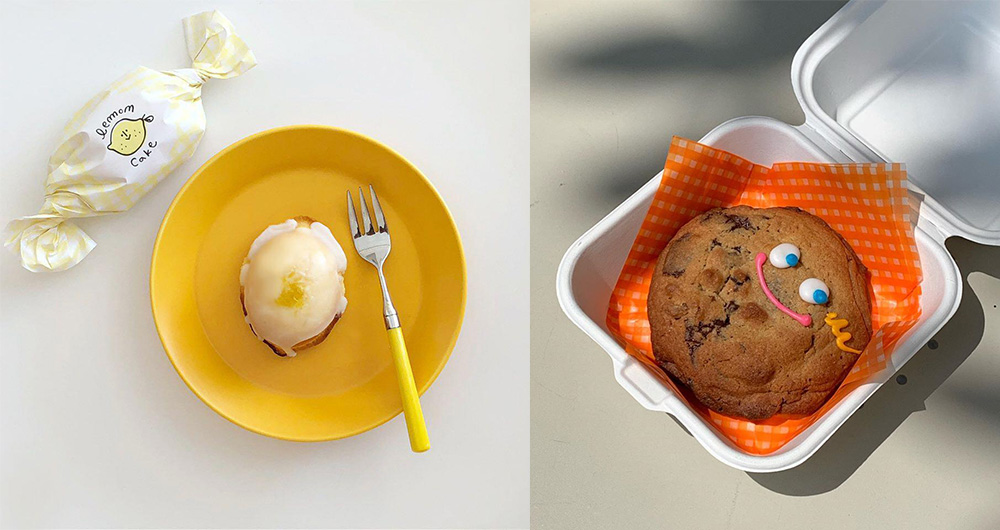 The cafe's most iconic dessert is its lemon cake (left), packaged in a huge candy wrapper. Pair the soft cake coated in sweet sugar frosting with its chocolate and walnut cookie (right). It's cute enough to be a Toy Story character.
Address: 239-4 Yeonnam-dong, Mapo-gu, Seoul, South Korea
Opening hours: 10am to 10pm (Wednesdays to Mondays) | Closed on Tuesdays
Instagram
3. Share D Table
A former warehouse, Share D Table is fitted with industrial materials such as white tiles and cement. However, the pink neon sign, pastel feather decorations and touches of greenery give the space a new lease of life.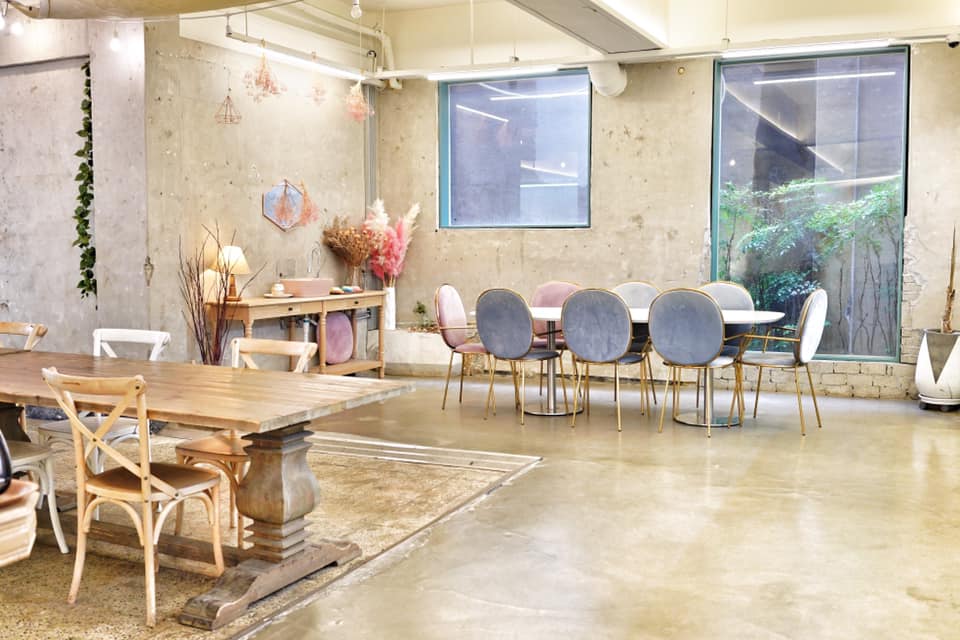 Like its name suggests, the cafe is ideal for gatherings and parties with the large communal tables in the other section.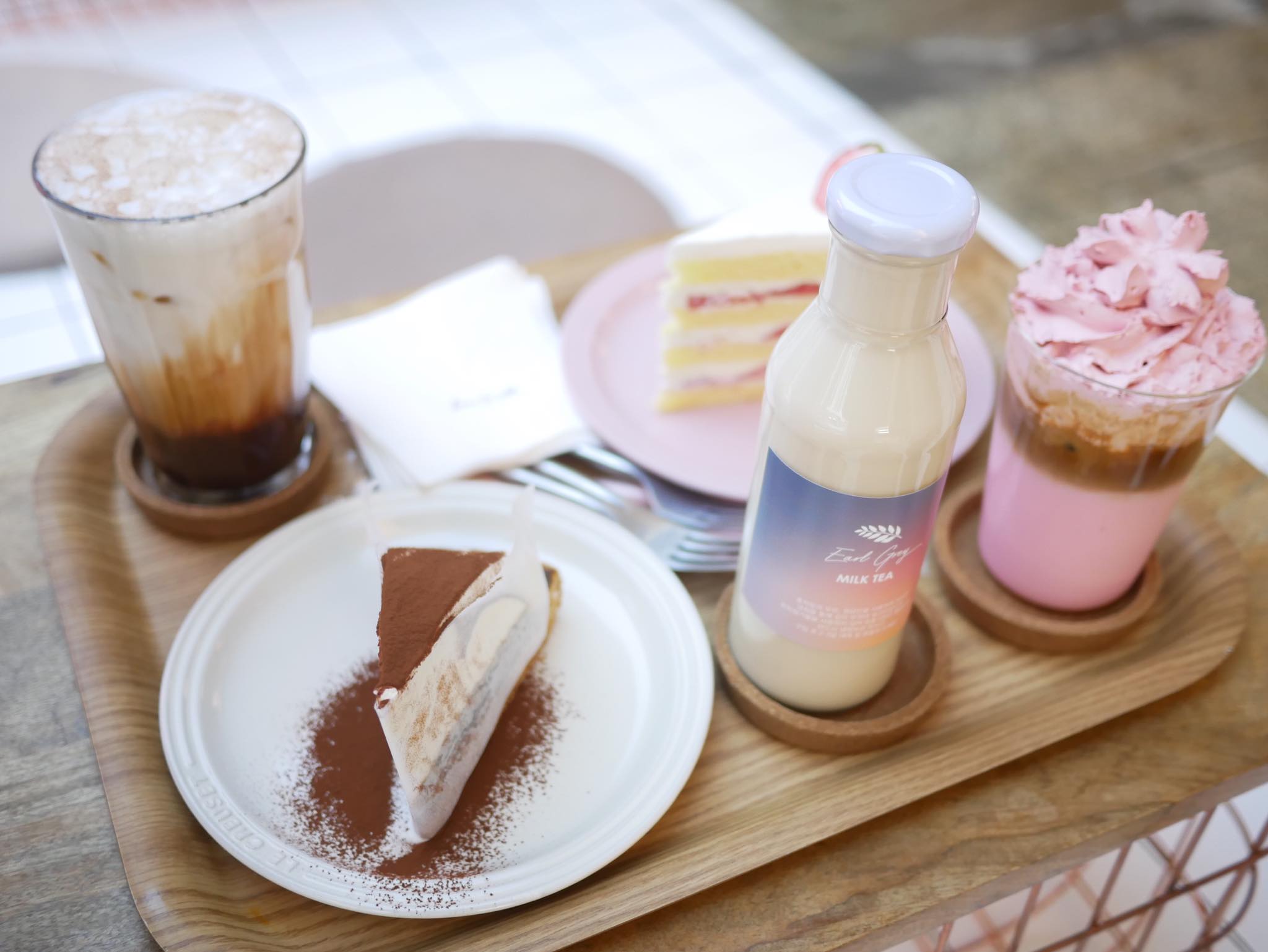 If you've got a sweet tooth, order a strawberry cream cake to share and try a bottle of earl grey milk tea.
Address: 166-73 Ikseon-dong, Jongno-gu, Seoul, South Korea
Opening hours: 10am to 11pm (Daily)
4. Stylenanda Pink Pool Cafe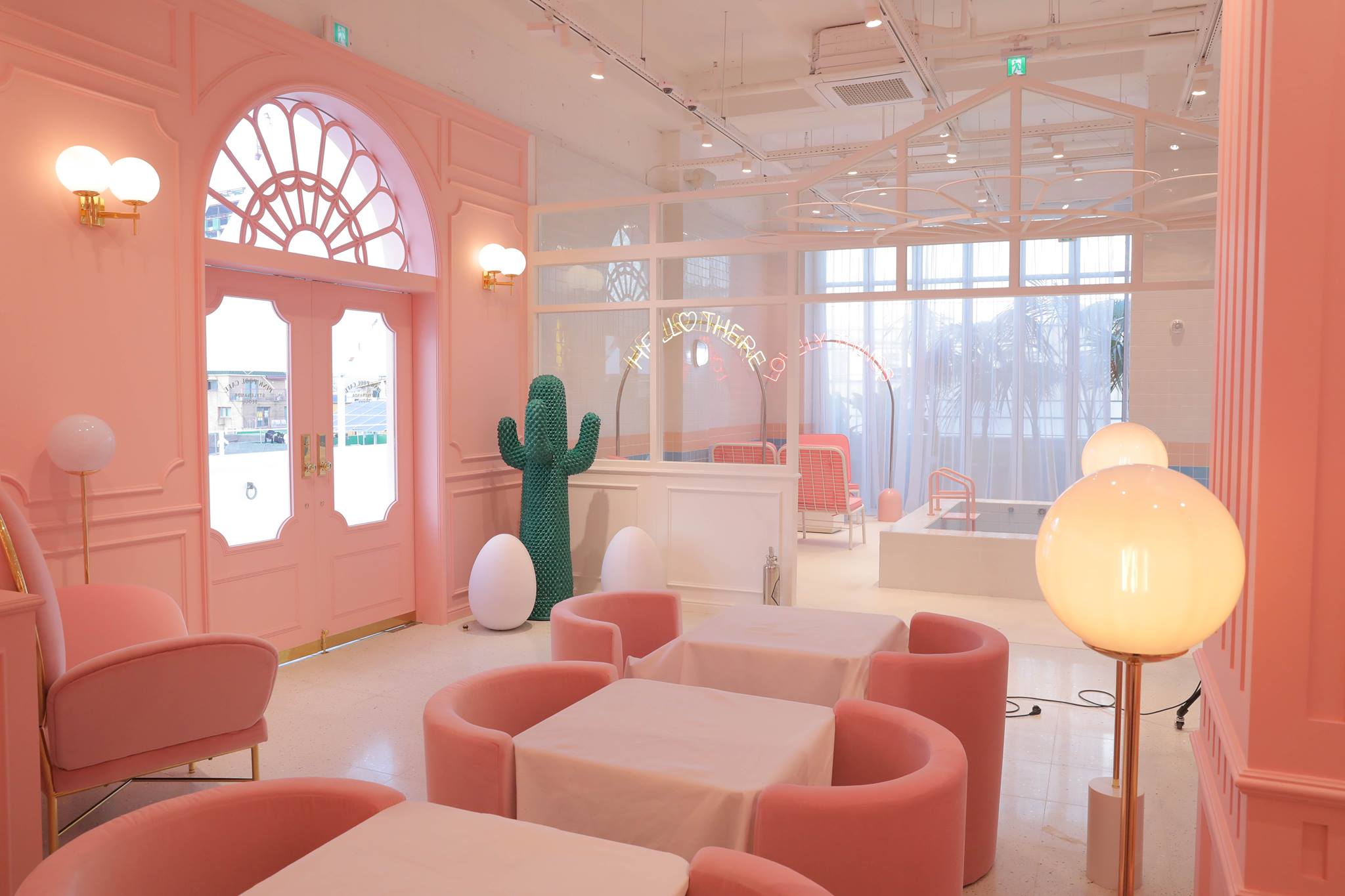 Stylenanda, an online Korean fashion brand, has 2 concept stores in Seoul. One of them is a pink cafe in Hongdae. Pink Pool Cafe will draw you in with its millennial pink theme, but you'll stay for its chic interiors, unique desserts and an indoor pool.
While you can't dip your toes into the pool, you can dine right next to it and enjoy a pastel-coloured cotton candy ice cream. Balance the sweet treat with a hot cup of latte or indulge in its cotton candy coffee.
If you're looking for Pink Pool Cafe's insta-famous rooftop hangout, it's situated on top of its Myeongdong outlet.
Address: 23 Wausan-ro 29da-gil, Seogyo-dong, Mapo-gu, Seoul, South Korea |
37-8 Myeongdong 8-gil, Chungmuro 2(i)-ga, Jung-gu, Seoul, South Korea
Opening hours: 11am to 11pm (Daily)
Facebook | Instagram
Also read:
Clubs In Korea: 10 Seoul Nightlife Spots To Party Like A Local
5. One In A Million
With clean white walls and pink accents, One In A Million is a bright and breezy cafe in Itaewon. Stand at the circular window for a quick OOTD and pose away at one of the pink chairs right outside the cafe.
One In A Million's interior is just as dreamy. The glass windows, wooden furniture and cosy corners give the cafe a homely touch, perfect for lounging in all afternoon.
Try the fluffy white tiramisu and get your caffeine fix while you're there.
Address: 31 Itaewon-ro 54-gil, Hannam-dong, Yongsan-gu, Seoul, South Korea
Opening hours: 12pm to 11pm (Mondays to Saturdays) | 12pm to 9.30pm (Sundays)
Instagram
6. Cafe Mula
Sinsa-dong is a hotspot for fashion-obsessed folks. If you want to escape the crowds while taking a break from shopping, head to this greenhouse-like cafe hidden at the side of Garosu-gil Road. Cafe Mula has unique marble tables, comfy sofas, a glass roof and tall doors that allow plenty of sunlight in.
The real draw of Cafe Mula is its matcha tiramisu. Sprinkled with matcha powder and pistachios, the cake is topped with freshly cut seasonal fruits like strawberries or grapes.
Address: 524-22, Gangnam-gu, Sinsa-dong, Seoul, Korea
Opening hours: 10am to 10pm (Mondays to Sundays)
Instagram
7. Zapangi
With its bright pink vending machine door, Zapangi is one of the most Instagram-famous aesthetic cafes in Seoul. Once you step in, you'll be greeted with a neon sign, tropical plants and a modern concrete interior.
The cafe's menu is limited to desserts and beverages. For a sweet afternoon treat, try a unicorn doughnut or a mermaid cupcake, which is served in a metal tin. Pair it with a delicious bottle of strawberry milk.
Address: 400-2 Mangwon-dong, Mapo-gu, Seoul, South Korea
Opening hours: 10am to 11pm (Daily)
Instagram
8. Coffee Nap Roasters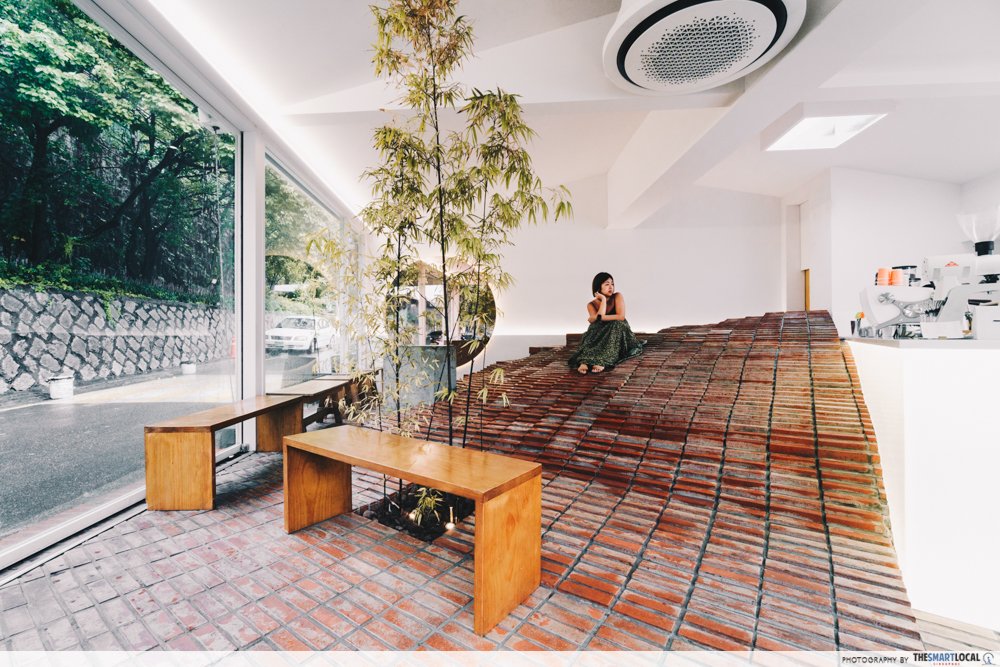 One look at Coffee Nap Roaster's layout, and you'll want to get your camera out for snaps. A gentle slope of terracotta-coloured bricks is laid out across the space. Decorated with wispy bamboo plants, this cafe is the epitome of Japanese minimalism.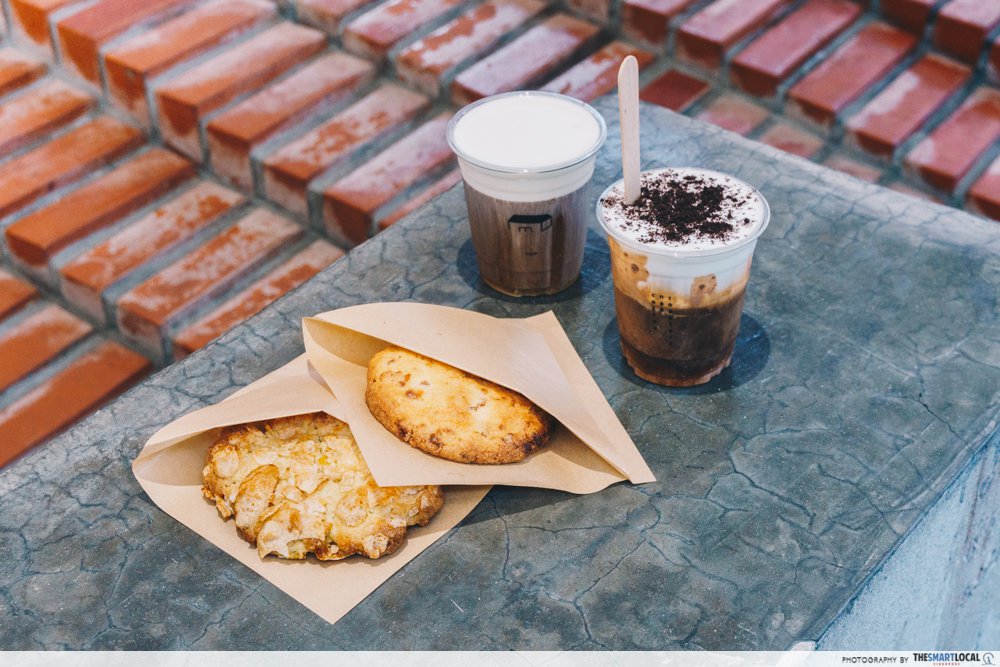 Order the Blanco, a scoop of chocolate chip ice cream with cookie crumbs, milk foam and an espresso shot layered over it. If you're feeling peckish, go for a large cookie. There's a savoury one with bacon bits in it.
Address: 453-32 Yeonnam-ro, Yeonnam-dong, Mapo-gu, Seoul, South Korea
Opening hours: 9am to 10pm (Daily)
Website | Instagram
9. Ver's House
True to its name, Ver's House is a house that's a 10-minute walk from Hongdae station. The first thing that sticks out (literally) is its plants. From the tables to the ceiling, dried flowers, fresh blooms and leafy plants populate this relaxing cafe.
There's a variety of cakes and beverages on its menu. Switch things up with a slice of carrot cake, which is served with a coat of mascarpone on top. The cafe also has a range of teas for a healthy detox.
Address: 44 Seongmisan-ro 23-gil, Yeonnam-dong, Mapo-gu, Seoul, South Korea
Opening hours: 12pm to 10pm (Daily)
Facebook | Instagram
10. Clarte Coffee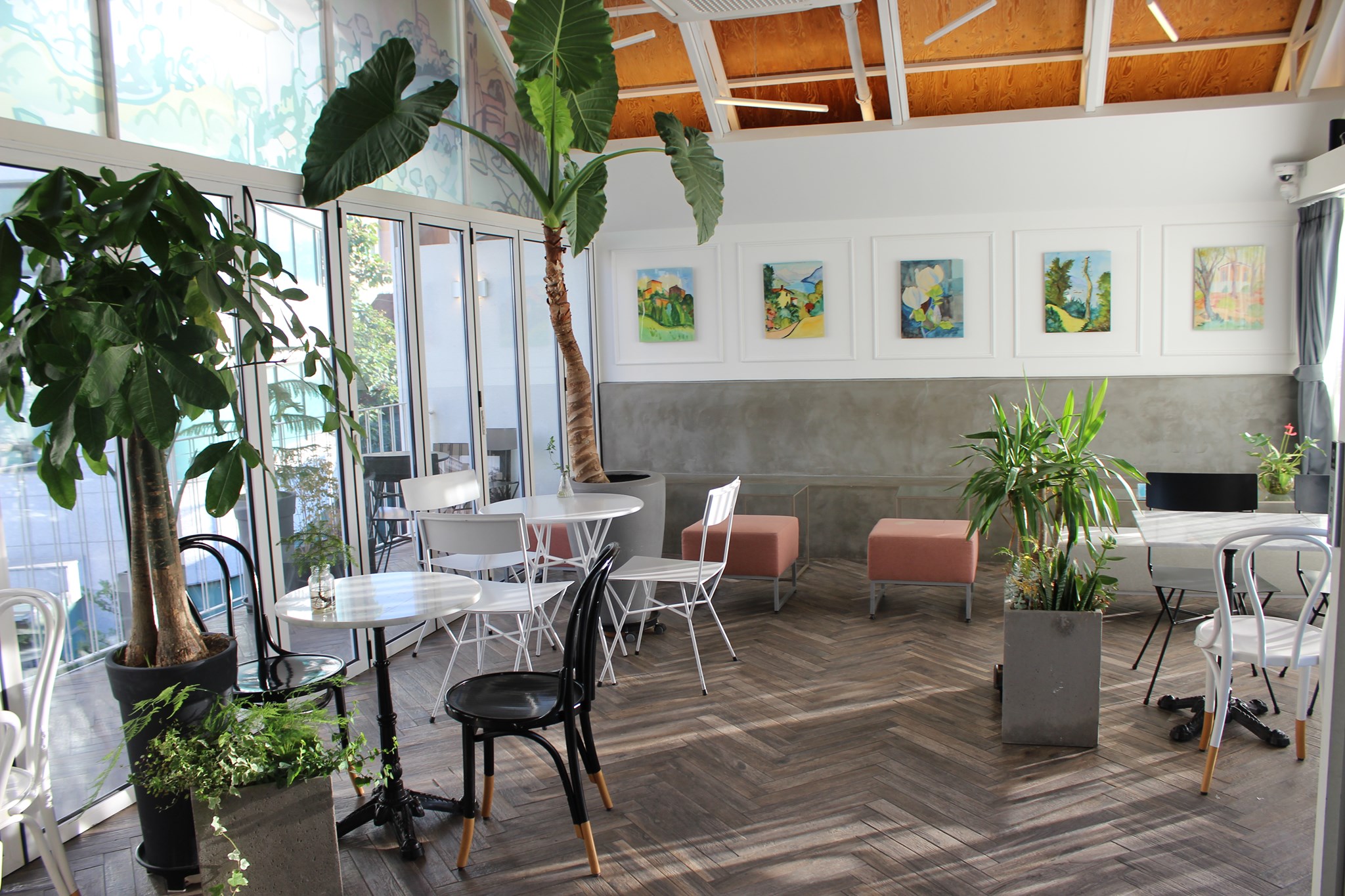 This white-themed cafe looks like it popped out of a minimalist's Pinterest board, but the framed paintings and wood flooring lend a cosier vibe compared to other cafes. With fresh plants plopped around the cafe, it makes for a relaxing space to hang out with your friends.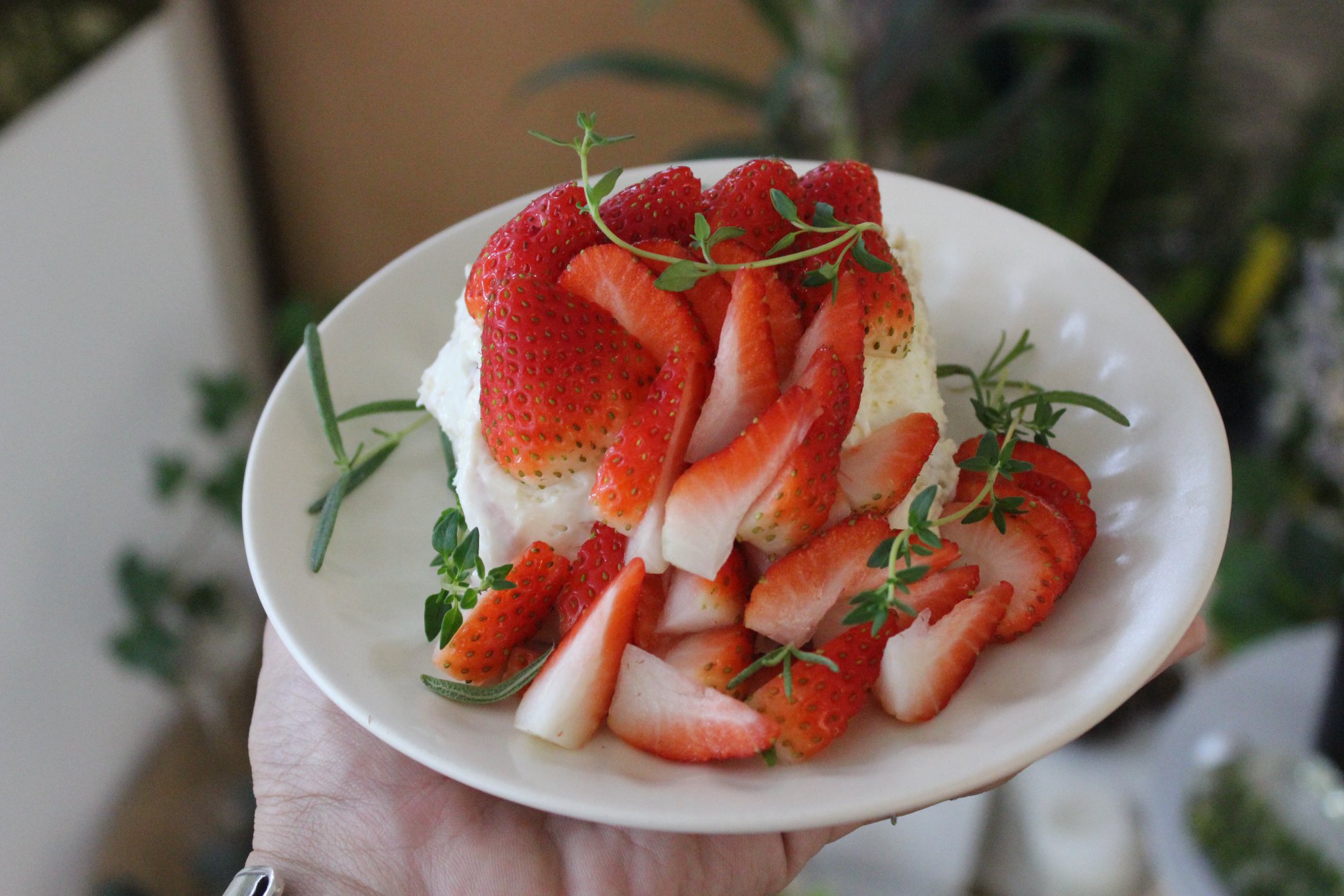 There's even an outdoor seating area on the second level, so don your sunnies and have a bite of its customer-favourite strawberry tiramisu.
Address: 383-103 Yeonnam-dong, Mapo-gu, Seoul, South Korea
Opening hours: 12pm to 11pm (Mondays to Saturdays) | 11am to 11pm (Sundays)
Facebook | Instagram
Aesthetic Cafés in Seoul
From minimalist layouts to pastel-coloured walls, these aesthetic cafes in Seoul are a must-visit if you're looking to up your Instagram game. Don't forget to pack a portable charger along to revive your phone along the way!
Also read:
10 Prettiest Tokyo Cafes Near Shopping Districts For Pit Stops In Winter