Vogue Korea September Issue Featuring Cute Grandmas
2020 has been a rough ride so far. So when there is wholesomeness to be found on the Internet, it deserves to be shared. Here's something that's sure to make you feel warm and fuzzy. South Korean photographer Min Hyunwoo shot an editorial spread with cute grandmas for the September issue of Vogue Korea. The sun is shining, the grandmas are smiling, there are plants and flowers everywhere … it's a welcome respite from the doom and gloom otherwise dominating the headlines.
The pictures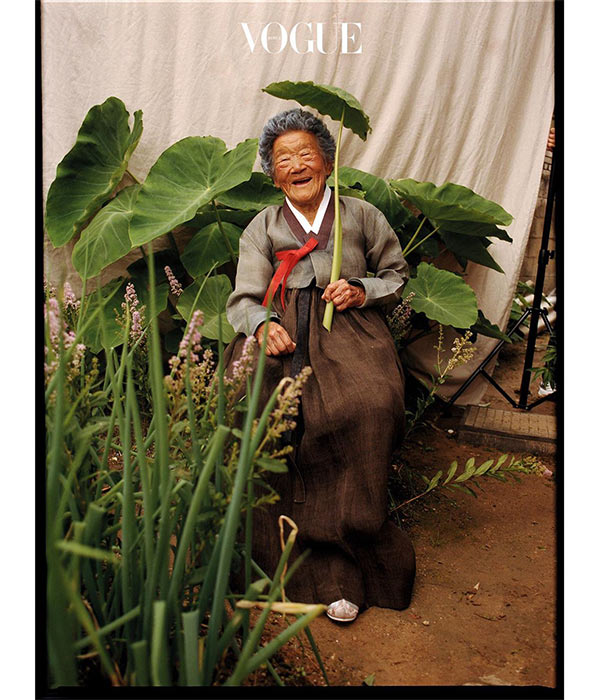 Min Hyunwoo shared images from the extensive editorial on his Instagram account. The sight of this halmoni ("grandma" in Korean) grinning while playing with a leaf as a prop is immediately arresting.
The 32-year-old photographer grew up in a village called Samcheok before moving to Seoul. For this project, he chose to shoot grandmas ranging from 93 to 106 (!!) years old who live in the countryside. They hail from Damyang, Gokseong, Gurye and Sunchang, which are all situated in Jeolla province, a region known for its greenery and high concentration of farms.
We're used to seeing young models and celebrities posing in the pages of fashion magazines. But it's not often that women past a certain age are allowed to grace those same pages. Especially ones who are not models, with genuine smiles on their faces accompanied by laugh lines and wrinkles, no less.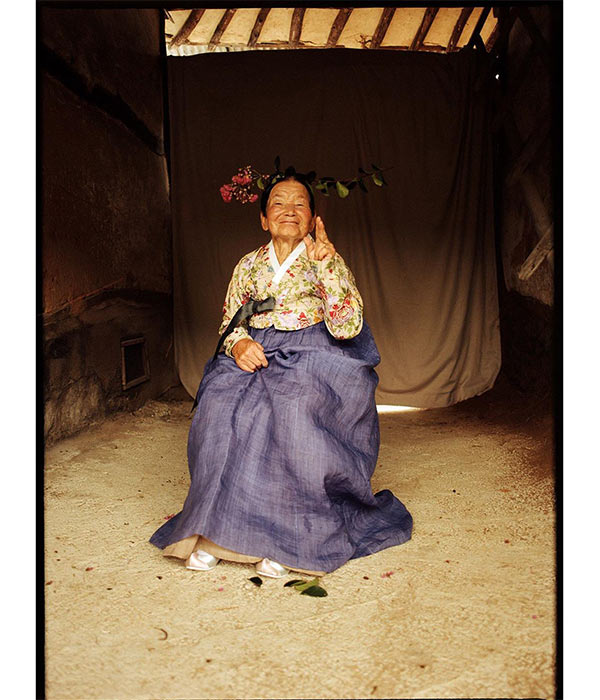 For those unfamiliar with the hanbok, here's a quick lesson to bring you up to speed. The women's version usually consists of a fitted jacket on top (jeogori) and a wide skirt below (chima). While it was worn as everyday attire in the past, the hanbok is now reserved mostly for special occasions such as weddings.
Sporting a colourful floral jeogori with a matching floral headpiece, this halmoni looks confident, wise and #likeaboss. Just look at how she is looking straight into the camera, and the way her fingers are positioned.
Min Hyunwoo's photos often depict his subjects having fun while embracing nature. This series for Vogue Korea's September issue is no different. Seeing these grandmas dressed up to the nines and having a ball of a time is reassuring and inspiring at the same time.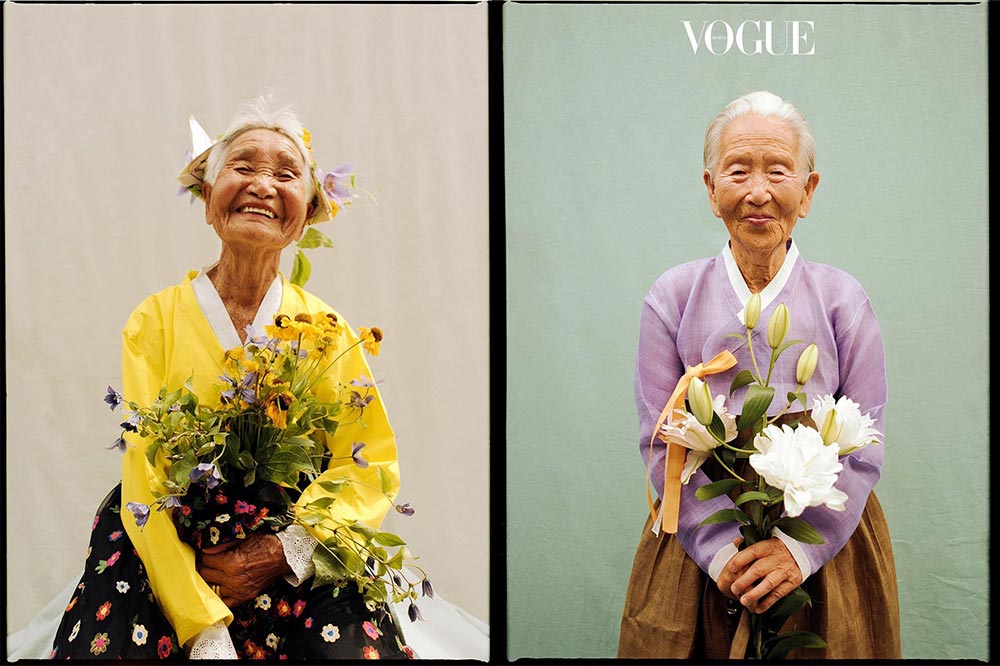 Elegance and grace personified. If this is what growing old looks like, sign us up.
Vogue Korea's September Issue Fashion Shoot Starring Cute Grandmas Proves Age Is But A Number
Min Hyunwoo's photoshoot in the September issue of Vogue Korea puts the spotlight on grandmas wearing traditional attire. It's fitting that the theme for all Vogue magazines across the world this September is hope. With their beaming smiles and you-got-this vibe, these halmoni give us hope that no matter how bad things might seem, we will be able to get through this, emerging tougher and wiser. Read more about the shoot, the grandmas and Min Hyunwoo on Vogue Korea's website.
All images: Source
Also read:
These Fabulous Ah-Mas Show Me There Is Nothing To Fear About Growing Old