Woo Do Hwan facts
With so many K-dramas to binge watch on Netflix, this also means that there are more rising lead oppas to keep up with. One name that has been gaining popularity recently is Woo Do Hwan, who starred in the Netflix drama, Bloodhounds, alongside Lee Sang Yi. 
Apart from his toned abs and boxing skills he flexed on-screen, many new fans are curious as to what Woo Do Hwan's real personality is like IRL. Here are 21 facts about the charming actor, such as his past works, favourite idol and close bromance with Lee Sang Yi. 
1. He's the oldest of three children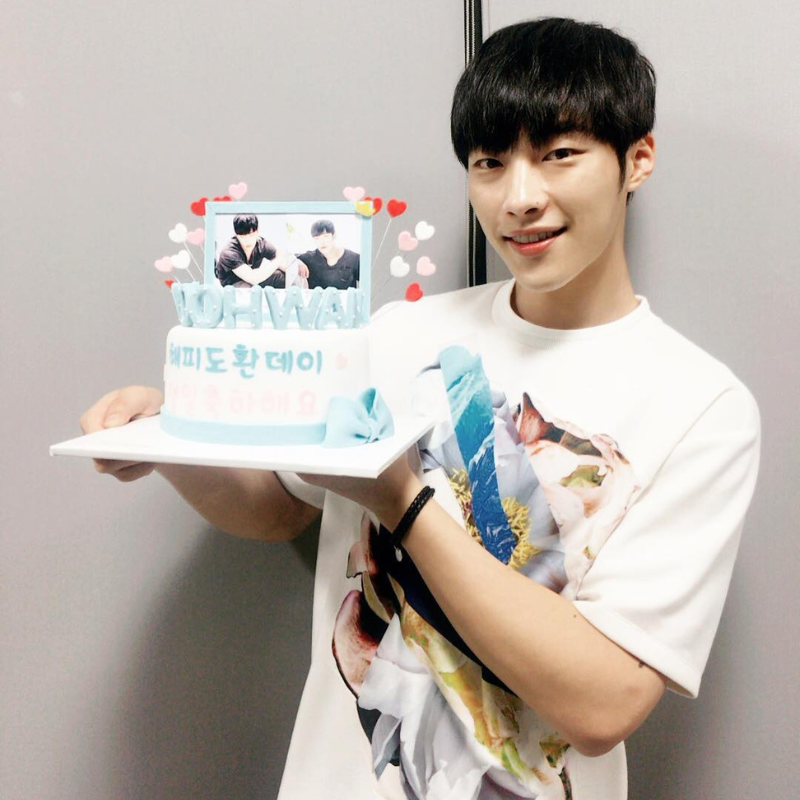 Source
Woo Do Hwan was born on 12 July 1992. He has two younger sisters, making him the oldest among three children.
2. Previously worked various part time jobs in F&B
Growing up, many of us have worked at random part time jobs for a little extra cash. It seems like celebrities aren't that different from us either.
Before pursuing acting, Woo Do Hwan had worked part time at a bakery, restaurant and cafe.
3. Majored in performance and film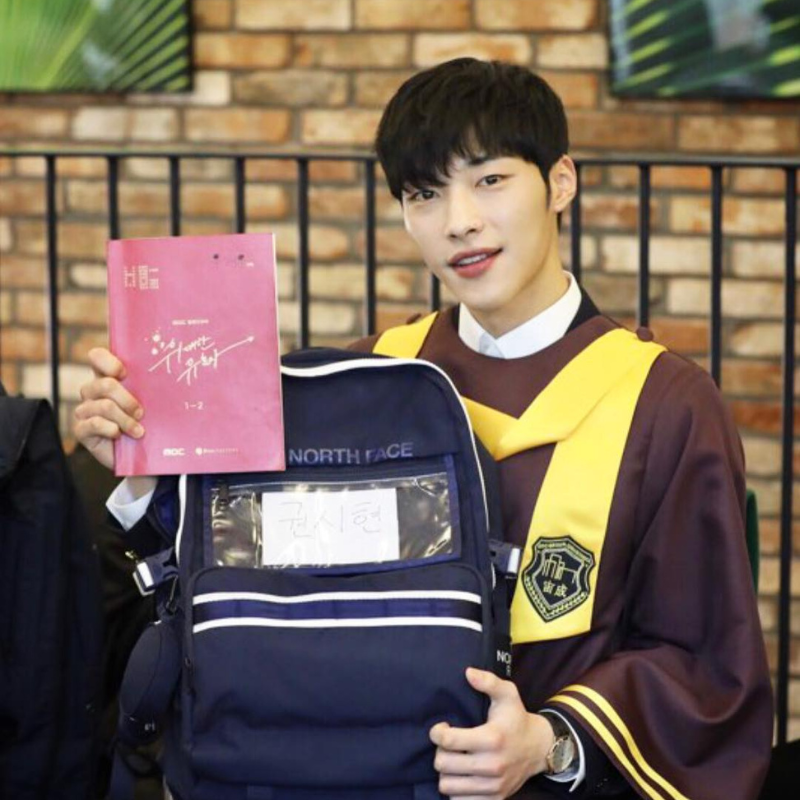 Source
Woo Do Hwan studied at Dankook University of Performing Arts, and graduated with a degree in performance and film. His parents were the ones who steered him into acting while he was growing up, so this degree was part of his route to eventually becoming an actor.
All his hard work eventually did pay off, as the rising actor now has nearly 6 million followers on Instagram. 
4. His ideal type is a woman who likes to talk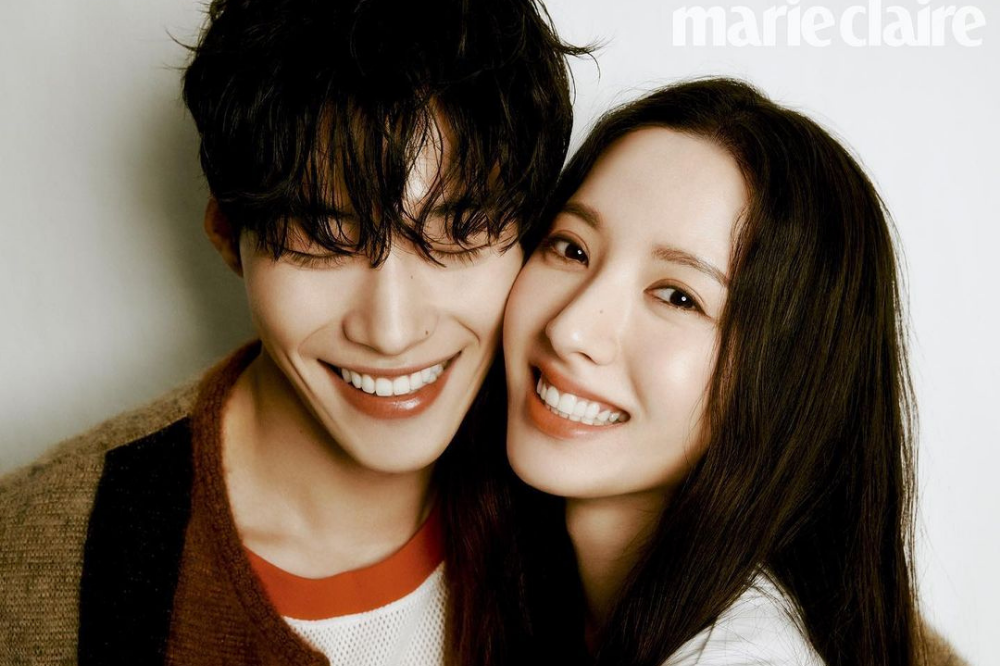 Woo Do Hwan with Bona, his co-star in Joseon Attorney
Source
As someone who has starred in many swoon-worthy romance dramas, fans have always been curious about what kind of girl Woo Do Hwan would date. 
In a 2017 interview for his drama Mad Dog, Woo Do Hwan shared that his ideal type is someone who likes to talk. He added, "my ideal type is 'a woman I miss' rather than 'a woman I want to hang out with'". 
How much he misses a woman determines how much he loves her and thinks of her. 
5. Says that age isn't important when it comes to dating
On top of his ideal type, Woo Do Hwan also shared that age isn't an important factor to him when it comes to dating. That's right — noona stans, y'all stand a chance too. 
In the same interview, he disclosed, "I've never dated an older woman before, but it's fine. I'm fine with it as long as it doesn't get criticised by society, and there's a reasonable age gap between her and my parents."
6. Had his acting breakthrough with Mad Dog in 2017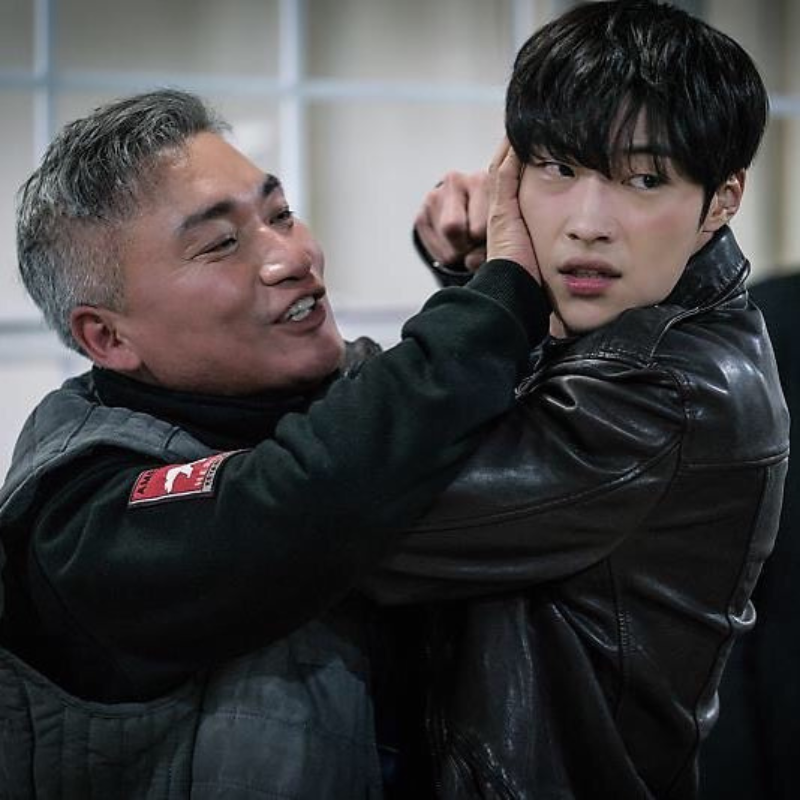 Source
Woo Do Hwan made his acting debut in 2011 with a small cameo appearance, and his breakthrough came with Mad Dog in 2017. He played the role of Kim Min Joon, a street fraudster, and gained a lot of attention for his witty and fearless character.
The actor also starred in other popular drama series such as The King: Eternal Monarch, Joseon Attorney and Bloodhounds. 
7. Won "Best New Actor" at the 31st KBS Drama Awards 2017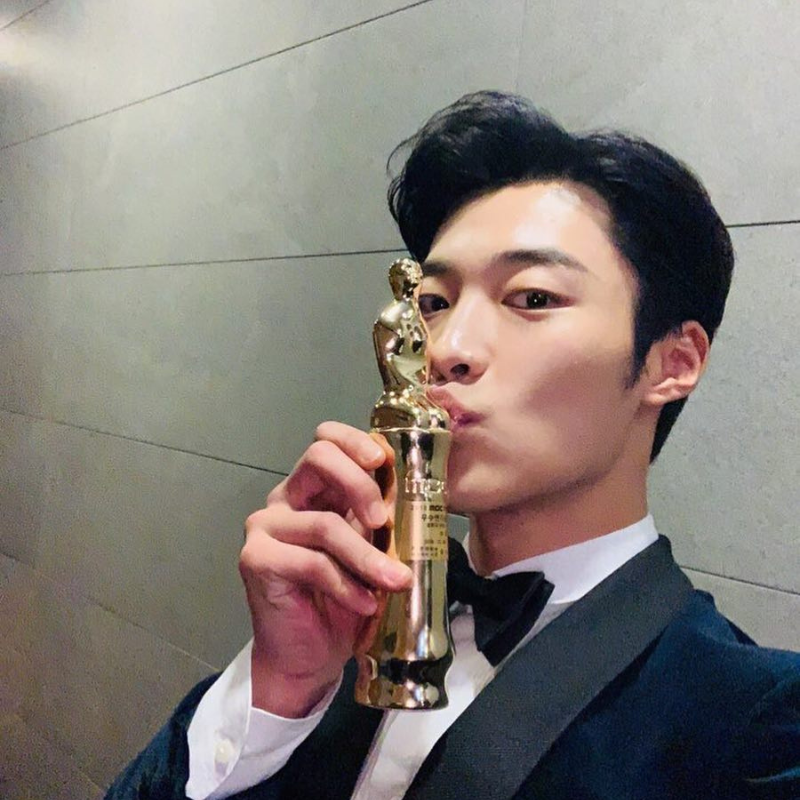 Source
In case you're wondering just how much popularity Woo Do Hwan had gained from Mad Dog, perhaps an award will speak for itself. At the 31st KBS Drama Awards in 2017, Woo Do Hwan won the "Best New Actor" award for the drama. 
The actor took to Instagram to express his gratitude towards his fans, complete with a selfie of himself planting a kiss on the award. 
8. Is close friends with fellow Bloodhounds' cast member Lee Sang Yi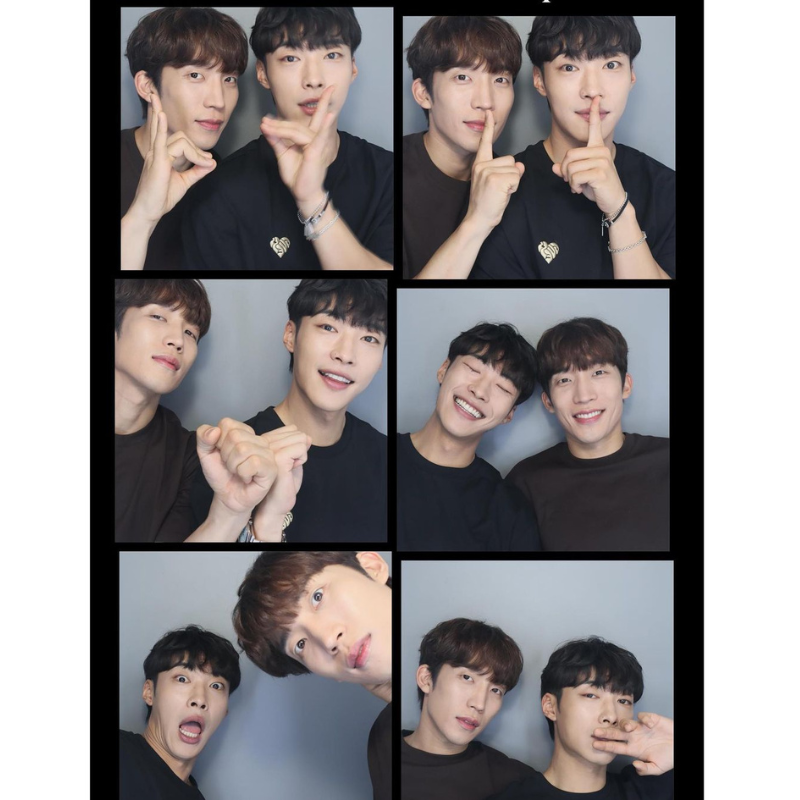 Source
In June 2023, Woo Do Hwan starred in "Bloodhounds" alongside Lee Sang Yi. While we were busy ogling over the two eye candies of the show, the K-drama also became the second most popular TV show on Netflix worldwide.
Through filming the drama, the two developed a close relationship with each other, with Woo Do Hwan often updating his Instagram page with posts of him and Lee Sang Yi. 
One of his posts even featured the pair snapping fun photos at a photo booth. Cute.
9. Thinks of Lee Sang Yi as an older brother to him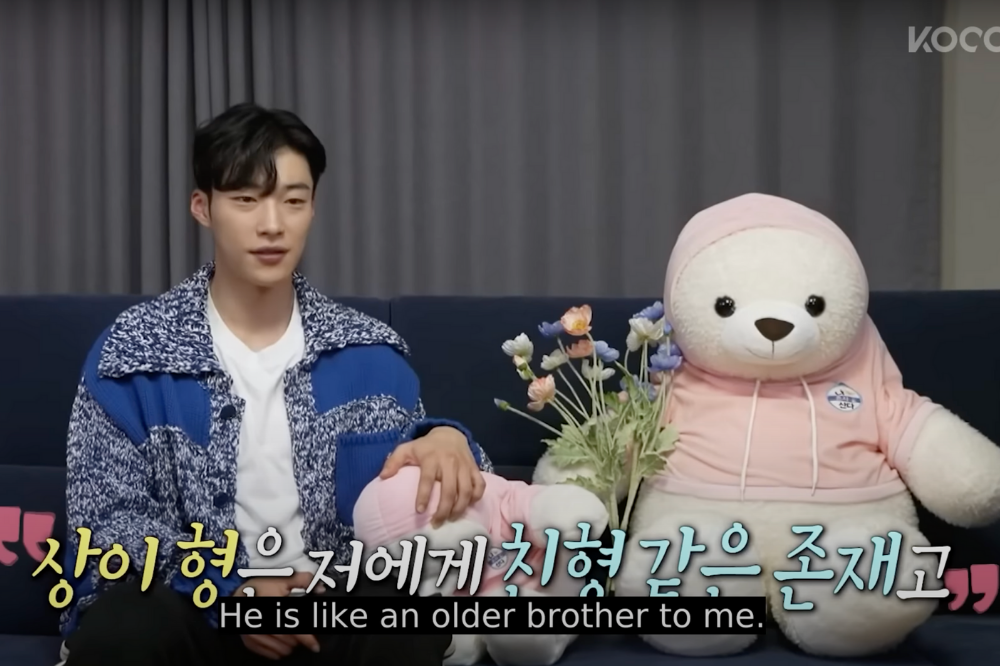 Source
In an episode of I Live Alone, a variety show that documents the lives of celebrities who live alone, Lee Sang Yi visited Woo Do Hwan's home. 
The episode featured an interview with Woo Do Hwan, who shared that "Sang Yi is like an older brother to me. We have known each other for about a year, but I feel close to him as if I have known him for 20 years." 
10. Has a plant named "King King" that was gifted by Lee Sang Yi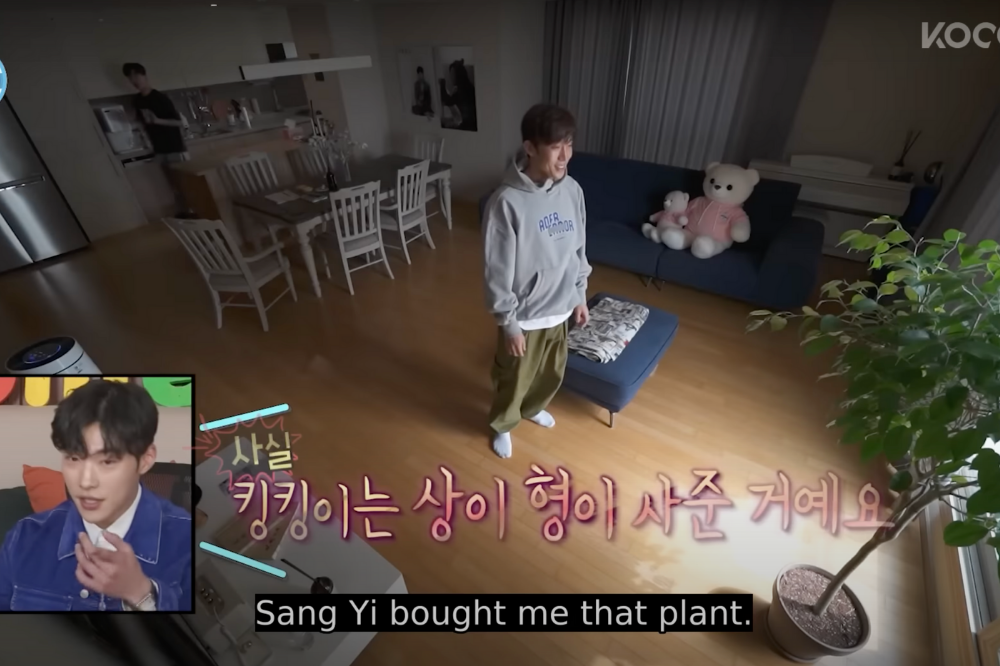 Source
Those who have green fingers may believe that it's important to talk to your plants often so that they can grow well. Woo Do Hwan took the plant love to the next level by naming his house plant "King King".
King King was gifted by Lee Sang Yi, and Woo Do Hwan shared a funny tidbit behind this gift — "Sang Yi once posted a photo of him at a botanical garden on Instagram. I commented without thinking, 'I want to raise a plant too.' The next day, Sang Yi left King King in front of my door." 
That's true friendship right there. Perhaps Woo Do Hwan can casually tell Lee Sang Yi that he wants a car next, if you know what I mean. 
11. Learned boxing for the filming of Bloodhounds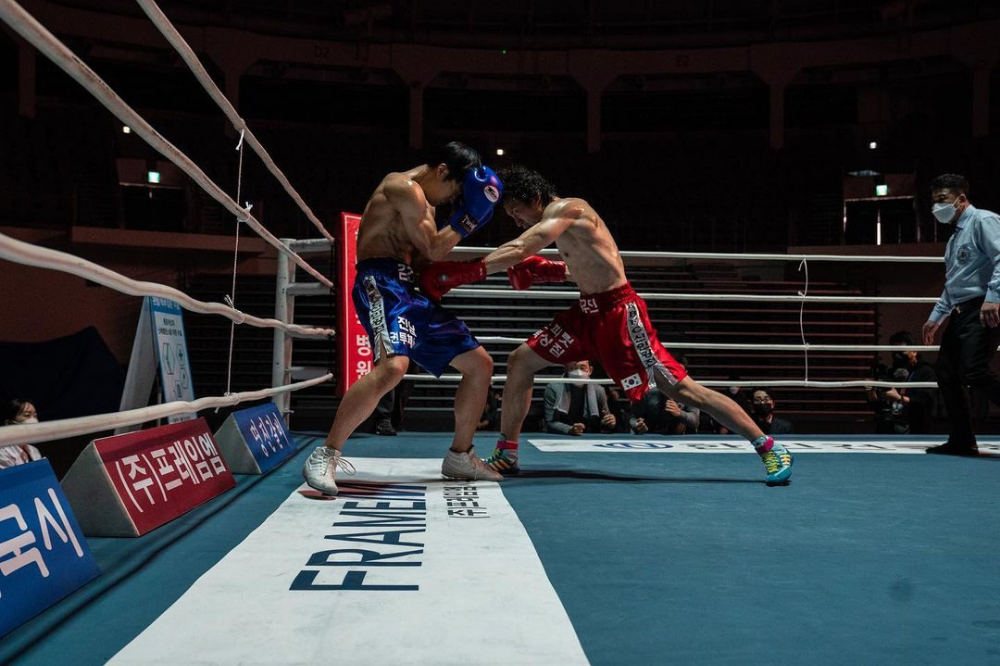 Source
Woo Do Hwan previously starred in many action films, so it wasn't surprising to see him nail all the boxing scenes in Bloodhounds. The actor shared that he used to casually box as a hobby when he was younger, but had to learn the sport in deeper detail for the drama. 
Both Woo Do Hwan and Lee Sang Yi studied boxing right down to the techniques, sharing the meaning of terms such as "out-boxer", "southpaw" and "in-fighter" in an interview with Netflix. 
Also read:
10 K-Dramas On Netflix & Streaming Sites With Shockingly Explicit Sex Scenes, From The Glory To Nevertheless
12. Actually hit Lee Sang Yi during their boxing scenes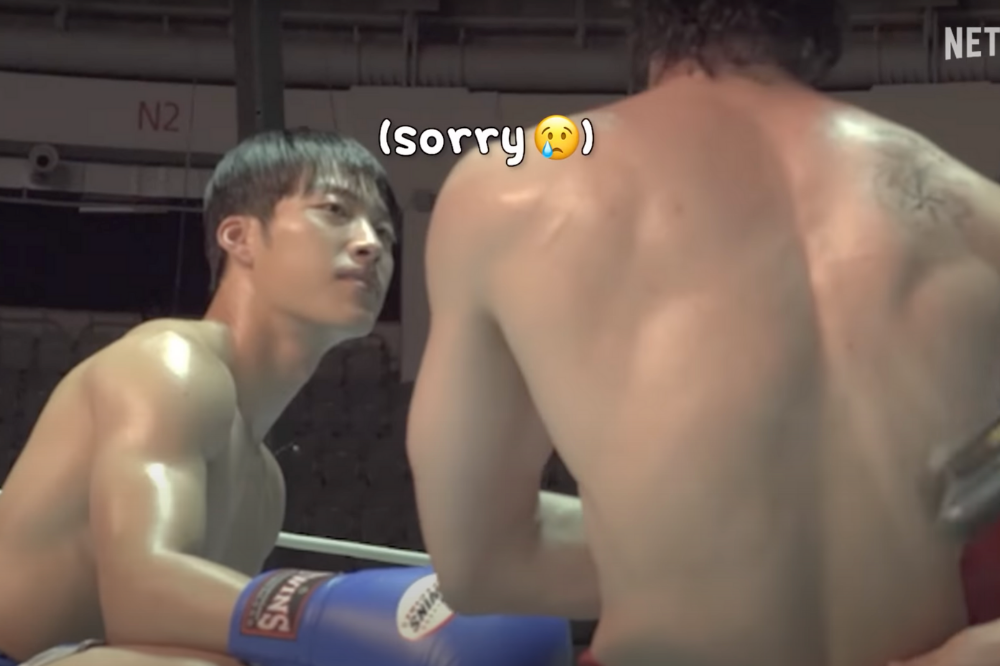 Source
Accidents happen all the time. This is especially so for action films, where the actors have to make each scene seem as realistic as possible. 
Since Woo Do Hwan had to hit Lee Sang Yi a lot during their boxing scenes, this resulted in Lee Sang Yi feeling a lot of pain during the filming. Woo Do Hwan shared, "I felt really bad towards Sang Yi". 
But Lee Sang Yi easily forgave him each time, and cheekily followed up by revealing, "he apologised so many times after hitting me".
13. Ate only brown rice and chicken breast for every meal to train his body for Bloodhounds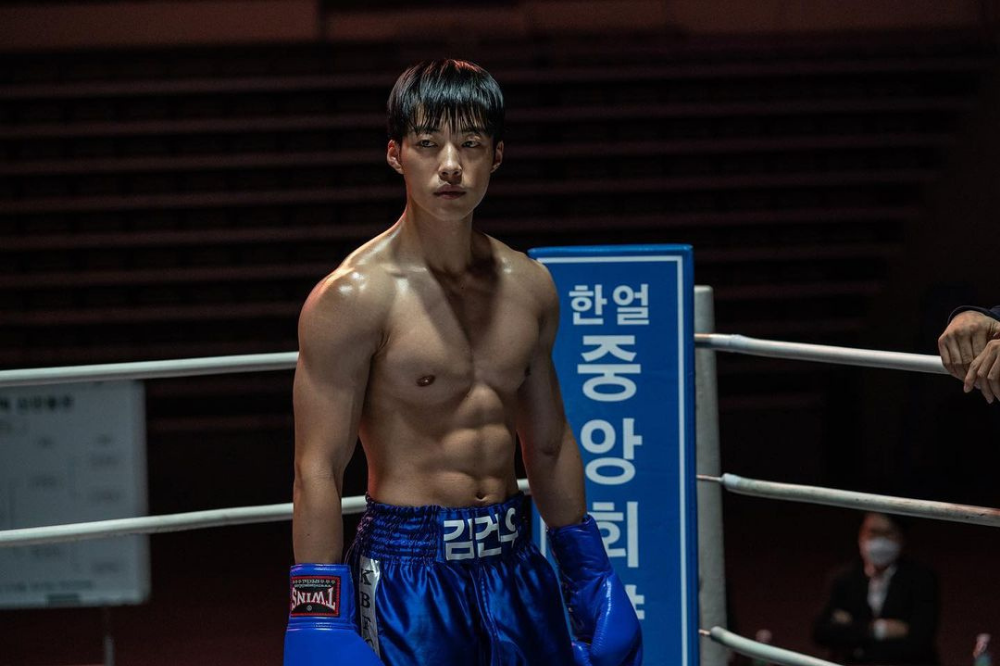 Source
NGL, half of the appeal of Bloodhounds was the male leads' hod bods — six-pack abs glistening in sweat? We get it. 
But it wasn't easy for both Woo Do Hwan and Lee Sang Yi to achieve these greek god-like bodies. In an interview with Netflix, the pair shared that it was the hardest that they've both worked out in their lives. 
"Whenever we went on set, it didn't feel like we were there to act. It always felt like we were going to work out. Every meal was the same — brown rice and chicken breast. I was so sick of it." 
Mad props to the two actors for being so strict on themselves to make the film more believable for the audience, right down to their diets. 
14. Bloodhounds was his first project after completing military service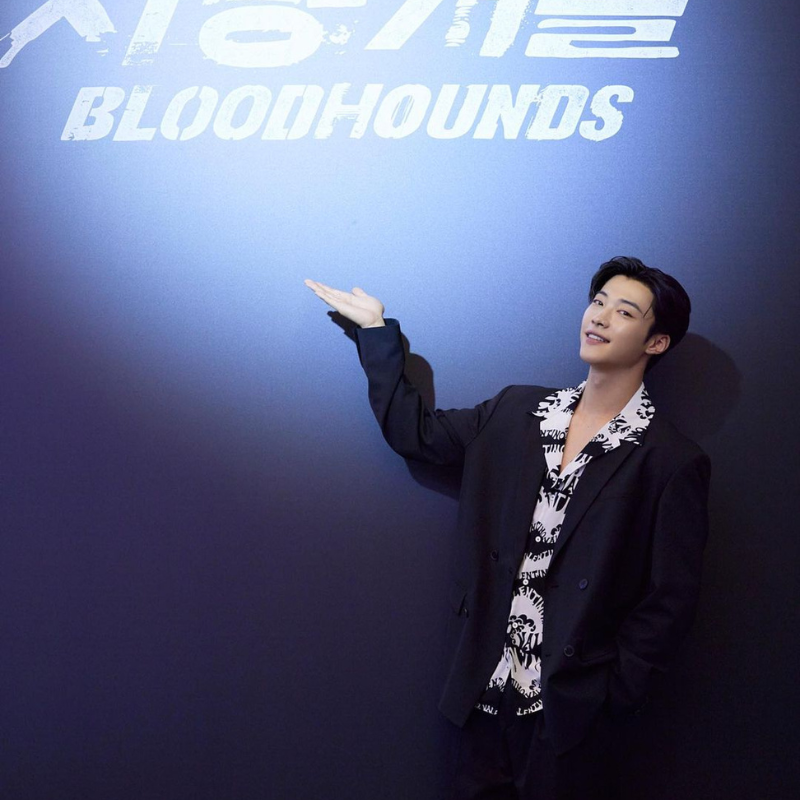 Source
Like all males in Korea, Woo Do Hwan had to serve mandatory military service, and enlisted in July 2020. He took on Bloodhounds as his first project after getting discharged in 2022. 
When he got the offer to star in Bloodhounds, he asked actress Yun Soo Sun to join him and take on the role of his character's mother. She agreed in a heartbeat — Woo Do Hwan proudly revealed, "that's how Gun Woo (his character's name) met his mother." 
13. Was a class representative in every year of middle school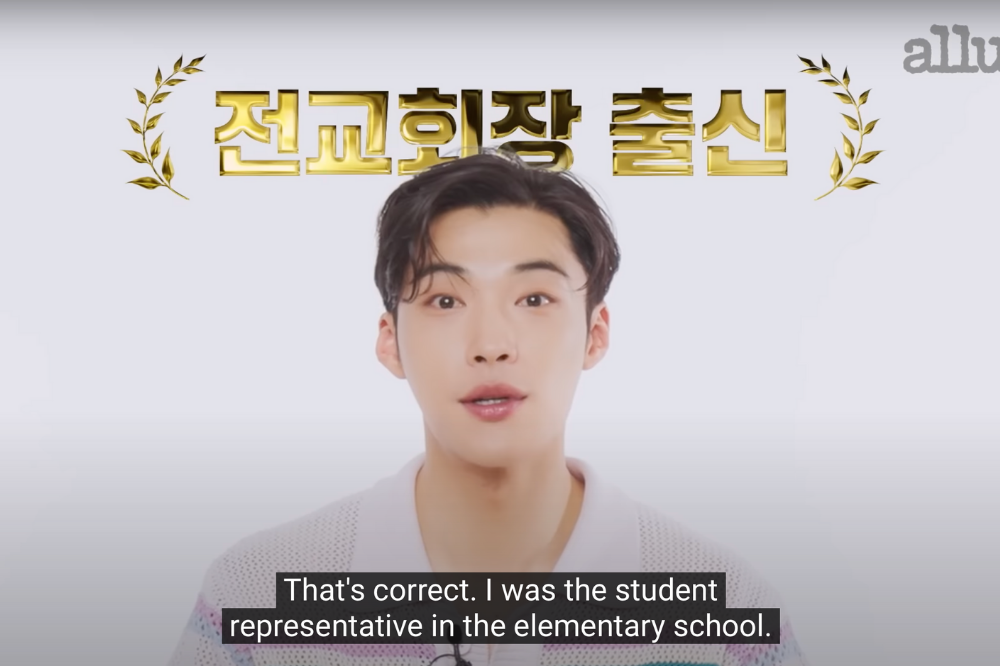 Source
Despite his tough image in many dramas, Woo Do Hwan was actually a teacher's pet when he was a student. In an interview with Allure Korea, he revealed that he was the student representative in elementary school, and a class representative every year in middle school. 
Funnily enough, his teacher described him as "Harvard material without the Harvard grades". We're guessing that he was very hardworking, even if the results didn't always show. 
16. Couple video compilation of him and Moon Ga Young has over 7 million views on YouTube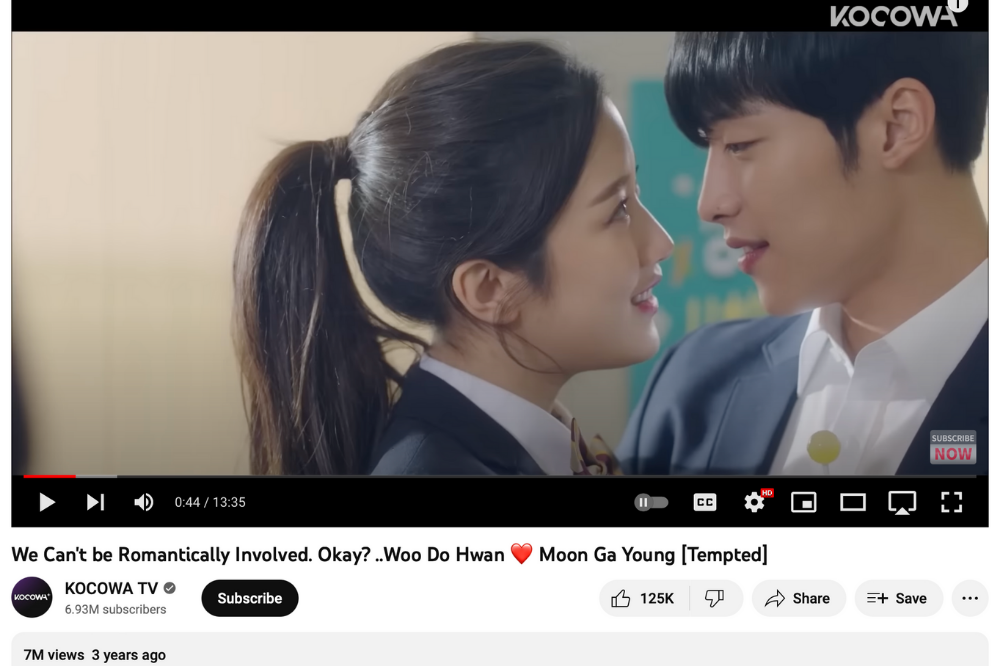 Source
While many of us have our favourite K-drama OTPs, one of Woo Do Hwan's top "ships" is with Moon Ga Young in "Tempted". A YouTube video compilation of the pair in their drama together has gained over 7 million views, and they were even caught up in dating rumours back in 2018.
Both actors denied the relationship, and stated that they were just close friends. 
17. Sets a 10-minute timer for himself whenever he gets angry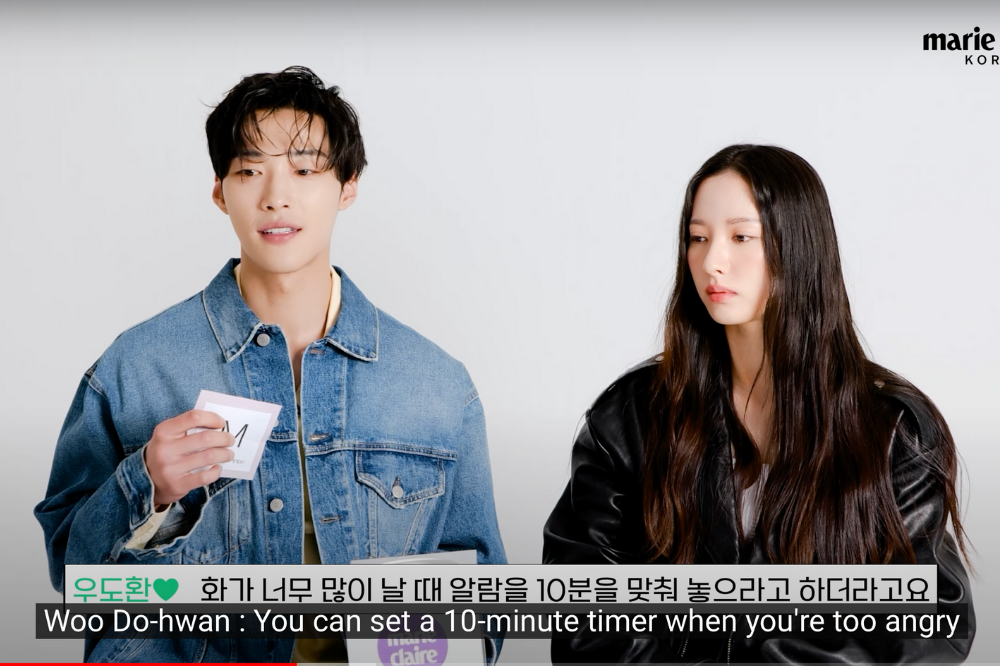 Source
Many of us have different ways to vent our anger, but Woo Da Hwan's approach aims to improve his mental health.
In an interview with Marie Claire Korea, he shared "you can set a 10-minute timer when you're too angry and think about why you were angry. Invest that 10 minutes into that thought, and then forget about it once the timer rings." 
He has tried and tested it out for himself and felt that it truly works for him, so he recommends this method to his fans as well.
18. Wishes to meet football player Kylian Mbappé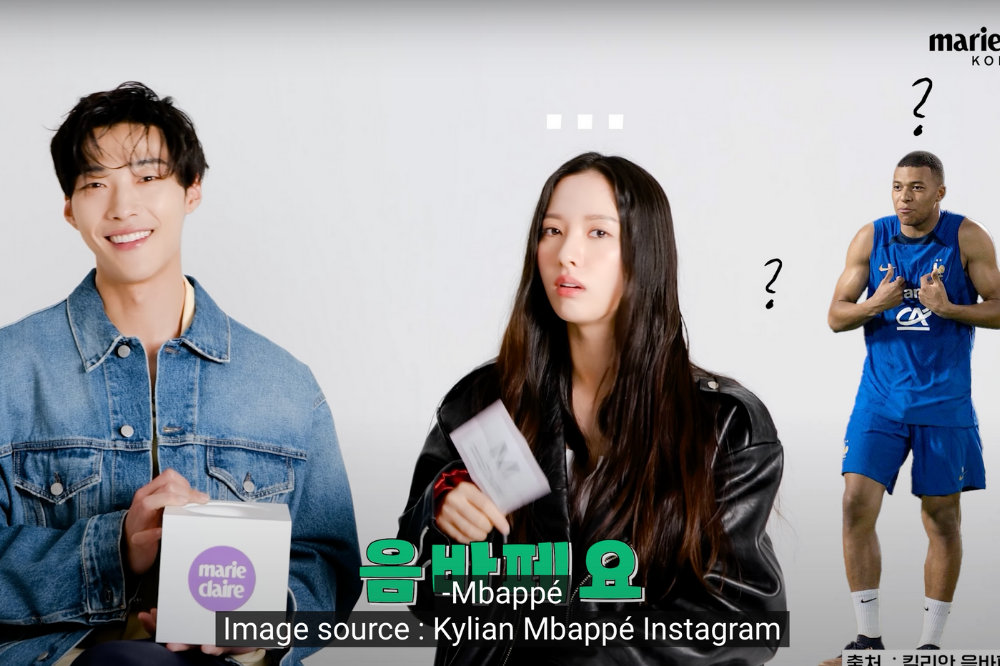 Source
Sure, Woo Do Hwan may be your idol, but who exactly is his idol? When asked who he hopes to meet some day, Woo Do Hwan confessed that it's French football player Kylian Mbappé. 
"I think I'll be too nervous to ask him questions, but I'd like to tell him that I'm his biggest fan." 
19. Was an ambassador for Sprite with Blackpink in 2018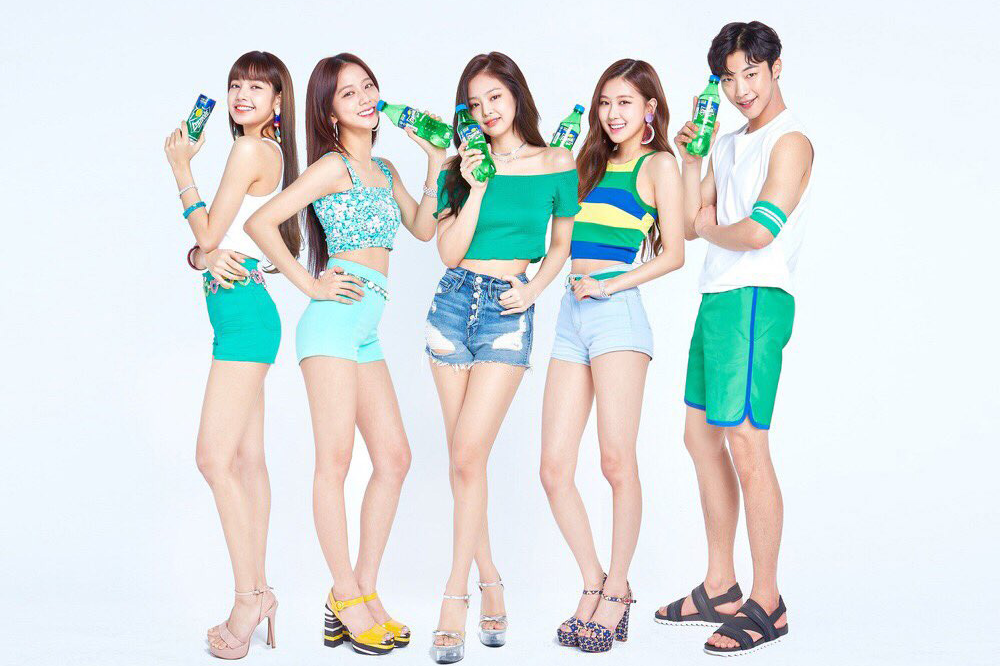 Source
In 2018, Woo Do Hwan became an ambassador for Sprite alongside K-pop girl group Blackpink. They had photoshoots, events and even starred in an advertisement video together, which showcased him enjoying a summer pool party with Blackpink as the performers.
20. Starred in an R-rated movie in 2013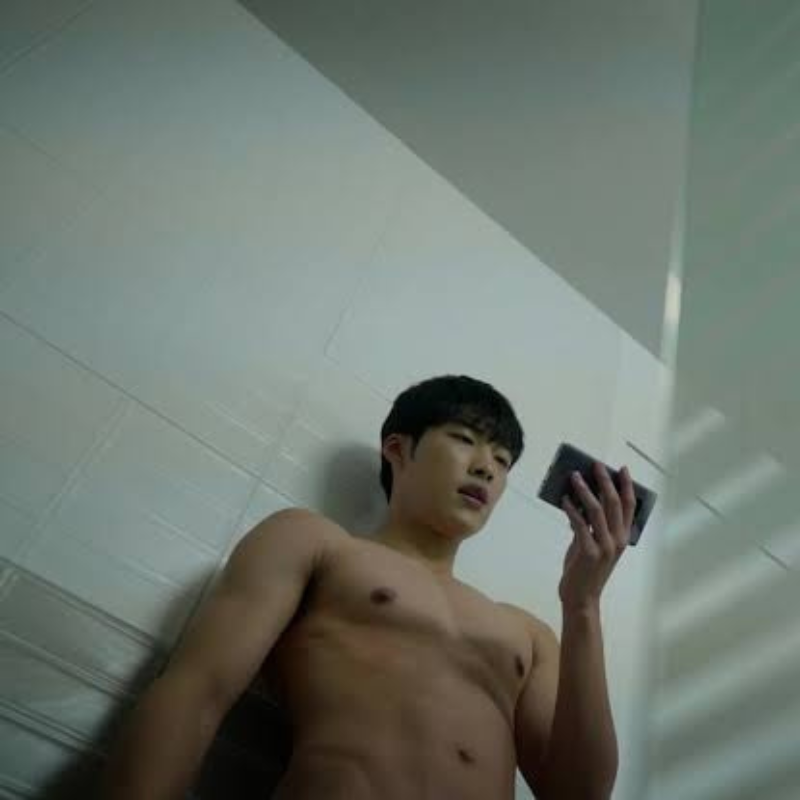 Source
Not many people knew this, but before Woo Do Hwan rose to popularity, he starred in an R-rated movie titled "Let's Go To Rose Motel" in 2013. 
He played a major role in the film, where his character went to a motel to have sex with his partner, only to discover that a celebrity was giving sexual favours to a big shot politician in the room next door.
This film has since been removed in his official filmography due to massive criticism from the public. 
Woo Do Hwan's agency released a statement stating that "he filmed the movie during a time when he wasn't known and didn't know how to receive acting opportunities. He only filmed because he was passionate about acting and happened to receive the casting offer."
21. In talks to lead in a new rom-com drama with Lee Yoo Mi
After the success of Bloodhounds, fans are anticipating more exciting dramas from Woo Do Hwan to binge-watch on Netflix. 
In April 2023, it was announced that the actor is in talks to lead a new rom-com drama by the writer of "It's Okay To Not Be Okay", alongside Lee Yoo Mi. Time to add this to your bookmarks.
These Woo Do Hwan Facts Showcase The Talented Actor's Fun & Down To Earth Personality
From sharing fun tidbits about his school life to his unique bond with Lee Sang Yi both on and off screen, Woo Do Hwan's down to earth personality is what makes him so well-loved among his fans. 
Plus, Woo Do Hwan is also having an upcoming meet and greet in Singapore, at the Lancôme Advanced Génifque Skin Repair Lab pop-up at Ngee Ann City Civic Plaza on 23 August 2023. Out of the first 100 customers who purchase the Lancôme Advanced Génifque Serum there, only 10 lucky winners will be selected to win a personal polaroid with the dashing actor.
Also read:
Bloodhounds' Woo Do-Hwan Is Having A Meet & Greet On 23 Aug In SG, Fans Can Win A Personal Polaroid