Zendle Candles
Now that we are inching closer to the end of 2022, we can almost smell the gifting season. Rather than scrambling for last-minute gift ideas, give yourself a headstart by checking out local candle brand Zendle. 
From all-natural soy candles to candle accessories, Zendle has excellent gift choices that are not only chio, but also contribute to greener living through sustainability. 
The candles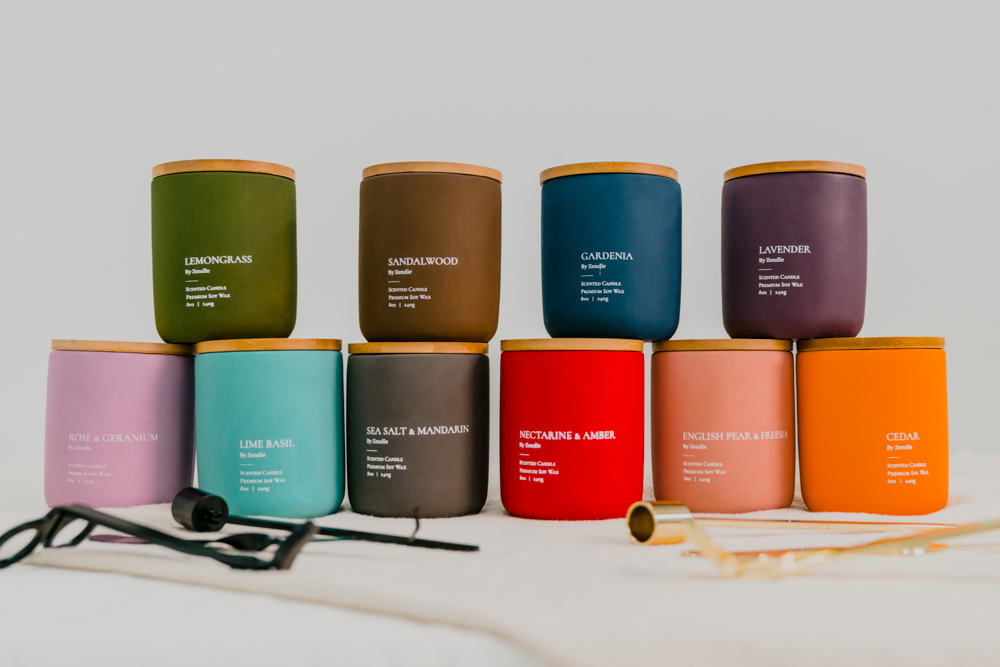 With the emphasis on self-care more important than ever, nothing quite beats having a relaxing candle to help you get into zen mode. If you're a fan of winding down with a dose of scented candles, Zendle has 10 selections for you to consider.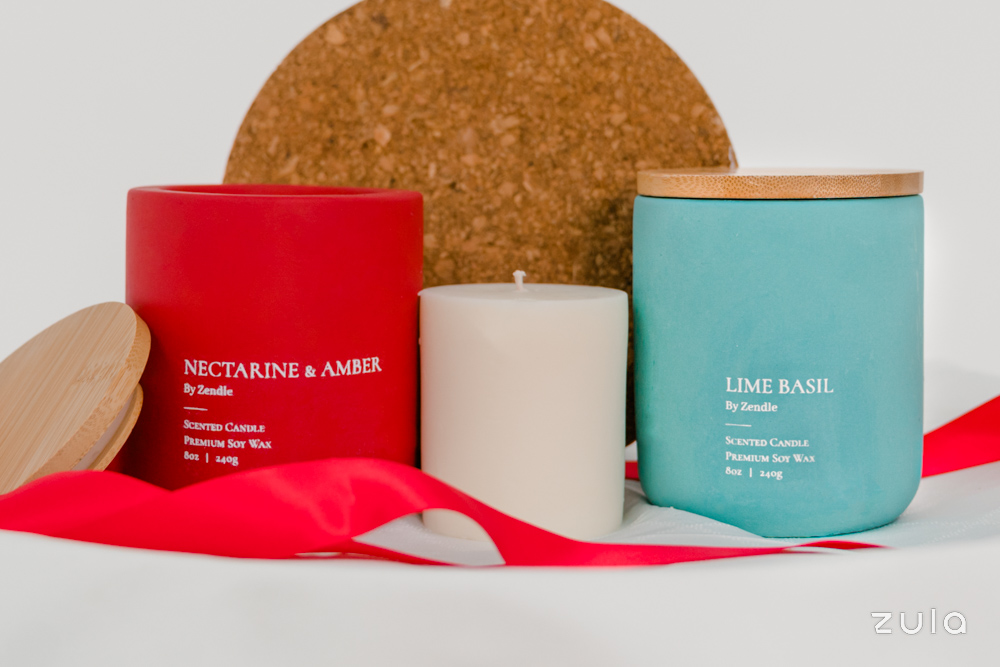 One way to soak up the festive spirit is to have your place smelling like a cosy cabin in the woods. Enter Nectarine & Amber, a sweet yet musky-scented candle that adds richness and vibrancy to your home. The bright and bold red candle vessel also doubles as a suitable Christmas decor.
Lime Basil is for the sun-loving beachgoers as it will remind of summer days at a Caribbean beach. The aromatic fragrance includes hints of thyme, lemon, lime, basil, and vetiver.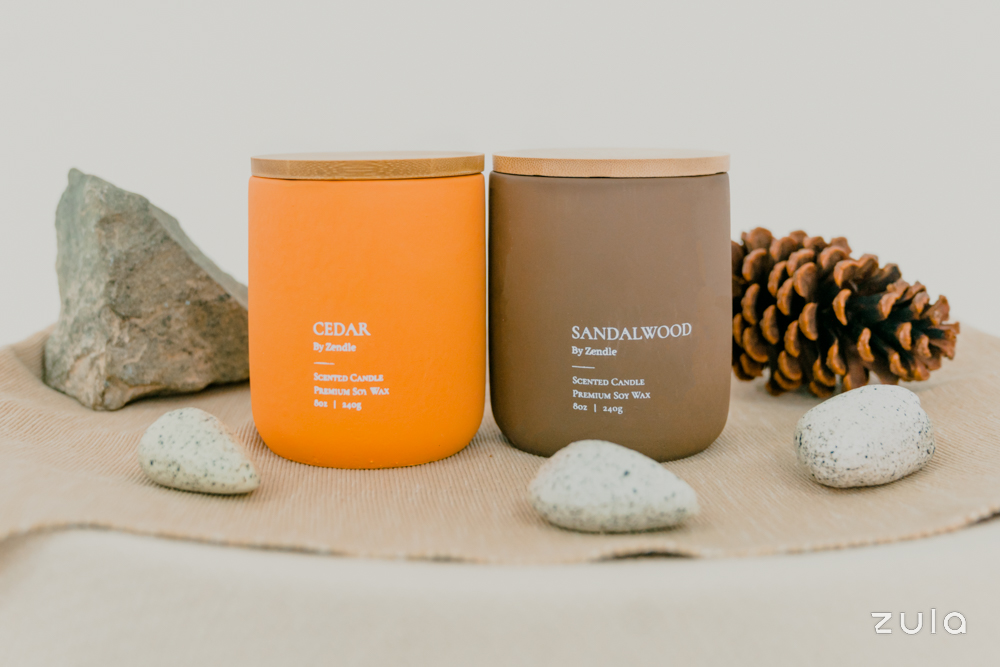 Candles are more than just providing soothing scents ‒ they also have health benefits like improving cerebral activity and sleep quality. Light up Cedar, and allow yourself to be transported into a forest while experiencing the calmness of nature and its comforting scent. 
If earthy scents are your thing, Sandalwood is your go-to. The candle exudes a rich and exotic fragrance that is based on amber and irises, and balanced with violet, papyrus and leather. 
With Singaporeans living a city life, not many of us have the chance to explore a rural area. Consider Lemongrass if you plan to loosen up by transporting yourself to an imaginative getaway destination.  
On the other hand, Sea Salt & Mandarin allows you to discover the fresh ocean air with a hint of zesty citrus. The calming scent of roses and orchids found in the base note also helps those with trouble sleeping at night.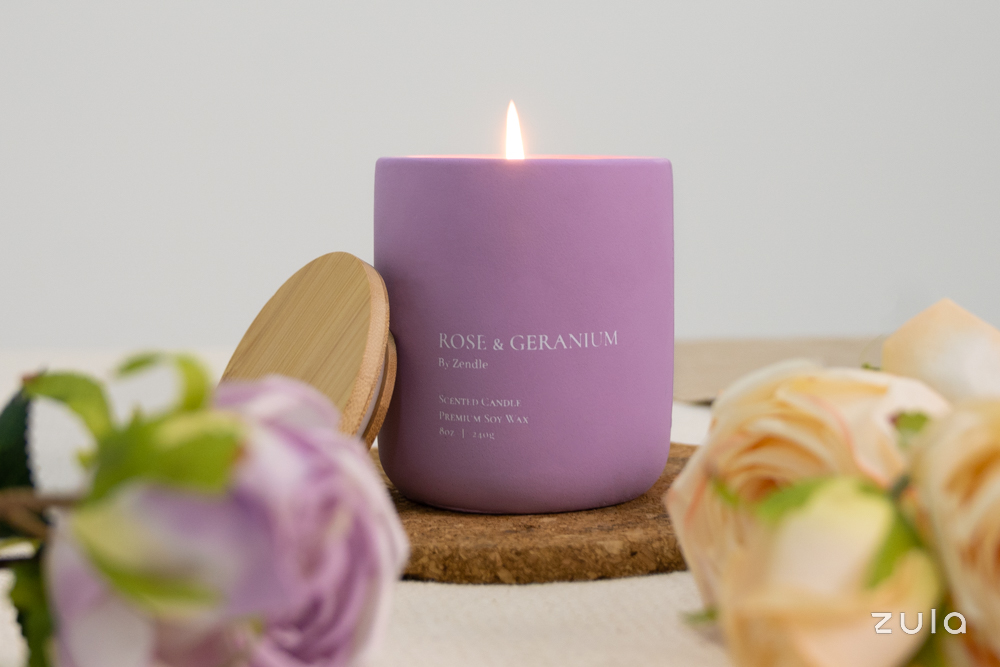 If you've wondered what it is like to step inside a garden filled with roses, Rose & Geranium is your answer. The candle releases a sweet and rosy fragrance when lit up, which eases anxiety and also provides relaxation.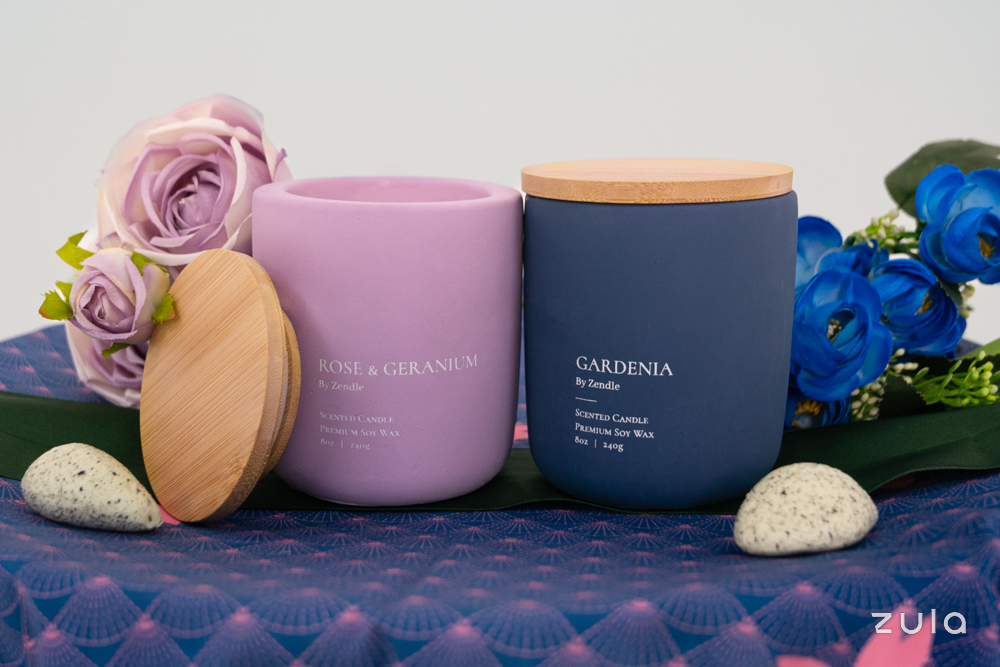 Nature lovers won't want to miss out on Gardenia, a candle that lifts up your mood and enhances cognition. It treats you to floral scents like jasmine, rose, and prunus to overcome fatigue and headaches.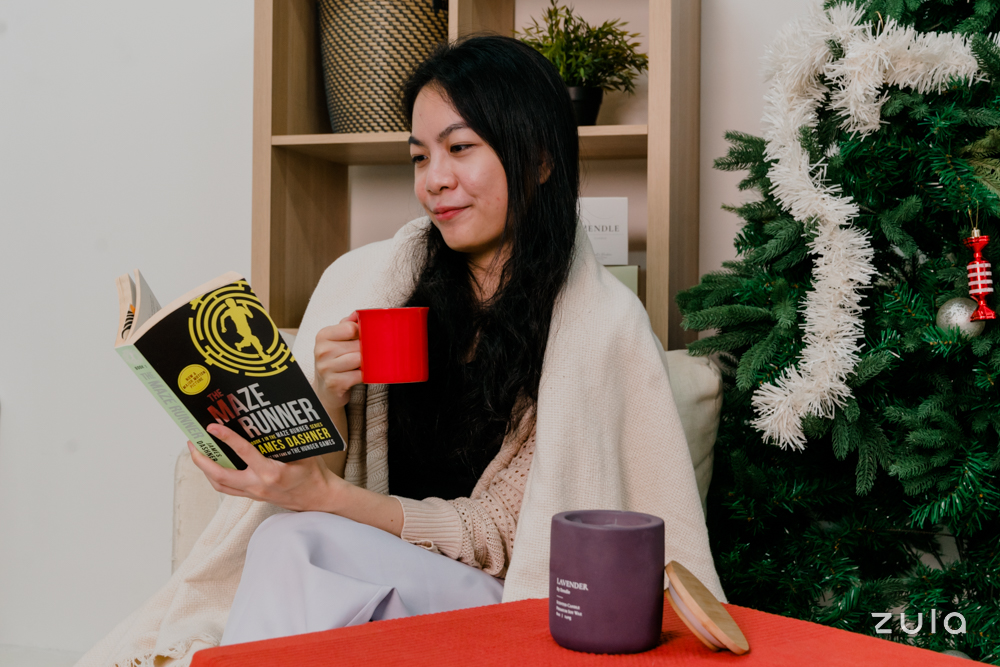 Whether you're planning on some TLC by soaking in a bathtub or reading a book on a comfy sofa, having a Lavender candle beside you will definitely infuse your environment with a sense of calm.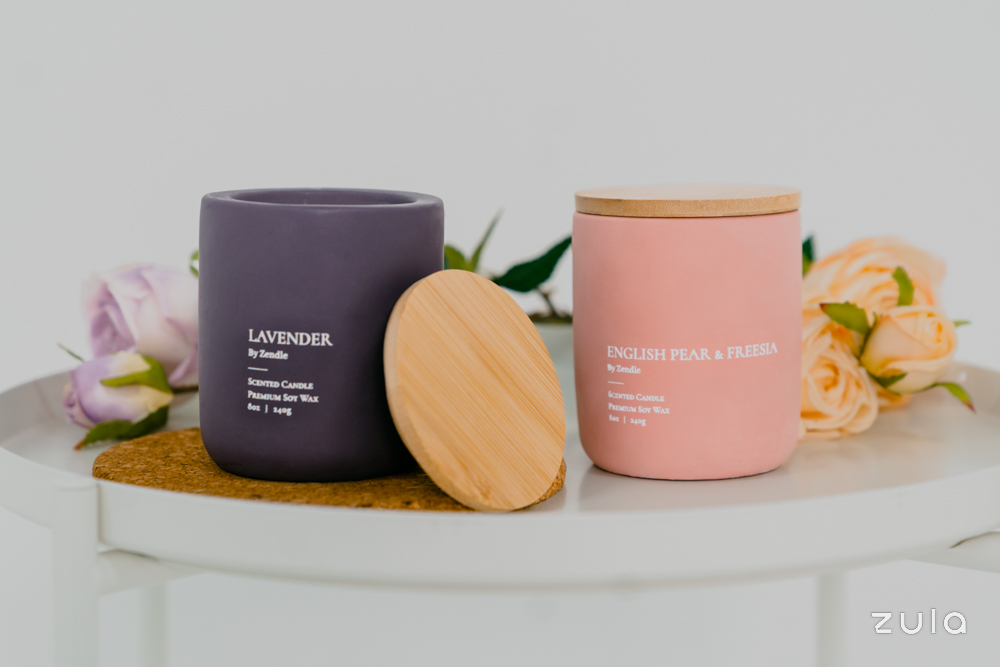 It is hard to go wrong with a sweet-smelling candle, and if you aren't sure what to gift a friend, English Pear & Freesia is a safe solution. Despite being contrasting scents, English pear and freesia help to enhance attentiveness and strengthen memory. 
Each candle retails at $35, and a gift bundle of 4 retails at $140 with free engraving.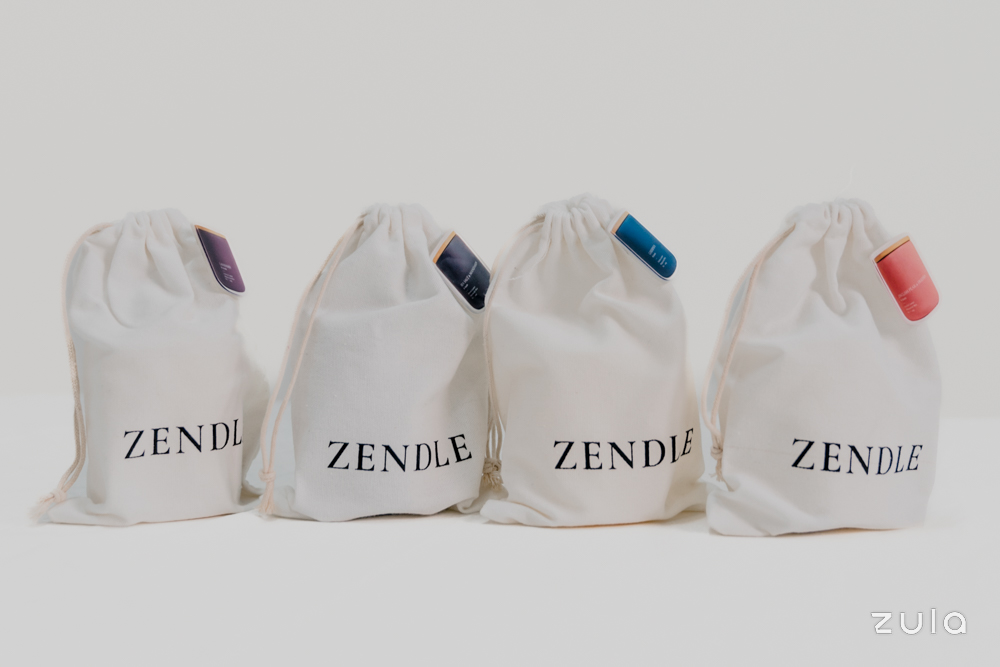 Each candle refill is packed in a drawstring tote bag
Every candle from Zendle has a burn time of around 50 hours, and once you run out of wax, you can refill your vessel with candle refills. This way you get to upcycle your candle vessel and save extra cash since you no longer need to get an entirely new candle.  
Currently, Zendle only has refills for English Pear & Freesia, Sea Salt & Mandarin, Gardenia, and Lavender. Each refill retails at $28, but you can also get two at $50. 
Accessories
Unless you're a candle connoisseur, not many know about candle accessories like a candle snuffer, wick dipper, and wick trimmer. FYI, they help extend the life of your candles and improve burn performance. Zendle has these helpful tools in black and gold, which are aesthetically pleasing and super Instagram-worthy.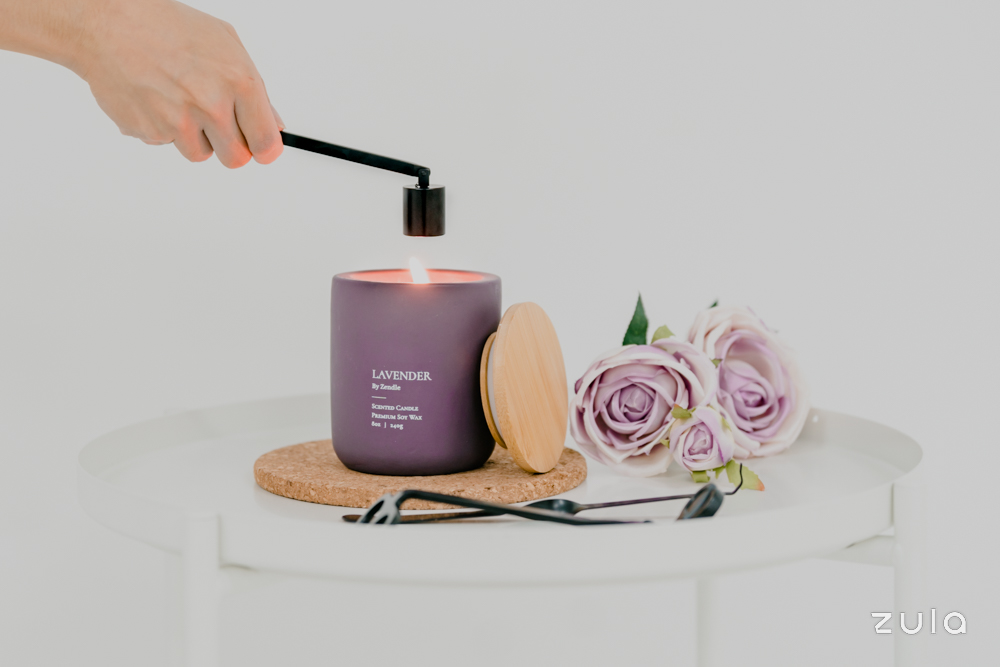 Extinguishing your candle with a candle snuffer reduces the release of black smoke
Instead of blowing your candles out, extinguish them with a candle snuffer instead. The bell-shaped tool reduces the risk of releasing black smoke into the air so you won't inhale any harmful fumes. 
Alternatively, a wick dipper will simply do the trick for a smoke-free way of extinguishing your candles ‒ all you have to do is dip the burning wick into the melted wax.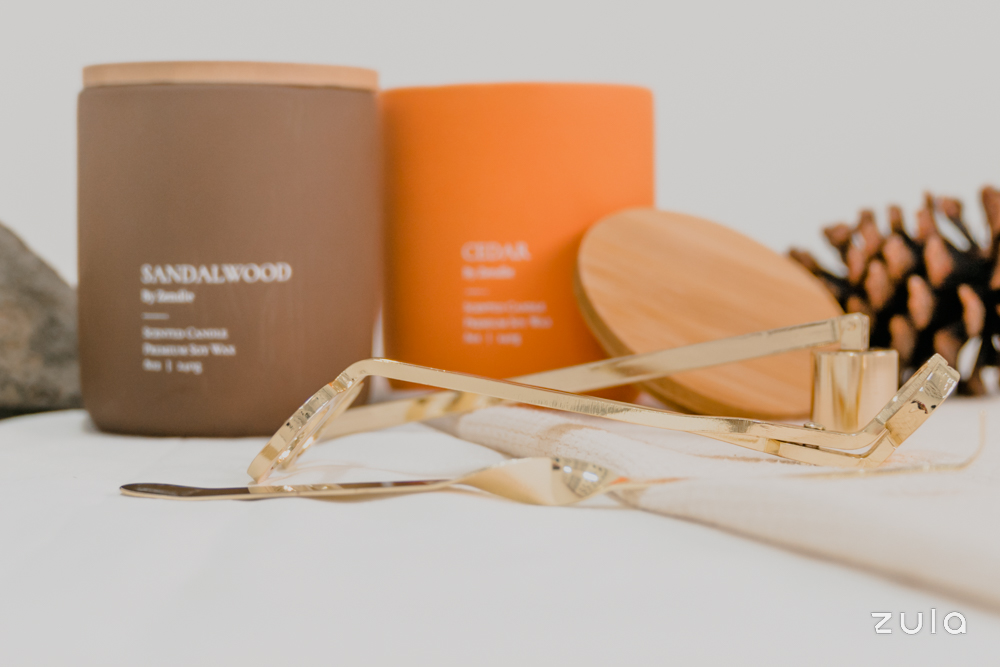 The candle accessories in gold
Fun fact: Candles burn the best when the wick is about 0.6cm. If it is longer than the ideal length, it can cause excess sooting and candle debris to collect. 
Enter the wick trimmer, a scissors-like accessory that helps to trim the wick of your favourite candle to an ideal length that allows even burning. 
The candle accessories come in a set of 3 and retail at $25 per set. 
Zendle Has All-Natural Candles & Accessories That Are Excellent As Gifts For This Holiday Season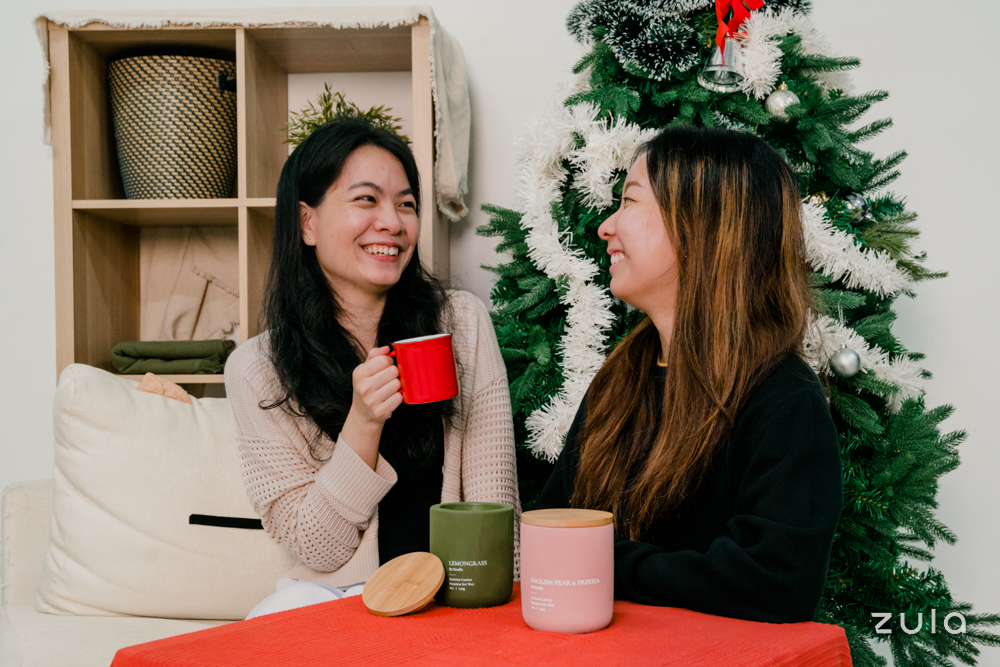 Make your gifts thoughtful with Zendle, as their candles and accessories are worth the investment to brighten up a person's day. Their array of unique scents will no doubt fill any living space with the holiday spirit, and of course, set the atmosphere into a relaxing one. 
Interested folks can head over to Zendle's official website to purchase the candles and accessories. You can also follow them on Instagram and Facebook for more information. 
This post is brought to you by Zendle. 
Photos by Mikayla Tessensohn.