7-Eleven Taiwan x Winnie The Pooh 
7-Eleven Taiwan has teamed up with Winnie the Pooh to launch super cute and practical items we can all use in our daily lives. The collection includes bags, loungewear, kitchenware and even AirPods accessories to spoil Winnie the Pooh devotees to the max. 
Bucket and bags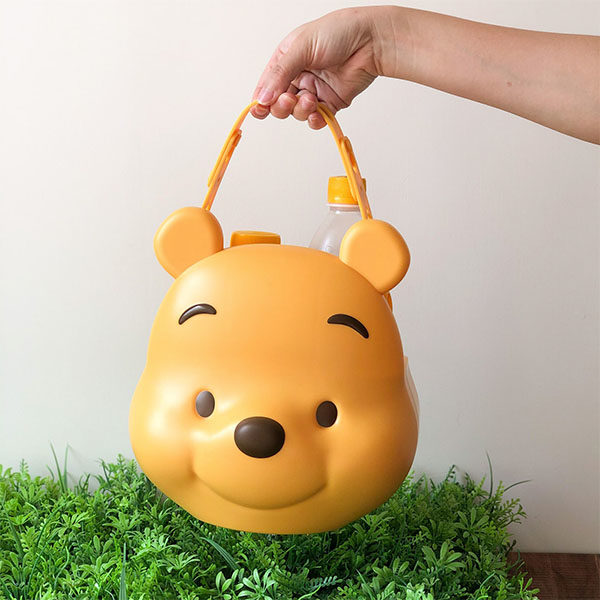 The star of the collection has to be this 3D Winnie the Pooh bucket. 
The bucket comes with a detachable strap, so you can conveniently carry it around with you to the beach or the cinema. The inside is spacious enough to fit 2 plastic bottles, so fill it up with snacks and a drink, and you're all set!
Winnie the Pooh exudes warm and fuzzy vibes. These 3 fluffy tote bags with different versions of Pooh embroidered on them perfectly reflect that. The brown bag showcases Pooh checking himself out, the white one has a dazed-looking Pooh and the yellow one has Pooh's facial features sewn onto the bag. It even has yellow ears dangling above his eyebrows.
 Loungewear and pillow table
Stay cosy while working from home with these Winnie the Pooh loungewear. They incorporate Pooh's signature colour palette, yellow and orange, with the hood itself representing the bear's face. It comes with two pockets, so you'll never have to worry about losing your phone as you go from your bedroom to the kitchen to the living room.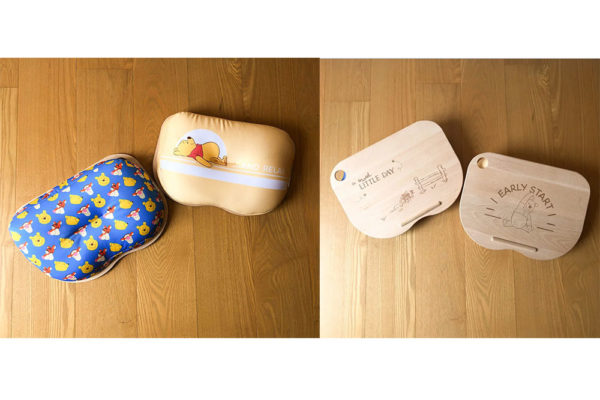 This pillow table will be the perfect addition to your WFH set-up. It has a comfy cushion on one side and a wooden board on the other. Rest your head on the cushioned side when you're feeling overwhelmed with work or school in the middle of the day. Take a 5-minute power nap and let Pooh, or Pooh and Tigger, make your worries go away. 
Once you're done with work for the day, lay the pillow table on your stomach and watch Netflix on your phones or tablet without feeling any soreness in your arms. 
Also read:
9 Hello Kitty Home Appliances & Accessories For Sanrio Fans To Zhng Their BTO
Kitchenware
Give your kitchen a dose of cuteness with these Winnie the Pooh pots and weighing scales. 
If you're often too busy to head out for lunch, bring this pot to your office and use it make a quick one-pot meal. You'll never feel lonely eating lunch by yourself in the office again because you now have Pooh as a constant companion.
For times when measuring your ingredients while baking gets too mundane, lift your spirits by looking at the endearing bear, and you'll get back in the zone in no time. 
Take baby steps to sustainable living with this environmentally friendly tableware set. You don't have to find a box to keep the utensils as they come with a Winnie the Pooh cloth bag in a variety of designs. 
This cloth bag can also double up as a table mat, perfect for times when you don't want to place your utensils directly on the table when dining out. 
Accessories
First- and second-generation AirPods owners, rejoice. This collaboration includes a blushing Pooh AirPods case that is simply too cute for words.  
There is also a matching strap that you can attach to each side of your AirPods. 
Last but not least, use this Winnie the Pooh key fob to zhng your bags or pouches. It features Winnie the Pooh spreading his arms wide open, as if he is asking for a warm big hug. Super adorbs.
The 7-Eleven x Winnie the Pooh Collection Will Win You Over
These collaborative items will be available for pre-order at 7-Eleven Taiwan's Ibon machines from 7 October 2020. Although this collection will not be released in Singapore, you can try your luck on Shopee or Airfrov once the items hit the market. 
All images courtesy of 7-Eleven 
Also read:
The New Adidas x Toy Story Sneakers Let You Bring Your Favourite Toys With You Everywhere You Go