Adidas x M&M's Sneakers
Earlier in July, the Adidas x LEGO shoes got sneakerheads and LEGO fans thrilled with their collaboration. This time, Adidas has partnered with chocolate candy brand M&M's to release 6 pairs of colourful sneakers in the form of Adidas's Forum Lows. Prior to the release of the collection, Adidas x M&M's is dropping a stand-alone design that features its iconic yellow peanut theme. 
The design
The sugar rush is real with this pair of Adidas x M&M's sneakers. Taking the silhouette of Adidas Forum Low, the sneaker upper is decked in M&M's classic yellow, with the sole in white and brown.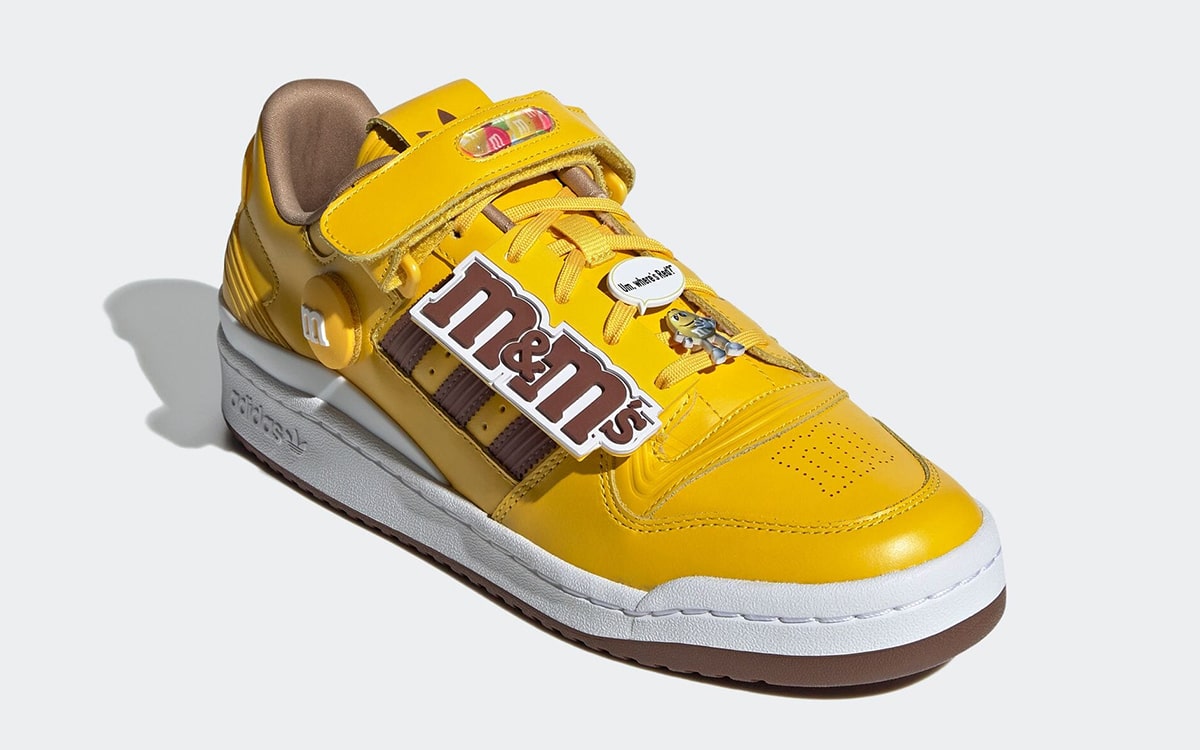 Above the toebox, the breathing holes form the alphabet 'M' ‒ a subtle feature for M&M's lovers to note.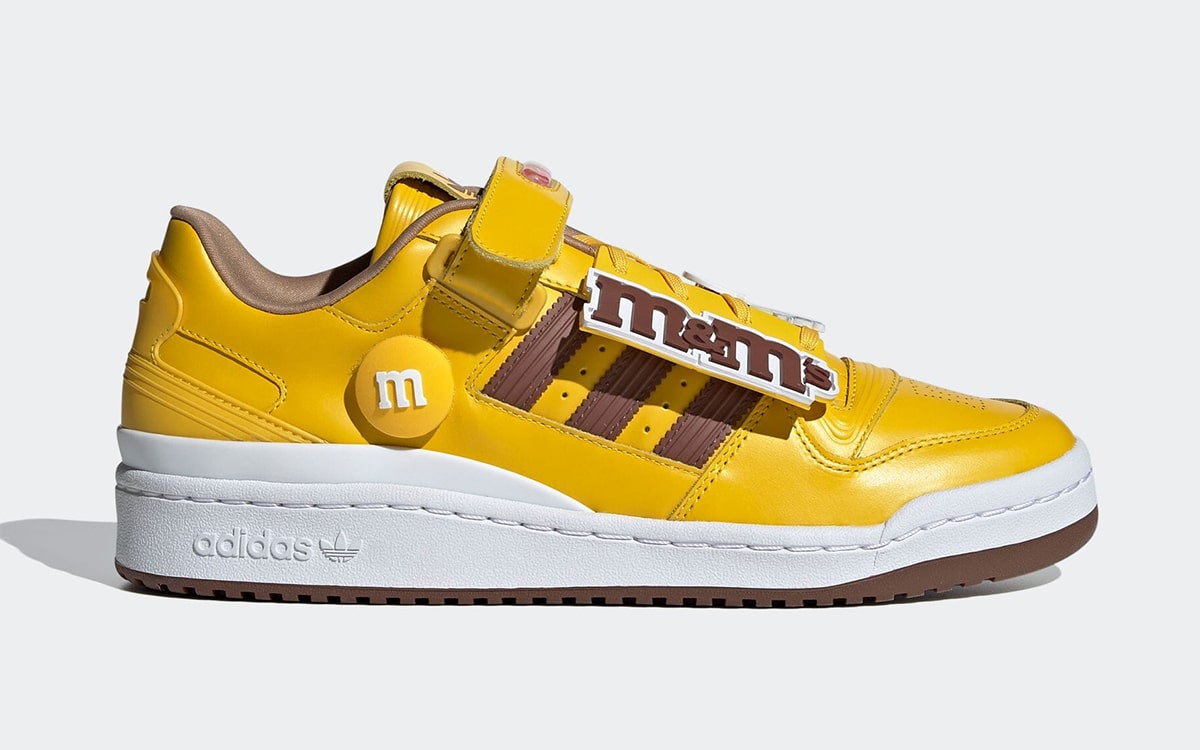 On the side, the brown accent of Adidas's signature three stripes remind us of the edges of a packet of M&M's ‒ crimped and ready to be "opened" for a light snack.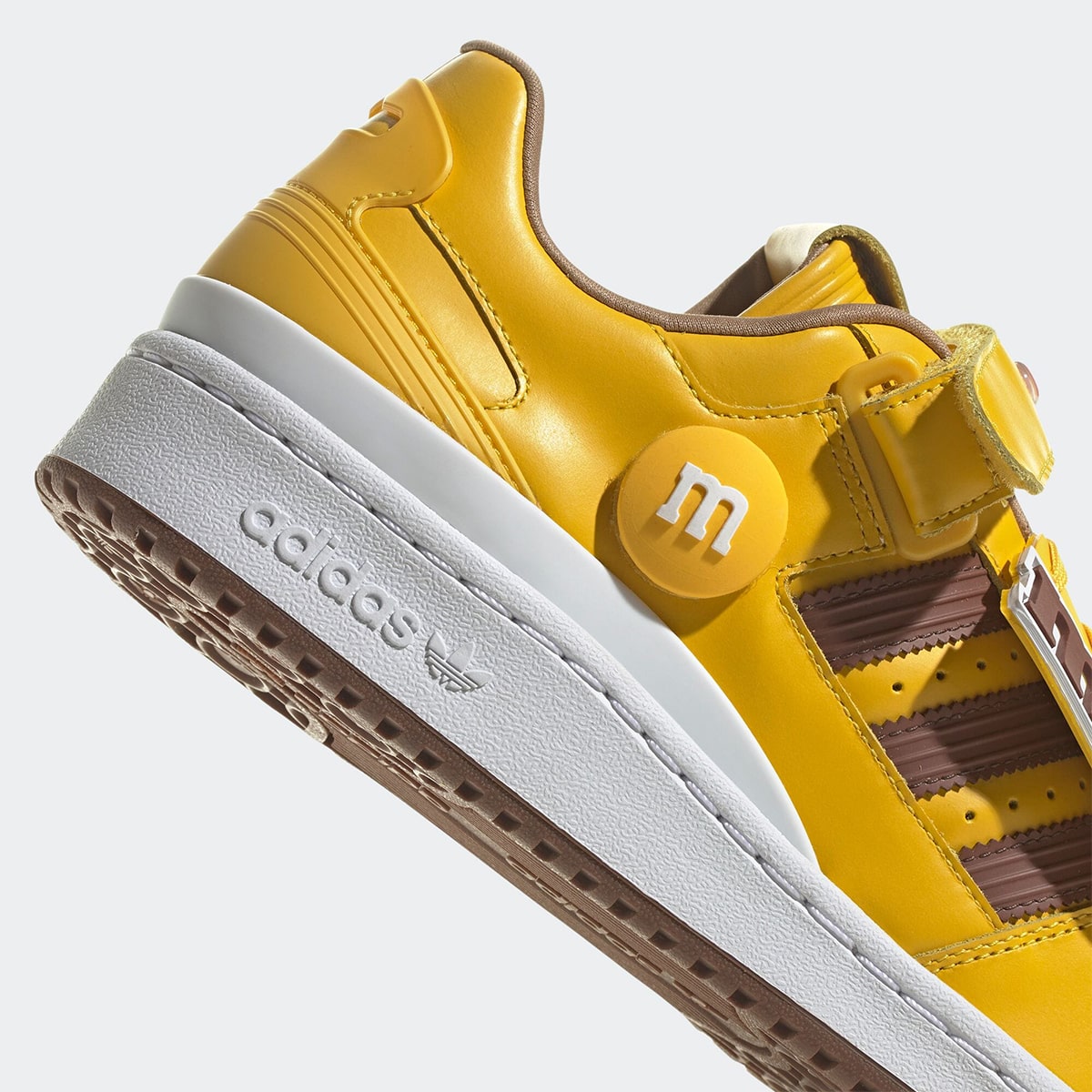 There is also a piece of yellow M&M's "chocolate" velcro-ed on the same side, as if prepared for you whenever you need an instant sugar boost.  
Going along with the theme is the ankle strap where you will find the appearance of the colourful M&M's chocolates in red, green, and yellow.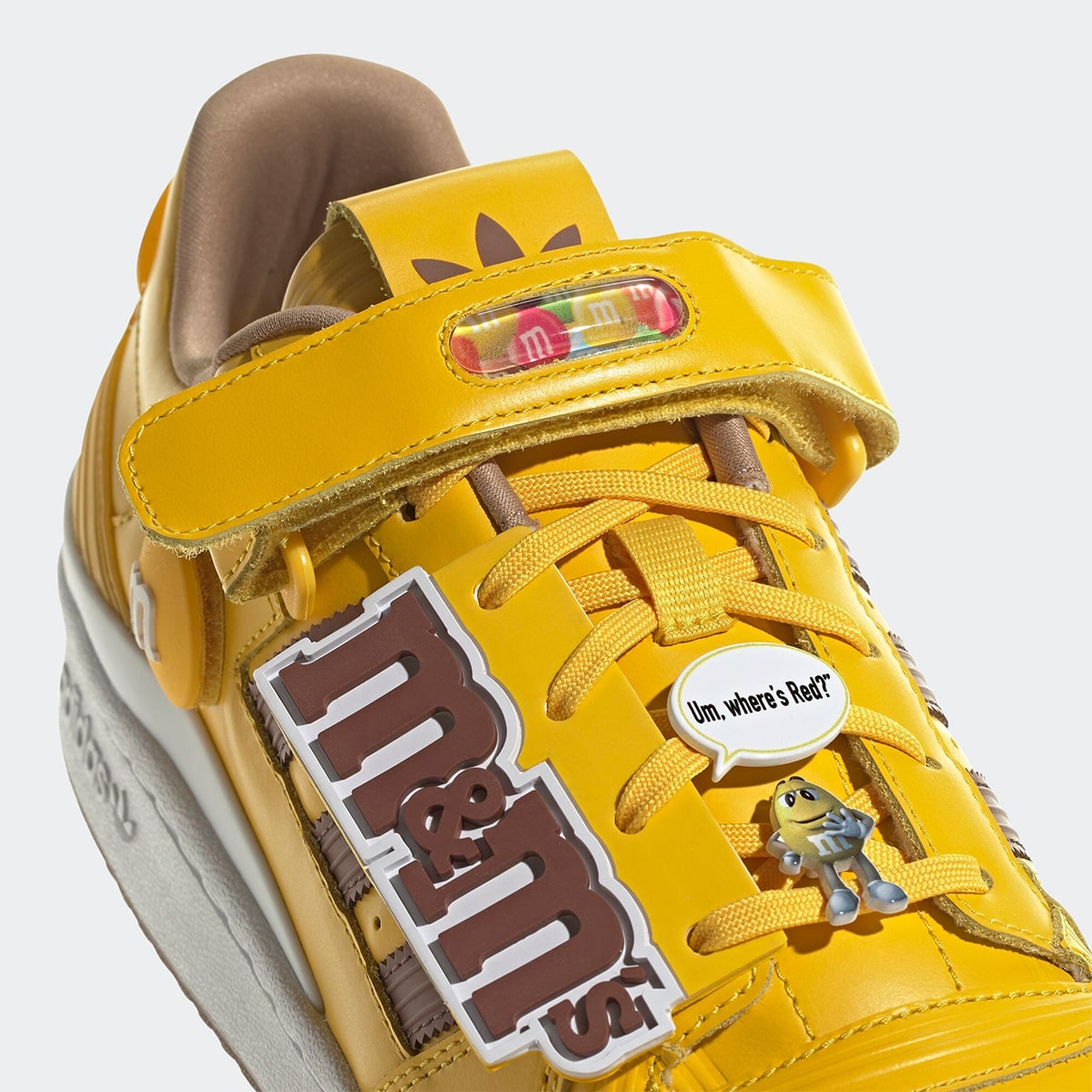 Strapped to the yellow laces is a speech bubble lock that reads "Um, where's Red?" and M&M's yellow character ‒ a chance for you to show off your true love for the brand. Likewise, right beside the eyelets is an eye-catching "M&M's" logo that is detachable.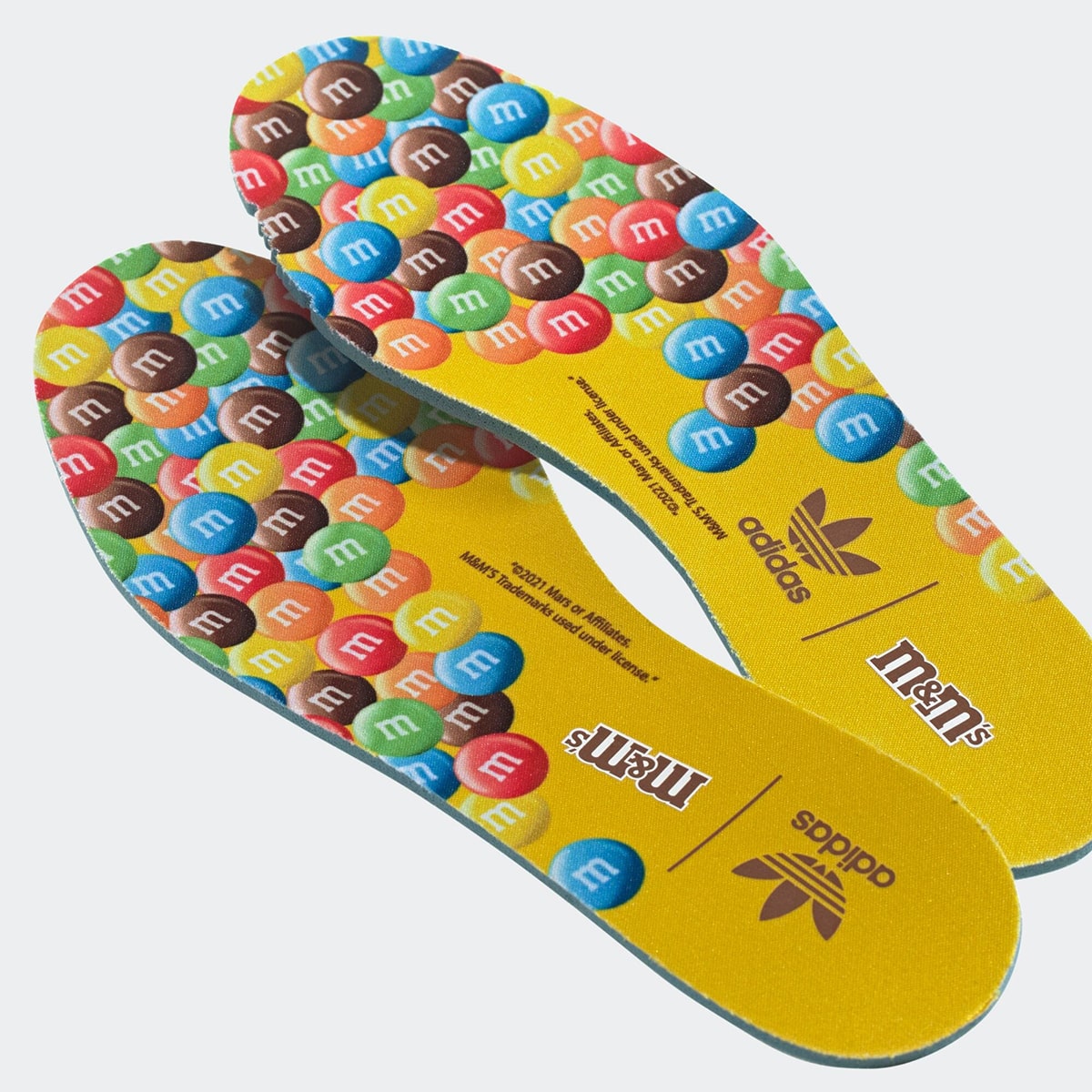 The sweet treat doesn't end here. On the inside, the special insoles greet you in yellow with colourful illustrations of M&M's chocolates. 
The accessories 
As part of the collection, this pair of sneakers comes with 5 additional sets of coloured laces, M&M's buttons, dubraes, M&M's character lace locks, speech bubbles locks, and interchangeable ankle straps.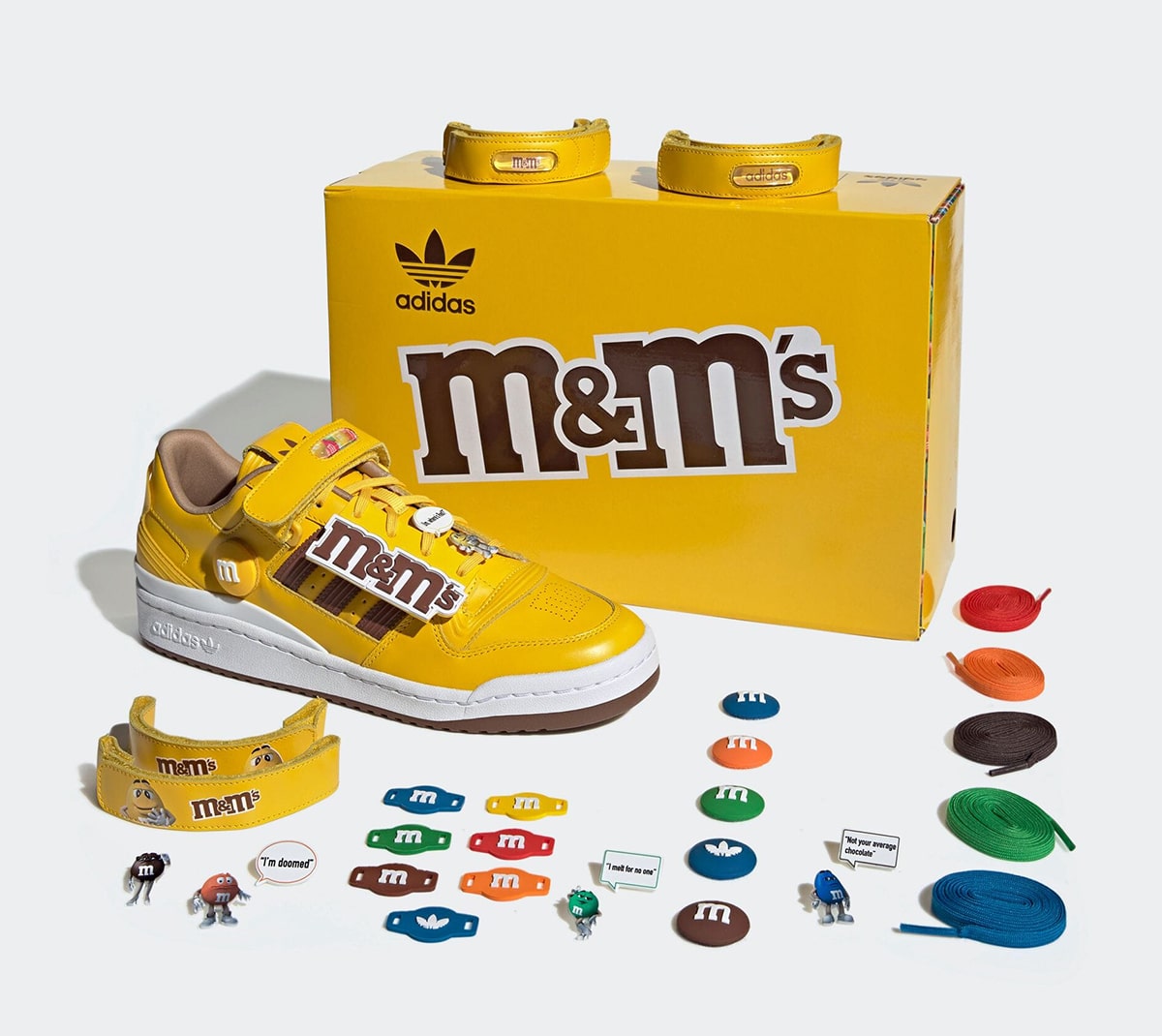 Depending on your OOTD, you can mix and match the accessories to customise a pair of sneakers oozing with your individuality. If you're feeling punny, lace up one of the speech bubble locks that reads "I melt for no one" onto your sneaker. 
Every pair of sneakers also comes with a yellow shoebox with M&M's logo right smack in the middle and Adidas's that sits on the top left corner. 
Go "Nutty" With This Pair of Adidas x M&M's Sneakers That Are Slated To Drop Soon
Although the exact release date for this pair of Adidas x M&M's sneakers is currently unavailable, sneakerheads can be sure that they will be up for sale sometime in October 2021. As this is the first of 2 releases, the second stand-alone design will come in a red theme. Each pair retails at US$150 (~S$203) and for more information, you can visit Adidas's official website. 
All images courtesy of Adidas. 
Also read: 
This Local Designer Created Ice Kacang & Cendol Sneakers So You Can Look "Cool" For The Hawkers