Local Dessert Nike Sneakers
Though this year's National Day Parade has been postponed due to the rise in Covid-19 cases, Singaporeans are finding different ways to express their patriotism from home. Neighbourhood mama shop Tuckshop Supplies has teamed up with CLICKJE STUDIO to bring us unique Nike sneakers inspired by local desserts such as Ice Kacang and Cendol.
ICYMI, this isn't their first collection of local food designs. For National Day 2020, they released 3 pairs of food-inspired Nike sneakers that paid homage to Nasi Lemak, Laksa and Roti Prata. With 2 new dessert sneakers for this year, now we can complete our OOTD when heading out for a local meal with a sweet finish.
Ice Kacang Dunk Low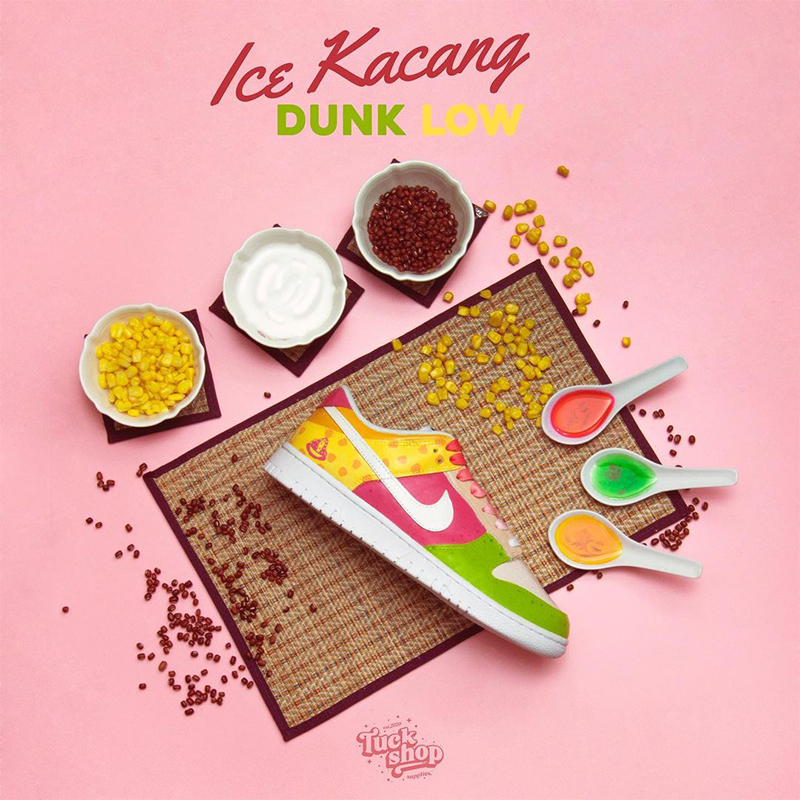 Growing up in Singapore, the mountain-high pile of colourful ice in Ice Kacangs always caught my attention at hawker centres. The Ice Kacang sneakers in this collection perfectly represents these colours through its eye-catching tri-coloured design. 
It features a spotted yellow stripe for corn, with additional pink and green streaks for the rose and palm sugar syrups.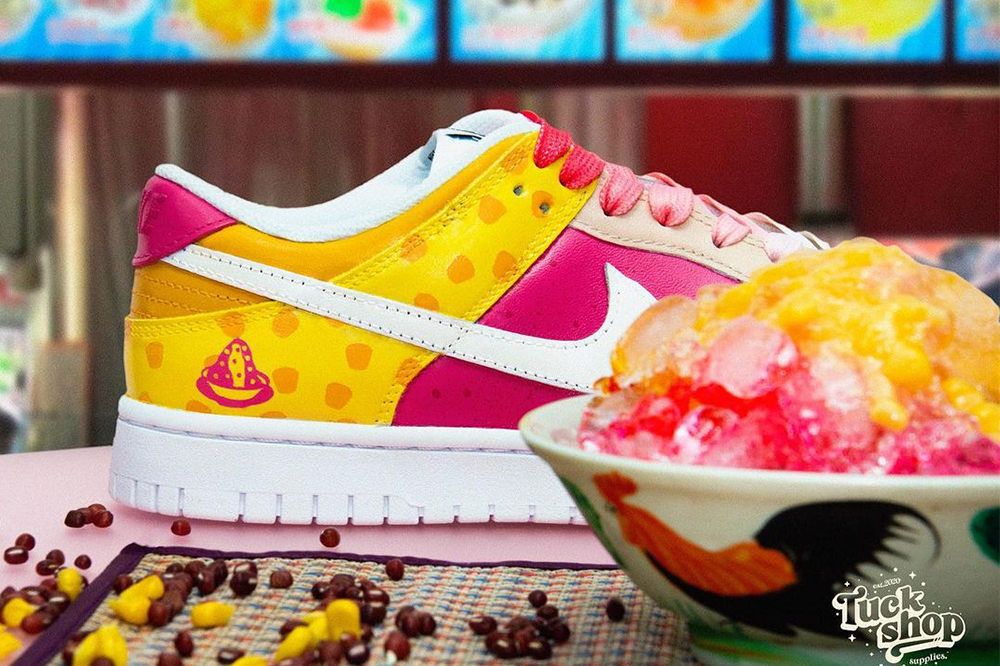 Upon closer inspection, a small illustration of an Ice Kachang is printed on the side of the heel along the corn pattern. This subtle print gives the sneaker its finishing touch of the iconic mountain-shape dessert. 
The shoelaces also come in an ombre-pink colour scheme, mimicking the blend of syrup colours that spreads throughout the ice.
Also read:
These Hand-painted Nike Food Sneakers Are An Homage To Local Cuisine & You Can Enter A Raffle To Win A Pair
Cendol Dunk Low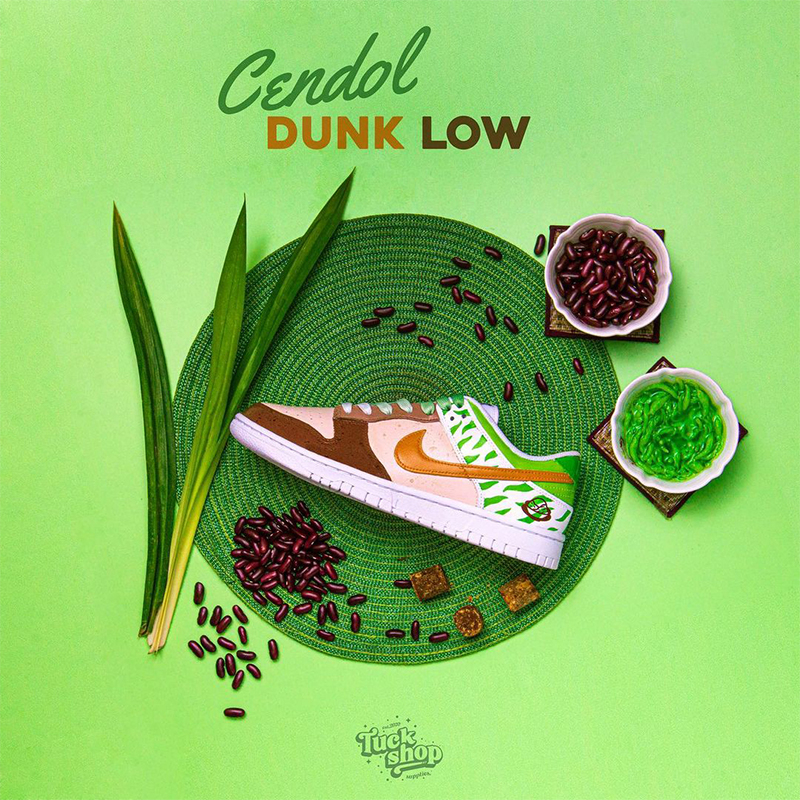 Nothing beats a refreshing bowl of cendol with soft kidney beans after a long hot day. The Cendol sneakers come with green pandan jelly noodle designs, combined with brown shades to represent the gula melaka sugar syrup.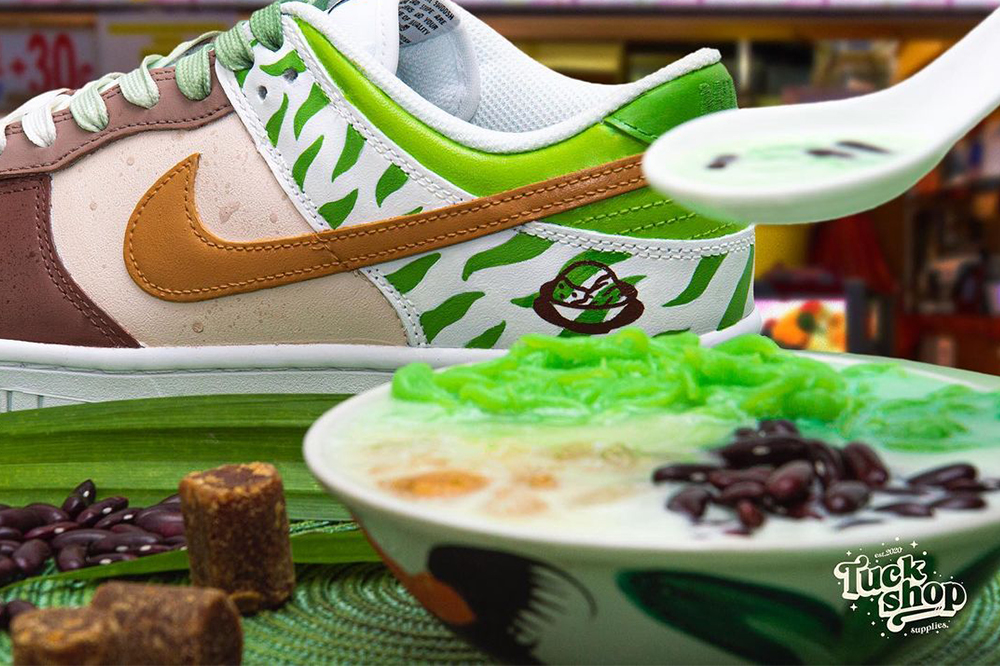 Just like the ice kachang sneakers, there is also a small illustration of a bowl of Cendol on the side of the heel. The shoelaces are ombre-green, while the light brown Nike swoosh contrasts these bright colours. When compared to an actual bowl of cendol, the sneakers look almost good enough to eat.
Win A Pair Of These Ice Kacang & Cendol Sneakers To Show Your Love For Local Hawker Centre Desserts
Tuckshop Supplies will be giving out a pair of limited edition Ice Kachang Nike Dunk in US size 7.5 and Cendol Nike Dunk in US size 8 to 2 lucky winners. Sneakerheads can stand a chance to win them through a raffle, where an online live draw on 22 Aug 2021 will determine the winners of this event.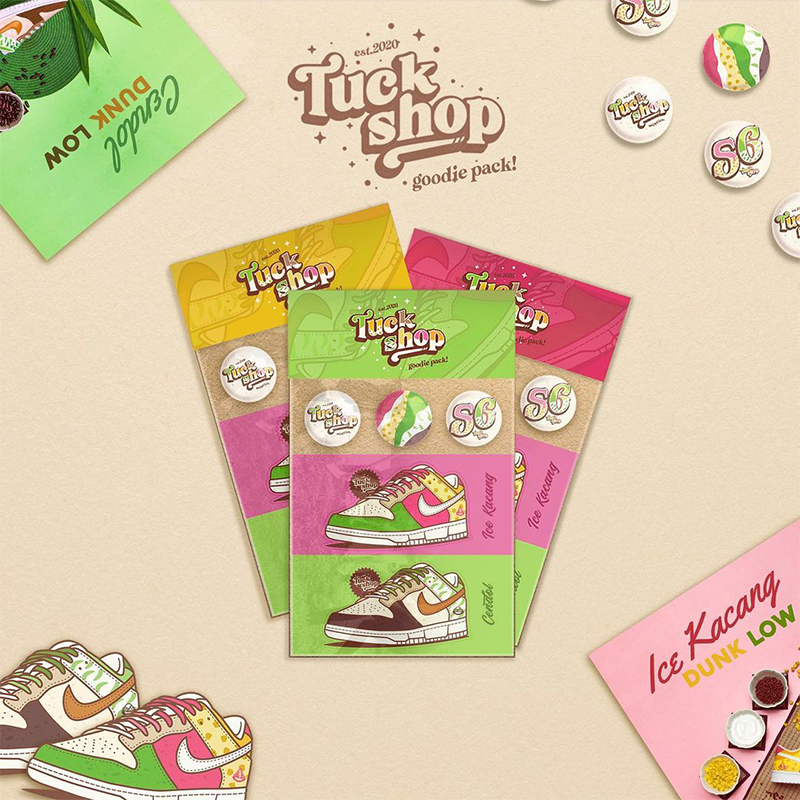 In order to be qualified for the raffle, all you have to do is purchase a Tuckshop Goodie Pack worth $10 via Tuckshop Supplies' Instagram DMs. The pack includes 3 limited edition badges, 2 stickers inspired by the Ice Kachang and Cendol sneakers, as well as 2 exclusive Tuckshop postcards. 
To increase your chances of winning, you may get additional entries by following Tuckshop Supplies on Instagram and tagging 3 friends on Tuckshop Supplies' Instagram post. Don't forget to state which design you prefer in the comments as well. 
The draw is only open to people residing in Singapore and entries will close at 9.30pm on 21 Aug 2021. Winners will be contacted via DM after the live draw.
In the meantime, stay tuned to both of their Instagram pages for more information regarding these sneakers. Good luck, and we hope that you'll get your favourite dessert sneakers to show off your SG pride!
All images courtesy of CLICKJE STUDIO.
Also read:
KFC x Amos Ananda Celebrate National Day With A Streetwear Collection That Is Finger Lickin' Good Looking