Adidas LEGO Shoe
Just last year, our inner child was treated to the Adidas and LEGO collab that saw a colourful version of the shoe brand's A-ZX series, featuring the iconic LEGO lego on the shoe tongue and a brick-shaped lace lock to boot.
Now, it seems the 2 iconic brands have teamed up yet again to take things further – the LEGO Adidas Originals Superstar 10282 model. A life-sized LEGO model shaped after arguably Adidas' most iconic silhouette, this collector's item is a must-have for both sneakerheads and LEGO fans alike. 
The LEGO Adidas Originals Superstar 10282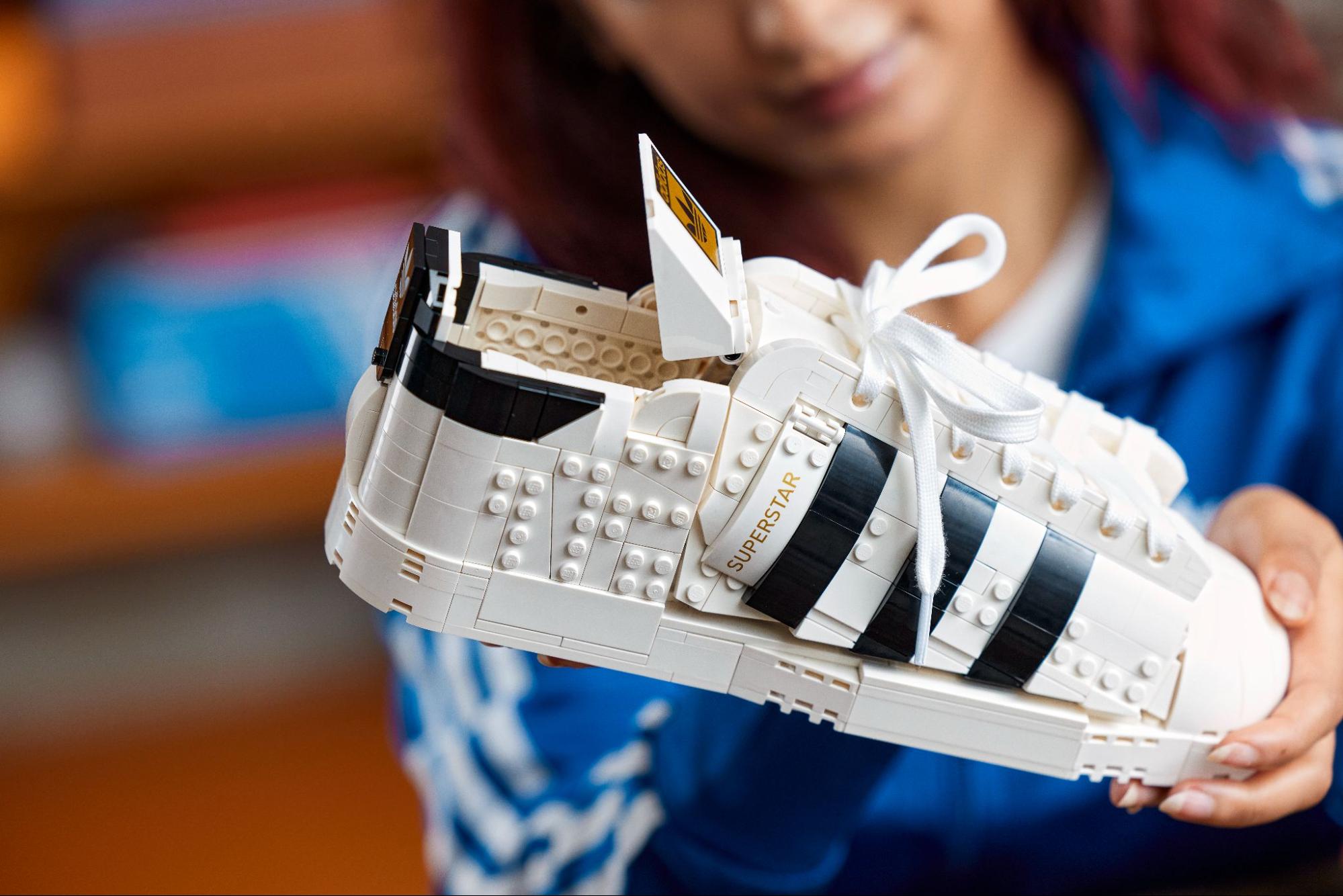 You've definitely seen the Adidas Originals Superstar Sneaker, or perhaps even own a pair yourself. The classic model features the brand's signature 3 stripes in black, against a clean, sleek body of white. 
For the LEGO Adidas Originals Superstar 10282, you'll be building your shoe with your hands instead of wearing it with your feet.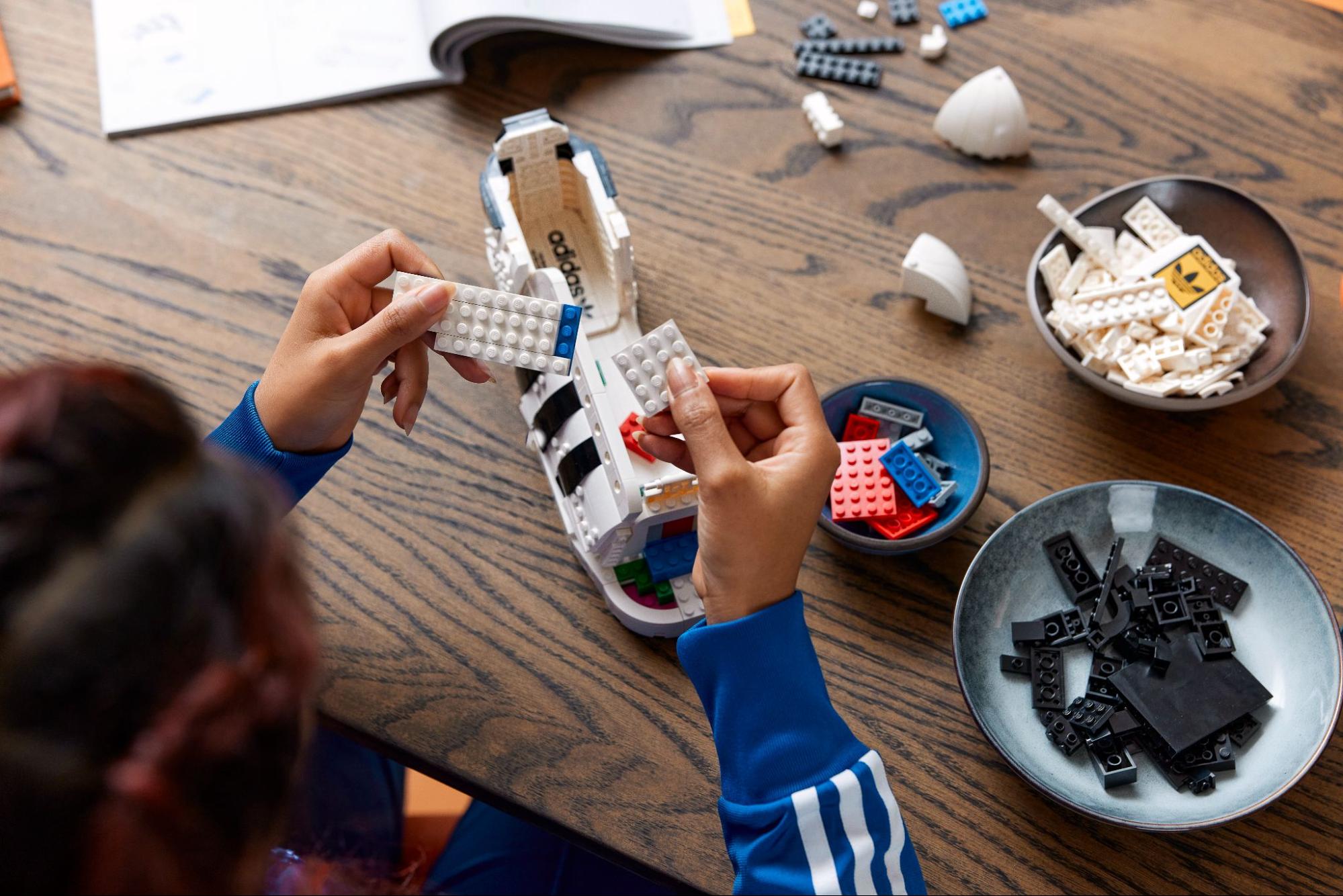 Get crafty as you fix and position different pieces to form your LEGO shoe – with the decision of building the left or right side completely yours. Each set contains 17 extra LEGO elements for you to choose which side you want to build.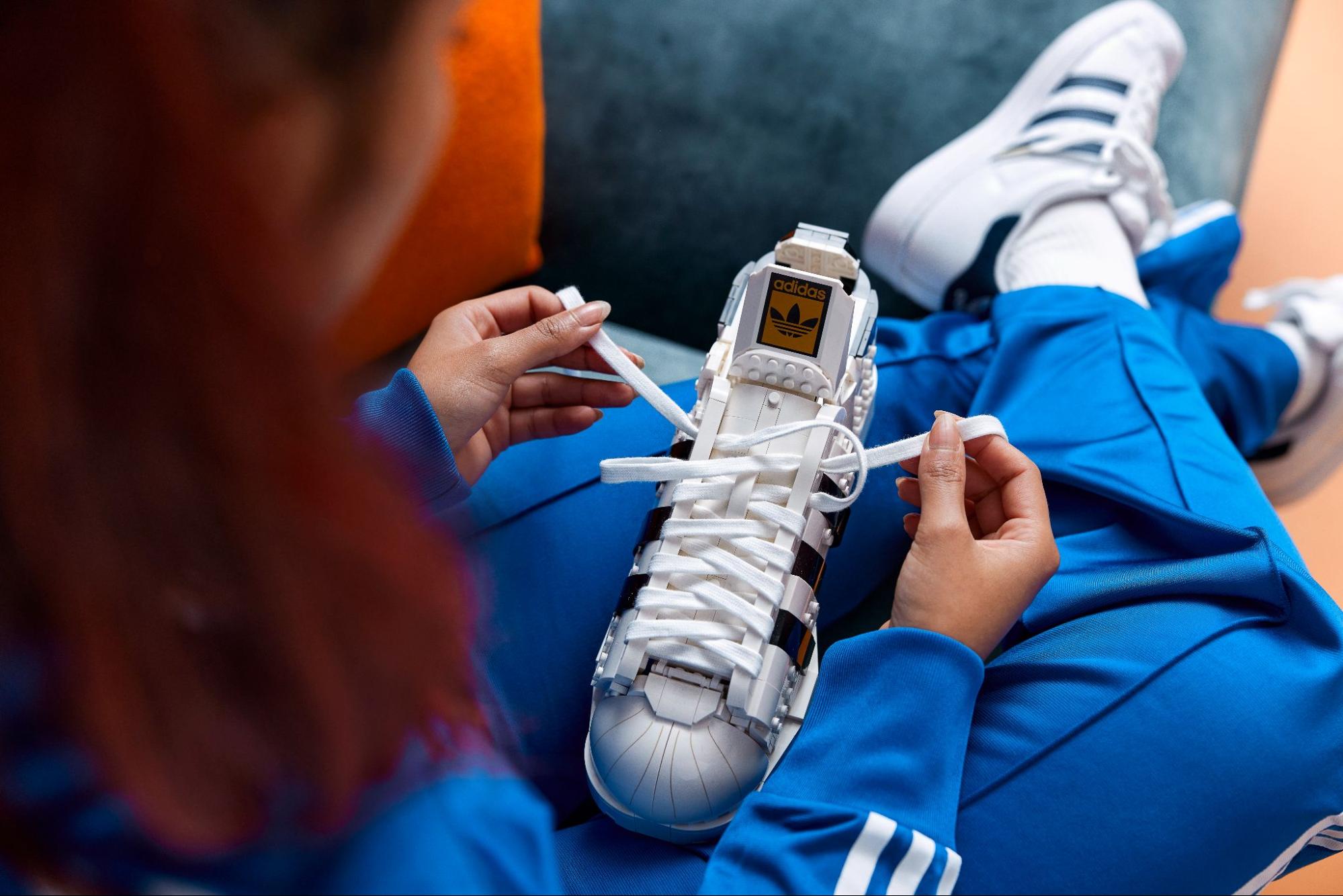 What's more, shoelaces will be thrown in to give your new "footwear' its finishing touches.
No Adidas purchase is complete with its all-blue shoe box, which this model also comes in. Unboxing videos will be a pleasant surprise for your followers, when they realise your new shoe is a unique LEGO model instead.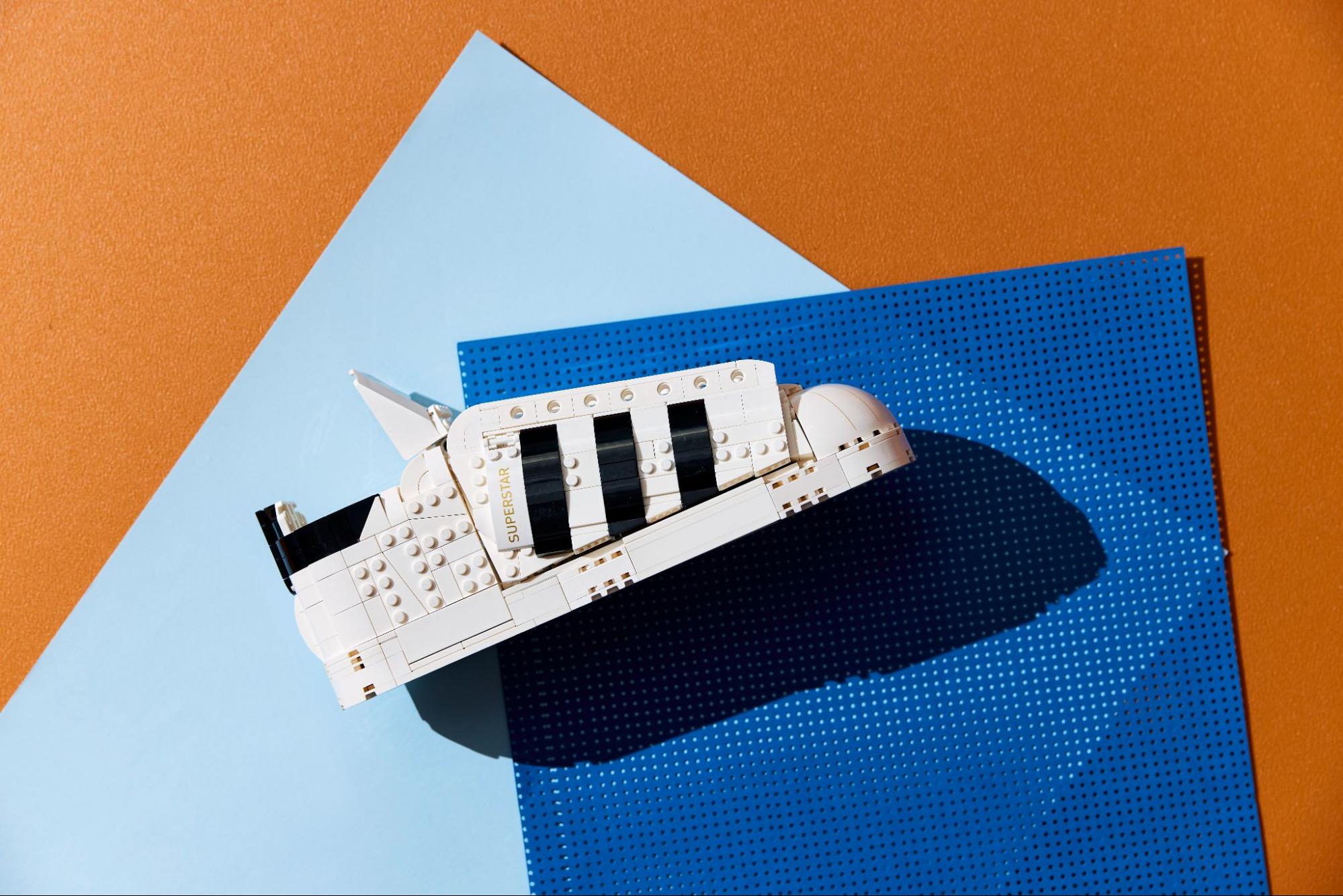 The LEGO Adidas Originals Superstar 10282 is 12cm high, 27cm long and 9 cm wide, and it has a stand and plaque included so you can proudly display your completed work of art in your home.
Also read: 
Adidas x Disney's The Little Mermaid Collection Features Quotes From Our Fave Characters Under The Sea
Customise your own version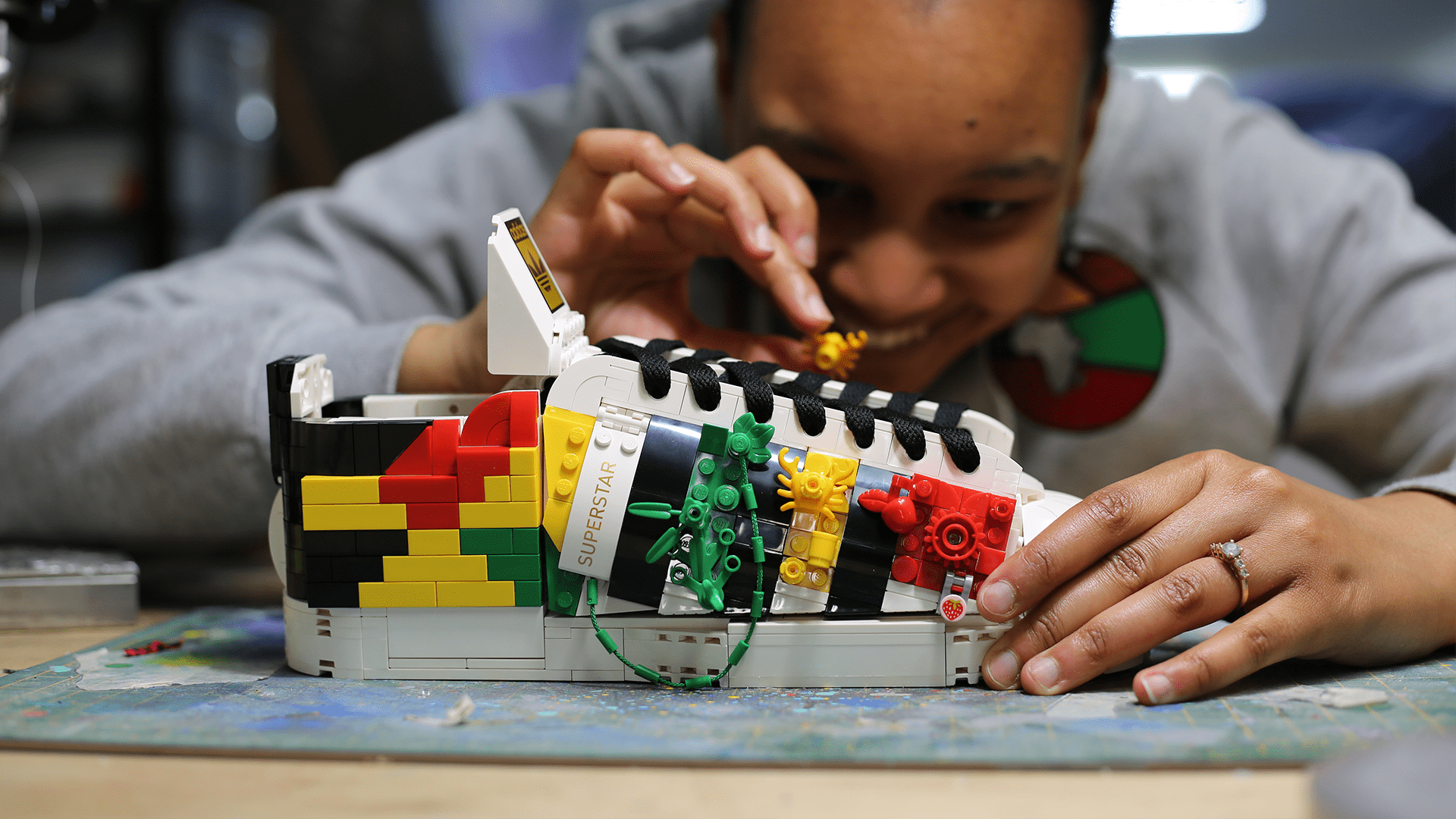 The fun doesn't stop there. If you thought the LEGO Adidas Originals Superstar 10282 was as far as creativity could go, think again.
To further creativity and spotlight talents around the world, LEGO has also teamed up with 6 designers and sneakerheads to create their own interpretations of the LEGO shoe.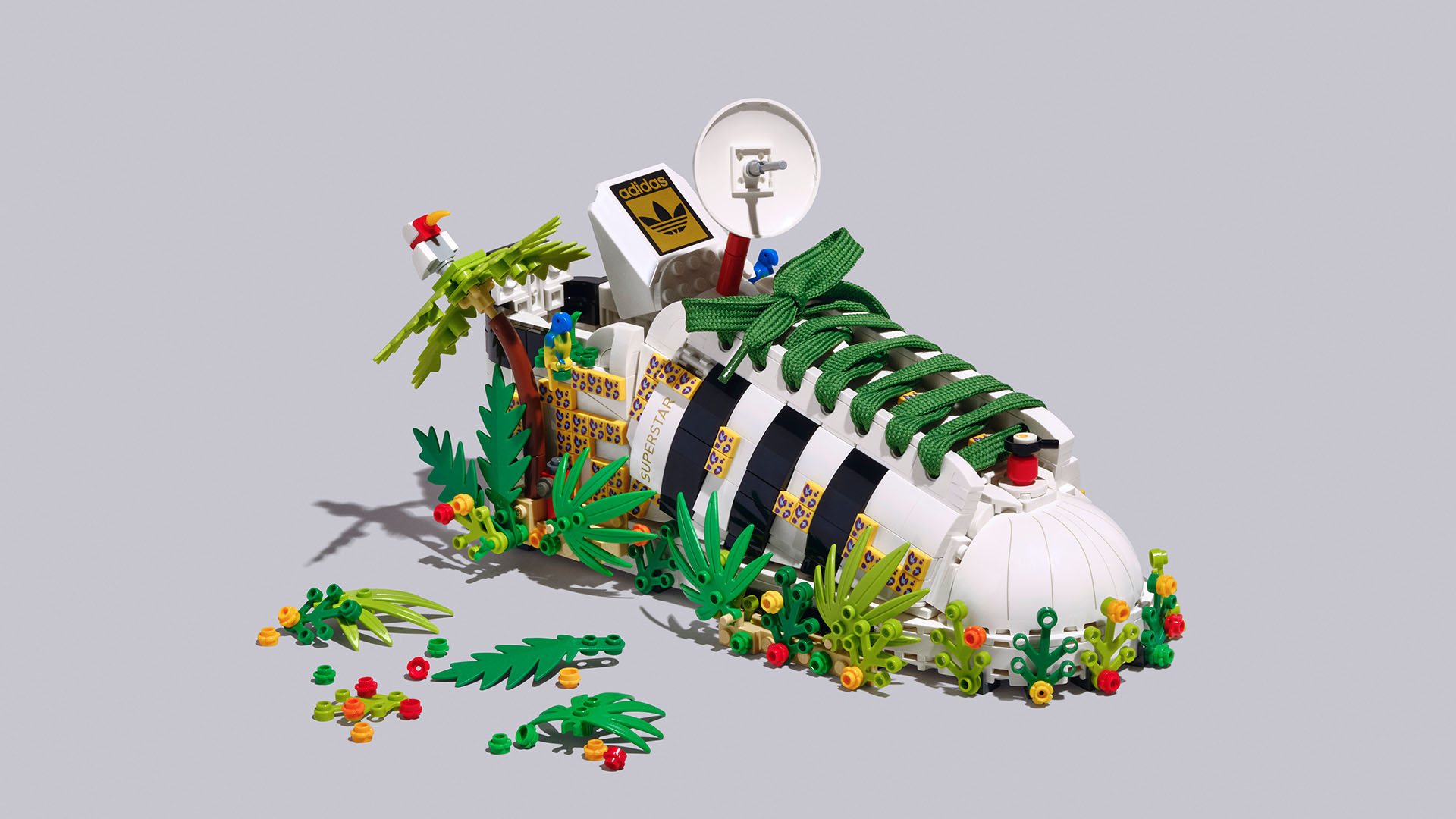 Nicolai Sclater's version of the LEGO x Adidas shoe
These 6 designers are Aida Kiraya (@afrokickz), Tom Yoo (@tomyoo23), Hanna Helsøe (@helsoe), Leta Sobierajski (@letasobierajski), Nicolai Sclater (@ornamentalconifer) and Coffee Boy (@178kz_boy).
Their designs are extraordinary to say the least. Nicolai Sclater's version, for example, features green laces to complement the mini-jungle decorated around the shoe's body. Tom Yoo's model on the other hand, even includes a brick microphone, inspired by rap and hip-hop music and artists. You can view all designs and read about their inspirations at LEGO's website.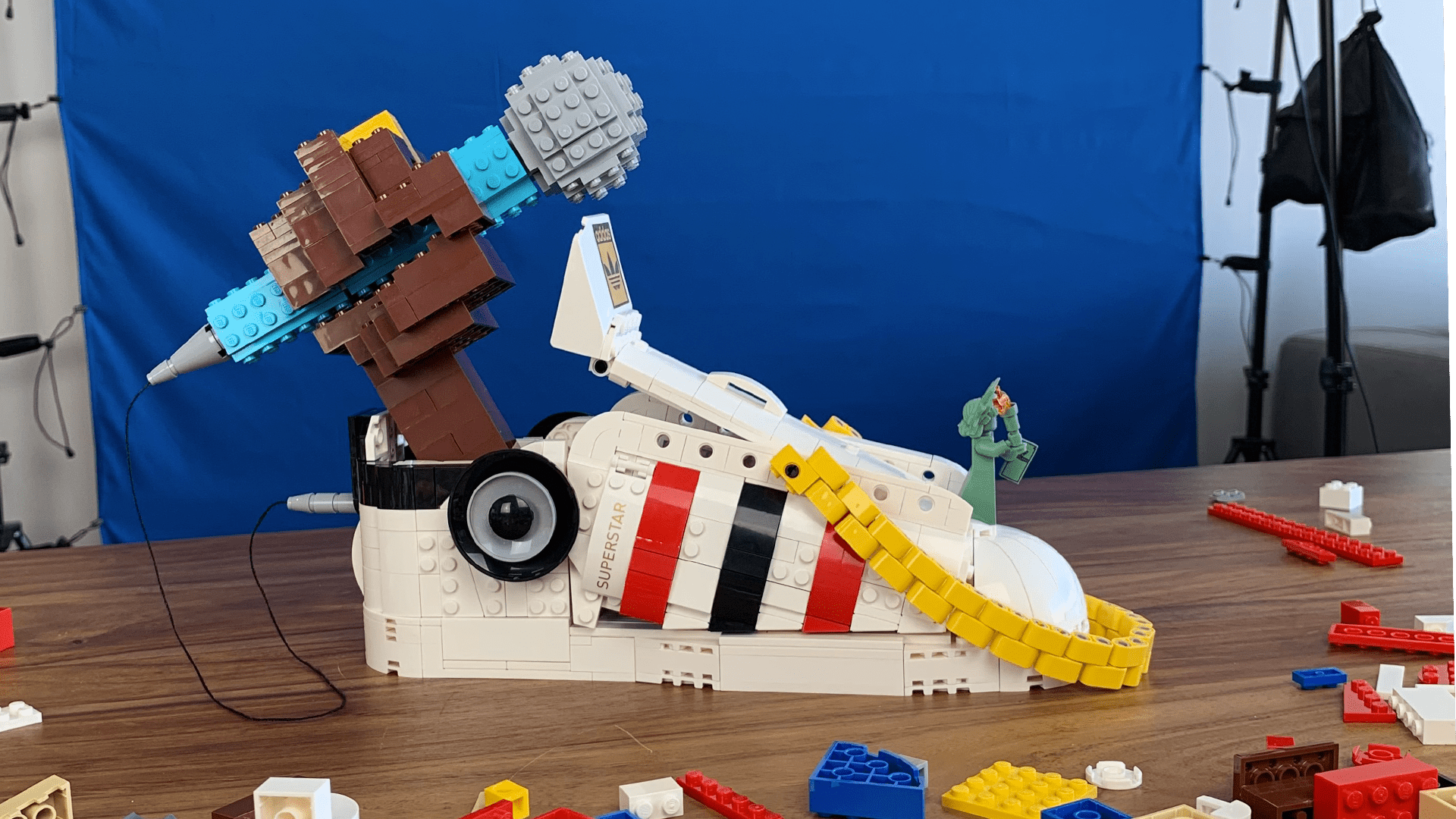 You can also get innovative with your designs by combining your own personal LEGO pieces with the LEGO Adidas Originals Superstar 10282. If you want to share your designs with the world too, upload photos of your personalised LEGO shoe to social media with the hashtag #RebuiltByOriginals. 
This is the perfect chance to flex your right-brain skills, or even make up LEGO Harry Potter or Star Wars versions of Adidas shoes. 
The Adidas x LEGO Shoe Will Let You Express Your Sneaker Creativity
The LEGO® adidas Originals Superstar 10282 model launches on 1st July 2021 and will be exclusively available at LEGO Certified Stores. It will then be available on adidas Singapore Online on 30th July 2021, and at LEGO Official Stores on Lazada, Shopee, Amazon, as well as major retailers and department stores in Singapore in September.
Whether you're planning to get it as a personal collector's item, or as a unique gift for that sneakerhead in your life, this collab is the best of both worlds for shoe and LEGO brick lovers. 
All images courtesy of LEGO Group 2021.
Also read: 
Adidas' Ultraboost Mahjong Sneakers Will Boost Your Luck So You Can Get Man Tai During CNY MJ Sessions