Adidas x The Little Mermaid
Last month, Adidas x Disney launched a Stan Smith collection with Pixar, Marvel and more adorable characters we know and love. It seems like we're in for another Disney treat, as this time round, Adidas is launching a collaboration with Disney's The Little Mermaid. From Ariel and Ursula to minor characters such as Max and Flotsam, the highlight of this collection is undoubtedly the quotes said by each character, found on the underside of the sneaker tongues. 
Fun fact: the shoes in this collection are crafted from recycled and sustainable materials, while some are made in part with Parley Ocean Plastic. Save the sea with Ariel and her friends while looking good in these sneakers.
Ariel and friends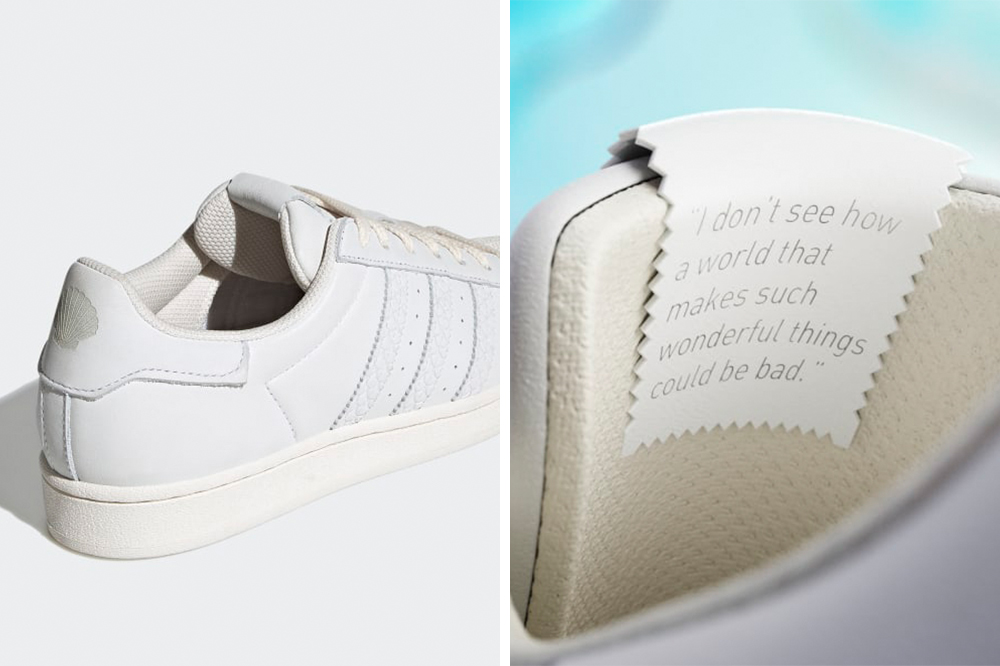 The first Superstar sneaker features a quote from our favourite mermaid herself, Ariel. The underside of the sneaker tongue sums up Ariel's curiosity of the human world perfectly, reading, "I don't see how a world that makes such wonderful things could be bad". 
The heel tabs also come with a seashell design on one side and a fork on the other. The fork, which Ariel refers to as a "dinglehopper", pays homage to the iconic scene of the beloved underwater princess brushing through her hair with it.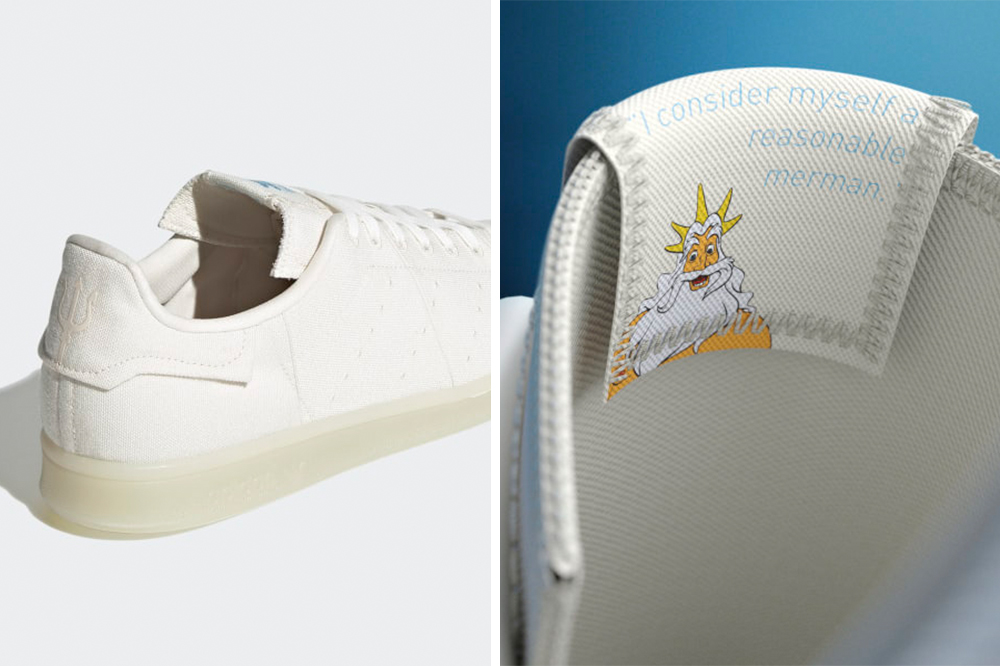 As a proud father with 7 mermaid children, King Triton, also known as the sea king, is a strict yet lovable character to many. Unable to understand his daughter's curiosity about the world beyond the sea, he holds Ariel back due to his concern for her safety. With that in mind, the quote on this Stan Smith sneaker emphasises his conversation with her, saying "I consider myself a reasonable merman". 
Like the Ariel sneaker, this sneaker also includes a symbol of King Triton on the heel tabs—his trident. An object of power and magic, suitable for a king.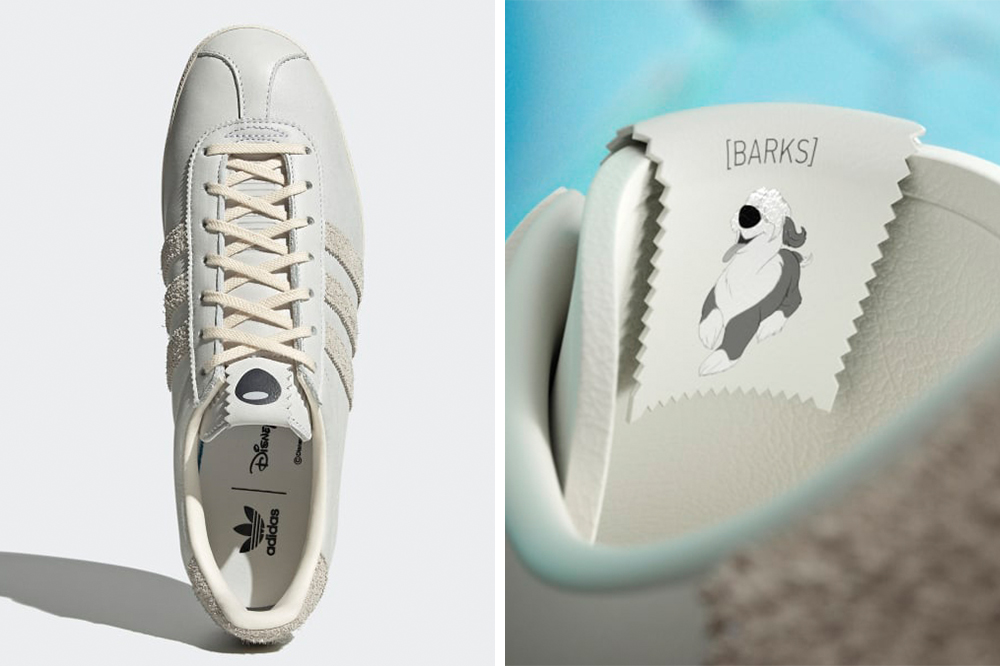 Man's best friend, Prince Eric's loyal sheepdog Max, isn't left out of this collection either. Though he is unable to speak, this design hilariously manages to incorporate Max's "quotes" from the movie as well, aka his barking sounds. 
The Gazelle shoes come with furry 3-stripes and heels tabs to represent Max's fluffy body, while the front of the sneaker tongue details Max's large button nose. These sneakers make for a cute finishing touch on your date night #OOTD.
Also read: 
Adidas x Disney Sustainable Stan Smiths Feature Pixar, Marvel & More Characters So You Can Literally Go Green
Villains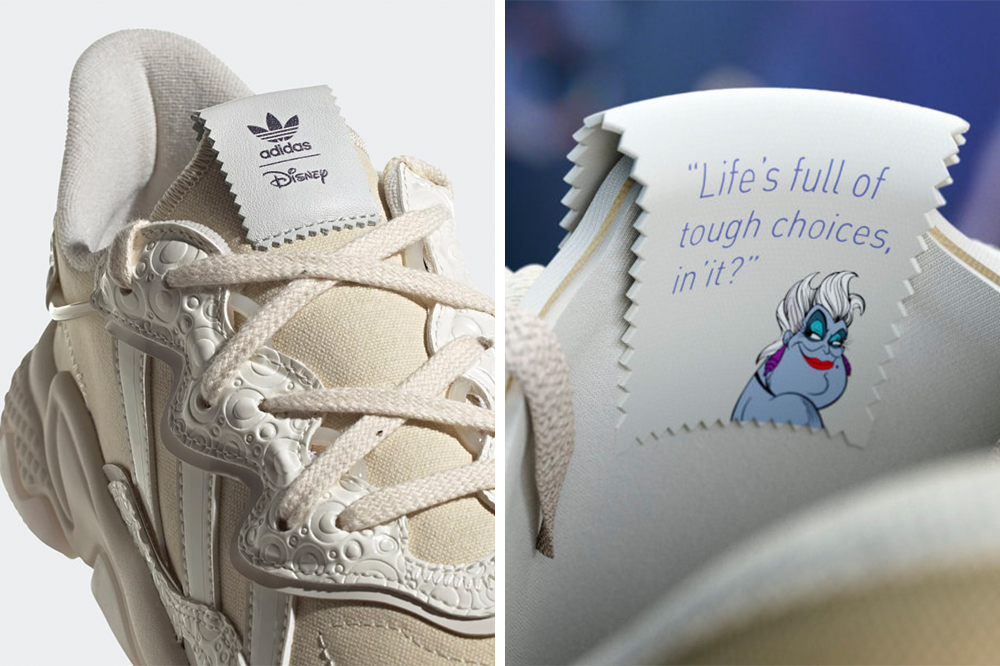 There's just something about Disney villains that just draws you to their attractively evil personality. Who can forget Ursula the sea witch, who took Ariel's voice in exchange for giving her human legs? The Ursula Ozweego sneakers are in a neutral light brown shade, with textured eyelets and shoelaces as a representation of the sea witch's tentacles. 
Not to miss out her quote, "life's full of tough choices in'it?"—a manipulative sentence used to convince Ariel to give into her deal. With the Adidas original '90s design, sneakerheads shouldn't miss out on these nostalgic throwback shoes.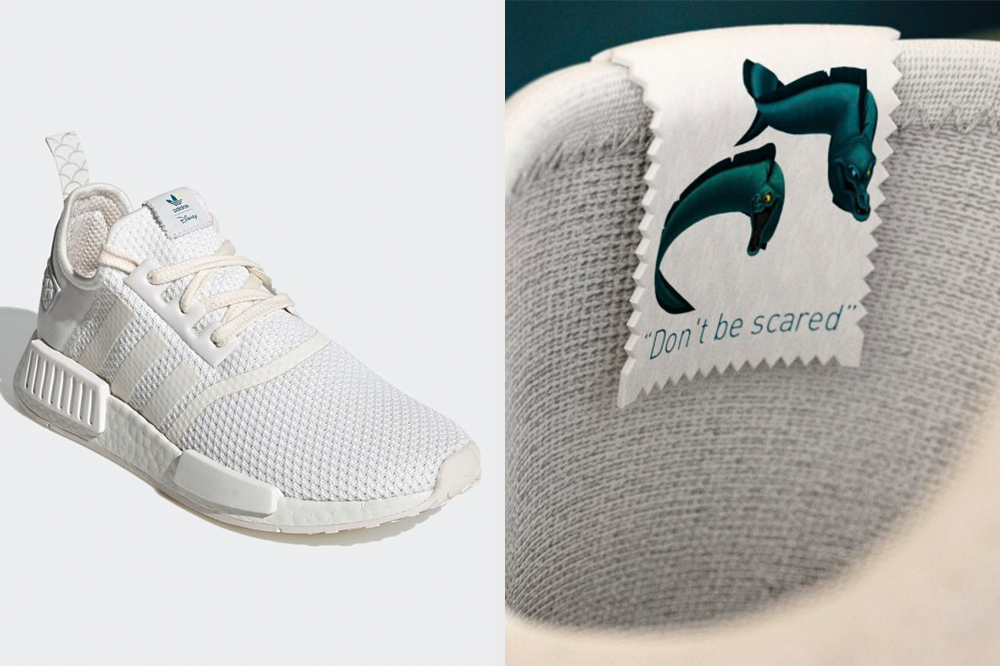 Ursula's evil plan would not have been possible if not for Flotsam and Jetsam, the 2 eels whom she fondly refers to as her babies. They make an appearance in this collection on Adidas' NMD_R1 off-white sneakers, with a heel strap sporting scales reminiscent of the eels' bodies.
Youth unisex sneakers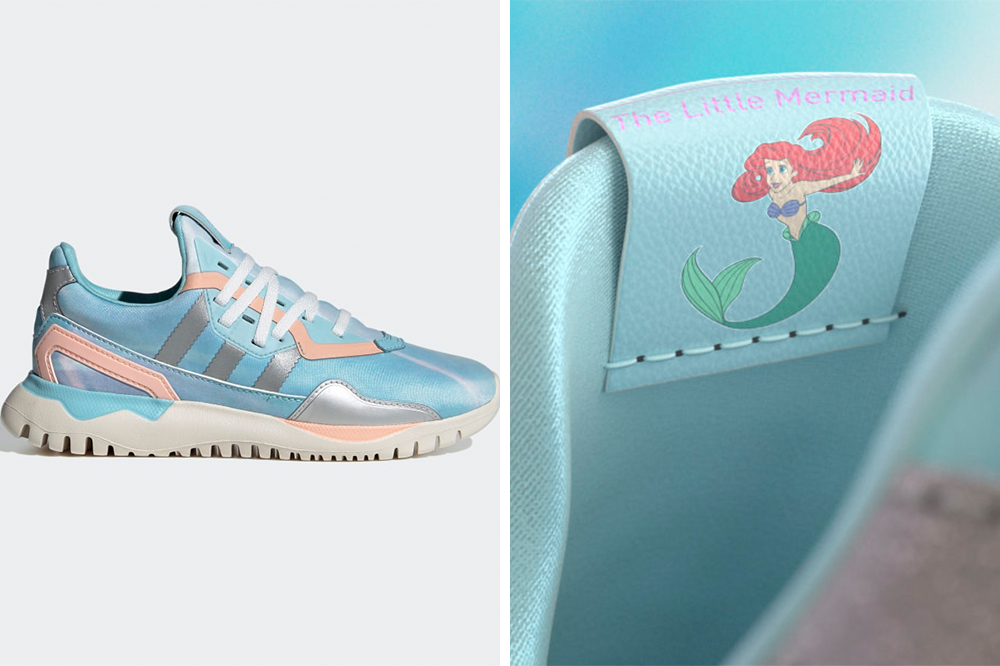 While the first Ariel sneaker in this collection only showcases her quote, you can finally see Ariel herself peeking on the sneaker tongue of this second sneaker. This shimmery pastel Youth Originals with reflective 3-stripes and heel tabs makes it a fun sneaker to wear on a breezy night jog. These sneakers are suitable for youths and teens aged 8 to 16.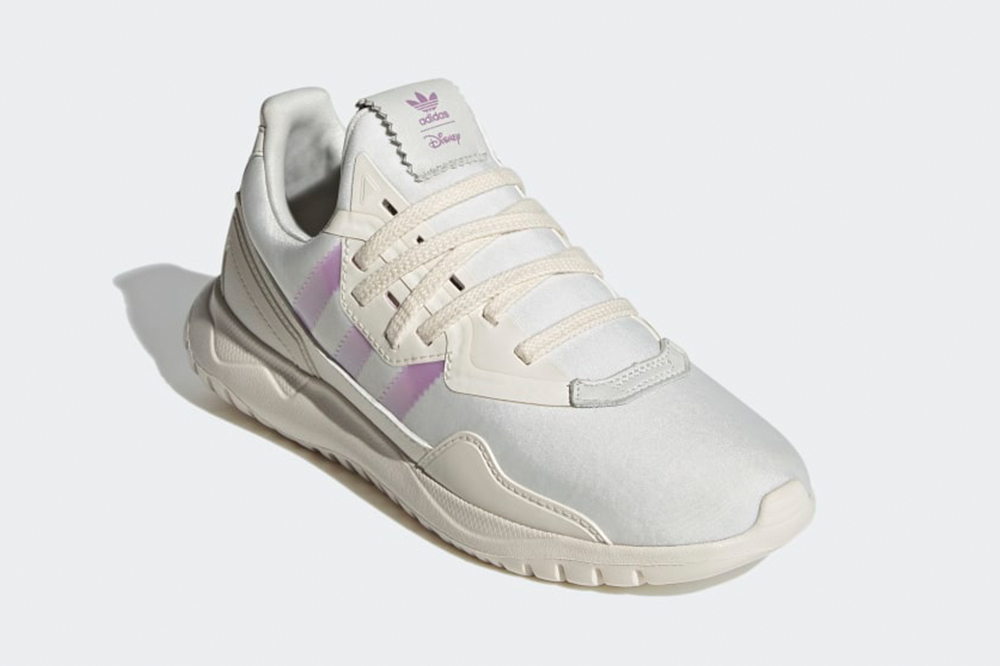 If you prefer minimalist designs, the Ariel Youth Originals sneaker is also available in white with pearlescent purple hues on its 3-stripes.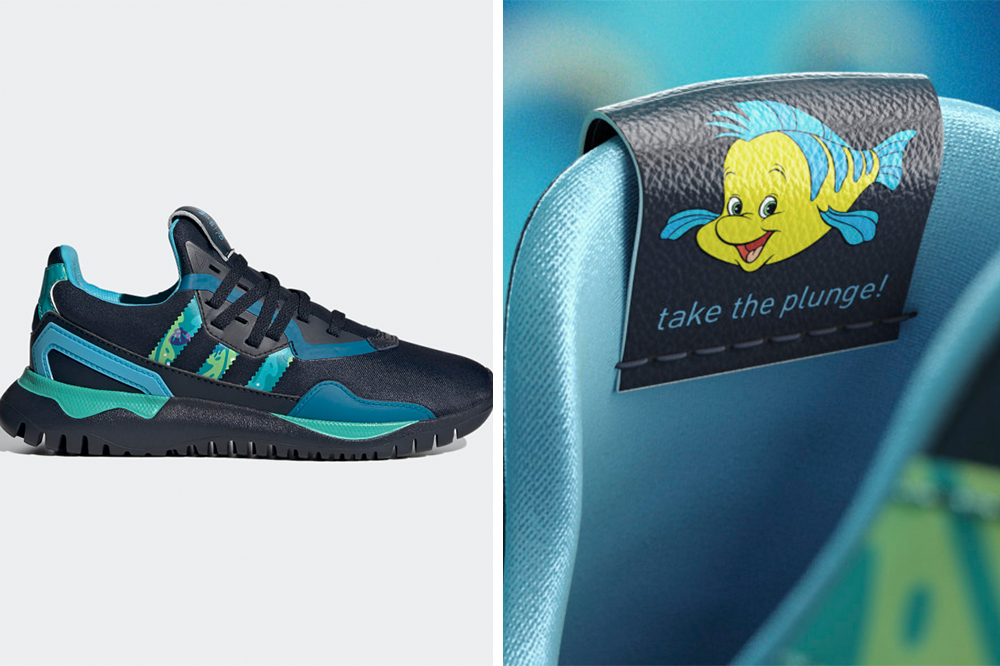 The last character in this collection is Flounder, Ariel's lively and sweet BFF under the sea. This Youth Originals reminds us of the clear blue-green waters of the sea, while an underwater print details the 3-stripes. Flounder encourages us to push forward with our legs-day workout, with "take the plunge!" woven on the underside of the sneaker tongue.
The Adidas x The Little Mermaid Collection Is Filled With Fun Characters From Under The Sea
We can't wait to transport back to our childhood with the Adidas x The Little Mermaid sneakers. As of now, only the King Triton Stan Smith sneakers is available on Adidas' Singapore website, retailing at $140. Since the full collection will be released on Adidas US stores from 3 May 2021 onwards, hopefully we'll start to see the rest of our favourite character sneakers in Singapore soon too.
All images courtesy of Adidas.
Also read:
This Adidas x McDonald's Collab Has Fries-inspired Apparel That Will Bring You More Joy Than A Happy Meal