Affordable Things To Do in Singapore
You're planning another outing with your squad but it seems as if all they want to do is visit the same ol' café, shop or club. When you're bored of mundane routines such as wandering aimlessly around Orchard road, it's time to create a new weekend checklist—you might even learn new skills!
Here are 23 unconventional places to go to for your next girls' day/night out to spend quality time with your girlfriends.
For artistic souls who want live music/entertainment
1. Watch Stand-up comedy or live jazz performances at Blu Jaz café
Besides their regular jazz nights, Blu Jaz café also hosts regular comedy open mics and events, such as Talk Cock Comedy, in conjunction with The Comedy Club Asia. Every Wednesday and Thursday night, expect to see fresh local comedians on stage.
Price: $10.00 for entry
2. Dinner & FREE movie at The Screening Room for discerning film critics
This boutique film theatre cum restaurant-bar takes pride in their curation of movies to provide you with the best cinematic experience. Spend $15.00 at The Screening Room and you'll get to watch the movie free of charge! You can also check out their Facebook page for promotions.
Price: Minimum order of $15.00
3. $1.00 karaoke songs at Voicebooth
If you go before 6.00pm, you can sing a song—2 songs for members—for only a dollar at Voicebooth. After 6.00pm, you can only rent the room by the hour.
Price: $1.00 per song, $10.00/hour for a room on weekdays, $20.00/hour for a room on weekends.
4. Free programmes at the Esplanade
You don't always have to pay to attend performances at the Esplanade; catch their free acts daily by the concourse or at its outdoor theatre! Otherwise, this venue is known for art exhibitions and pop-up festivals for all to enjoy.
Price: Free!
For those want to explore the ends of Singapore
5. Explore Singapore's farmlands at Kranji Countryside
The Kranji Countryside holds the Kranji Countryside Farmer's Market quarterly, where you'll find local produce and artisanal products. Come any other time to check out Bollywood Veggies, Sungei Buloh Wetland Reserve and the frog or goat farms.
Price: $3.00 for a round trip around the Kranji Countryside, and $2.00 for entry into Bollywood Veggies (fee waived if you dine at Poison Ivy Bistro)
6. Day trip to Kusu Island
Part of the Southern Islands just off the coast of Mainland Singapore, Kusu Island has three Malay shrines, a Chinese temple and a turtle sanctuary. Pack smart, because there are no shops on the island!
Price: Ferry tickets are $18.00 round trip for adults and $12.00 round trip for children.
7. Admire art at Gillman Barracks' galleries
In what used to be army barracks, Gillman Barracks houses 13 art galleries and 7 dining options. Most exhibitions are free, and you can also keep a lookout on their Facebook page for free events.
Price: Free!
For those looking for some #fitspo
8. Do yoga outdoors
Pop-up yoga sessions are frequently held across Singapore, at places such as Botanic Gardens and MBS Boardwalk. Go to Urban Yogis' Facebook page to find out more and get tickets in advance.
Price: $8.00
9. Pick up a fitness routine
Inspired by Australian fitness guru Kayla Itsine's Bikini Body Guide (BBG), these girls organise monthly meetups to workout. Follow their Facebook page to join in the fun!
Price: Free! Just bring a mat and a water bottle along.
10. Embark on a night cycling tour
Check out the night cycling routes by area of choice and go for a spin! If you don't own a bicycle, you could always rent one overnight.
Price: Hello, Bicycle! bikes, $40 for 24 hours. Lifestyle Bike and Skate bikes @ Marine Parade start at $12.00, from 6.00pm-9.00am.
11. Go hiking
Good for both your mind and body, grab your friends and go for a hike at the trademark MacRitchie treetop walk! We also recommend the Southern Ridges, which includes Hort Park and Mount Faber Park.
Price: Free!
For the fun-loving and unconventional
12. Participate in a trivia/quiz night
Quiz nights make great group activities, especially when the prize is free beer! Get in the hot seat and test yourself with questions that range from Disney movies to American politics. It gets pretty packed, so it's advisable to book a table in advance.
Locations & Price:
SG Tipsy Trivia (Roving event), first Thursday of every month, 7.30pm: $5.00
Quizmaster Singapore's Molly Malone's Quiz Night, every Monday 7.30pm: free!
Quizmaster Singapore's Prince of Wales Quiz Night, every Tuesday and Wednesday, 8.00pm: free!
Quizmodo's Brewerkz Trivia Night, every Monday, 8.00pm: free!
Lazy Lizard Sixth Avenue, every Thursday, 8.00pm: free!
Be Inquizitive Singapore's Tin Hill Social Quiz Night, every Tuesday and Thursday, 8.00pm: free!
13. Join a local walking tour
You never know what else our little red dot has to offer till you join one of Singapore Footprints' weekend walking tours. Choose between a tour down Singapore River, Bras Basah, and Bugis, or one around Chinatown.
Price: Free!
14. Attend an unconventional workshop/class
Book a floral art meditation class ($35) or create your own handmade marbled cards ($30) through events portal Funzing. Aside from its unconventional events, they also offer lots of affordable fitness classes.
Price: From $5 to ~$200
For café-hoppers who wanna lepak with cats or play games 
15. Visit a cat café
Visit any one of the four different cat cafés in Singapore to pet these furry felines to your heart's content, and soak in the company of these calming cuddle buddies.
Price:
Neko No Niwa: $12.00/first hour, $5.00 per subsequent half hour.
The Company of Cats: $14.00/first hour ($10.00/first hour from Tues-Fri before 3.00pm), $5.00 per subsequent half hour. Comes with a complimentary standard drink.
The Cat Café: $15.00 for an unlimited stay (comes with a complimentary soft drink).
Meomi Café: $13.00/first hour, with $5.00 per subsequent half hour. Comes with a complimentary drink.
16. Lepak at a board game café
Want a break from the stresses of fast-paced city life? The Mind Cafe and Settler's Cafe are both well stocked with board games for you to relive the games of your childhood, or try your hand at something new.
Price:
The Mind Cafe: $3.00/hour (Mon to Thu), $4.00/hour (Fri to Sun, PH)
Settler's Cafe: $3.00/hour (Tues to Thu), $4.00/hour (Fri to Sun, PH)
17. Visit an Anti-café
The concept of an anti-café is simple—instead of paying for food, you pay for the time you spend in the café. The two anti-café's in Singapore both offer free snacks and drinks, along with activities such as pool and board games.
Price:
Santa's Igloo: $10.00/first hour, $2.50 for every subsequent 15 minutes
Coffeemin: $6.00/first hour, $1.00 for every subsequent 10 minutes
18. Go rooftop-hopping
Grab your picnic mat or just lepak under the stars on a rooftop! The hottest spots include Pinnacle@Duxton, Orchard Central, People's Park and the Esplanade.
Price: $5.00/entry for Pinnacle@Duxton, the rest are free!
For the curious minds
19. Visit the Lee Kong Chian Natural History Museum
If you're curious by nature, head over to the Lee Kong Chian Natural History Museum. Not only does it showcase Amphibian, Mammal and Plants exhibits, but also near fully intact dinosaur fossils—like the standouts Apollonia, Prince, and Twinky.
Price: $9.00 for children, students, senior citizens, and people with disabilities. $12.00 for adults. Free for NUS staff/students.
20. Attend UN Women events
From film screenings to panel discussions, UN Women events are perfect for the feminist in you. While these events sound content-heavy, they're bound to leave your girlfriends and you buzzing with progressive women-forward ideas. You can also sign up as a volunteer!
Price: Less than $10.00 for non-members, with occasional free events.
21. Attend networking entrepreneurial/start-up events
There are lots of women-focused entrepreneurial/start-up events popping up, so there's no shortage of inspiring women to keep you motivated. Our pick is Startup Asia Women, which hosts several talks and networking events every month.
Price: Entry for events begin at $5.00. Up to $25.00 for an event that includes dinner.
For selfie-queens
22. Relive your kawaii neoprint days
Remember these? The very last neoprint outlet in Singapore, Kawaii Gals, is at *SCAPE. So embrace your love for the 90s and #throwback when you doodle on your selfies.
Price: $10.00 per sheet
23. Check out lesser-known Insta-worthy locations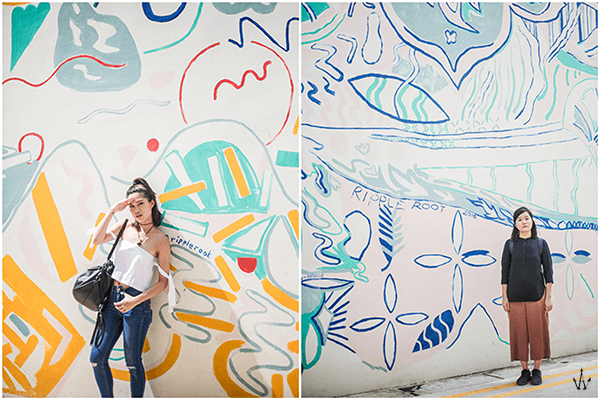 If you've already exhausted your go-to photo-worthy spots, head down to the path less travelled at Bugis and Duxton for inspiration.
Price: Free!
Girl Activities in Singapore
Now you can't complain that there's nothing to do in Singapore when making plans with the gals. So pick a plan and don't be afraid to try new things!