Airbnb Villas in JB With Resort Vibes
Johor Bahru (JB) is a go-to destination for Singaporeans looking for a cheap and convenient way to escape the hustle and bustle.
If you want to chill out with friends and family in a spacious accommodation over the weekend, equipped with activities and amenities to suit everyone in the group, here are 7 Airbnb villas in JB that will only cost you a fraction of the price of an actual resort.
1. Villa Serenity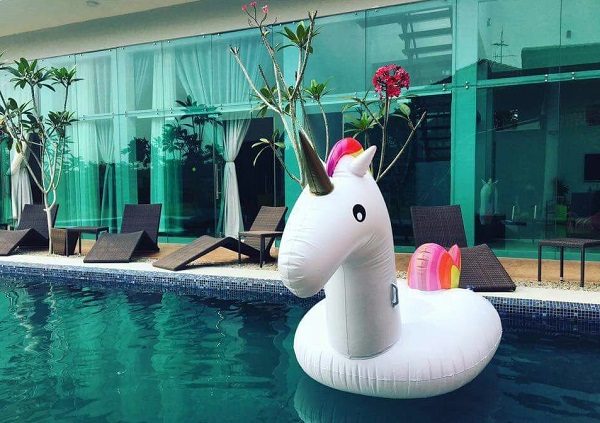 Located on the grounds of Leisure Farm resort, close to the Tuas Checkpoint, this large villa can accommodate up to 16 guests in 5 en-suite bedrooms. You can spend a lazy afternoon in the sun splashing around in the private swimming pool, relaxing in the hot tub, or taking up riding lessons at Kuda House Equestrian Centre.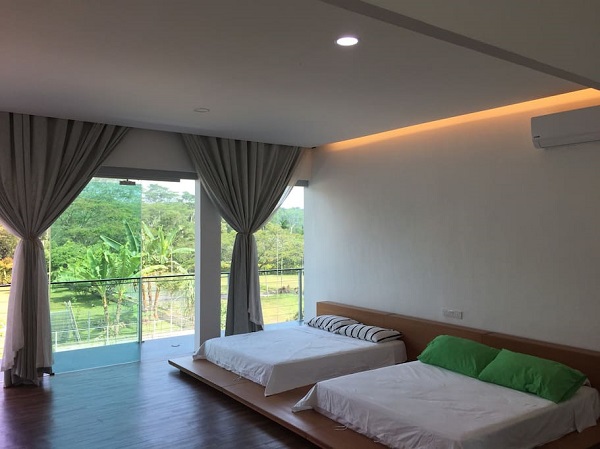 The hosts also provide a mahjong table, an air hockey game table, various game sets, Netflix on the TV and a barbecue pit. If you do decide to venture out of the resort, Legoland is located in close proximity. Seafood lovers should also not miss the Salted Egg Crab at nearby Restoran Tian Lai, a popular seafood restaurant in the area. 
Suitable for: 16 guests
Rates: From $154/night
Address: Gelang Patah, Johor, Malaysia
Website
2. Desvan Villa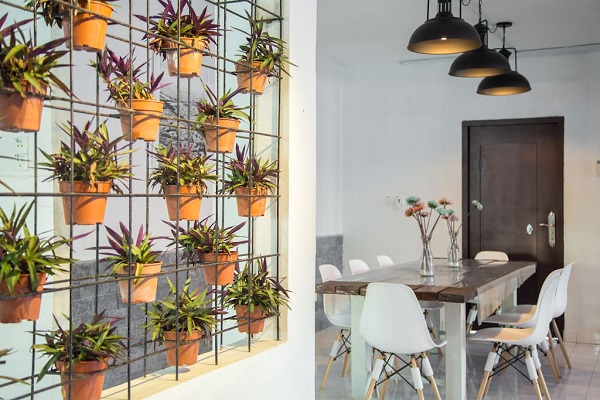 Minimalists will adore Desvan Villa's clean, sleek interiors. Spread out across 7,000 square feet, it is tastefully decorated in blue, grey and dark green hues, and dotted with potted plants that match the wooden furnishings.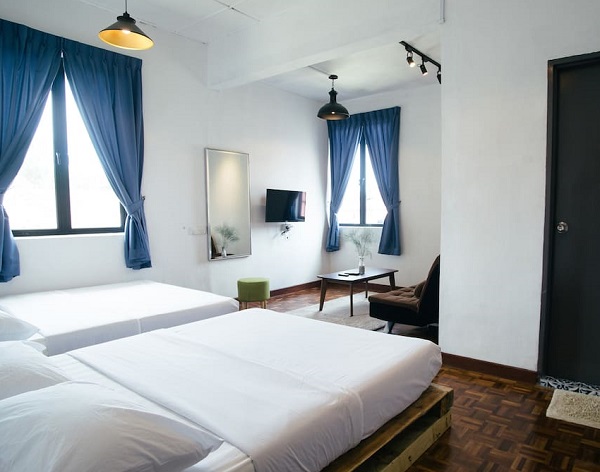 Belt out your favourite hits in the living room, which has a karaoke unit installed, or watch the sun set from the balcony.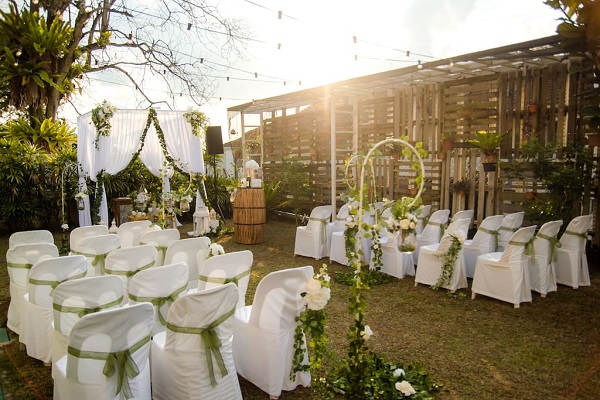 As the property can fit up to 100 people, it can also double up as a venue for weddings, birthday celebrations and corporate events — simply contact the host to ask about the event planning and catering services available. 
Suitable for: 16 guests
Rates: From $282/night
Address: Johor Bahru, Johor, Malaysia
Website
3. Unique and stylish villa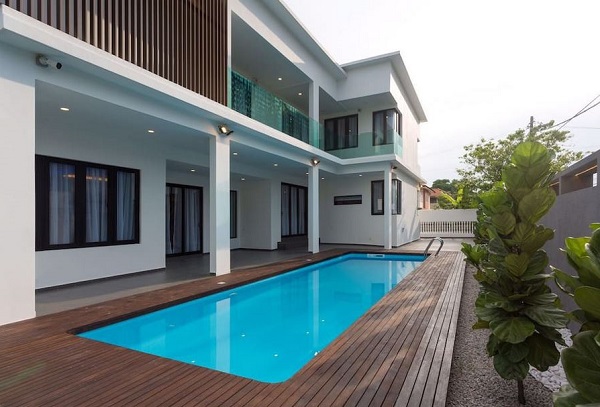 A gorgeous location that is chic, fun and elegant all at once, the exterior boasts a private pool coupled with a small garden for a Zen atmosphere.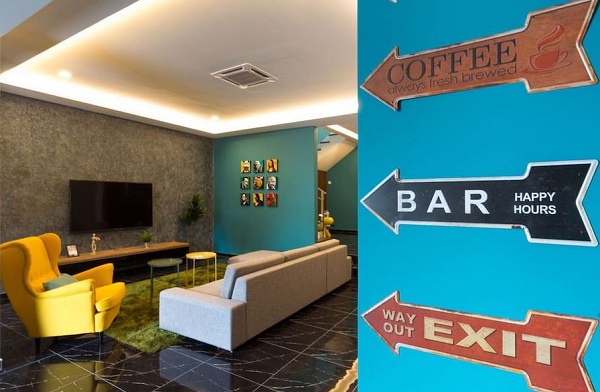 The interior is tastefully furnished with an industrial, hip look thanks to pops of colour from the walls, furniture and bedding. There are 11 beds spread out comfortably across five bedrooms.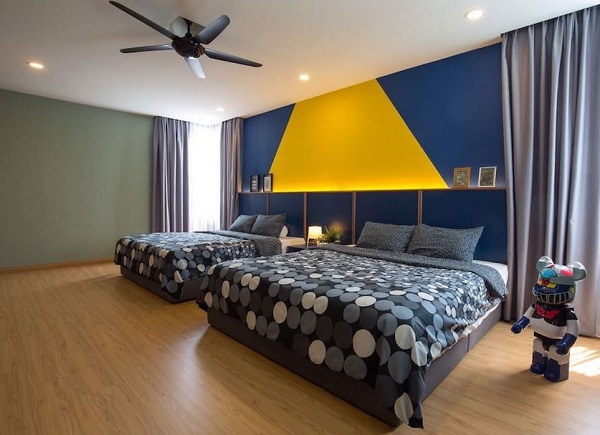 An arty, cool space to spend a lazy weekend, this villa is equipped with a games room that includes a pool table and even an arcade game machine.
Suitable for: 16 guests
Rates: From $625/night
Address: Johor Bahru, Johor, Malaysia
Website
Also read:
4. De Green Villa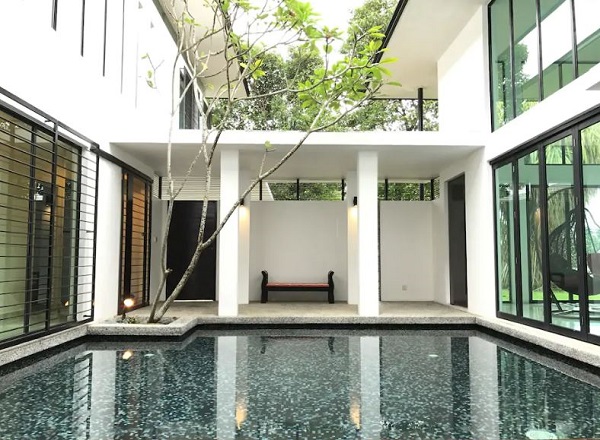 Spread out across 6,000 square feet, De Green Villa boasts a modern, clean interior with a pool located in the centre of the house for added privacy.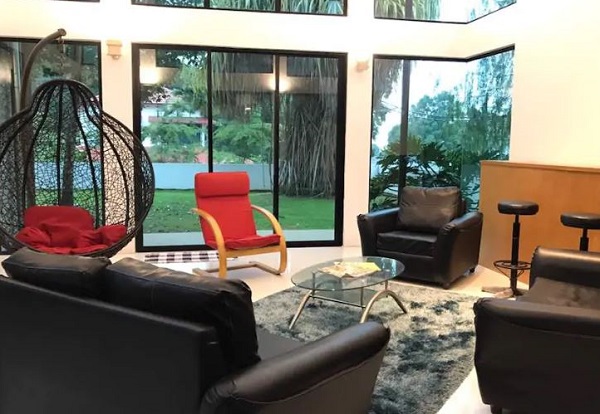 Surrounded by luscious greenery, and stocked with a barbecue grill and a variety of board games, the accommodation is good for group gatherings. Conveniently located near malls including City Square, Danga City Mall and JBCC, you can also explore nearby attractions such as Hutan Bandar Recreational Park, Legoland, Johor Art Gallery, Puteri Harbour or the Johor Zoo.
Suitable for: 16 guests
Rates: From $299/night
Address: Johor Bahru, Johor, Malaysia
Website
5. Gulang Villa Vacation Home Bed and Breakfast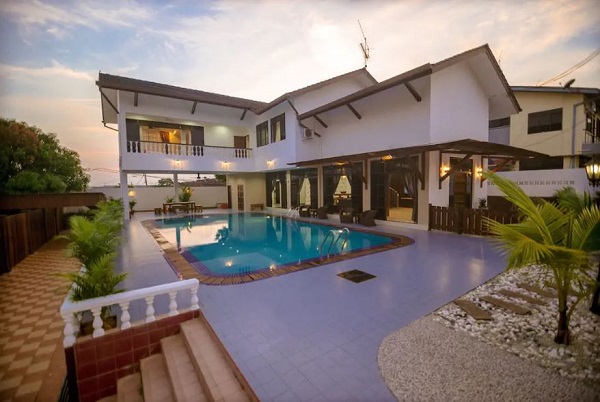 If you're seeking an idyllic respite in a tranquil neighbourhood, this house ticks all the right boxes. Each of the 4 bedrooms comes with a separate toilet and bathtub. For added convenience, there is a supermarket, and local and fast food eateries, within walking distance.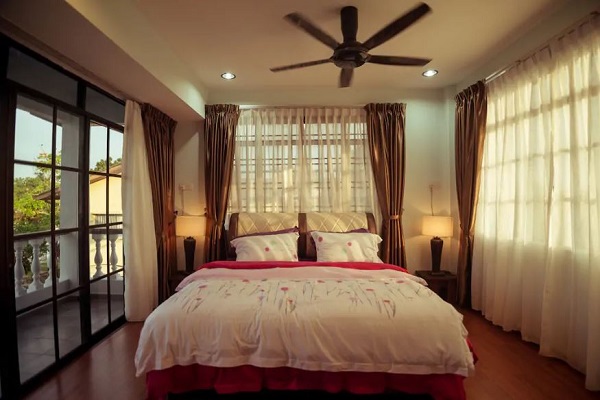 On top of a huge swimming pool (with a poolside swing), you can also look forward to a fully equipped karaoke room installed with disco lights and a mahjong table for around-the-clock entertainment. 
Suitable for: 16 guests
Rates: From $428/night
Address: Kluang, Johor, Malaysia
Website
6. Luxury home with pool and BBQ facilities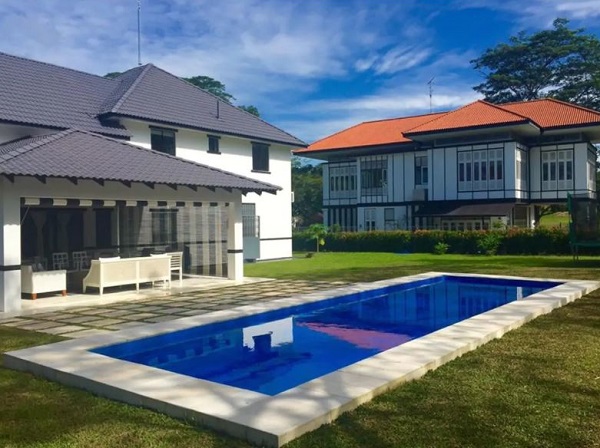 Fancy having a BBQ in a big, luxurious garden with your family and friends? This property offers a private pool, a trampoline and a levelled lawn for kids to run around and play. Come evening, everyone can settle down in the verandah, with dining for 12 and an outdoor seating area, and enjoy a hearty barbecue.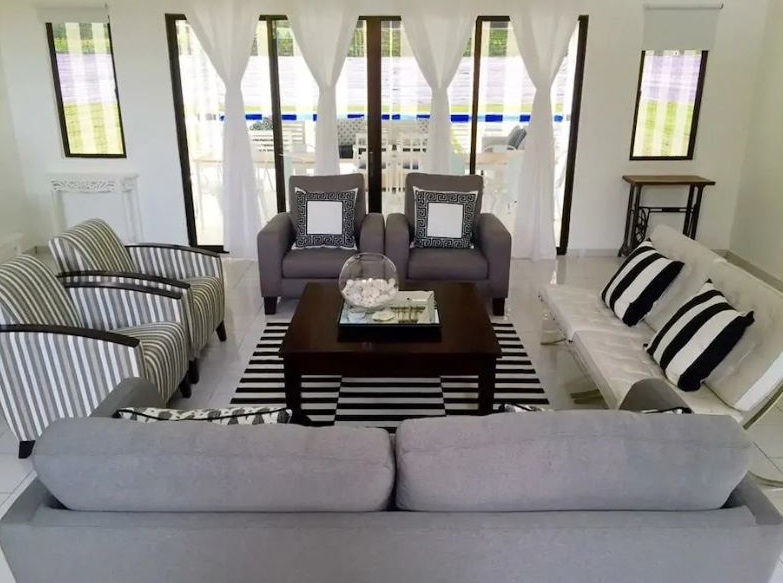 The interior is reminiscent of a beach resort in the Hamptons, with minimalist decorations that go well with its black and white theme. Open and roomy, with windows that allow the sunlight to stream in, you'll feel like you have escaped to a place much further than simply across the causeway. 
Suitable for: 10 guests
Rates: From $150/night
Address: Iskandar, Johor, Malaysia
Website
Villas With Resort Vibes In JB
With its wide variety of good food and affordable accommodation, JB is perfect for a weekend away. Gather your family and friends, and book one of these Airbnb villas for a relaxing resort stay.
Also read:
10 Hair Salons In JB To Get Your CNY Makeover Under S$150 For Shoulder Length Hair