Balmain x Pokémon
The global Pokémon collaborations are no joke. After partnering up with the likes of Mcdonald's Happy Meal toys and OWNDAYS in Singapore, there's now another one in Paris with luxury brand Balmain.
The iconic brands have joined forces for an apparel collection named the Trainer Fashion Set, so you can wear the high fashion pieces when you're out getting the new Pikachu carrier or playing Pokémon Go. 
Tops
For the unacquainted, Balmain is known for their maze-inspired labyrinth motifs and you get to see them front and centre on this Oversized Pokémon Printed Shirt.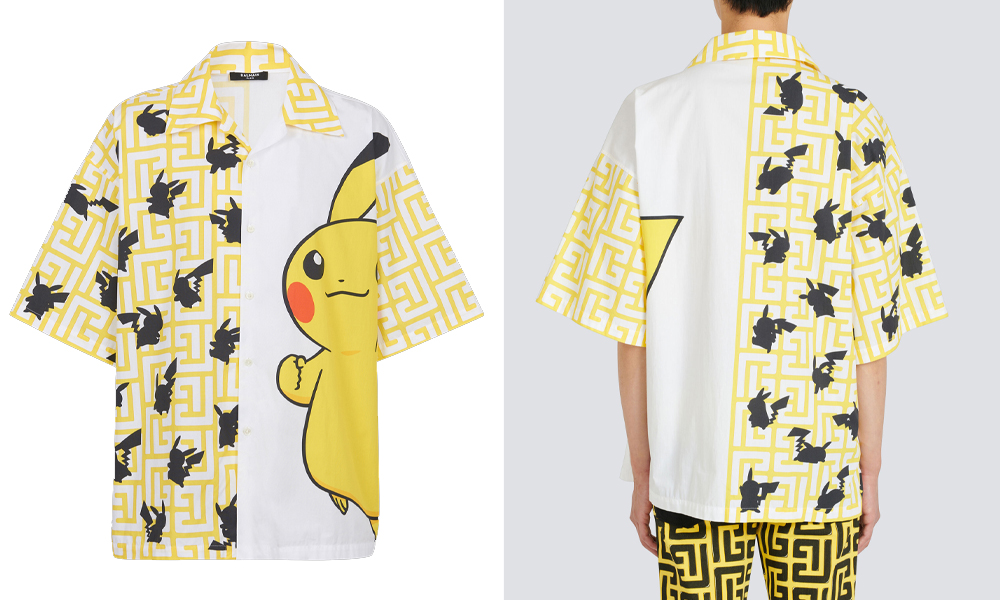 What's unique about this shirt is that half of it features the Balmain labyrinth motifs in yellow and silhouettes of Pikachu, and the other half is in white with a bigger print of Pikachu which extends to the back. 
The Oversized Pokémon Printed Shirt retails at USD$1,150 (~S$1,610).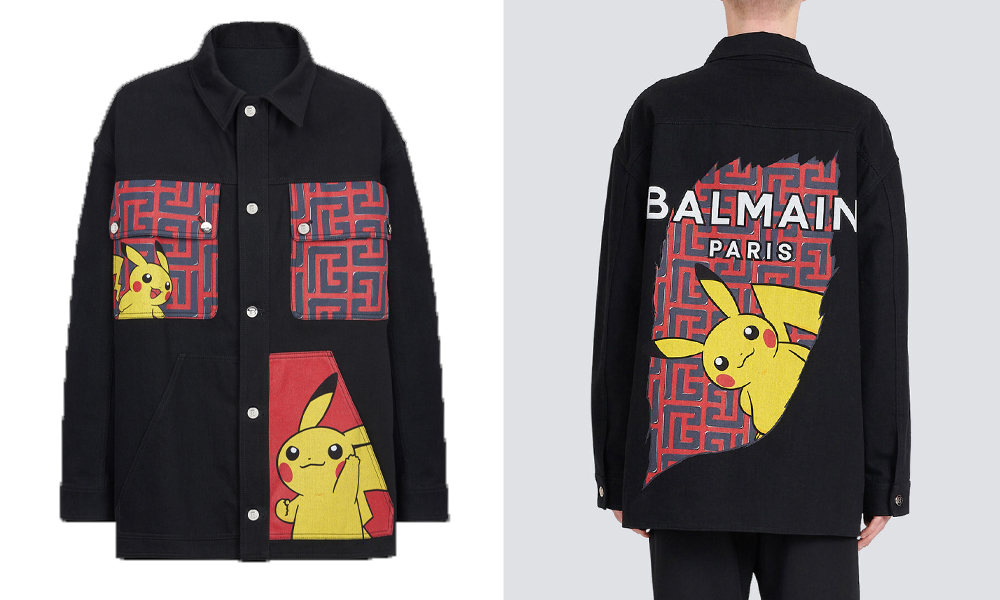 Hybebeasts' interest might be piqued by this Denim Jacket with Pokémon Print as it comes in black with red accents and motifs of Pikachu. The front of the jacket features a Pikachu motif on the breast pocket, and another one can be seen with its hand up at the lower end. 
Flip the jacket around and be greeted by another Pikachu motif which appears to be peeking out from the side. The back of the jacket also features Balmain's logo in white. 
The Denim Jacket with Pokémon Print retails at USD$2,395 (~S$3,353).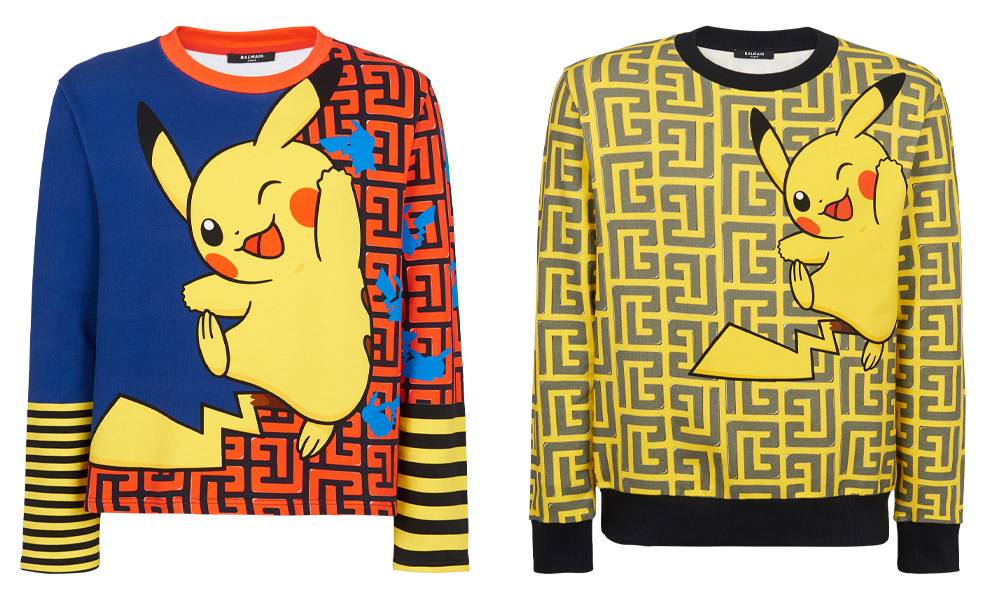 From left: Pokémon Print Sweatshirt, Sweatshirt with Pokémon Print 
Sweater weather in Singapore calls for one of these Pikachu sweaters. The one on the left will grab the attention of others thanks to its bright colours like yellow, red, and blue alongside a huge motif of Pikachu. Note how there are even silhouettes of Pikachu in blue on the side. 
As for the sweater on the right, Pikachu makes another appearance with Balmain's labyrinth motifs in yellow. 
The Pokémon Print Sweatshirt retails at USD$995 (~S$1,393), and the Sweatshirt with Pokémon Print retails at USD$1,150 (~S$1,610).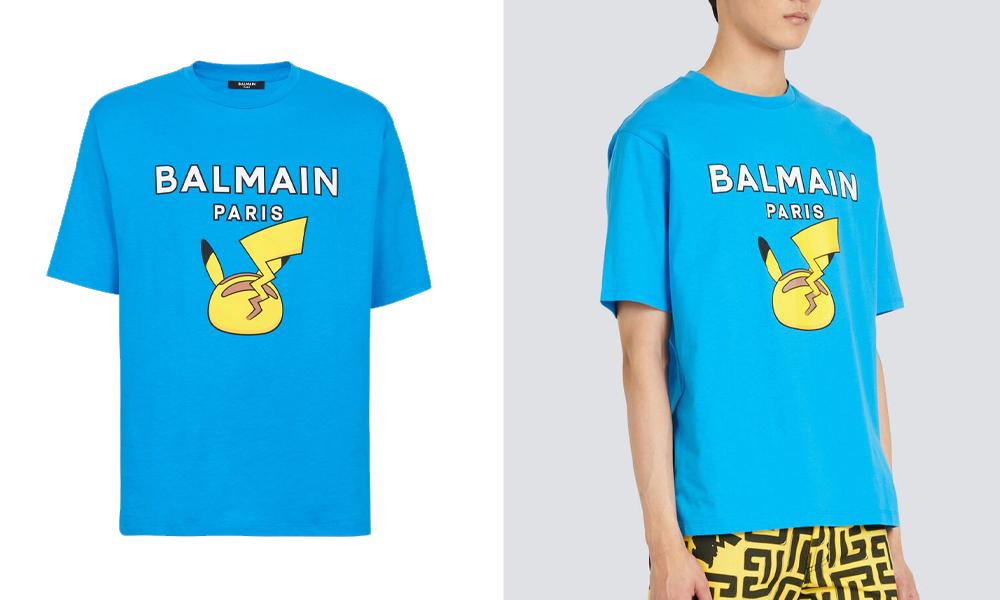 Taking a break from Balmain's labyrinth motifs, make a subtle fashion statement with this Pokémon Print Cotton T-shirt decked in bright blue. It features an adorable back view of Pikachu with Balmain's logo printed in white on the front. 
The Pokémon Print Cotton T-shirt retails at USD$550 (~S$770). 
Pants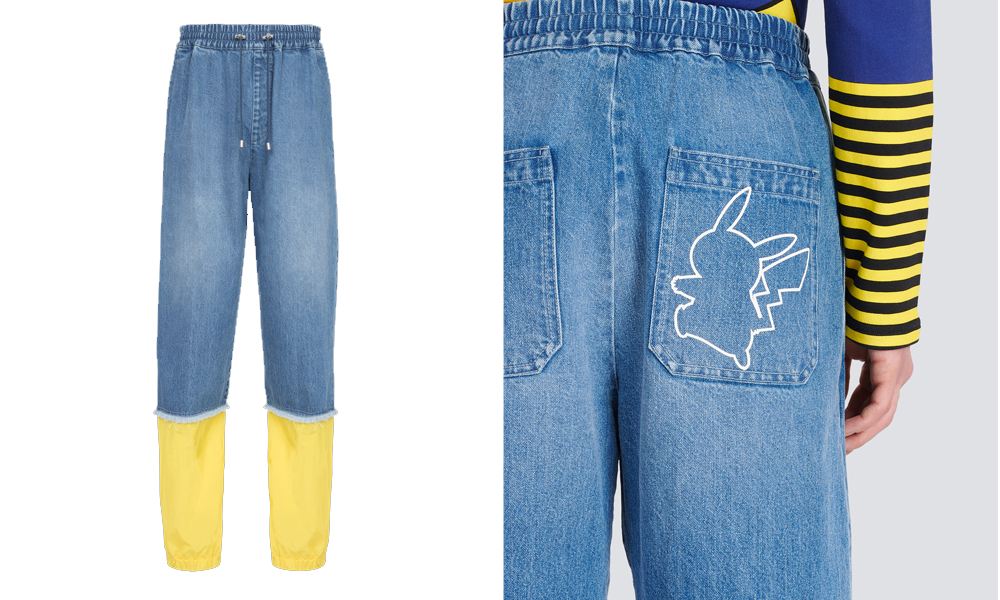 From ripped to boyfriend jeans, there are huge variations of denim bottoms. Enter Nylon Cargo Jeans ‒ a pair of clean-cut denim jeans with ends attached to yellow nylon fabric. The right back pocket of the jeans also includes an outline of Pikachu. 
The Nylon Cargo Jeans retail at USD$1,850 (~S$2,590).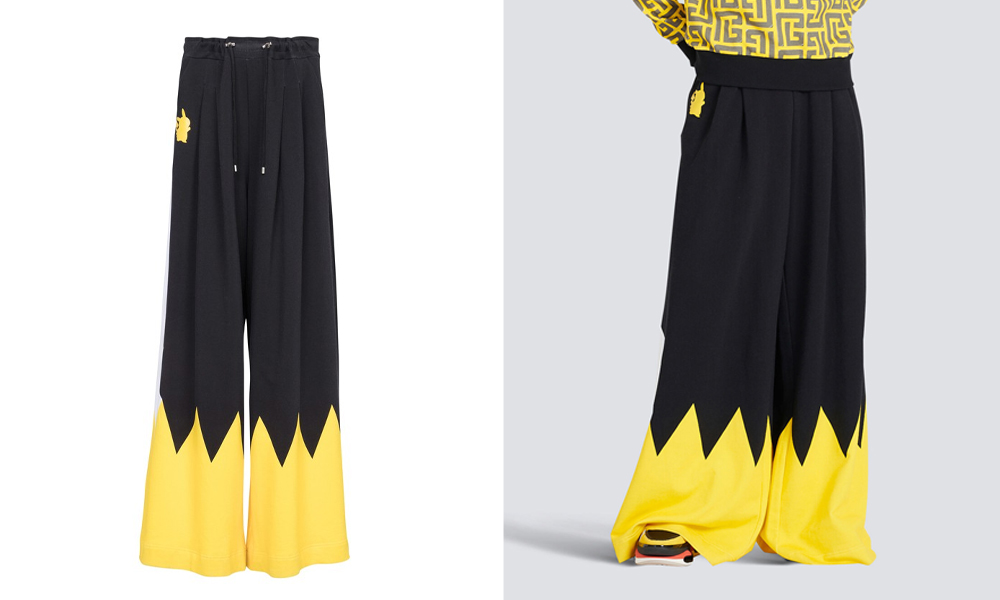 Here's a sign that flared pants are back in style, and perhaps you can kickstart the trend with the Pokémon Flared Pants. The yellow ends come with spiky designs that bring to mind Pikachu's tail, and the pants also feature a silhouette of Pikachu in yellow near the waistline. 
Currently, the Pokémon Flared Pants is out of stock. 
Bags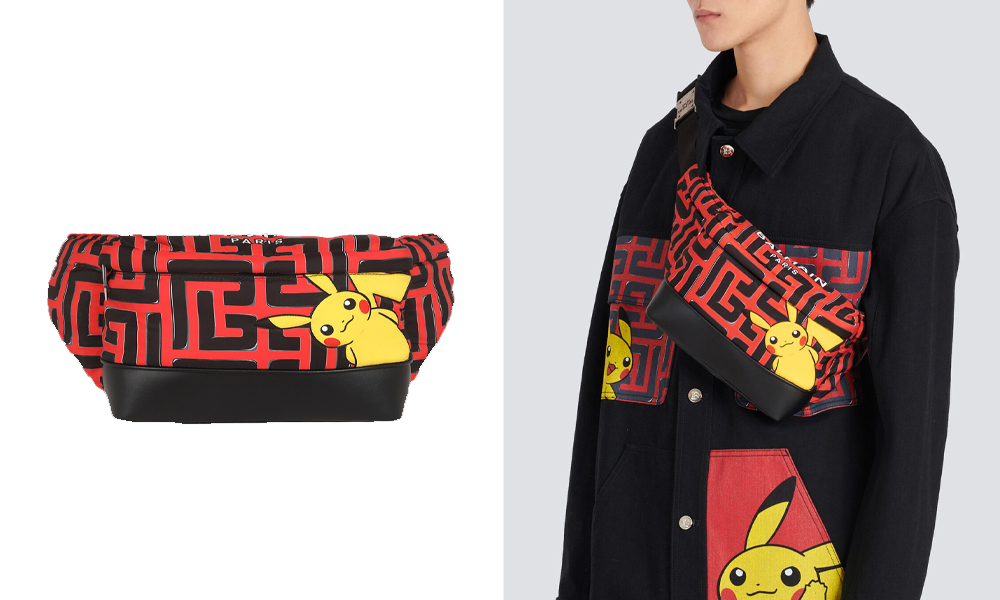 Fanny packs are no longer an "uncle" item, as this Nylon and Leather Belt Bag shows how it can be trendy and fashionable. Decked out in Balmain's labyrinth motifs in black, the red belt bag features a kawaii Pikachu motif sticking out at the side. 
Pro tip: Wear it across your chest for a stylish look. 
The Nylon and Leather Belt Bag retails at USD$1,350 (~S$1,890).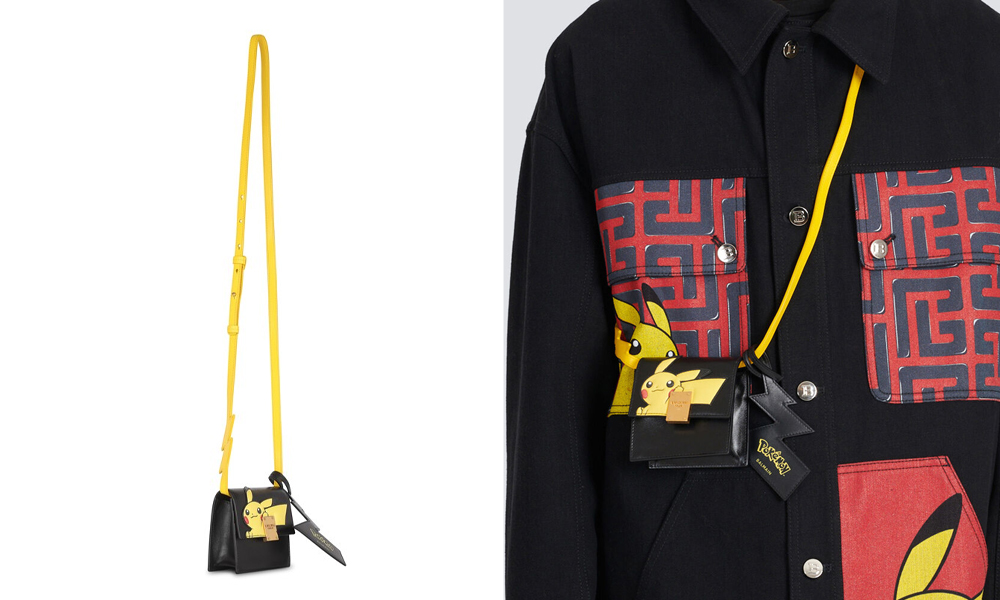 Since cashless payments are highly encouraged these days, carrying only this Leather Card Holder with Pikachu when you head out might just suffice. The calfskin card holder comes with a yellow shoulder strap that pays tribute to Pikachu's lightning bolt-shaped tail, and also has various compartments to store cards and coins. 
The Leather Card Holder retails at USD$1,095 (~S$1,533).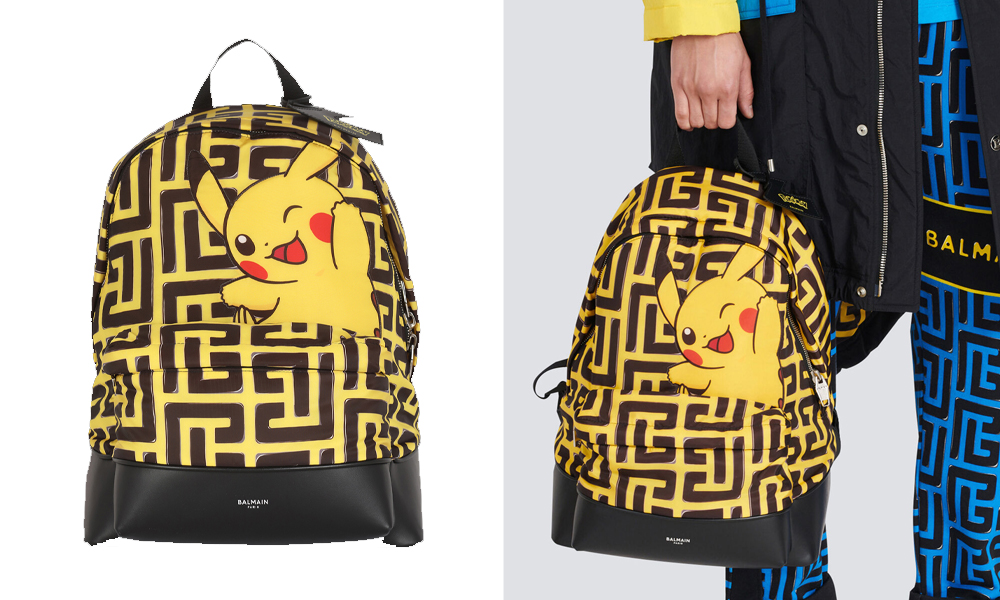 The school year might be coming to an end, but hey, no one said you can't still freshen up with a new look thanks to this Nylon and Leather Backpack that features a joyful Pikachu. 
Covered with black Balmain's labyrinth motifs, the backpack comes with an external compartment so you can easily reach for essentials like your EZ-Link card and tissue packets. 
The Nylon and Leather Backpack has dimensions of 18cm x 30cm x 40cm, and retails at USD$1,695 (~S$2,373). 
Shoes
This collection has you covered from head to toe as it also includes the Leather B-Bold Low-top Sneakers.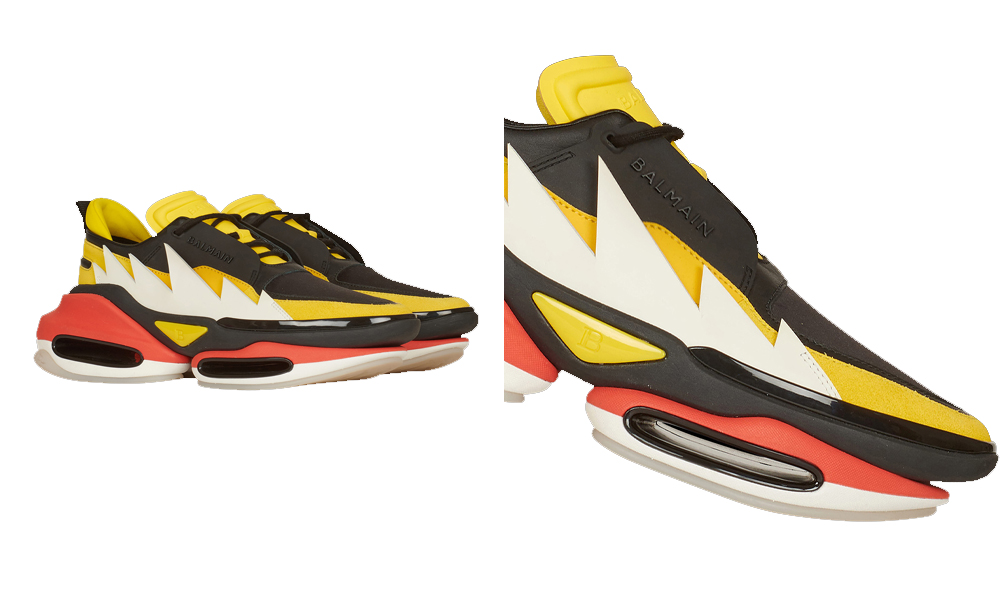 The multi-coloured shoes feature thick platform soles for those who need a lil' extra height, and come with black laces on top. Plus, the side panels stand out thanks to the white jagged edges. 
Upon closer inspection, the shoes also have a special embossing on the yellow panels that commemorate the collaboration between Balmain and Pokémon. 
The Leather B-Bold Low-top Sneakers retail at USD$1,050 (~S$1,470). 
The Pokémon x Balmain High Fashion Adds Style To All Trainers
Among the many ongoing Pokémon collaborations, this one with Balmain stands out with their unique and creative fashion designs. Interested Pokémon trainers can head over for the full collection and purchase the apparel on Balmain's official website. 
All images courtesy of Balmain. 
Also read: 
OWNDAYS Now Has A Pokémon Frame Collection That Comes With A Complimentary Pikachu Merch Set