Bathroom Mirrors
Your mirror mirror on the wall might not know who's the fairest of them all, but it sure can transform your bathroom from "meh" to "wow". What's more, they serve so many purposes – vanity, decor, selfie boosters and even receive all that shower singing without complaint. 
Jokes aside, if you're deciding to give your bathroom a makeover, then you ought to consider one of these mirrors. From cleaner minimalist styles to eye-catching designer models, you'll surely find one that's perfect for your home. 
1. HipVan – Alcove wall mirror with shelf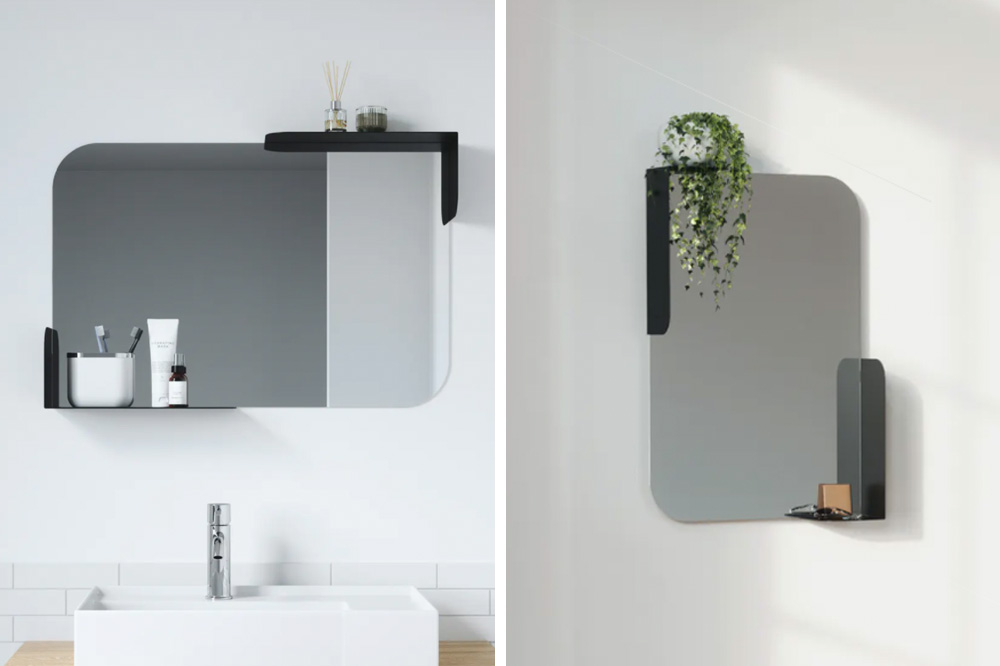 Source
This minimalist shelved mirror proves that simplicity is truly the ultimate sophistication. With 2 sleek black tabs attached that allow you to display decor or store your toiletries, it not only matches with almost any bathroom design but also gives your toilet a touch of elegance. 
You also have the option of displaying the mirror horizontally or vertically, so that it fits into the space above your sink in the most complementary way. 
Price: $269
Shipping fee: Free
Get it from: HipVan
2. Finnish Design Shop – 124 degrees mirror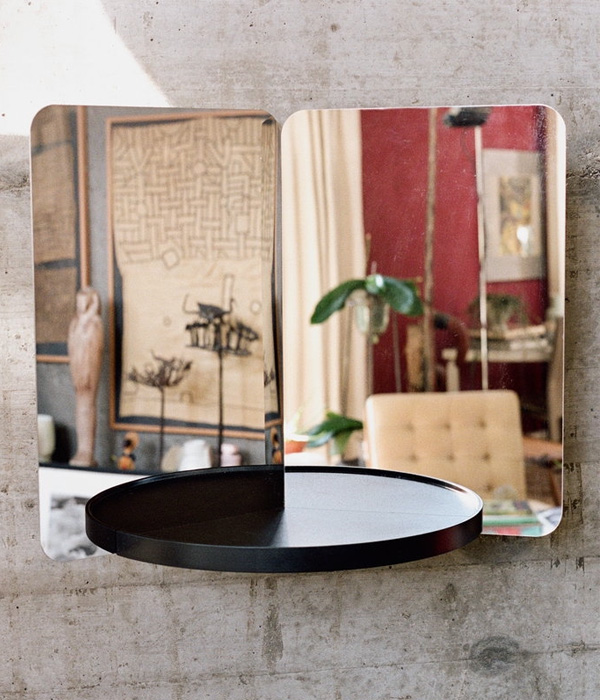 Source
If you need an option that's both light and compact, then this angled mirror might be a good choice. With a black shelve fitted in the centre, the 2 reflective sheets are angled such that they make any space appear larger and more open. 
The shelf itself appears to be round because of how the mirrors are angled, and you can add a sculpture of some sort on it for an extra artsy touch. This piece is also available in 3 different sizes to suit your bathroom needs. 
Price: $485.10 (medium)
Shipping fee: Free
Get it from: Finnish Design Shop 
3. HipVan – Perch round mirror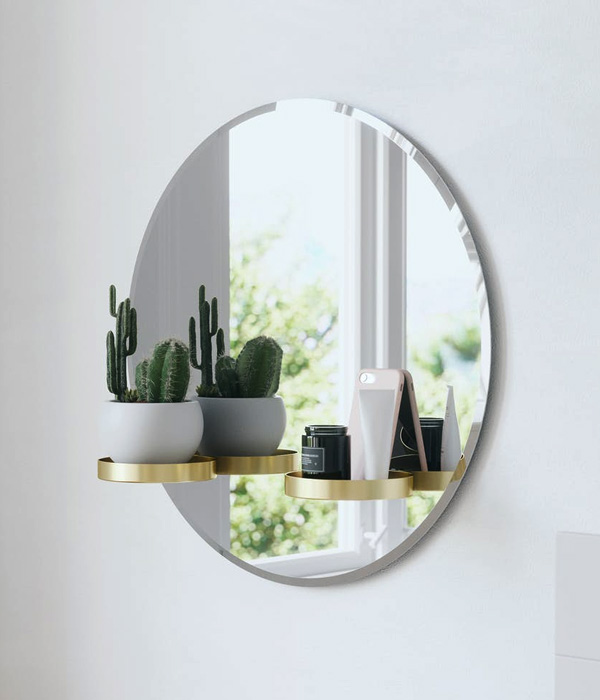 Source
If you've been eyeing an unexciting round mirror before this, why not get this Perch mirror which comes with 2 round shelves instead? The shelves are coloured a bright gold and can be moved around depending on your own visual preferences.
The depth of the shelves also allows you to prop your phone against the mirror, so you can watch a Ted Talk or let's be real, scroll through Tik Tok while getting ready in the morning. 
Price: $249
Shipping fee: $6.99
Get it from: HipVan 
4. Lux Bath – Ornate gold mirror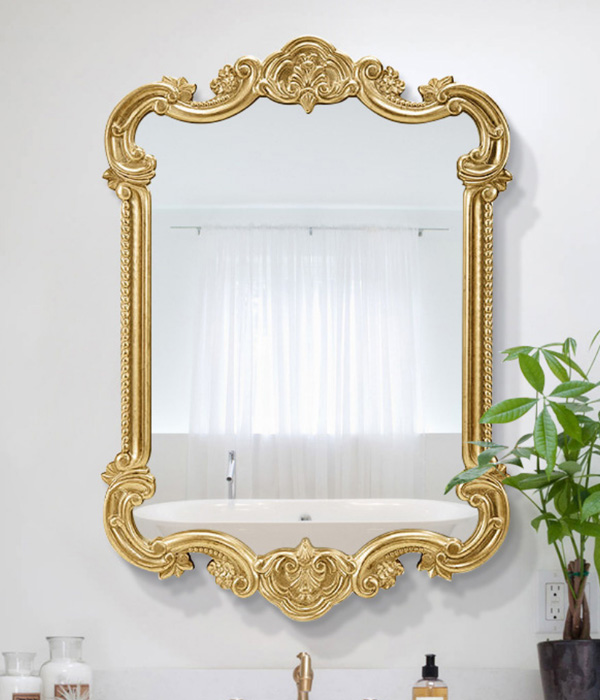 Source
Let's admit it – we've left a staycay missing the fancy mirror that helped us capture some amazing OOTD shots. This ornate gold mirror is one you can style into your own bathroom design so you can take bomb selfies every single day. 
The frame of the mirror also adds a touch of glamour to the space and can be easily paired with both a light or dark thematic bathroom design. 
Price: $449
Shipping fee: Free
Get it from: Lux Bath
5. Etsy – Asymmetrical framed-mirror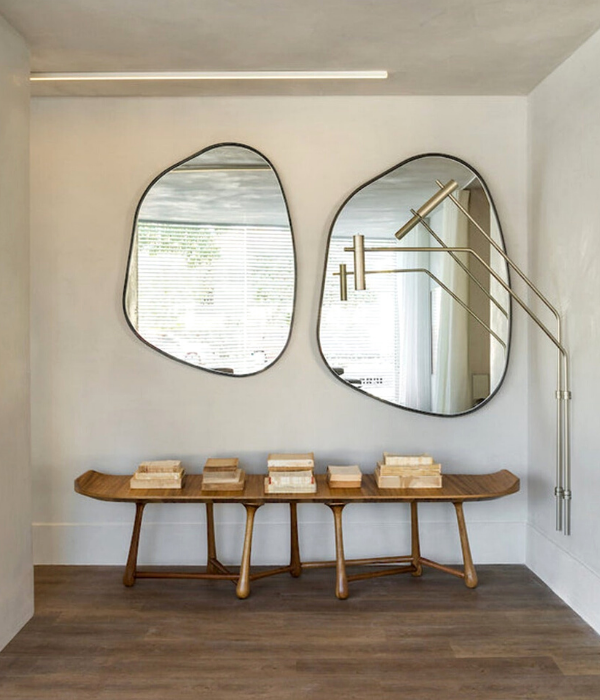 Source
For bathrooms that feature single-toned walls, like a cement-coloured or untextured tan wall, you can add these free-form rectangular mirrors to spice up the design while maintaining the space's elegance.
Additionally, the large nature of the mirror paired with single-coloured walls helps to make even the tightest of spaces appear both bigger and brighter. 
Price: $265.61
Shipping fee: Free
Get it from: Etsy 
6. Singapore Bathtubs – Troyes double circle mirror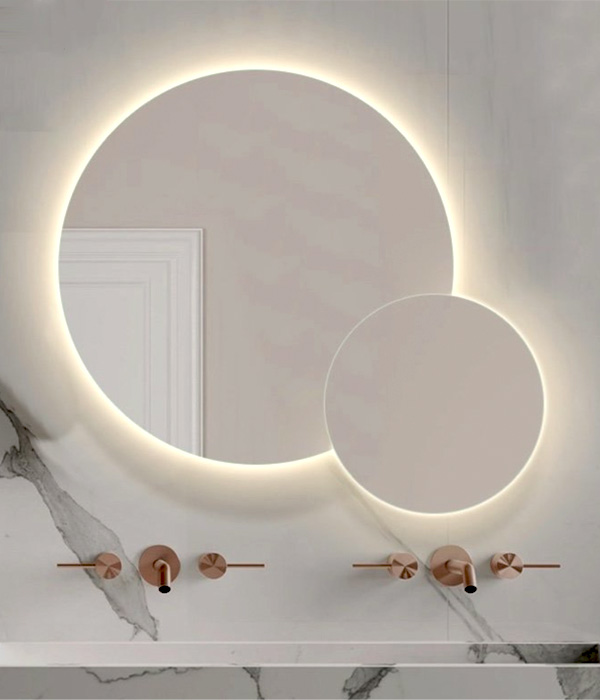 Source 
When you have siblings or little ones at home, more often than not you have to squeeze and share the bathroom sink with them in the morning. This double circle mirror would allow you to get ready for the day side by side, without having to fight for mirror-space
The mirror also comes fitted with LEDs on the back and has features like anti-mist, Bluetooth control and even a touch screen to adjust the settings. Its simple and clean appearance also makes it a good addition to any modern-minimalist bathroom design. 
Price: $290 – $299
Shipping fee: Calculated in cart
Get it from: Singapore Bathtubs
7. Amazon – Round accented gold mirror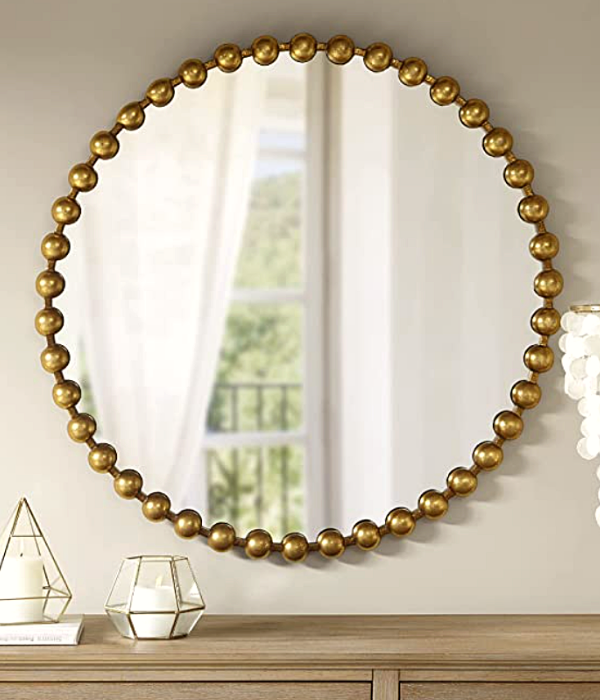 Source
Subtle gold detailing, like the beaded frame of this mirror, makes the space look refined while also adding a touch of warmth. Alongside that, the round shape of the beading also complements other round or curved fixtures in your bathroom. 
With the way the light bounces off the frame, it's a good alternative to having LEDs attached to the mirror, while maintaining the same bright appearance.
Price: $356.13
Shipping fee: Free
Get it from: Amazon 
8. Shopee – Mirrored cabinet with LED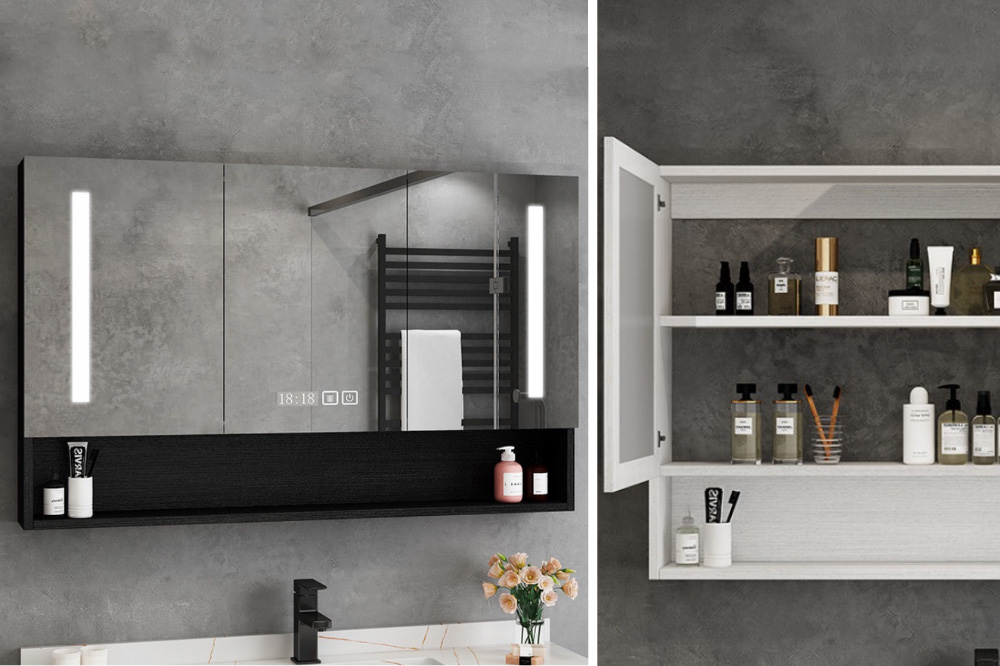 Source
When space is limited, functionality often takes precedence over style – but why not have both? This mirrored cabinet comes with a ton of storage space and is fitted with LED panels on the side.
The design of the mirror itself is kept sleek and simple with the option of black or white for the shelving. As an added feature, there's also a clock displayed on the centre panel so you can keep track of time while taking that long, relaxing evening bath. 
Price: $89.61 – $130.40
Shipping fee: Free
Get it from: Shopee
9. AMARA – Round Aquanova mirror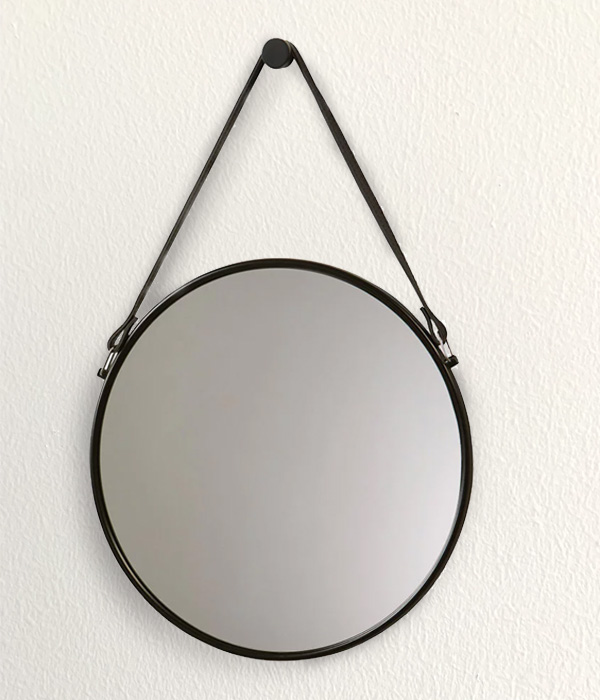 Source
If you're planning on going for that posh vibe with darker furnishing choices, then this matte black mirror will give your entire bathroom design a lift. The matte sling has a belt-like look which honestly channels luxury. 
With a silver clasp on both sides, you can match it with the finishes of the other pieces you have in your bathroom for a more cohesive look. 
Price: $222
Shipping fee: $28.89
Get it from: AMARA
10. Lazada – Mirror cabinet with shelves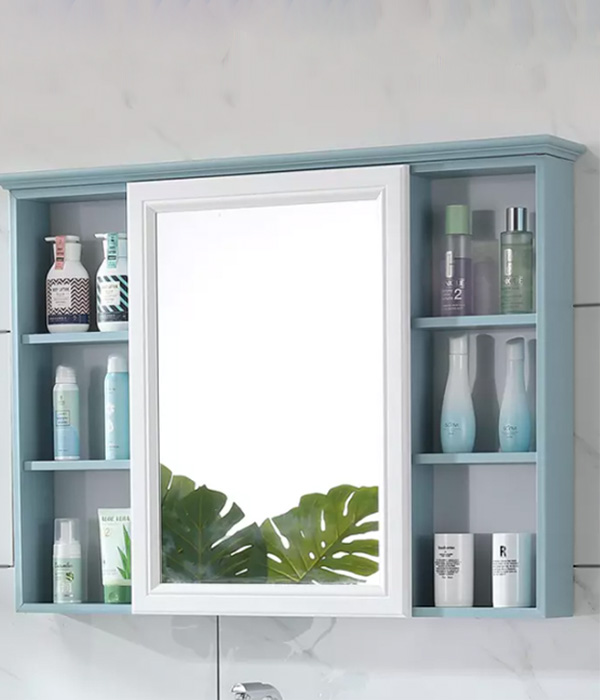 Source
Affordable pieces don't have to look cheap – this blue and white cabinet for example gives off a nautical vibe and comes in different sizes, all at a lower price point. The sizing runs from 59cm all the way to 99cm, with the shelves arranged to maximise storage without making the cabinet appear too bulky. 
And behind the mirror, there's even more space for you to store your toiletries – especially the items and products that you want to keep out of view. 
Price: $84.09 – $98.79
Shipping fee: Free
Get it from: Lazada
11. AliExpress – Framed rectangle mirror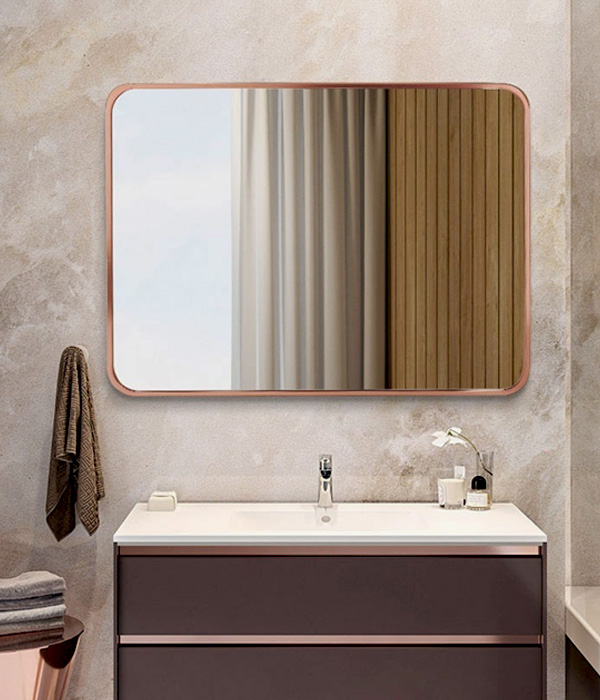 Source
Oftentimes, the best way to ensure that everything appears crisp and clean is to opt for simpler furnishings. You can pick between gold, black or rose gold for the frame of this mirror – 3 colours that give off a particularly elegant vibe.  
The large size of the mirror's surface also adds to the luxe feel by opening up the space and making the bathroom appear more spacious. Additionally, the fuss-free design makes it easy to clean and maintain so your toilet and mirror selfies will always be looking spotless. 
Price: $95.02 – $156.92
Shipping fee: Free
Get it from: AliExpress
12. AMARA – Cloudnola tinted mirror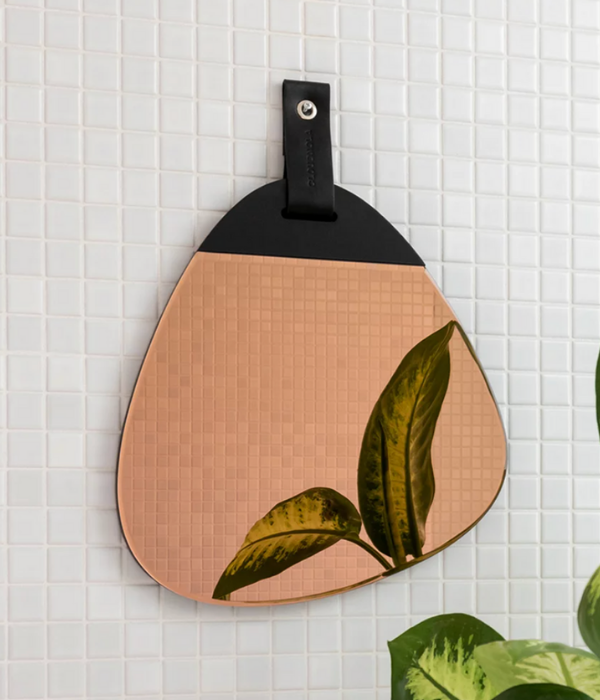 Source
If you've been on the hunt for a smaller mirror to place in the shower or in a less roomy bathroom, then this tinted mirror should do the trick. The coloured surface is a unique feature that can be utilised to maximise aesthetics in small spaces without making the area appear too cluttered.  
The leather loop on the top also allows you to easily remove the mirror so you can hang it in other rooms of the house – convenient and stylish. 
Price: $87
Shipping fee: $28.89
Get it from: AMARA 
13. Farfetch – Seletti lipstick mirror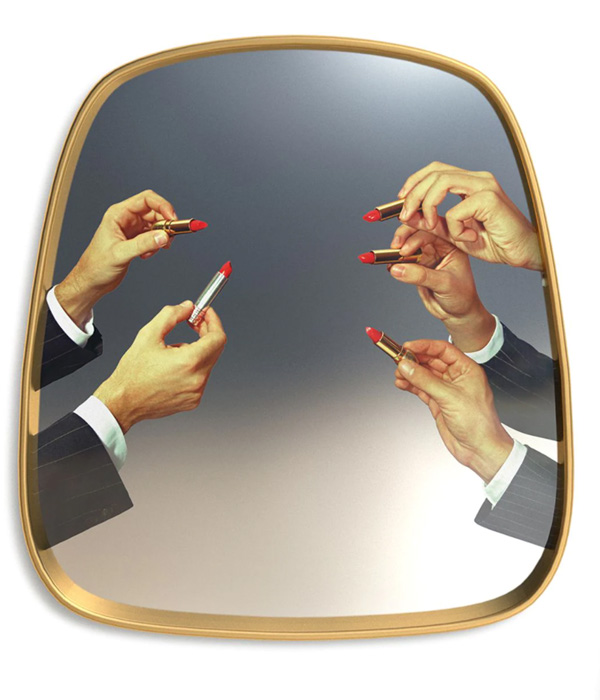 Source
For a touch of character or just to supplement a retro theme, this designer Seletti mirror doubles as a decor piece for your bathroom while still serving its purpose well. Made in Italy, the graphic design gives off major 60s vibes with the gold and silver lipstick cases and pinstripe suit sleeves depicted on the mirror itself. 
The thick gold border also adds to the old-timey feel and can be used as a ledge for you to store or display smaller items like a candle or lip balm. 
Price: $477
Shipping fee: $20
Get it from: Farfetch 
14. Urban Mood – Alistair heart mirror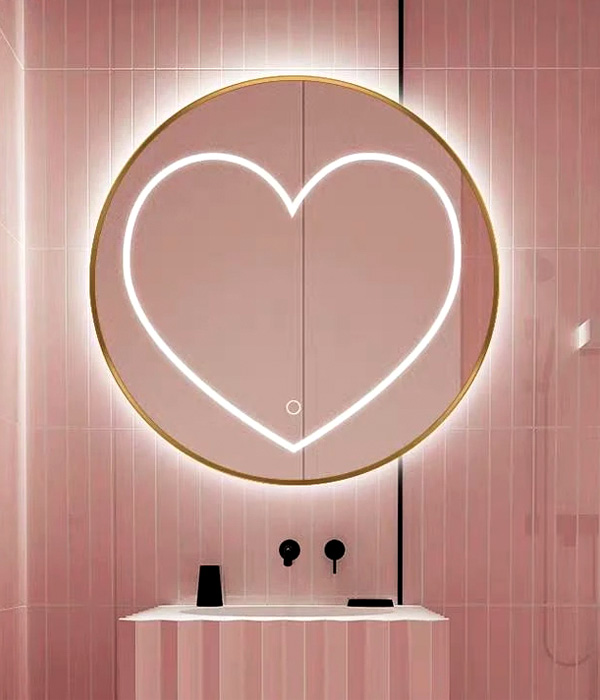 Source
You could just get a regular round mirror with LEDs attached, but if you fancy something a tad more unique then this heart version will tick all the right boxes. While the mirror itself is round with a gold frame, the LEDs reveal a large glowing heart when switched on.
The lights operate via the touch screen button on the screen itself. With this mirror, it's time to take adorable well-lit selfies in your bathroom and show off your makeup looks. 
Price: $320
Shipping fee: Calculated in cart
Get it from: Urban Mood
15. Smallable – Hubsch Mirror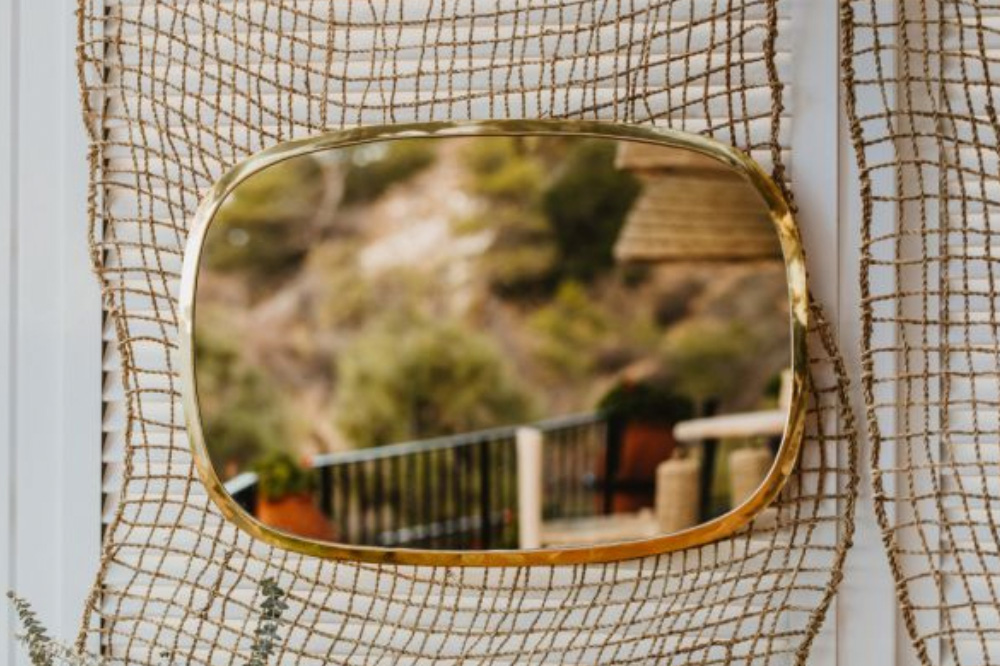 Source
Shaped similar to a car's rear view mirror, this piece is available in 3 sizes so you can have a mirror that spans across the entire width of your sink. In fact, the largest model is 78cm long to help you achieve that grand hotel bathroom appearance. 
The curved edges also help to soften harsh and narrow corners in your bathroom by playing down the sharpness of glaringly straight lines – this, in turn, gives a more homey feel to your toilet.
Price: $391 – $409
Shipping fee: $56
Get it from: Smallable 
16. Shein – Hexagonal Wall Stickers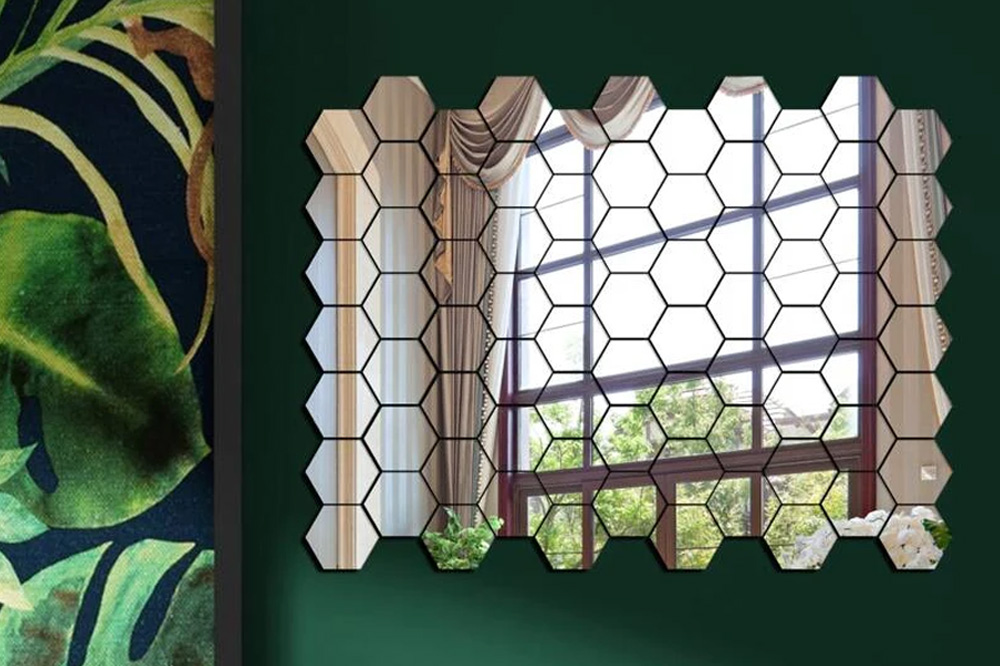 Source 
If you've changed your mirror several times and have damaged the wall, then it's time you consider mirrored wall stickers instead. Not only are they easy to apply and remove, but it allows you to create a unique design that fits your bathroom size and style.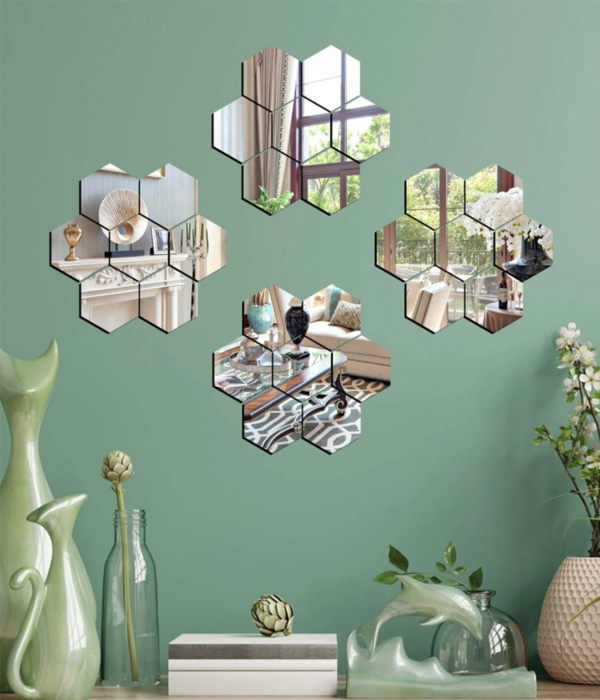 Source 
You can also use them to bring light into the space and make the walls look more interesting by pasting them around in unique shapes. These hexagonal pieces, for example, can be shaped into hearts, flowers and even used to fill a whole wall up. 
Price: $4.50 (24pcs)
Shipping fee: $2.36
Get it from: Shein
17. Anthropologie – Calluna arched mirror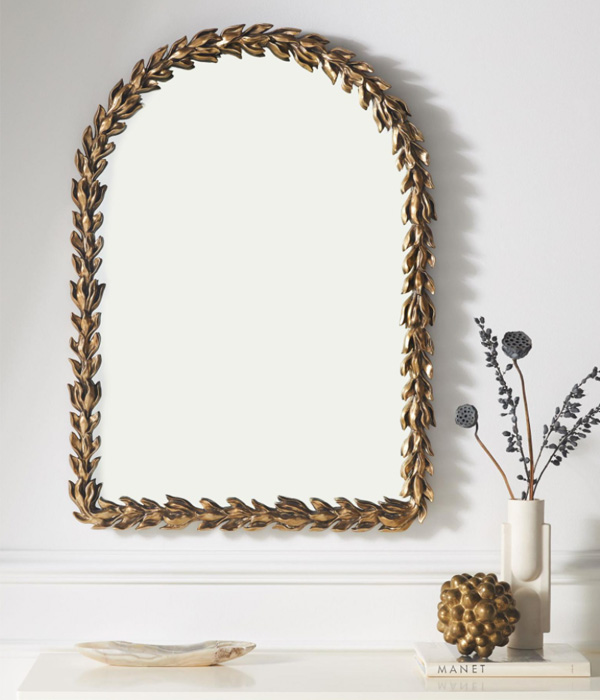 Source
This arc-shaped mirror has a fastidiously decorated frame with floral ornaments in bronze lined up all-around. Paired with either dull gold or other bronze pieces, it'll give your bathroom a regal flair without appearing too over-the-top.
You can alternatively pair the mirror with floral decor to create a garden-themed bathroom – the dull shade of the bronze will complement shades of green seamlessly. 
Price: $811
Shipping fee: Free
Get it from: Anthropologie
18. Selfridges – Raawii round glazed mirror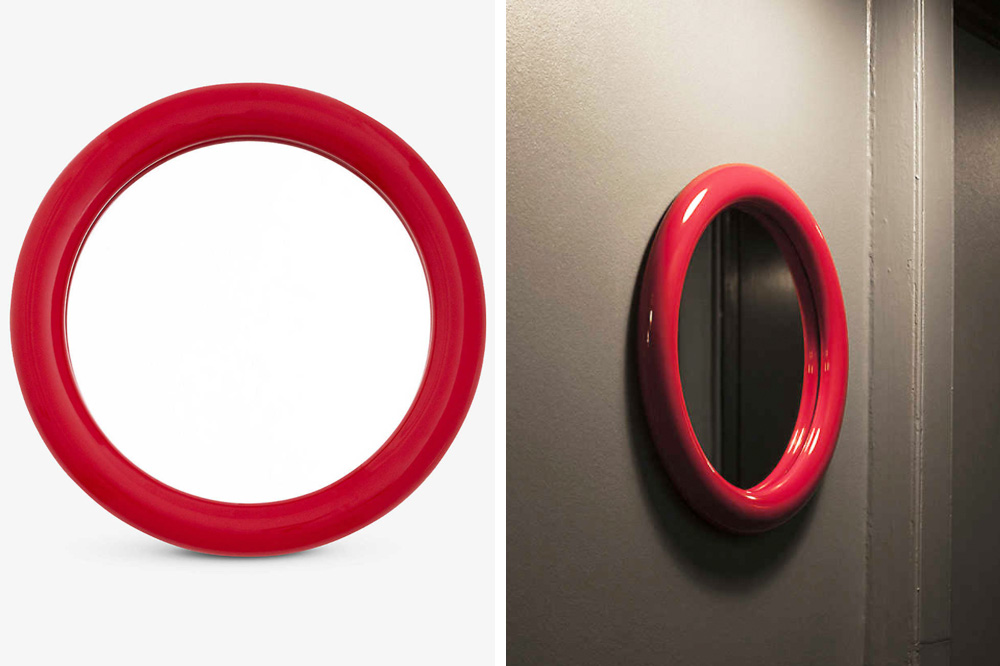 Source
This glazed ceramic mirror is another one to add to a retro or pop-art themed bathroom. The bright red is a great way to bring some colour into an otherwise dull space while keeping the look sleek and clean. 
Aside from red, the mirror also comes in blue, yellow, baby pink and vintage green. To really give your bathroom that playful edge, consider getting different colours and play around with having mirrors scattered about the space. 
Price: $300
Shipping fee: $40
Get it from: Selfridges
19. Urban Mood – Clover mirror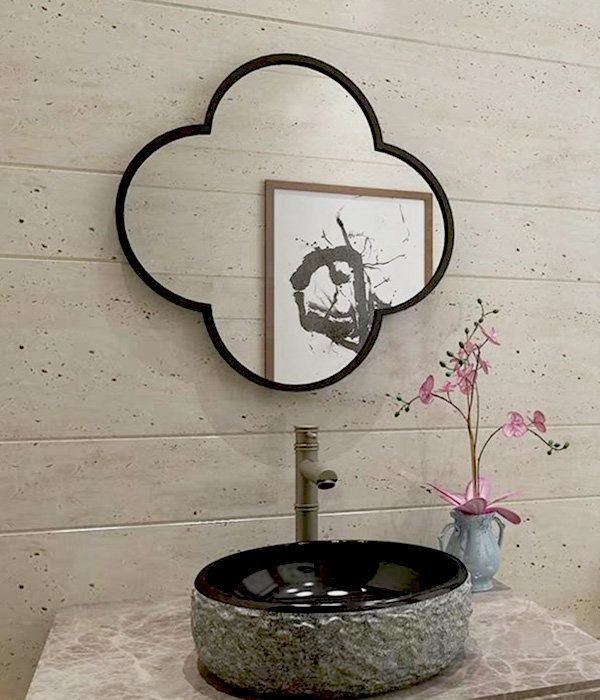 Source
For a dose of luck in the morning, why not select a clover-shaped mirror like these ones which come in black, gold, bronze and white? The design helps to give the bathroom some depth and character without appearing too showy. 
While the mirror would go well with a floral theme, it also suits more minimalist designs given its symmetrical structure and thin frame. 
Price: $110 – $320
Shipping fee: Calculated in cart
Get it from: Urban Mood
20. ezbuy – Asymmetrical LED mirror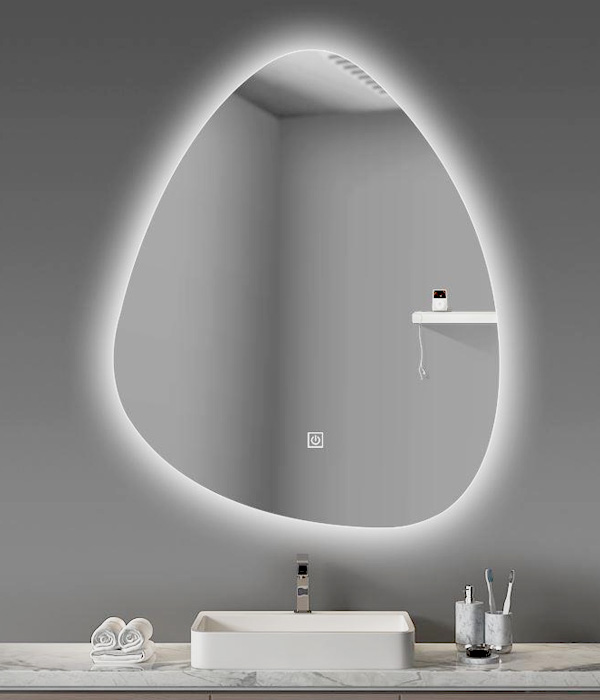 Source
This asymmetrical mirror comes with LED lights on the back which can be adjusted to appear warm or white. This means you can do your makeup and check how it looks under both settings before giving the look a pass. 
The warm light also gives the area a more pleasant and welcoming vibe compared to a white light, so you can really feel relaxed while taking a bath or getting ready for work in the morning. 
Price: $69.79 – $229.79
Shipping fee: $7.70
Get it from: ezbuy 
These Bathroom Mirrors Will Give Your Bathroom A Touch Of Class & Character
Whether you decide to keep the theme minimalist or more adventurous, one of these mirrors will surely lift your bathroom look. You can get creative with your decorations and make sure to fill the toilet only with items that spark joy – after all, it's your safe space to relax, think and get ready for the day. 
Also read:
25 Online Stores To Get Aesthetic Home Decor in Singapore For Those Who Can't Taobao