Beauty Launches in May 2019
This May, beauty brands are back with glow-boosting ingredients. Vitamin C continues to reign in the world of antioxidants, and it's obvious to see why. It's a powerhouse ingredient that speeds up cell renewal and lightens dark spots, so you can have clearer, younger-looking skin.
Also sharing the skincare limelight this May are glycolic acid and calendula extract. Glycolic acid gently exfoliates while calendula extract soothes redness and irritation, so it's easy to customise your routine depending on your needs.
To help you navigate the load of new beauty drops, have a look at these skincare and makeup products we tried and tested—all of which are launching in the month of May.
Drunk Elephant D-Bronzi™ Anti-Pollution Sunshine Drops ($50)
What is it: An antioxidant-rich tinted serum that delivers a bronzed glow to the skin. Contains cocoa powder to mimic the benefits of vitamin D.
Why I like it: My current liquid foundation is a little too pale for my skin tone, so I mix half a pump of D-Bronzi in to deepen and warm up the shade. The serum contains oils, which does turn my matte foundation into a satin-finish one, but it never looks greasy.
What I don't like about it: This serum isn't going to impart much colour on darker skin tones, so it may feel like a lightweight, tinted moisturiser for those with that skin type.
Rating: 4.5/5
This Works Morning Expert Vitamin C Power Mask ($69.50, available at Sephora from 9 May)
What is it: A gentle, exfoliating mask that contains water-activated vitamin C granules to brighten the skin and restore radiance.
Why I like it: A whiff of this mask, and it's almost as though I've been transported to a spa. I massage the gel onto dry skin before dampening my fingers and continue massaging for a minute. It works as a quick morning facial in the comfort of my bathroom.
What I don't like about it: There's a tiny amount of fragrance in the ingredients but it hasn't caused any redness or breakouts thus far.
Rating: 4/5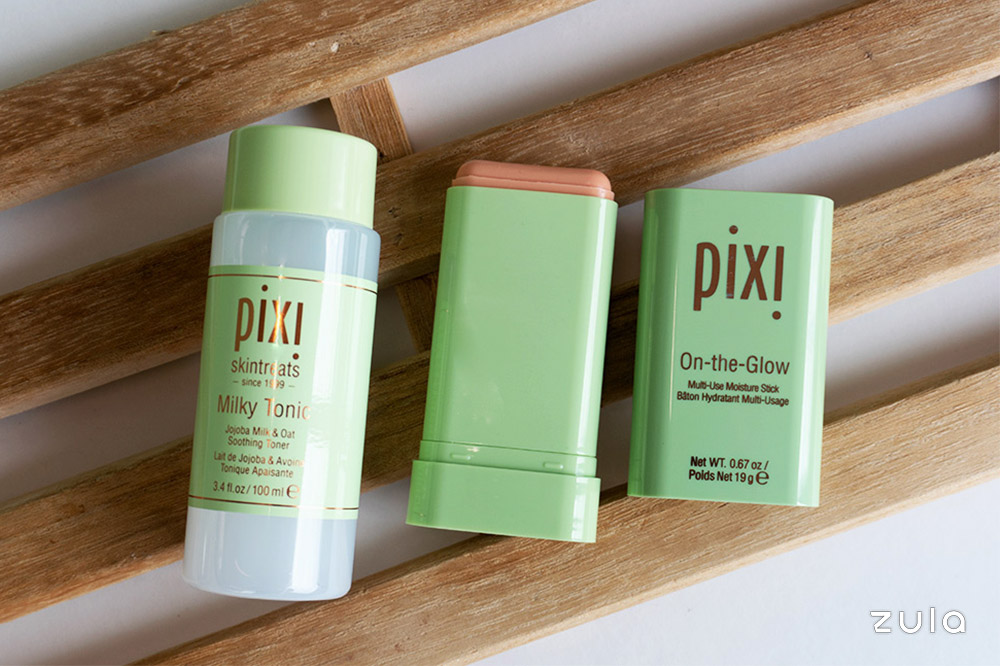 What is it: An emulsion toner for sensitive skin, and a balm moisturiser for the face, body and hair.
Why I like it: The Milky Tonic is by far the gentlest toner in Pixi's skincare range. The cloudy formula is very moisturising and bears a slight citrus aroma that doesn't irritate or linger on my skin. The On-the-Glow stick is a handy balm that doesn't feel overly greasy if applied on areas of the body.
What I don't like about it: If your skin reacts to citrus extracts, you may want to skip the Milky Tonic. Glycolic acid found in Pixi's On-the-Glow stick can cause sun sensitivity, so I can't apply and reapply this during the day. Instead, I'll use it on my lips or any dry patches on my body at night before I go to bed.
Rating: 4/5, 3/5
What is it: A matte, long-wear concealer to be worn under or over foundation, and a setting powder that contains pearl pigment to give the skin a soft-focus effect.
Why I like it: The concealer does live up to its promise of long hours of wear without fading, so even though it is a handy product to whip out for touch-ups, I didn't have to do so. The setting powder comes with a convenient brush that's built into its cover, which adds a chic touch to the packaging.
What I don't like about it: After a couple of hours, the concealer started creasing under my eyes but it looked alright on the rest of my face, so this isn't the best for dry skin types. As the setting powder can also accentuate dry patches, try not to brush on too much of it.
Rating: 3/5, 3.5/5
Also read:
Jemma Wei Shares Her Beauty Routine And Why She Wakes Up At 5am Every Day
What is it: A serum that contains an advanced form of vitamin C that's 50 times more potent than traditional vitamin C.
Why I like it: For a vitamin C serum, the formula is very gentle and moisturising. Since it doesn't contain any added fragrances, the serum doesn't sting or irritate my reactive skin.
What I don't like about it: If you're unfamiliar with vitamin C-infused products, know that it's common for most of them to have a meaty scent. This serum pretty much smells like ham, and unfortunately, it doesn't dissipate after a few minutes.
Rating: 3/5
What is it: A daily moisturiser inspired by the brand's bestselling Calendula Herbal-Extract Alcohol-Free Toner, made with high concentrations of calendula extract and petals.
Why I like it: The refreshing gel-cream texture is the ultimate pick-me-up for dreary mornings. Like a serum, it sinks quickly into my skin and dries matte, so it doesn't feel sticky or look shiny.
What I don't like about it: It claims to "visibly reduce redness in two weeks", but I didn't notice that, probably a result of lemon oil being one of the ingredients. While it does make the cream smell like a delicious lemon meringue tart, it's not ideal for sensitive skin.
Rating: 4/5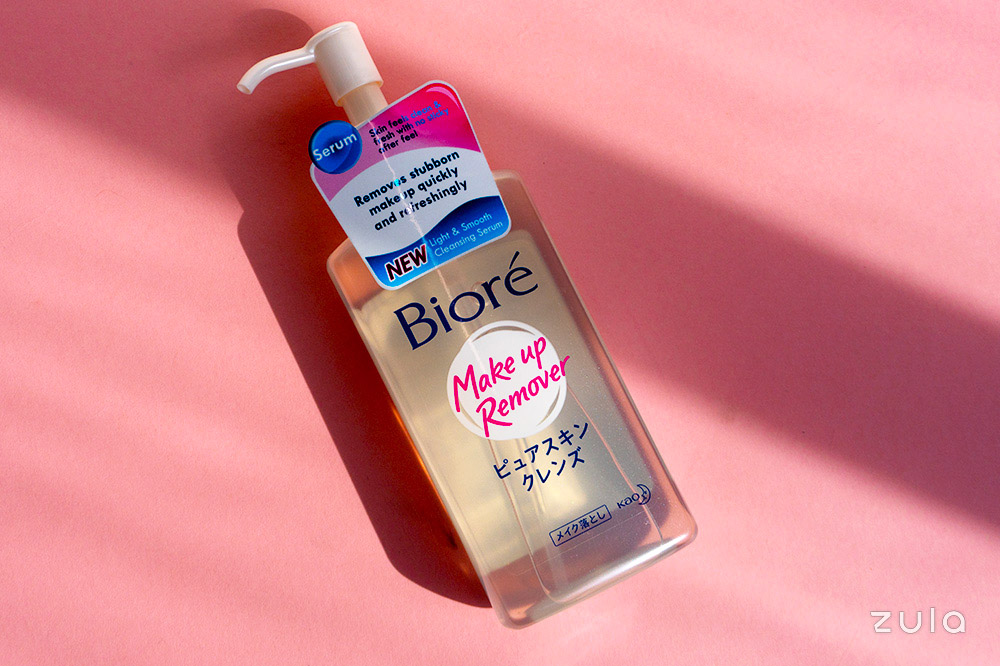 What is it: A gentle makeup remover with a serum-like consistency.
Why I like it: The thin, gel texture of the cleansing serum feels comfortable on the skin and it takes my makeup off quickly after rinsing. My skin feels hydrated and not stripped of moisture, so I can go in with a second cleanser in the evenings.
What I don't like about it: The strong fragrance lingers on the skin even after it's been rinsed off, so there's a chance it will cause some irritation to sensitive skin.
Rating: 3.5/5
Payday Pick May 2019: Drunk Elephant D-Bronzi Anti-Pollution Sunshine Drops
Drunk Elephant's founder, Tiffany Masterson, says the product is "sunshine in a bottle without the damage," which sums up the D-Bronzi perfectly. My current liquid foundation is a little too fair for my skin tone, so I've been deepening its colour with the tinted Sunshine Drops.
When applied with a damp makeup sponge, the concoction adheres to my skin easily and warms up my pallid complexion. As mentioned, the D-Bronzi does turn a matte foundation into a satin-finish one, so adjust the ratio of foundation to serum according to your preference. I also apply a smidge of D-Bronzi on my eyelids in place of eyeshadow to pull my look together.
Although it contains marula and black currant seed oils, the serum doesn't feel heavy or greasy. Instead, those antioxidant-packed ingredients hydrate my skin and heal it from UV damage. So if you're looking to add a soft bronzing effect to your everyday makeup look, here's a product for you.
Also read: