Zula Team Tries: Benefit Cosmetics Roller Liner Eyeliner
During my recent search for a longwear liquid eyeliner, I realised Benefit Cosmetics' Roller Liner was among the top-rated ones on Sephora's website, with a slew of 5-star reviews on the product page. The liquid eyeliner promised 3 things: that it has a waterproof formula, glides on smooth and lasts for 24 hours.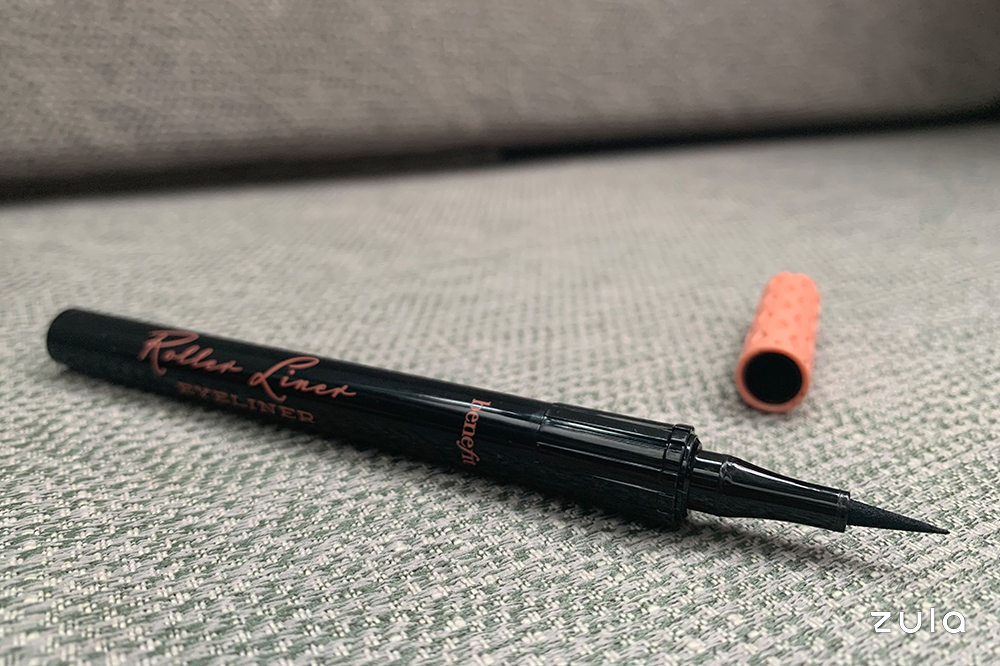 I decided to put the eyeliner's bold claims to the test by tasking 8 members of the Zula team (myself included) to wear this eyeliner for an entire day. Minimal touch-ups were allowed if needed. They then had to report their selfies and findings at 9am, 1pm and 9pm.
Keep reading to see how Benefit Cosmetics' Roller Liner eyeliners performed.
1. Annabelle
Previous eyeliner experience
"I used to wear eyeliner every day (shout out to Alexa Chung's cat-eye look circa 2013) but stopped doing so a few years ago. My double eyelids get increasingly oily as the day progresses—even with an eyeshadow primer, any form of eyeliner becomes a smudged mess by midday. Now, I just use an eyebrow pencil and mascara."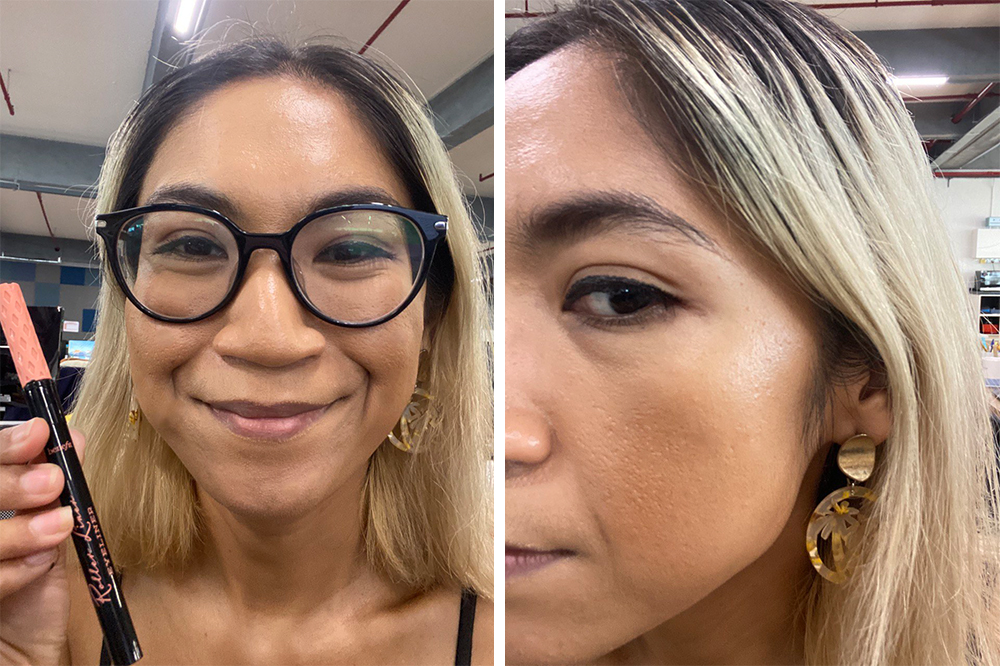 9AM: First impressions
"When I first applied the Roller Liner, I was relieved to see the brush tip was more like a marker tip than a paintbrush because the felt tip would mean more precise application.
Drawing a straight line was smooth and fuss-free at first. The liner was very pigmented and the liner dried quickly upon application. However, the quick drying time also meant that when I missed a spot and had to go over the existing liner, it was difficult to do so. I had to go over it a few times before doing it successfully."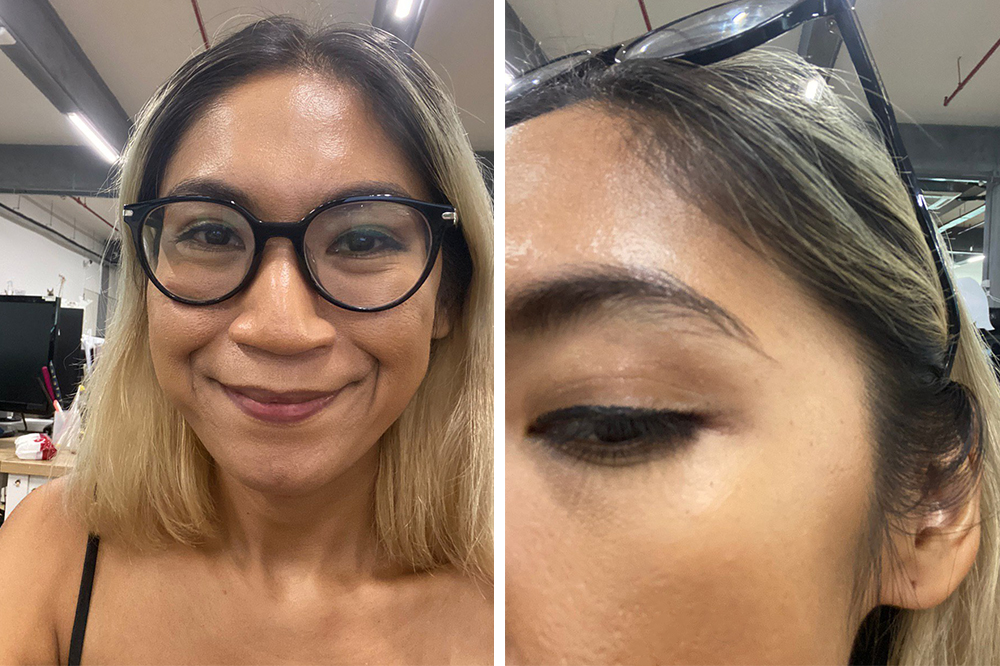 1PM: After lunch
"I ate at my desk, so I didn't sweat. Shockingly, 80% of the liquid liner remained on my lids. The eyeliner on my right eye was intact. But the part that was patchy on my left eye was now full-on smudged and some had transferred below my eye as well."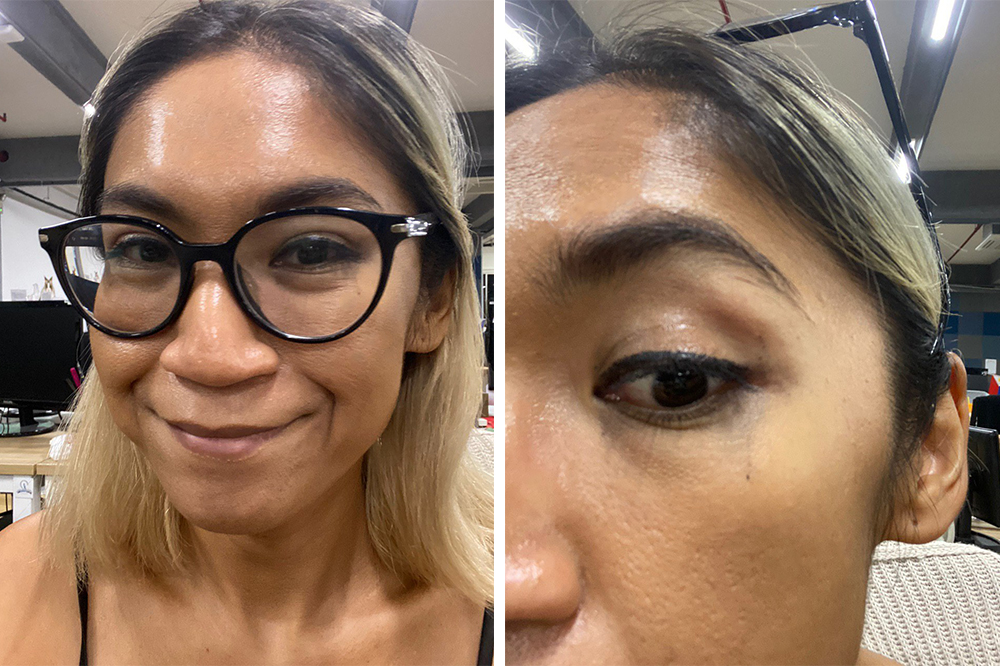 9PM: After dinner
"By 9pm, I still hadn't stepped out of the office once after applying the eyeliner, so there was no chance for sweat to wreak any havoc on my eyes. Despite my eyelid becoming an oil slick by that time, the eyeliner on my right eye remained intact, which was pretty impressive.
However, the left-eye situation was right out of a horror story—the eyeliner had smudged even further below and at the inner corner of my eye too. All I can say is I'm glad I didn't bump into anyone on the way out of the office."
Final thoughts
"The Jekyll and Hyde effects  of this eyeliner reinforced my current eye makeup routine, i.e. no eyeliner unless it's somehow mandatory."
2. Jielin
Previous eyeliner experience
"Liquid eyeliner was actually one of the first makeup products I tried when I was younger. But it has never been a staple in my makeup routine because getting both wings even is too much of a hassle. I have oily eyelids, so eyeliners would start to bleed or crease by midday. I'm looking for a liquid liner that can stay on without the need for eyelid primer. It should also be removed easily with micellar water or a makeup wipe."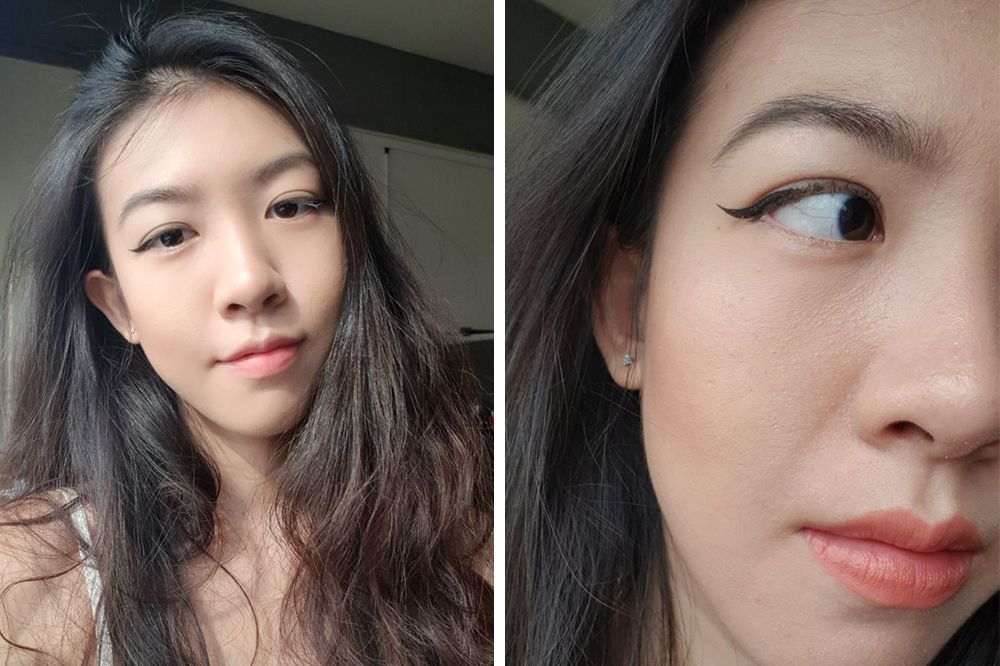 9AM: First impressions
"I liked the firm tip of Benefit Cosmetics' Roller Liner as it gave me more control to create a cat eye. When I started on my right eye, the sharp point of the eyeliner created dark, clean lines. But when I got to my left eye, the ink started to dry up and it didn't look as pigmented as it did on the right eye.
Perhaps it was catching on to the powder I had set my face with, so I decided to clean the powder off with a tissue. That didn't really help but I managed to draw a decent wing on."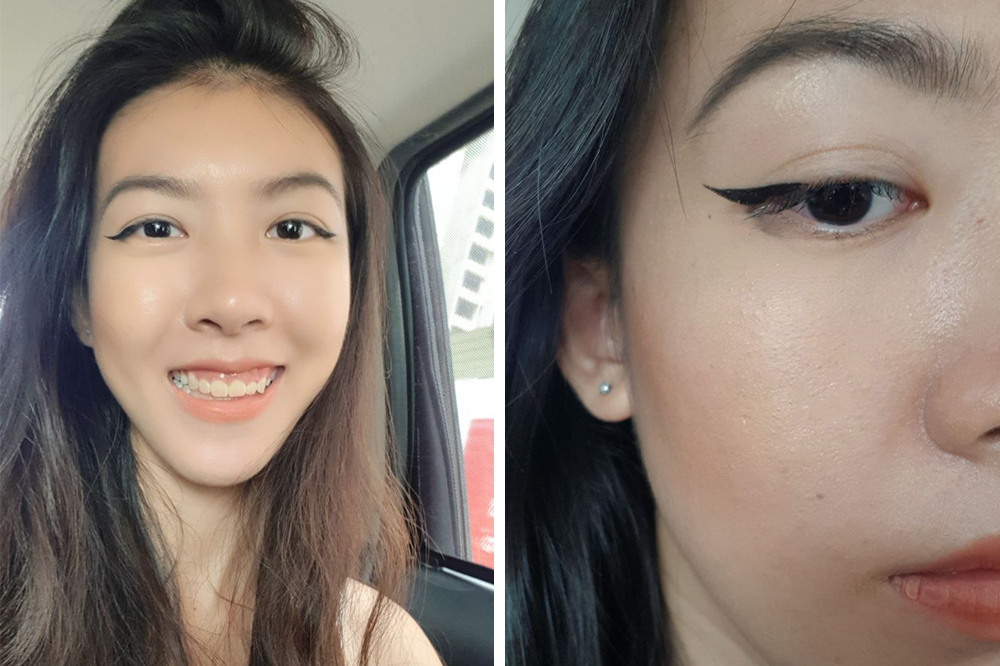 1PM: After lunch
"I was on a video shoot, which was held mostly in air-conditioned areas. Lunch was outdoors, but I didn't sweat that much. The eyeliner definitely smudged around the corner of my eye, creating dark circles. Those pointed winged tips I drew on didn't look as defined anymore, but the overall shape was still there."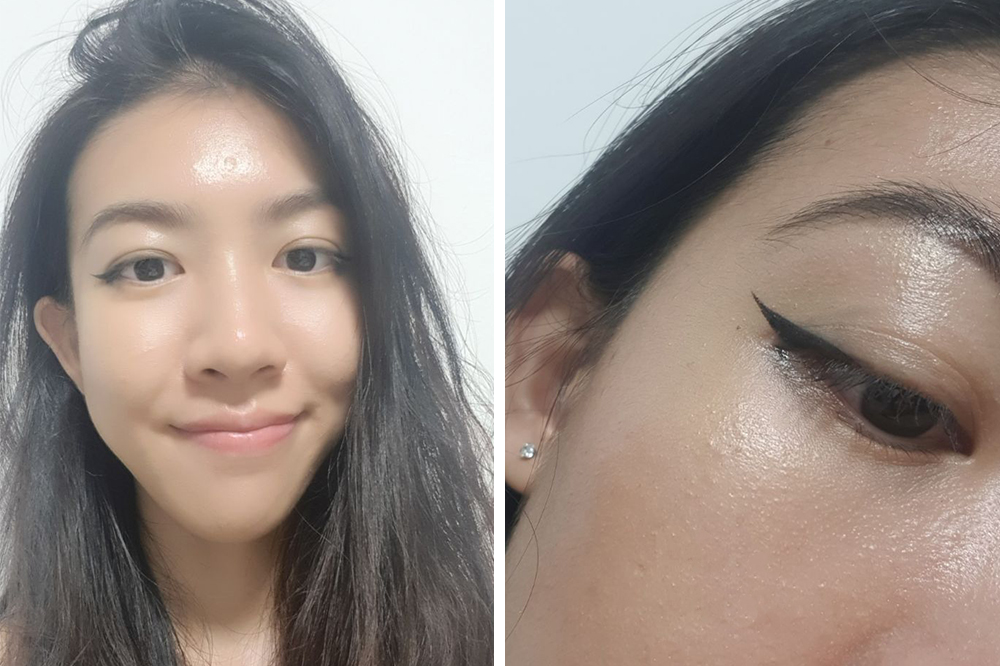 9PM: After dinner
"The shoot went on for a little over 6 hours and my face started getting oilier than it usually would. By the time 9pm rolled around, the eyeliner had bled and smudged even more."
Final thoughts
"I might have to prep my eyelids with a primer next time. Otherwise, I probably wouldn't wear this out again."
3. Sheryl
Previous eyeliner experience
"I have hooded eyelids, so eyeliner usually transfers to the fold of my eyelids as soon as I blink. I also dance and do sports regularly, so I don't really see the point of wearing eyeliner."
9AM: First impressions
"Since I don't really know how to draw on eyeliner, I asked Jade for some help. The ink seemed to dry very quickly, which is good, but it also meant that she couldn't go over certain areas without causing any flaking."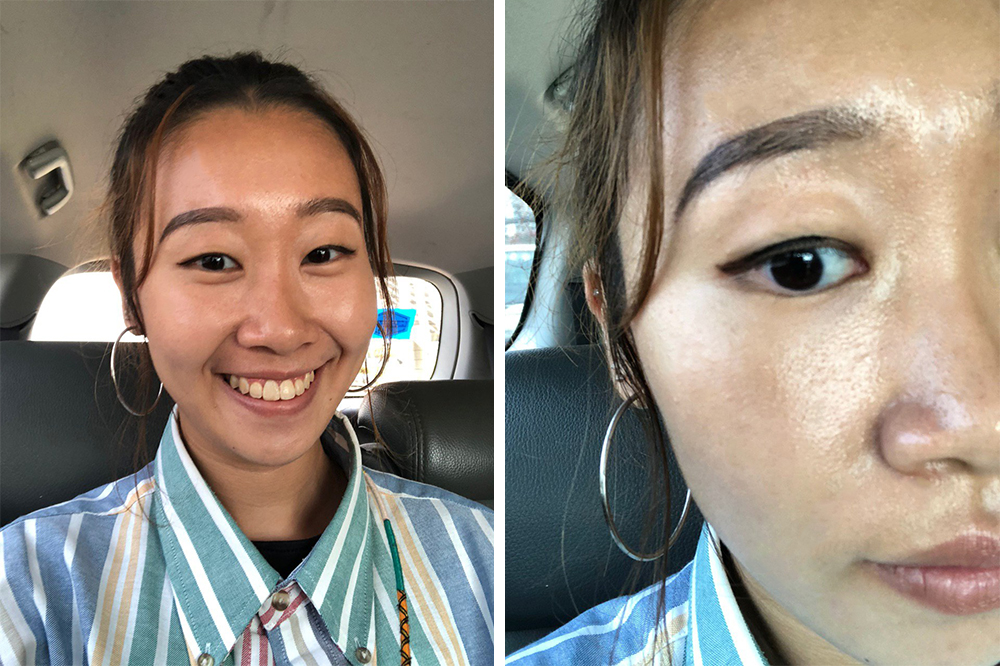 1PM: After lunch
"I was out for a shoot the whole day. By lunch time, the eyeliner had smudged a little, but it didn't look too bad. It only transferred onto the upper lid. The general shape was still there, so you couldn't really tell it had smudged unless you came very close."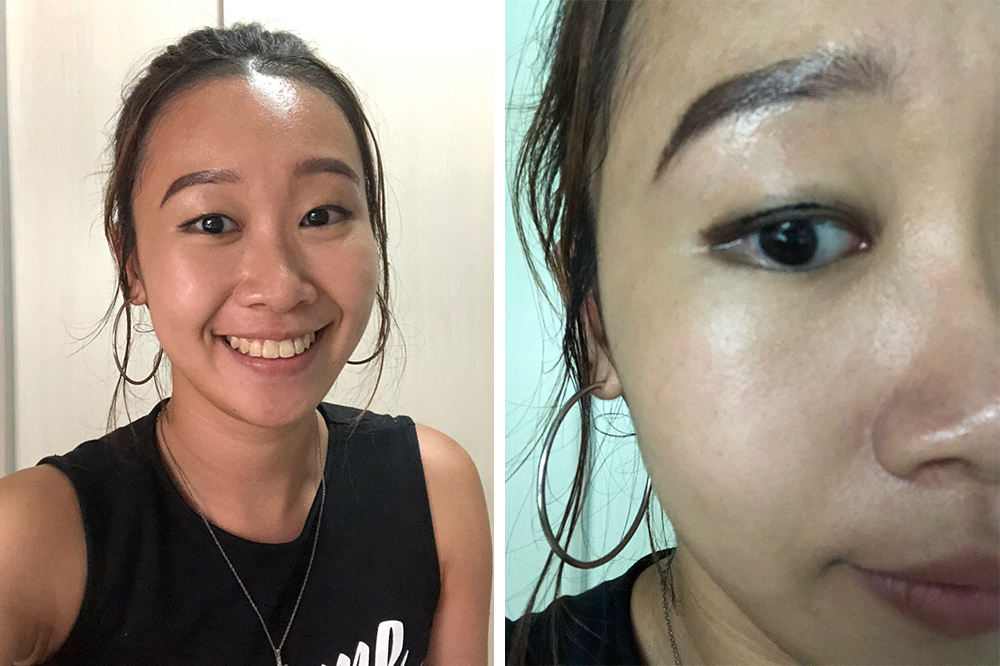 9PM: After dinner
"My eyes tend to get watery when I leave eye makeup on for too long, so I teared a little in the later half of the day. I did my very best to avoid rubbing my eyes. But by the end of the day, the eyeliner had smeared all over my eyes, including the undereye area. I looked like a panda or as though someone had punched me."
Final thoughts
"This eyeliner created a huge mess on my lids and it was hard to clean off too. It definitely did not convert me into someone who'd wear eyeliner more regularly."
4. Penny
Previous eyeliner experience
"I only use a pencil eyeliner when there's a big event, so it's definitely not a staple in my makeup routine. Going into this wear test, I had no idea what to expect from a liquid eyeliner other than hoping it wouldn't transfer everywhere and make me look like I'd just bawled after watching The Notebook."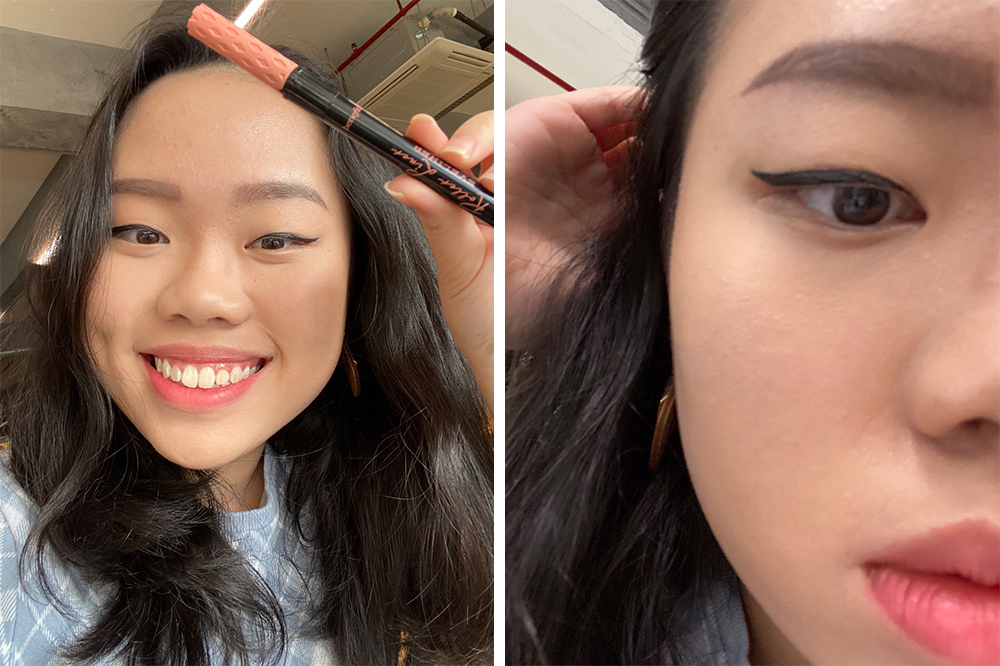 9AM: First impressions
"Since I don't have much experience with liquid eyeliners, I got help from Jade to apply Benefit Cosmetics' Roller Liner on my hooded eyelids. She went over the line a few times because it tugged on my skin, and she had to clean the eyeliner up after. The eyeliner looked very pigmented, and I hoped it'd last all day."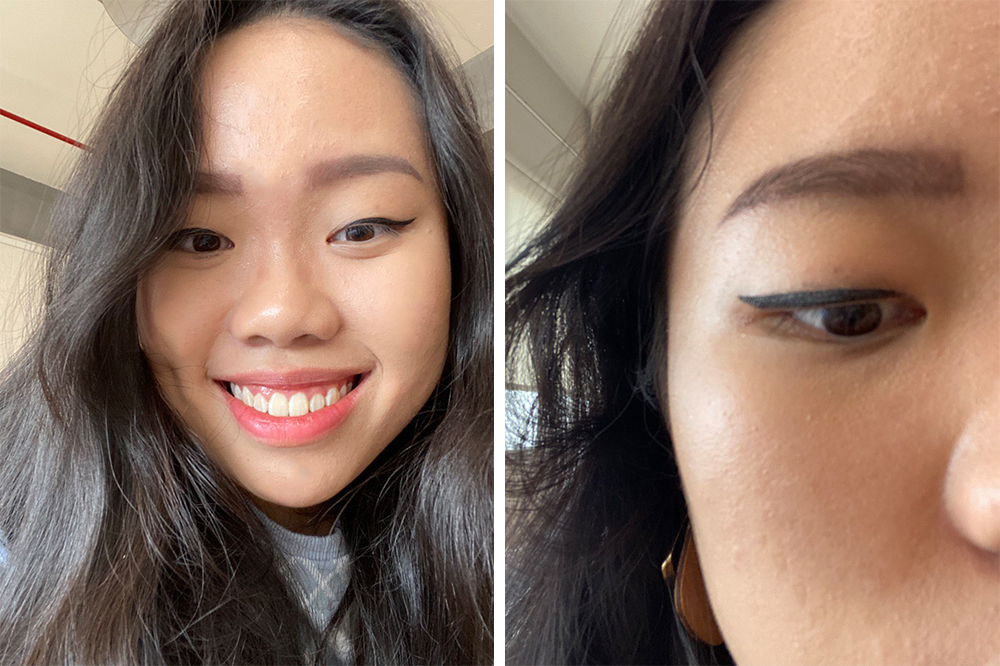 1PM: After lunch
"After lunch, the eyeliner had smeared onto my undereye area, so it kinda looked like I'd drawn it on my lower lash line too. I was really tired that day and my eyes kept tearing up, I was blinking hard to ease my eyes, which may have contributed to the transfer."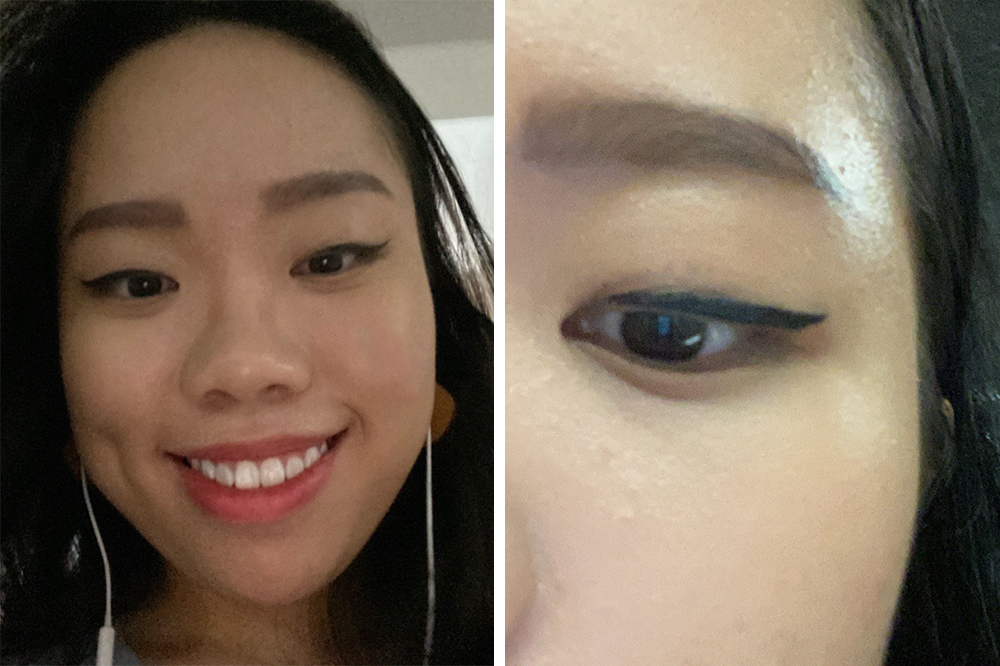 9.30PM: After dinner
"When I was about to get off work at 6pm, I cleaned up the stains because I didn't want to risk looking cray cray outside. After getting home, I watched episode 10 of Love Is Blind and teared up so much. The liquid liner had transferred a little to the top lids, but it wasn't very noticeable from afar."
Final thoughts
"The liquid liner stayed on for 12 hours, but there was plenty of smudging, which required clean-ups throughout the day. I would not wear this out because I'd constantly be concerned about the liner smearing on my eyes."
Also read:
ColourPop's Mulan Makeup Collection Lets You Get Down To Business Even Though The Film's Release Has Been Delayed
5. Syiqin
Previous eyeliner experience
"Liquid eyeliners are not an essential part of my daily makeup routine, but I do a cat eye when I wear a full face of makeup. Despite having oily eyelids, I've tried drugstore eyeliners that were able to last the entire day. I have yet to try pricier eyeliners, so I'm excited to see if Benefit's will work well."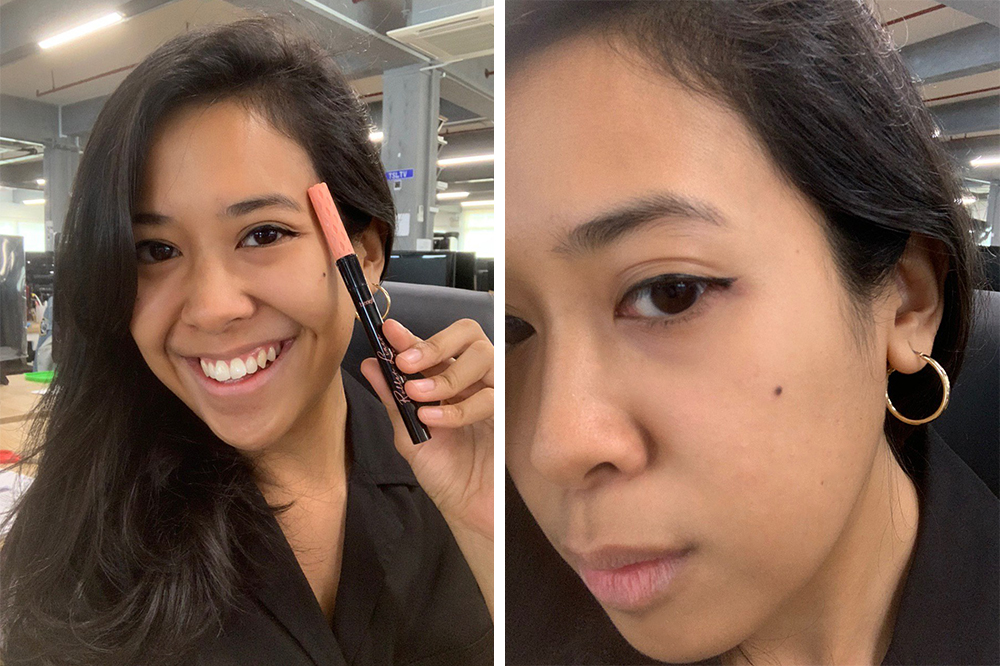 9AM: First impressions
"The Roller Liner's brush is a bit longer than what I'm used to. It's not stiff enough too, so it was hard for me to create a clean line. I couldn't drag the tip across my eyes and had to draw small strokes instead. I liked the pigmented formula, but it dried too quickly. No liquid came at one point, so it was a struggle to create a nice wing."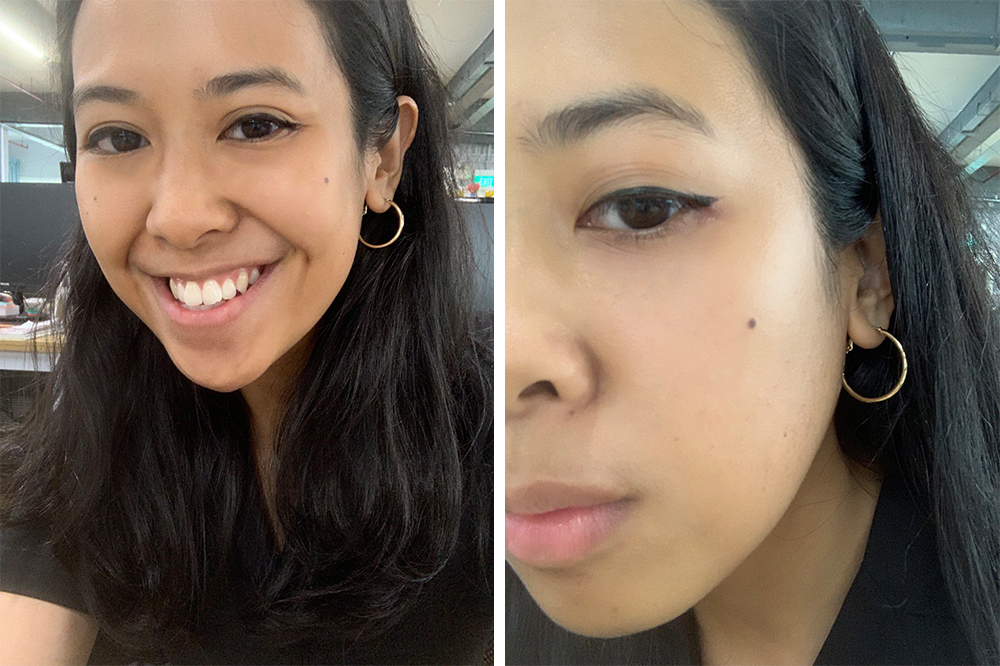 1PM: After lunch
"After lunch, the eyeliner stayed on my lids and was still as pigmented. However, it had slowly started to smudge, even though I was in an air-conditioned office the whole time."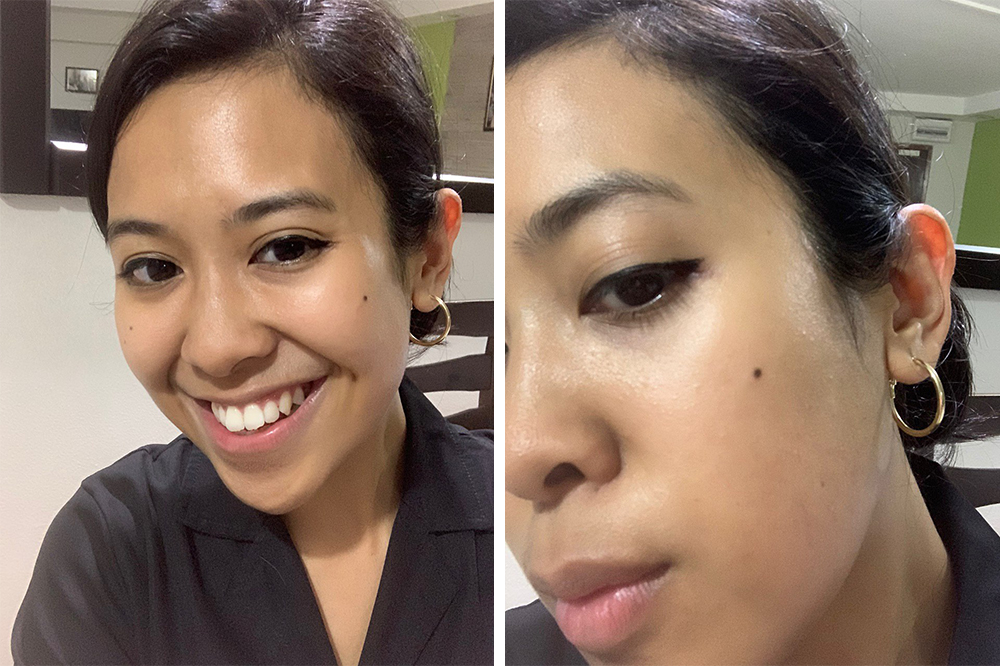 9PM: After dinner
"I had dinner at East Coast Lagoon, so considering the environment, I expected the liner to smudge even more. The liner on my left side smudged slightly, but the right side transferred on my undereye area like crazy!"
Final thoughts
"Drawing a clean line with the eyeliner brush was big enough of a hurdle for me. I wasn't expecting it to smudge throughout the day as much as it did. If I were wearing a full face of makeup, it would be really hard to fix the mess it creates. Along with the eyeliner, I'd have to wipe off the concealer under my eyes and start from scratch."
6. Cheryl
Previous eyeliner experience
"Thanks to my hooded and oily lids, eyeliner tends to transfer to the top of my lids and leave an unflattering smudged line. I only wear eyeliner on more formal occasions, which means I look for waterproof eyeliner to ensure my makeup stays in place.
I've yet to find my ideal eyeliner—one that's budge- and waterproof, easy to apply, pigmented and doesn't stain my lids when I remove it after a long day."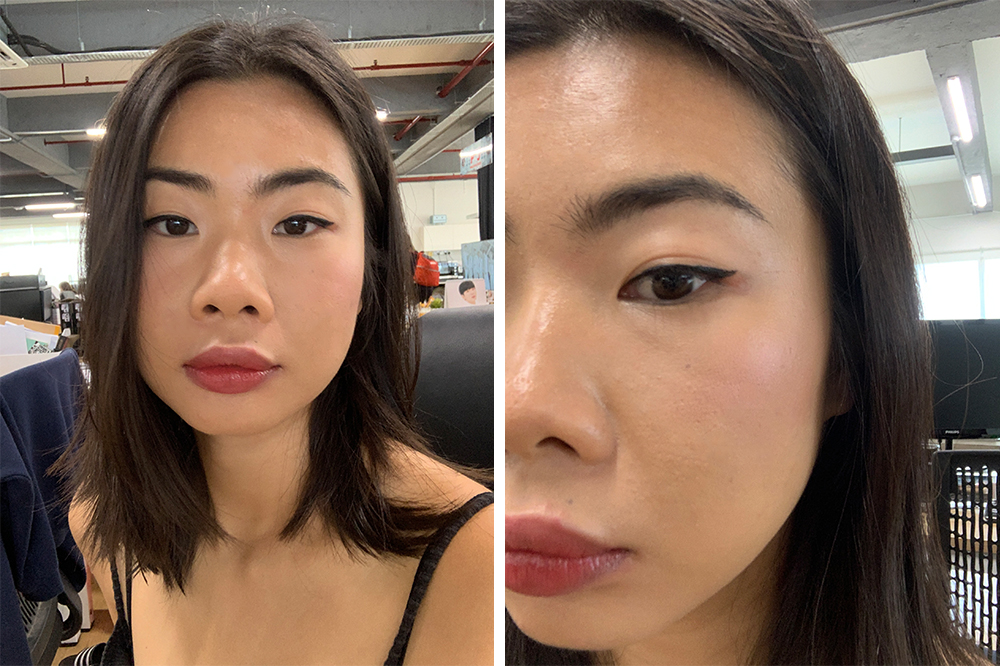 9AM: First impressions
"Initially, I was pleased that Benefit Cosmetics' Roller Liner had a felt-tip applicator. For the first few swipes, the formula applied easily. I liked how dark and pigmented it was and was pleased it managed to stay on my waterline.
Halfway through creating my wing, things went downhill. Creating a smooth line was near impossible. When I wanted to go over certain areas, the formula wouldn't stick and became patchy. I couldn't finesse the line so my winged tips were far less precise than I would have liked."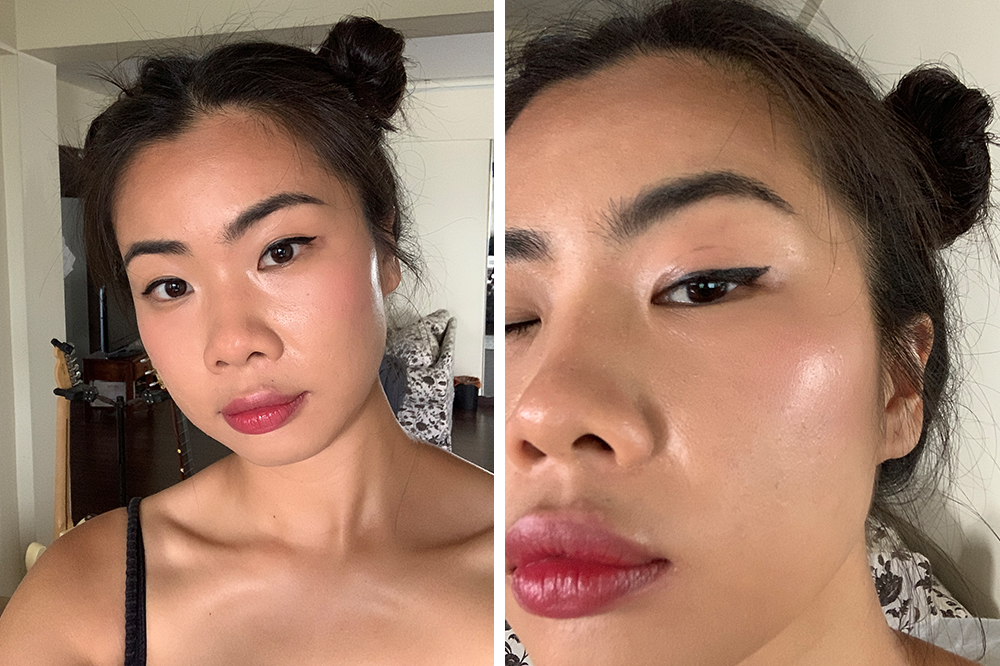 1PM: After lunch
"I had to work from home for the rest of the day, which meant I was not in air-conditioning for most of the morning. Despite having powdered down my foundation, the liner still transferred to my undereye area. It also collected at the corner of my eyes. It made me feel so terrible that I wiped it off my undereye area."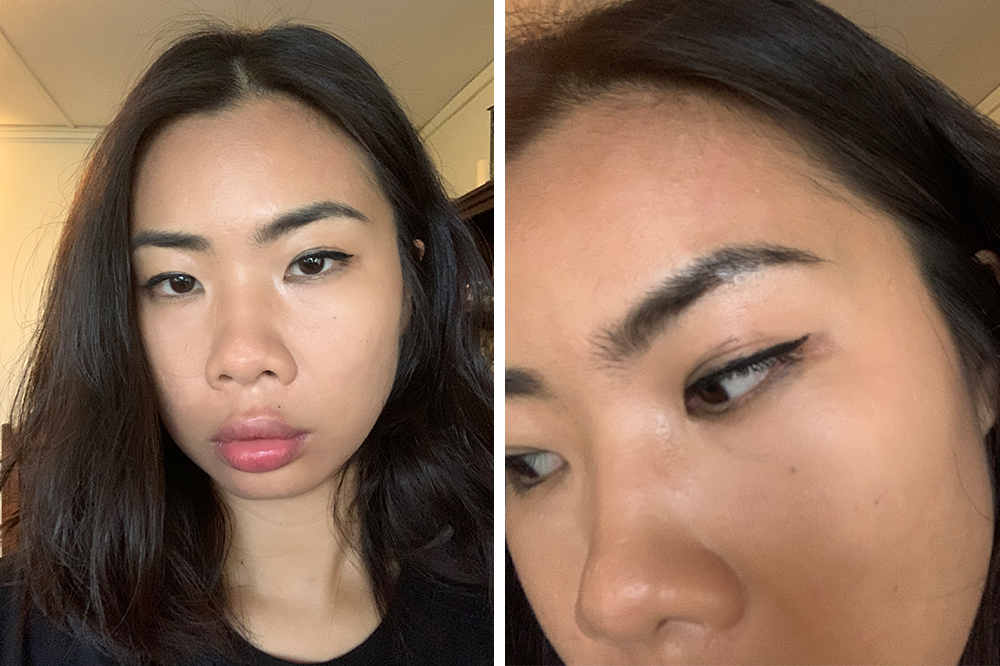 6PM: Before dinner
"The eyeliner transferred to my upper lids and began flaking off at the ends. I was very unimpressed. I had a dinner date after work, so I wiped it all off at 6pm because I didn't want to go out looking like a ratchet, knock-off version of Harley Quinn. The selfies above were taken right before I removed the eyeliner."
Final thoughts
"The liner flakes, smudges and transfers. If I wanted a smokey eyeshadow look, I would use this product."
7. Jade
Previous eyeliner experience
"After experimenting with eyeliner in my teens, I realised that the feline flick will never look as good on me as it does on Alexa Chung. I haven't worn eyeliner since, but I'd still help a friend out if they need a hand with the application.
From my experience, a good eyeliner should have a semi-flexible tip for ease of control, pigmented ink that gets the job done in one swipe, and a formula that's resistant to sweat and sebum."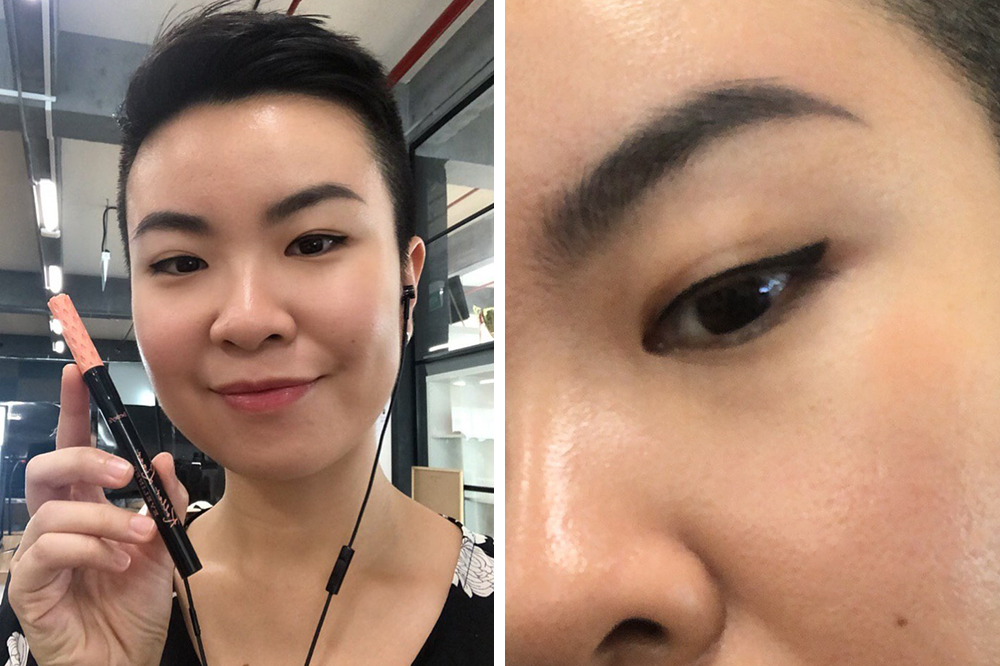 9AM: First impressions
"When swatched on the back of my hand, Benefit Cosmetics' Roller Liner made a pigmented black line, which bode well at first. As soon as I attempted to draw a line on my right eyelid, however, the eyeliner didn't go on as smoothly.
The stiff, felt tip dragged across my lid and created a patchy mess. The brush and formula dried fast too, so I couldn't fill in the gaps and perfect uneven lines without ruining my initial efforts. I gave up and settled for a mediocre winged eyeliner look."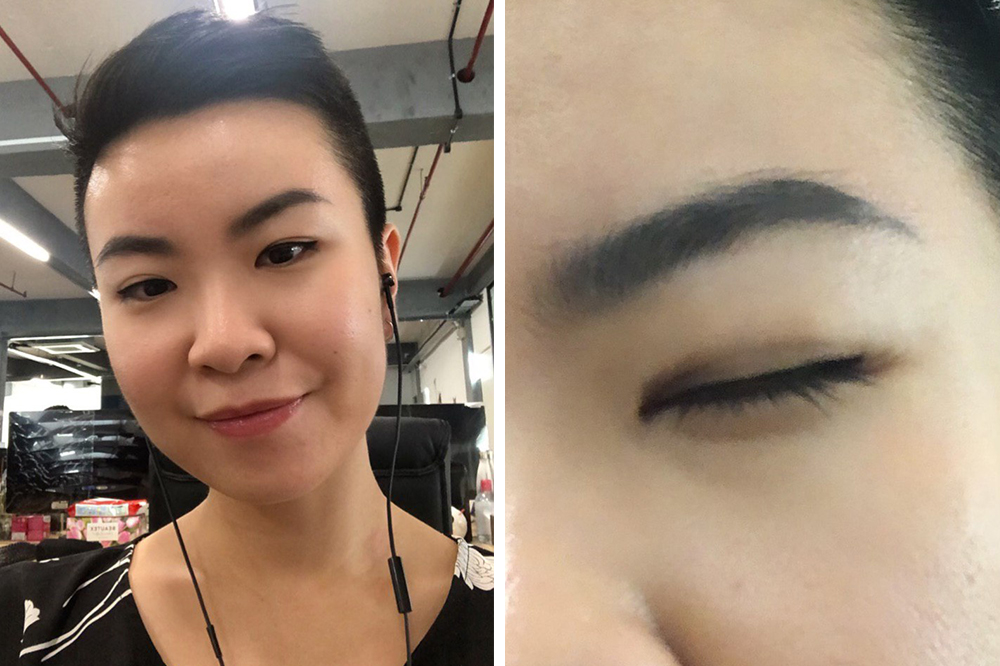 1PM: After lunch
"Lunch was a bowl of tom kha gai. My spice tolerance is quite low, so beads of sweat started forming on my face as I ate, even as I sat in an air-conditioned office.
When I checked my eyes in the bathroom after, the eyeliner had bled and transferred to the outer corners of my undereyes. The pigments had separated and melted across my lid, giving me a smokey eye. It wasn't a subtle look, and I feared I'd turn into a panda later in the evening."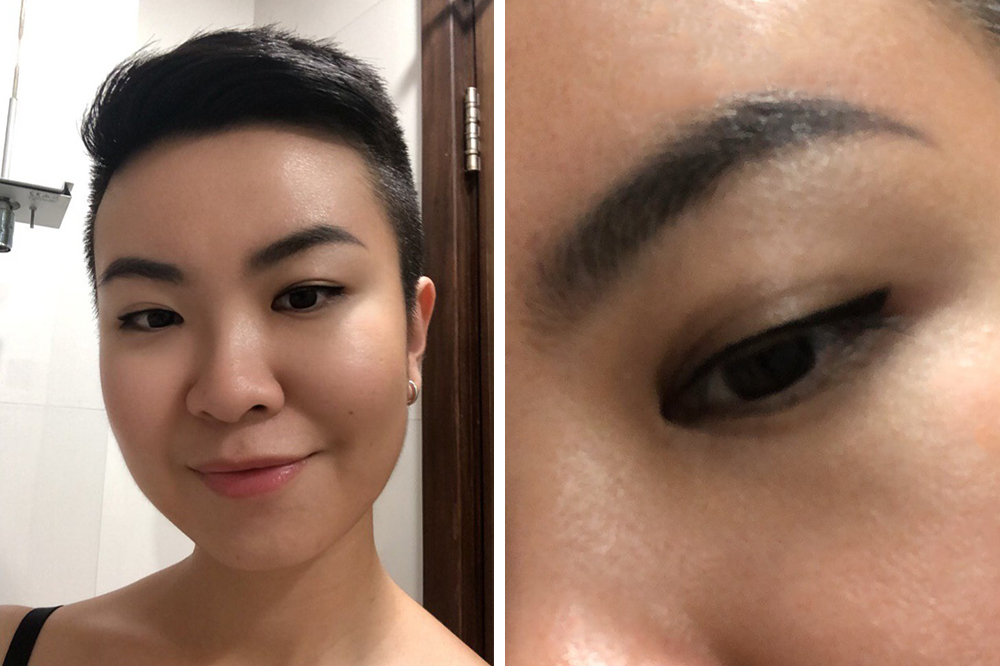 10.30PM: After dinner
"Before I left the office, I cleaned up the mess around the outer corners of my eyes. When I got home after dinner, I went up to the mirror and saw that the eyeliner had created a smudged line along my undereye area. My panda transformation was complete.
But that's not the end of the wear test, fam.
Since I tear up very easily during movies, I gave myself an extra challenge: watch the animated movie Coco. Spoiler alert: When Miguel started singing to Coco towards the end of the film, I bawled. Surprisingly, my ugly-crying didn't make the eyeliner look any worse than it already did—it only made the rest of my face look like a trainwreck."
Final thoughts
"Coco gets a 10/10, but I'm only giving the eyeliner a 4/10 because of how pigmented it is."
8. Joie
Previous eyeliner experience
"I have both hooded and oily eyelids, which I presume is not a good combination. Eyeliner typically rubs against the fold of my eyelids and disappears throughout the day. On the rare occasion I do use liquid liner, I only apply a light layer with a small wing.
I'm not the best at applying liquid eyeliner, so I usually look for liners that are more forgiving for beginners like me, such as felt tips. I prefer black eyeliners that are pigmented so that once I get a stroke right, I won't have to go over it a few times and potentially mess things up."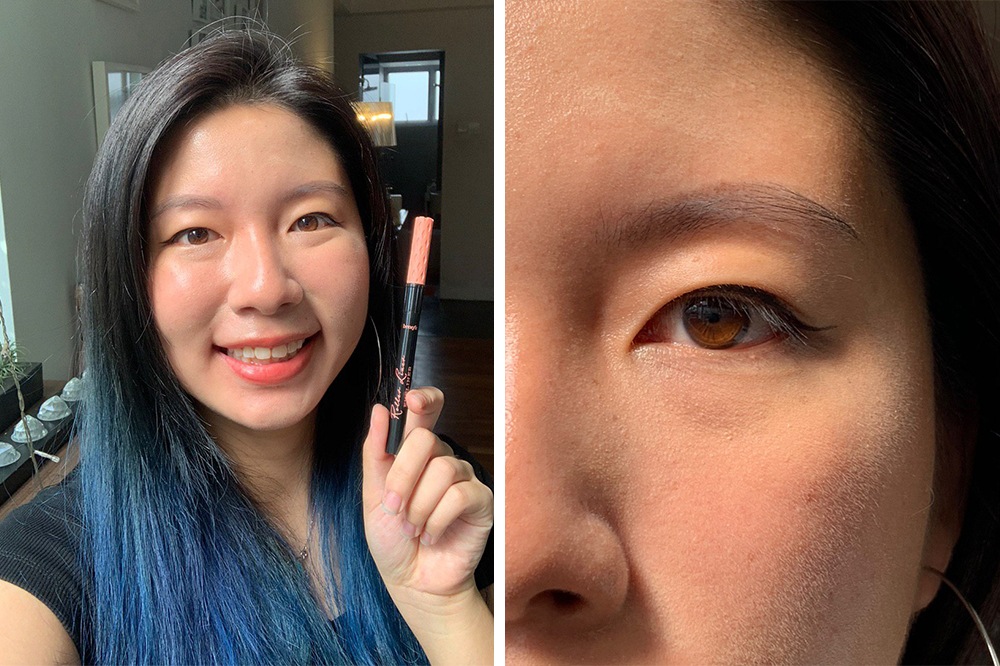 9AM: First impressions
"I was glad that the eyeliner has a felt tip, which made it slightly easier to apply. The eyeliner also dried down pretty quickly. My eyelids folded over the eyeliner a few times, but there were no noticeable smudges.
However, I found it hard to do tiny strokes to connect the lines together since the formula would dry out after a while. I had to go over some of the strokes a few times and that resulted in a thicker eyeliner than desired."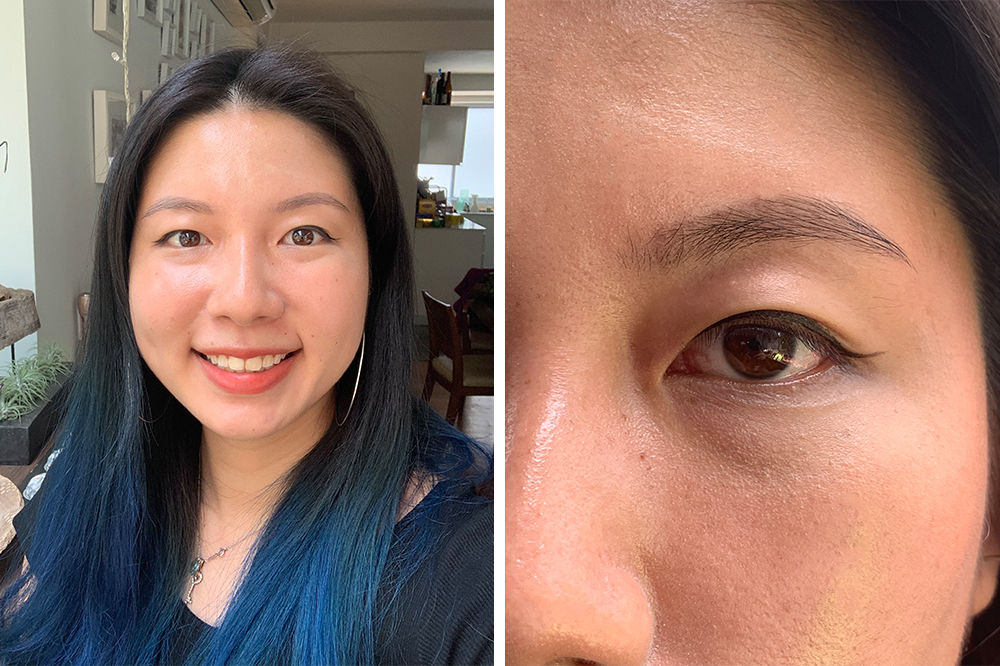 1PM: After lunch
"My house was slightly humid, but I didn't notice any drastic differences compared to this morning. The overall shape of the eyeliner still remained. Upon closer inspection, the eyeliner became less bold compared to when I first applied it.
There was also some slight transfer onto my lower eyelid, but nothing I couldn't fix with a tissue."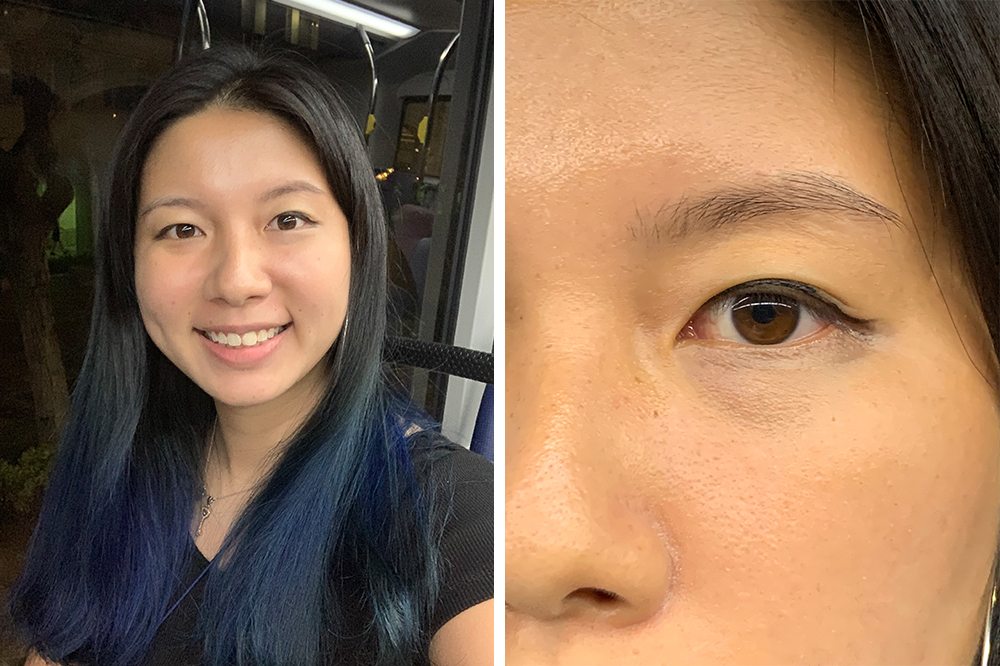 10PM: After dinner
"After dinner, I attended a Korean language class and my friend pointed out that my eyeliner had smudged. When I checked in the mirror, I was shocked to see that the eyeliner on my right eye was almost completely gone, with some smudged on the outer corner of my eye.
My left eye held up better, but you could still tell that it looked patchy. This probably happened because of my hooded lids. Nevertheless, the eyeliner did not survive a 12-hour wear test."
Final thoughts
"I would not recommend Benefit's Roller Liner for people with hooded or monolid eyes because it's much less forgiving. I probably won't be adding eyeliner back into my makeup routine any time soon too."
We Put Benefit Cosmetics' Roller Liner Through An All-Day Wear Test
While the eyeliner didn't last on all of our eyelids for 12 hours, we still found the formula incredibly pigmented. If you have oily lids, you may want to prep your lids with an eyeshadow primer or some setting powder before going in with the liquid eyeliner.
You can find Benefit Cosmetics' Roller Liner Liquid Eyeliner on Sephora.sg for $39 each.
Also read:
9 Girls Try Fenty Beauty's Stunna Lip Paint To See If It Will Last Through Meals & A Makeout Session