ColourPop Mulan Makeup Collection
After adding another line of Disney Princess-themed cosmetics to its Disney Designer collection, ColourPop has decided to give one of the most iconic Disney Princesses her own collection. The brand has just announced the arrival of its Mulan makeup collection. It will be released on 19 March, 10am (PST).
Though the live-action feature film's release date has been pushed back due to COVID-19, you can still get your Mulan fix with these products. The red-and-gold collection features an eyeshadow palette, 2 pressed powder blushes, a lipstick, a lip gloss, a liquid lipstick, a lip mask and a face serum.
Let's get down to business and break this collection down.
Mulan Eyeshadow Palette (~S$32)
With 15 shades to play with, Colourpop's Mulan Eyeshadow Palette has a mix of mattes, metallics and foils. When you open up the palette, you'll be greeted with a badass Mulan in battle stance. Next to her are the Chinese characters that represent loyalty, bravery and honesty.
For a regal look, create a matte base with Imperial, a neutral beige, before layering on Be Swift, an opulent gold shade. Rose-coloured eyeshadow is still very much in trend, so swipe on Undefeated, a pigmented pink shimmer.
Pressed Powder Blushes (~S$17)
The collection has 2 Pressed Powder Blushes with magnolia flower designs debossed in each pan. This is reminiscent of the moment Mulan's father tucked a magnolia flower in her hair.
Swirl your brush in Matchmaker (left), a cool-toned brown with a pearlescent finish, or Good Luck Charm (right), a warm terracotta with gold pearl. Then, gently buff the powder on your cheeks for a bronzed shimmer.
Also read:
ColourPop's New Disney Princess Collection Now Available Starting From US$8
Lux Lip Trio (~S$36)
To top off your look, Colourpop has assembled 3 lip products as part of its Lux Lip Trio. Coat your lips in the Phoenix Lux Gloss, a sheer gold, If you prefer liquid lipsticks, opt for the bold red shade.
For those who like a classic lipstick, go for the Hua Mulan Creme Lux Lipstick, which comes in a brownish pink hue.
Gold Lip Mask & Jasmine Face Milk (~S$25)
Colourpop has also teamed up with its sister brand, Fourth Ray Beauty, to create a duo of skincare products. The set includes a Gold Lip Mask (left), a nourishing balm to moisturise dry lips, and the Jasmine Face Milk (right), a hydrating emulsion that soothes parched skin.
Colourpop's Mulan Makeup Collection Has An Eyeshadow Palette And Lippies
With its gorgeous packaging, this collection is perfect for numerous occasions, especially when CNY rolls around next year. Colourpop's Mulan makeup collection will be available on Colourpop's website on 19 March, 10am (PST). If you don't hurry to pick them up…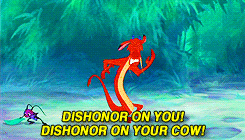 Also read:
ColourPop's New Disney Makeup Collection Lets You Look Like Glammed-Up Cinderella Even After Midnight