Zula Team Tries: Fenty Beauty Stunna Lip Paint
When Fenty Beauty first dropped its Stunna Lip Paint, RiRi stans went insane. The liquid lipstick formula was touted as a long-wearing, non-drying, weightless formula that delivered a high level of pigment. Sounds like the makeup equivalent of a unicorn.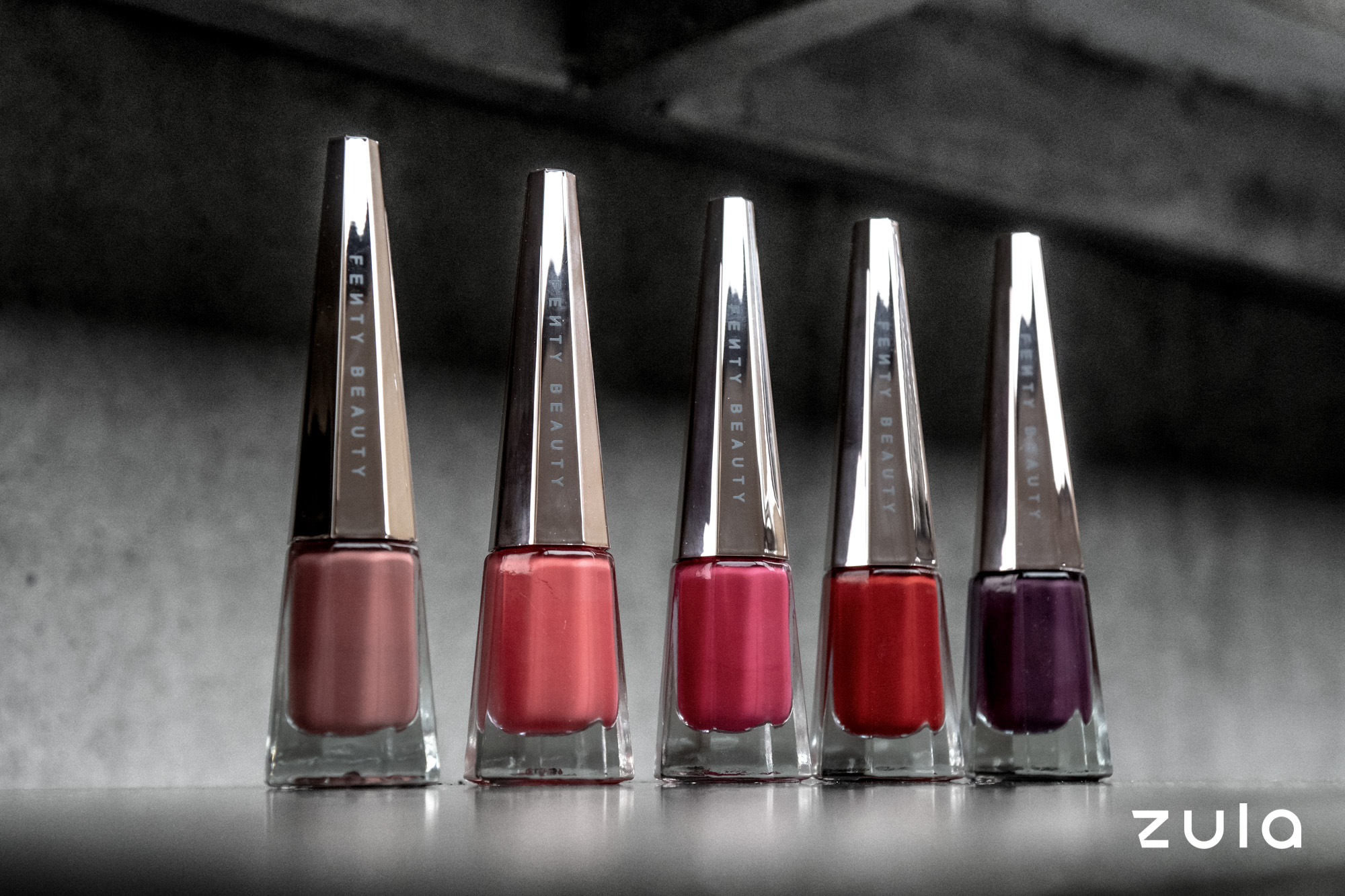 Stunna Lip Paint shades (L-R): Uncuffed, Unattached, Unlocked, Uncensored and Undefeated
With so many rave reviews buzzing on the internet, I still wanted to put its budge-proof and kiss-proof claims to the test. I tasked 9 members of the Zula team (myself included) to wear 1 shade for an entire day without any touch-ups. Reviewers had to report their selfies and findings at 10am, 1pm and 9pm. And to keep things consistent, everyone was asked to wear black. Keep reading to see how the Stunna Lip Paints performed.
1. Cheryl wears the shade Undefeated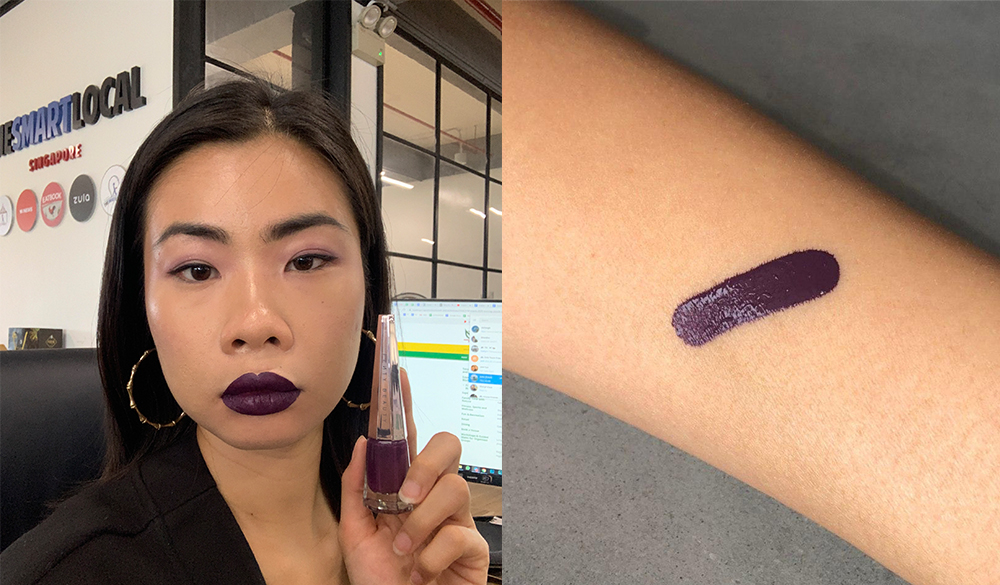 10am: First impressions
"When swatched fresh out of the bottle, the lipstick is the colour of ripe brinjals. The liquid formula applied smoothly and one layer was all I needed to get full coverage.
I like how there isn't any added scent. When dried down, the lippie left a soft matte finish without drying out my lips. There was no residue and I would have forgotten I was wearing the bold shade, save for the scared intern who avoided eye contact at the water cooler.
The formula did oxidise and turned a deeper shade of plum. But that's not an issue as I feel the product still complements my neutral/warm skin tone. However, I am concerned about the colour flaking off throughout the day. I already saw purple on my coffee mug."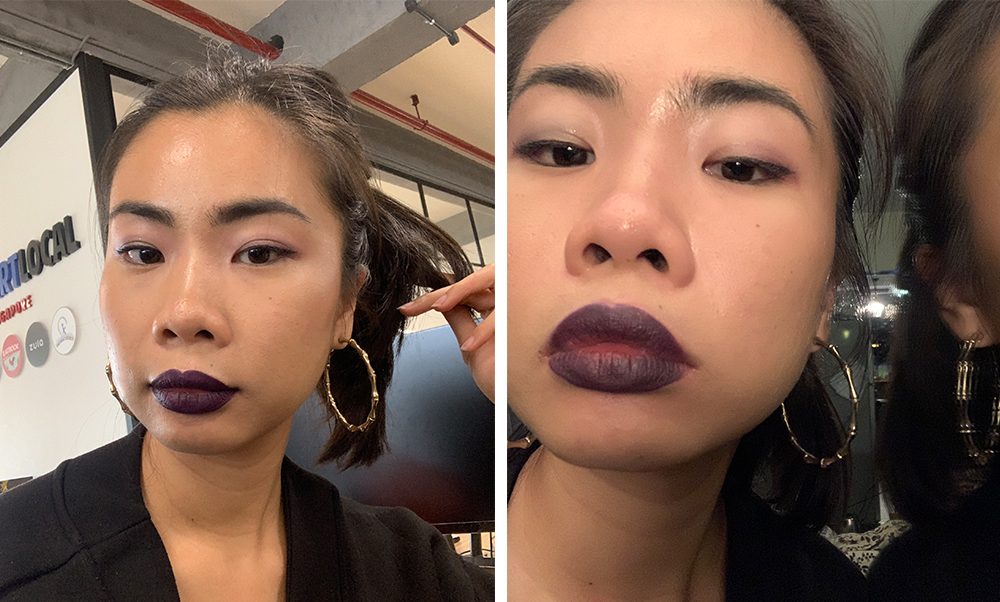 1pm: after lunch (left), 9pm: after dinner (right)
1pm: After lunch
"I had white carrot cake, apple-beetroot-carrot juice and a second cup of coffee for lunch. I was expecting most of my lipstick to come off and leave me with a 'reverse butthole' look.
When I went to look at my lippie post-meal, I was pleasantly surprised. My lipstick stayed mostly intact. Only the parts of my lip that stayed moist no longer had product on them but it didn't warrant an emergency touch-up."
9pm: After dinner
"Dinner was chicken soup, a bread roll with butter and a flatbread. I was pretty sure the lippie would stay on but I was wrong. While the colour on the top half of my lips stayed intact, the lipstick on my bottom lip transferred to my chin. When I got home for the final makeup check, a third of the colour on my lower lip was gone."
Final thoughts
"I wouldn't go so far to say it's completely budge-proof, but it does its job of staying in place. What particularly impressed me was it didn't require lip liner to stay in place. There was no visible feathering and I didn't have to check if I had lipstick on my teeth throughout the day.
Big ups for the powder-matte texture it offers without making my lips feel and look like a dehydrated grape."
2. Xin Hui wears the shade Unlocked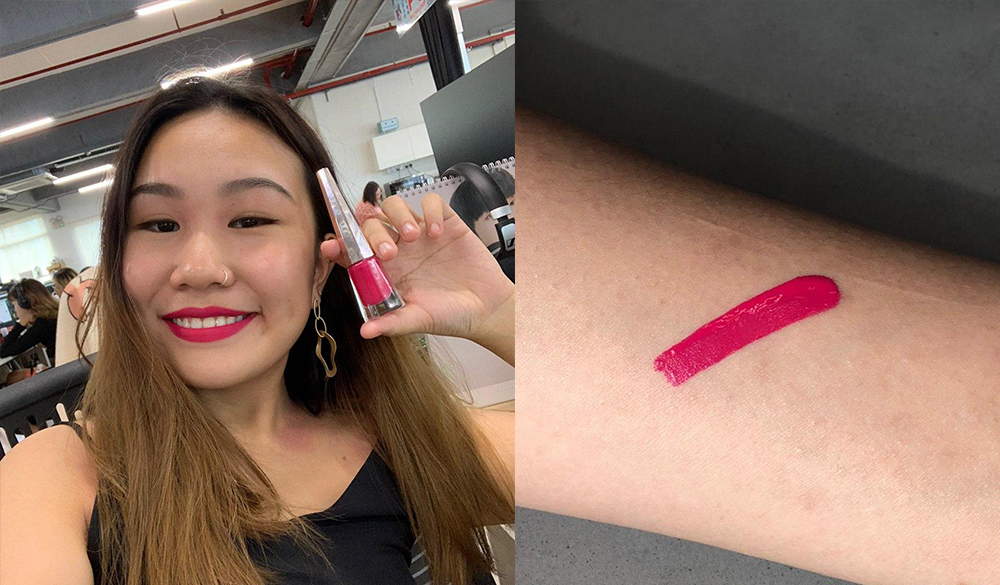 10am: First impressions
"From the bottle, the shade is a bright Barbie pink. I was intimidated at first, but it actually looked quite flattering on me. The colour made me look very lively.
The texture of the lip product felt watery and a little oily, almost like lacquer. From the bottle, the lipstick formula smelt quite bad. Once it went on my lips, the smell disappeared. The lipstick wand doesn't look like your typical doe foot applicator. It's very easy to use and manoeuvre.
The lippie went on glossy, but it stayed put once it dried. While it was still glossy, I tried to create a bit of a gradient, but it was too much of a rush to do so."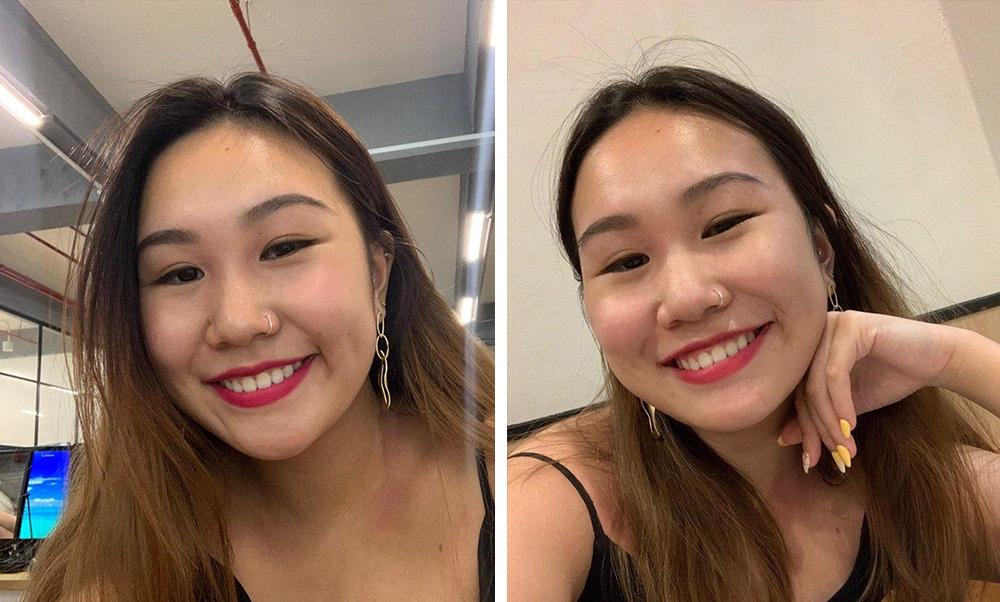 1pm: after lunch (left), 9pm: after dinner (right)
1pm: After lunch
"For lunch, I had mala, which was really oily. I thought the Stunna Lip Paint would fade but it remained very vibrant. I wouldn't say it's budge-proof, because it still stained my utensils and water bottle. The shape of the lipstick also didn't look as defined."
9pm: After dinner
"I had a burger for dinner and the lipstick left marks on the bun as I ate. The colour was still relatively prominent after 12 hours so I was pretty impressed."
Final thoughts
"It is definitely a longwear lipstick! However, it didn't stay true to its promises. It did budge and stain almost all my utensils, and the colour was not as vibrant at 9pm as it was when I first applied it. I would probably not wear this again because I think it is too unpredictable in terms of how it will look at the end of the day."
3. Annabelle wears the shade Uncuffed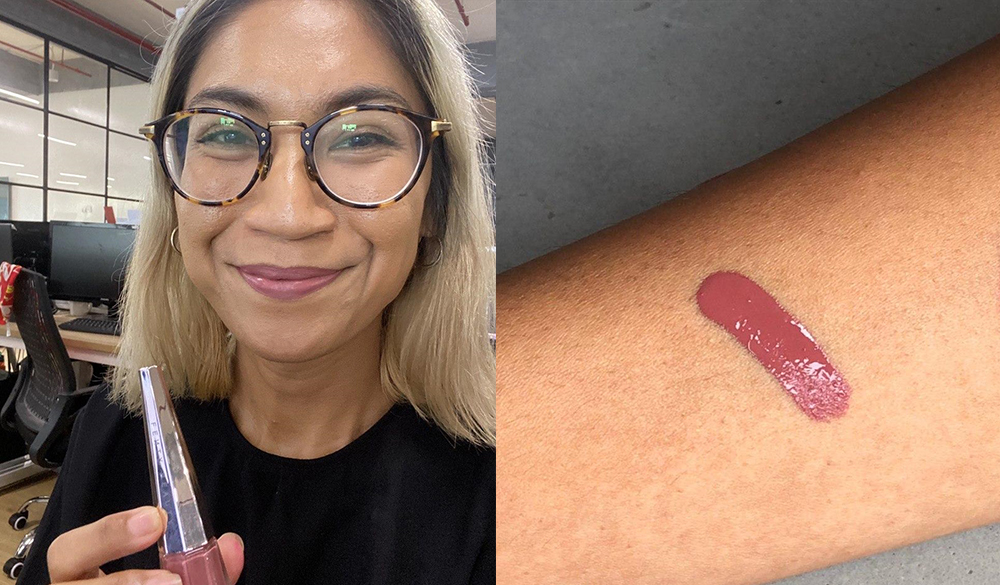 10am: First impressions
"I actually own this product in the exact same shade, so clearly RiRi convinced me with her claims. As someone who hardly uses lipsticks, I bought it because it's a nude, mauve colour that is easy to wear. I had grand plans of applying it every day cos it's so versatile, but spoiler alert: I've used it less than 5 times in half a year.
The lip paint has a very smooth consistency and was a breeze to apply. The matte finish looked very natural and not at all cakey."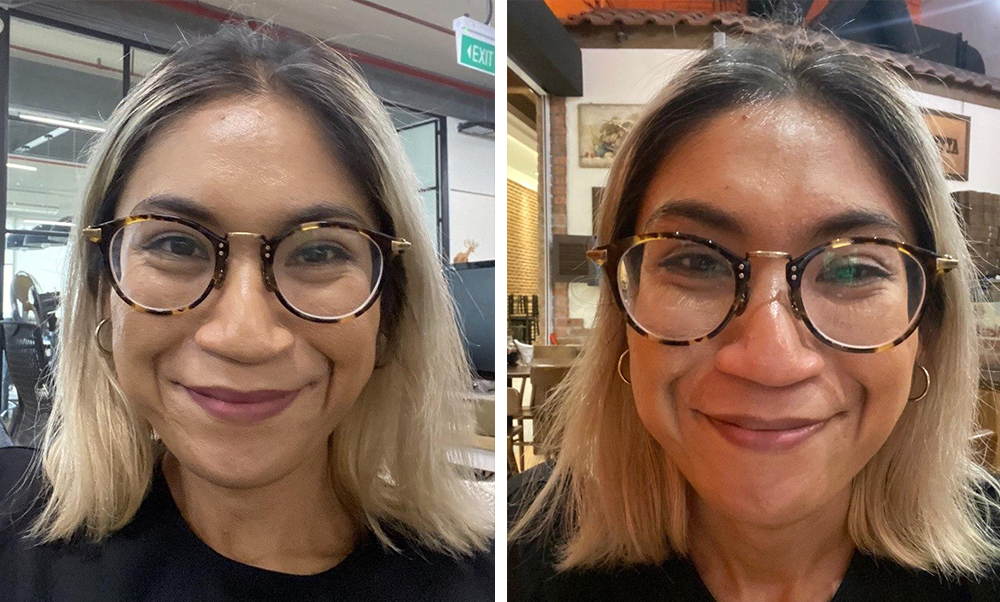 1pm: after lunch (left), 9pm: after dinner (right)
1pm: After lunch
"I had a Subway sandwich for lunch. The colour was still visible but definitely less intense than at the start of the trial. It almost looked like my natural lip colour but more matte."
9pm: After dinner
"I'm currently in the midst of a pizza phase so that was what I had for dinner. Since it had stayed on so well thus far, I had high hopes but unfortunately, Stunna Lip Paint did not last through the grease."
Final thoughts
"I don't wear lipstick often because I'm too lazy to reapply it after every meal. A lippie that can stay on from 10am to 7pm means less touch-ups, so that makes this a win for me!"
4. Penny wears the shade Unattached
10am: First impressions
"The liquid lipstick shade that I chose looks almost coral. As someone not accustomed to liquid lipsticks, doing an opaque lip was not within my comfort zone, especially with such a bright colour.
I dabbed on a bit of the lipstick and spread it across my lip. The smooth and creamy texture made it easy to apply. Contrary to its initial shiny look, the liquid lipstick did dry to a matte finish."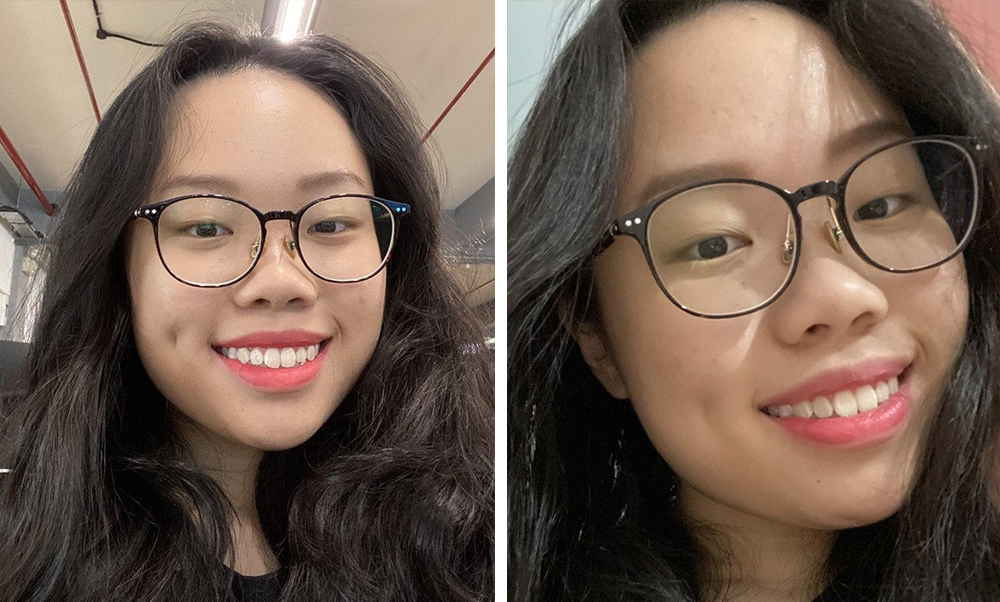 1pm: after lunch (left), 9pm: after dinner (right)
1pm: After lunch
"After having mala for lunch, I noticed that the colour faded slightly, but not to the extent that I needed a touch-up. However, the product was quite dry and it seeped into my lip lines."
9pm: After dinner
"I ate a random assortment of Japanese food for dinner, so it wasn't too oily. The lip colour did fade even more after the meal, but there was still a tint of pink left at the end of the day!"
Final thoughts
"Even after two meals and several water-chugging sessions, the pink faded a little but was still on my lips. My lips are also naturally on the drier side, and this liquid lipstick did seem to dry out my lips more."
Also read:
The Sailor Moon x Colourpop Collection Is Out Of This World And Includes Holographic Body Glitter
5. Leah wears the shade Uncensored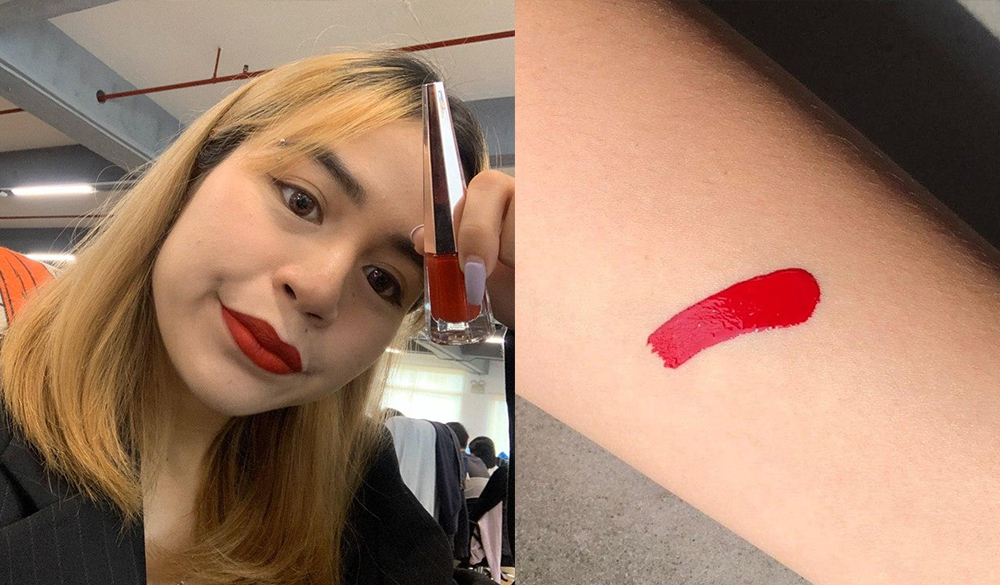 10am: First impressions
"I used to wear liquid lipsticks but not anymore. I typically go for rosier shades or orange and red colours with a brown undertone. Since I don't wear pinks or purples, I chose Uncensored, which is supposed to be a universal red.
The liquid lipstick is very pigmented but I'm not a fan of the formula. It went on wet, so when I applied it, it stained my teeth easily."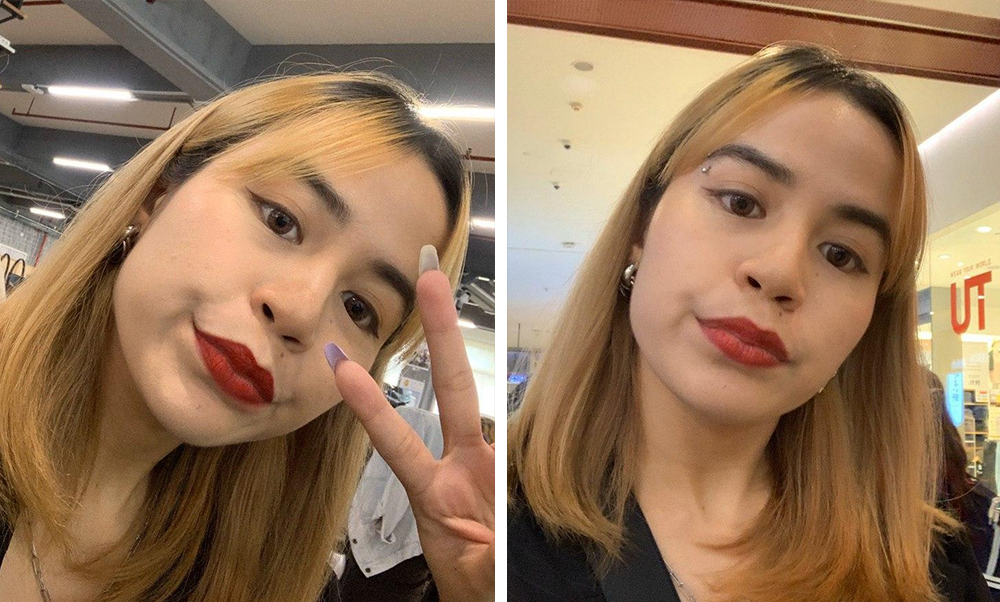 1pm: after lunch (left), 9pm: after dinner (right)
1pm: After lunch
"I had Hokkien mee and carrot cake, and the colour bled a lot. There wasn't much visible cracking but the colour didn't come off completely, which is surprising."
9pm: After dinner
"For dinner, I had sushi. After the meal, there was still some colour on my lips—more than usual lipsticks that I wear. I also kissed my boyfriend on the cheek and the lipstick transferred onto his face."
Final thoughts
"My lips tend to crack easily, so I found the formula a bit drying. I wouldn't wear it again because I don't like the formula. I prefer lipsticks that are a bit more moisturising."
6. Joie wears the shade Uncensored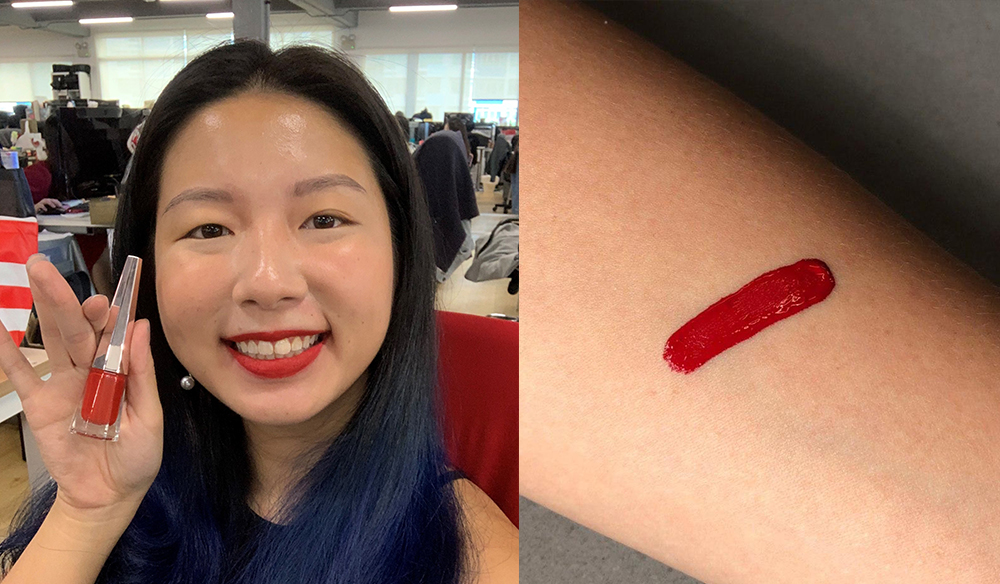 10am: First impressions
"Uncensored is a red shade that's quite 'in your face', so it's not what I'm used to. I usually go for orange lippies or 'My Lips But Better' colours. The red shade I chose seemed to make my teeth look more yellow.
The texture of the liquid lipstick is quite creamy and reminds me of paint (I'm kind of stating the obvious). When applied, it felt a bit runny but it became super matte once it dried down. My lip lines were visible, but it didn't look unflattering. The smell of the liquid lipstick reminded me of bread for some reason too."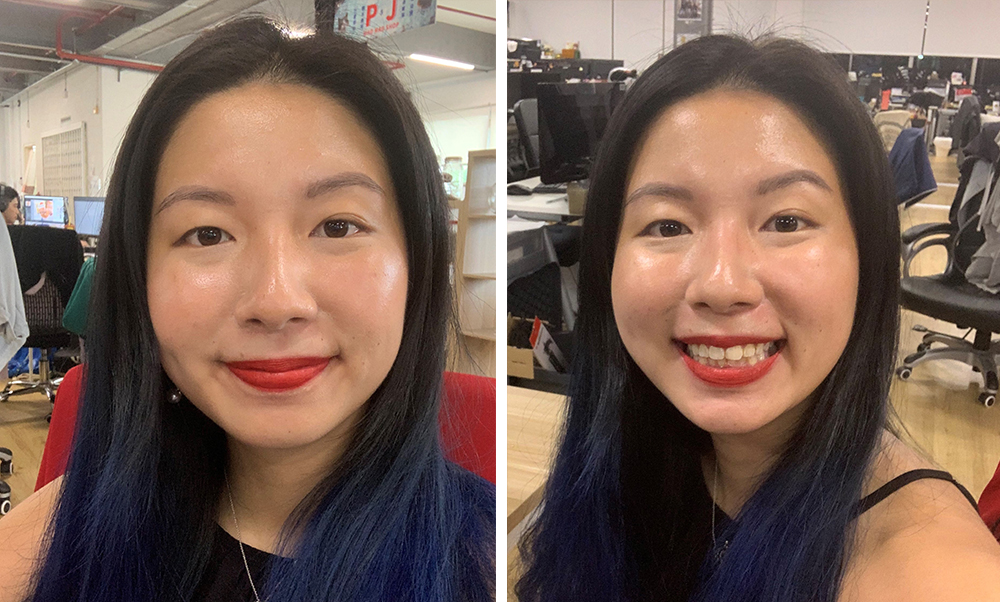 1pm: after lunch (left), 9pm: after dinner (right)
1pm: After lunch
"I am currently on a juice cleanse, so I drank bottles of juice in place of having full meals. Even though I wiped my lips and some lipstick transferred onto the mouth of the bottle, there was no visible difference.
The bulk of the colour was still on, but it was less vibrant compared to when I first applied it. My lips felt more dry and the pigments settled into the lines. I could see some cracks on my bottom lip, but from afar it looked pretty good."
9pm: After dinner
"After 2 more bottles of juice for dinner, the colour fade was more obvious. The lipstick became a lighter brick red colour. The colour wasn't even anymore and the dry spots were more apparent."
Final thoughts
"She's pretty long-wearing compared to many other matte lipsticks that share the same claim. But at the end of the day, it does transfer and budge, just not as much."
7. Jielin wears the shade Uncensored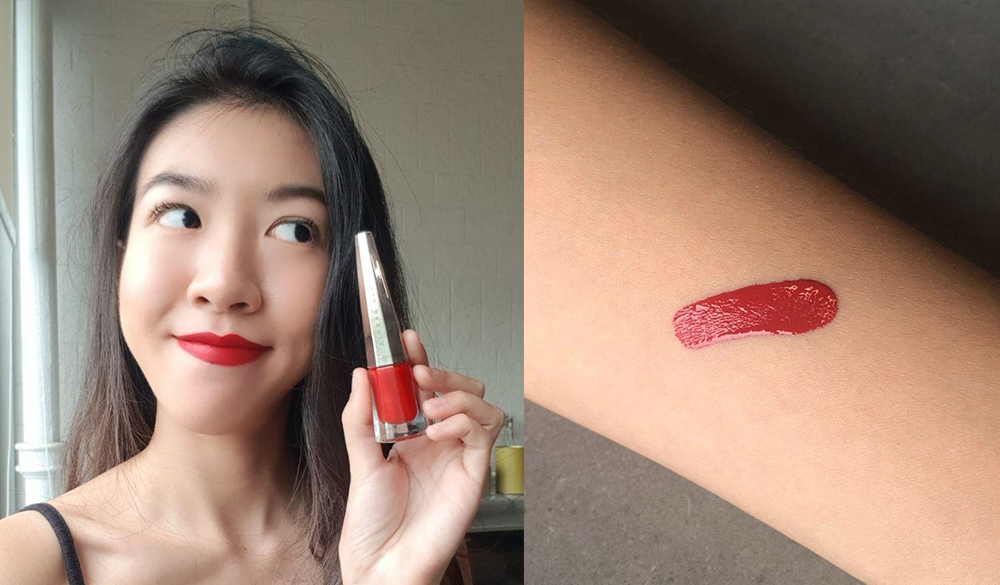 10am: First impressions
"I was a huge fan of matte lipsticks until I realised how troublesome it was to touch it up during the day. If my lips are dry, touch-ups will emphasise cracked areas too. RiRi's liquid lipstick is my first matte lippie in a long time.
The consistency of the Stunna Lip Paint is like melted butter. It went on easily and dried to a matte finish. I usually avoid reds because I feel like they make my teeth look yellow, but this one was flattering on me."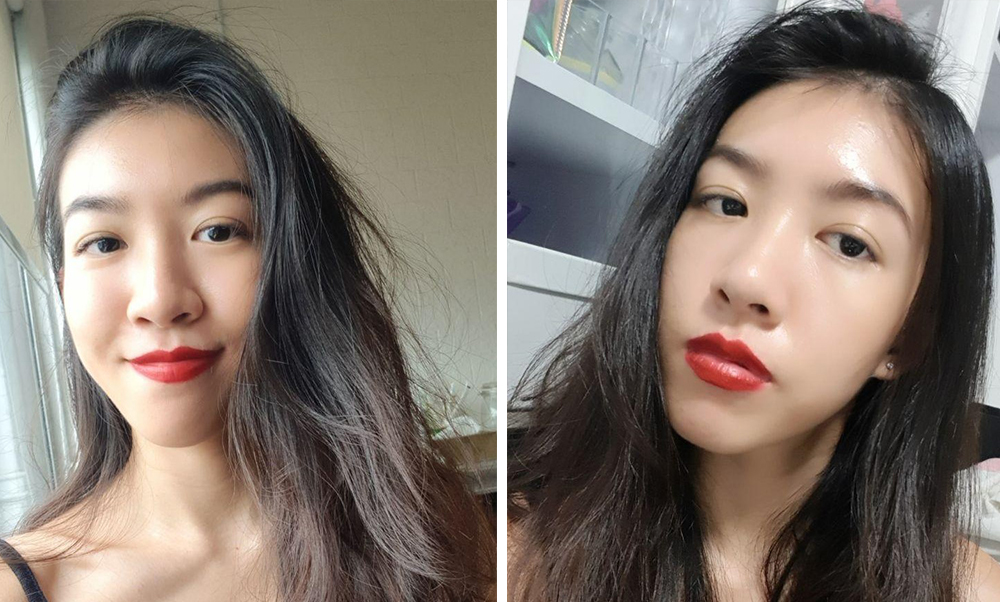 1pm: after lunch (left), 9pm: after dinner (right)
1pm: After lunch
"I had mala for lunch, and that smudged the colour around the edges of my lips. The lip creases were also more obvious, but they didn't look very prominent."
9pm: After dinner
"I had prata for dinner, so I was sceptical about how the lipstick would last since it was a very oily meal. As I ate, there was actually lipstick residue all over the straw I was using, which made me think, 'This lipstick confirm gone already.' After dabbing my lips with tissue to get rid of the curry, the lipstick actually didn't look bad."
Final thoughts
"I was definitely surprised to see such a bright colour stay on throughout the day without feeling heavy on the lips or fading too much. It's not perfect because of all the smudging, but it's not noticeable unless you get up close."
8. Sheryl wears the shade Uncuffed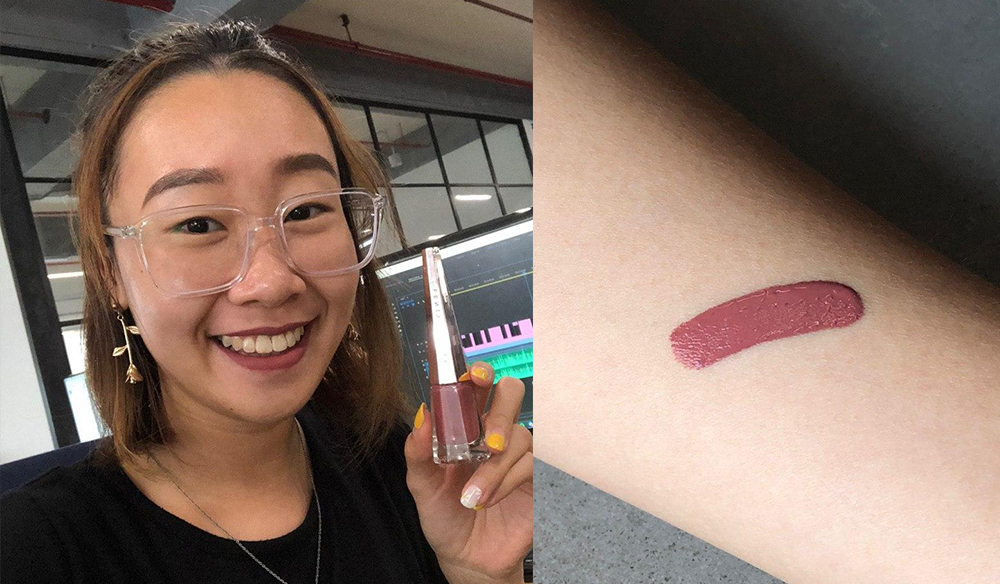 10am: First impressions
"The texture of the liquid lipstick looks quite thick and creamy, but when I put it on, it didn't feel heavy at all. It was very easy to apply and control considering it's a liquid formula. It went on very evenly and I didn't have to go over it multiple times to get an even coat on the whole lip.
On my lips, Uncuffed looks like a nudish plum shade. I think it's nice if you don't like bright-ass colours like me and prefer a neutral colour."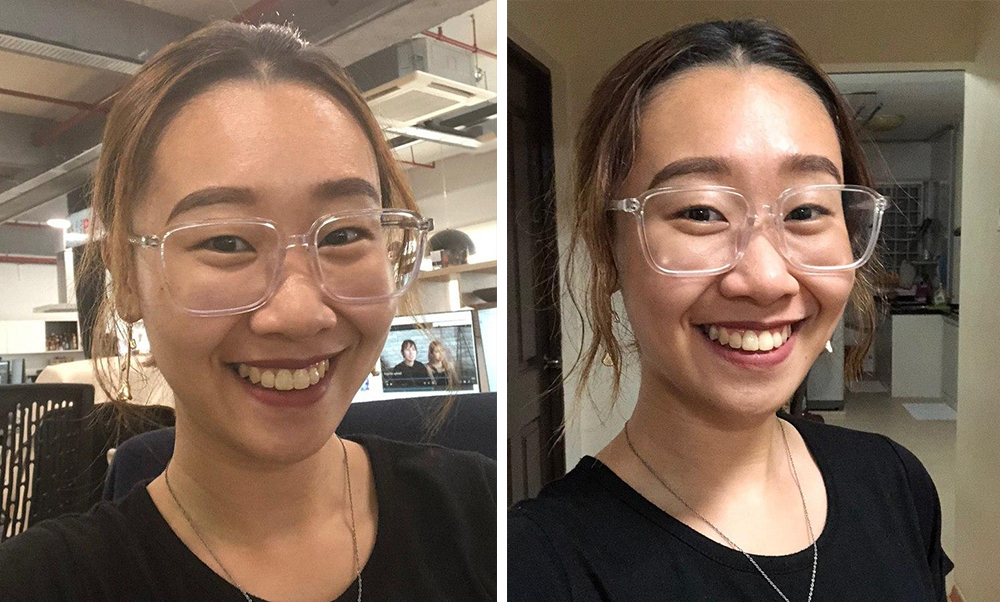 1pm: after lunch (left), 9pm: after dinner (right)
1pm: After lunch
"I ate mala for lunch and it stayed on super well. Although it transferred easily when I drank and ate, it didn't look faded at all. Because it felt so light on my lips, I completely forgot I was wearing anything."
9pm: After dinner
"For dinner, I had meatball soup with rice. The lipstick didn't go off but I had some trouble removing it, so it's truly long-lasting."
Final thoughts
"The formula didn't really crack and it didn't feel uncomfortable on the lips. I would definitely wear it again."
9. Jade wears the shade Unattached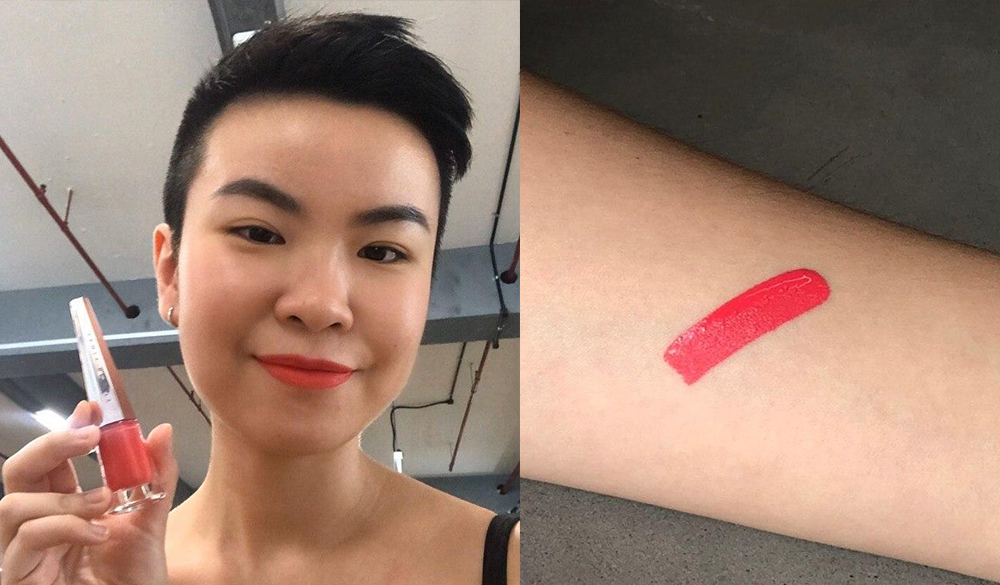 10am: First impressions
"For this wear test, I tossed my usual gloss and went for a bright, almost neon coral liquid lippie. I stick to sheer, rosy shades on a daily basis, so an opaque, loud colour will be a challenge to pull off.
The unscented, ink-like formula glided across my lips smoothly and settled to a matte finish. But you have to work fast with the Stunna Lip Paint, otherwise you'll end up with uneven, cakey colour. "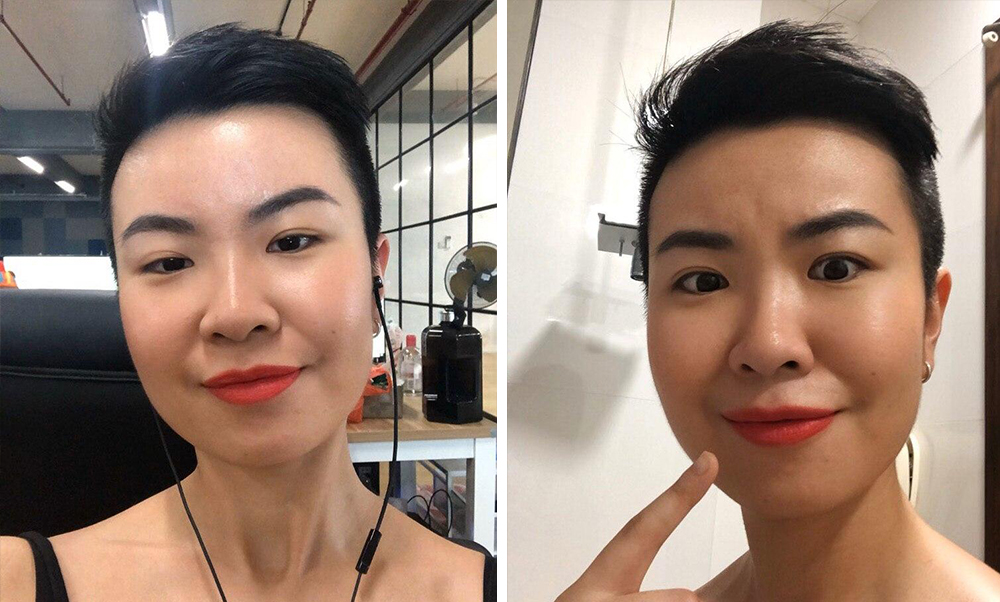 1pm: after lunch (left), 9pm: after dinner (right)
1pm: After lunch
"Lunch was a greasy bowl of mala. The oil separated some of the pigment and the colour bled on my chopsticks and spoon. After blotting my lips with a tissue to sop up the grease, I checked the mirror, expecting to see a Joker-esque mouth. Lo and behold, the colour was still vibrant and kept within my lip lines.
Up close, the colour had seeped into my lip lines and it was definitely much patchier than when I first applied it. Unless someone gets all up in my face, they won't notice the parched spots and imperfections."
9pm: After dinner
"I wasn't sure if the lipstick would make it through the tom yum pasta I had for dinner, but it kinda did. The colour feathered around my lip line, but it looked just as pigmented as it did post-lunch.
Unlike the shade, I am attached, so I decided to challenge the Stunna Lip Paint's kiss-proof claim. As expected, the pigments left quite a mess on my boyfriend's lips after a quick makeout sesh. The colour smudged a tad over my top and bottom lip, but it still looked put-together."
Final thoughts
"Wearing the liquid lipstick for more than 8 hours really dried out my lips. By 7pm, I was ready to remove the liquid lipstick and throw on a moisturising lip balm. If I were to wear it again, I'd only apply it when I'm heading out for a short event."
We Put Fenty Beauty's Stunna Lip Paint Through An All-Day Wear Test
While some of us found the Stunna Lip Paint a little too drying, most of us could agree on how long-wearing this liquid lipstick truly is. If you're going to wear this for hours on end, I'd suggest prepping your lips with a lip balm first before swiping this formula on.
You can find Fenty Beauty's Stunna Lip Paint on Sephora.sg for $39 each.
Also read:
8 Lesser-Known Superfoods That Will Easily Give You 10/10 Skin