Personalised Boba Tumbler
Singaporean brand CARA has launched a boba tumbler made specifically for carrying bubble tea.
On top of the aesthetic design, you can also personalise your tumbler by having your name or even your favourite phrase printed on it. 
The personalised boba tumblers come with a metal boba straw and can be purchased on CARA's website for $37.90 each. It is currently offering 2 personalised boba tumblers for $60 so you can play matchy-matchy with your bestie or bae.
Different fonts and colours available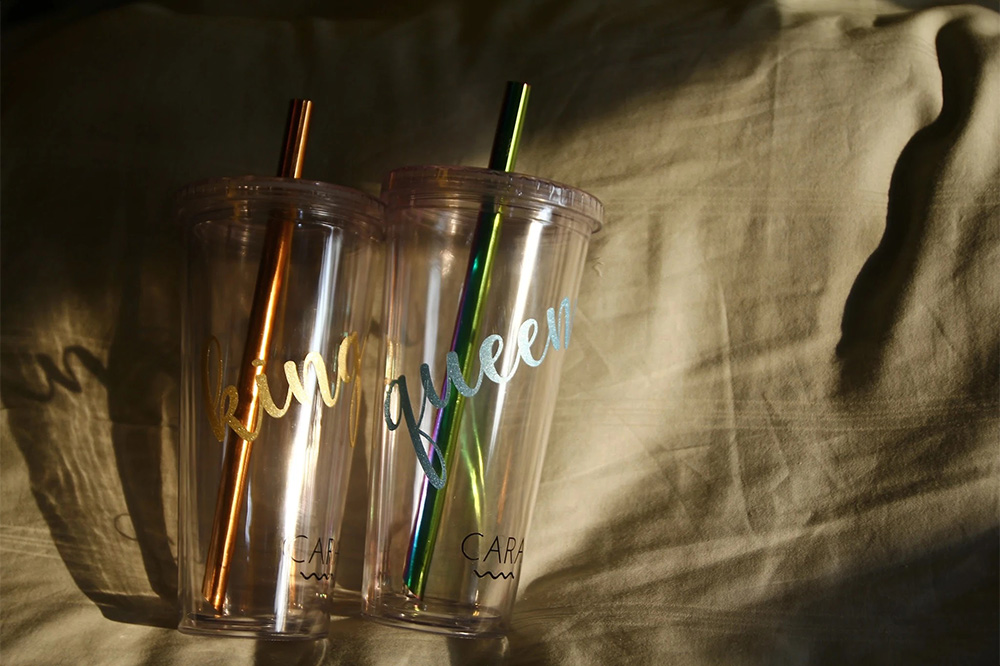 'Jane' font in Cindy Gold (left) and Ice Blue (right)
Source
All of CARA's boba tumblers are double walled and have a storage capacity of 700ml. Next comes the fun part: The customisation process.
There are a total of 9 fonts available. Jane, Cayetana and Layla are variations of cursive text, perfect for all you sassy queens out there. Choose between Varsity, Gun Man, Darth or Star Wars if you want a more rugged look for your tumbler. These fonts are bolder and edgier with heavy and boxy block letters. Kona and Feelix are thin and minimalist font options that will make your tumbler extra IG-worthy.
Make your personalised boba tumbler extra unique by picking from 4 font colours: Glacier Black, Cindy Gold, Ice Blue and Scarlet Red.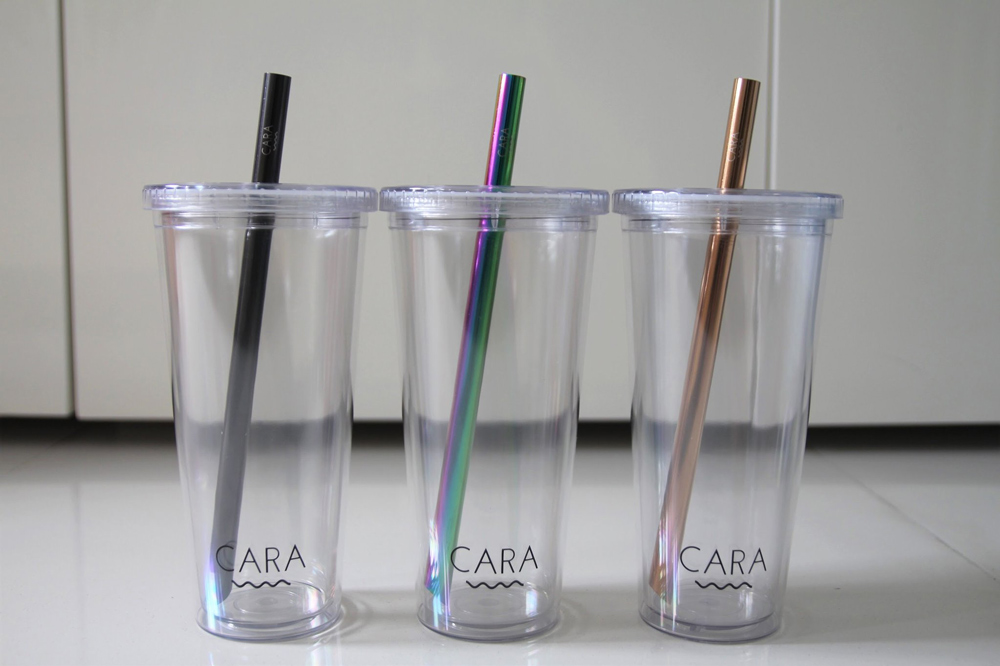 From left to right: Titanium Black, Unicorn Rainbow and Rose Gold
Source
Your personalised CARA boba tumblers each come with a CARA metal boba straw. You can pick from Titanium Black, Unicorn Rainbow and Rose Gold. 
Plain boba tumblers and metal straw sets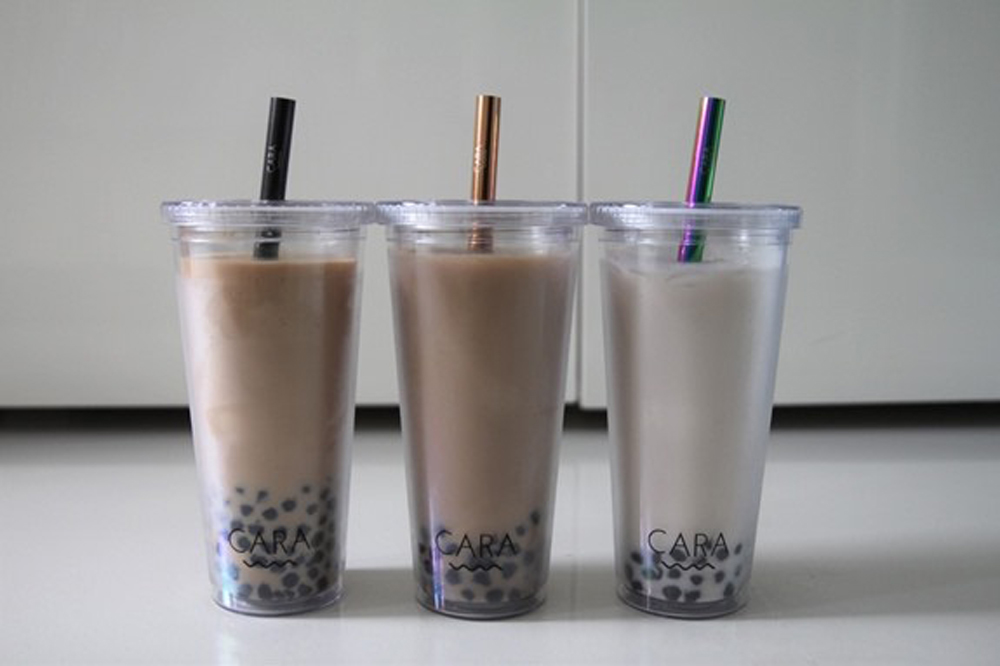 Image courtesy of CARA
If it's pure minimalism you're after, CARA has plain boba tumblers available too. They also come with a metal boba straw of your choice and retail at $32.90 a set.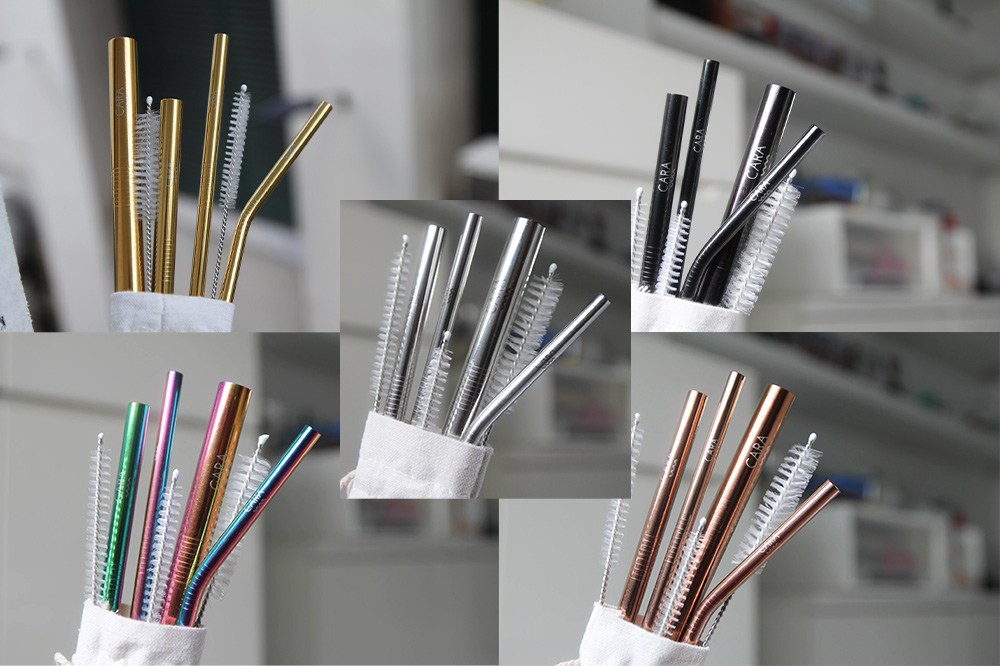 Source
If you're thinking of getting just the straws, you're in luck because CARA carries metal straw sets in 5 colourways—Gold, Silver, Rose Gold, Unicorn Rainbow and Titanium Black. Each set comes with one regular, bent, smoothie and boba stainless steel straw, as well as 2 regular sized cleaning brushes, a CARA care card and a CARA drawstring pouch.
The Silver set costs $17.90; the Rose Gold, Titanium Black and Unicorn Rainbow sets cost $18.90; and the Gold set costs $19.90.
Enjoy Your Next Cup Of Bubble Tea From CARA's Personalised Boba Tumbler 
CARA's personalised boba tumbler lets you show the world your love for BBT. Available on CARA's website, it usually retails for $37.90 each. For a limited time, you can get two tumblers for $60.
Also read:
Bubble Tea Airpods Case, Phone Grip & Tumbler Let You Show Your Love For BBT Without The Health Risk