Applying For BTO
After dating for some time, your partner has finally got down on one knee and you've said yes to his "BTO ai mai?"
But the application for a BTO flat can be overwhelming, with the endless 'cheem' technical terms and various schemes and loans to apply for.
To save young couples from hours of incessant Googling and unnecessary frustration, we've created a simplified, easy-to-follow guide to help Singaporeans find their first home.
Step 1: Check your eligibility
Make sure you meet the requirement to buy a new or resale flat, and apply for a HDB housing loan.
– At least one applicant is Singaporean and 21 years old
– The other applicant has to be either Singaporean or a Singapore PR
– Your combined income does not exceed S$12,000 (Special cases will be mentioned in description of launch)
– You do not own a local or overseas property
– You have not sold any property within the last 30 months
– You have never bought more than one new HDB/DBSS flat or Executive Condominium before applying for this BTO
– You have not received more than one CPF Housing grant so far
If you're still unsure, take this five-minute survey to know which types of flats you're eligible for.
Step 2: Ensure your finances are covered
Once you've confirmed your eligibility, make sure you have the adequate finances to cover the required BTO payments.
For financial assistance, apply for a HDB housing loan. Alternatively, you can compare loan plans via SingSaver.
Here's the monthly payment/salary required: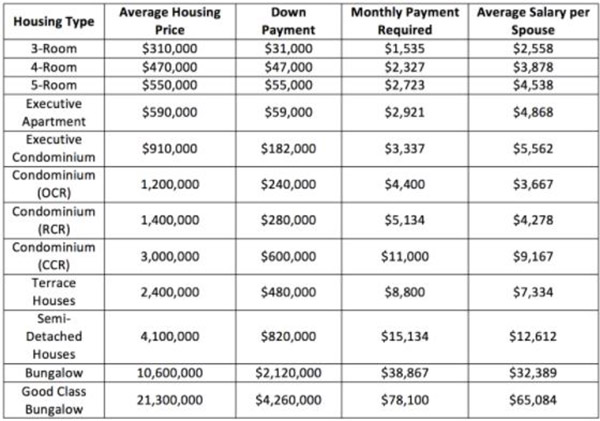 Source: HDB; URA; Business Times
Step 3: Look for a BTO
While waiting for your housing loan to go through, look out for announcements on BTO launches. Currently, these are the available BTOs.
You can also sign up for the HDB eAlert Service to be informed of new launches.
Step 4: Submit your BTO application
If any BTOs interest you, submit an application online via HDB InfoWEB or visit HDB Hub or any of the HDB Branches.
Note: the application period only lasts for one week, starting from the day of the announcement.
Each application fee is S$10, payable with Master Card/Visa.
Documents to submit:
Step 5: Notification of the application outcome
1.5 months after the application period closes, check the result of your application online. The results will show an allocated queue number, which is determined through balloting.
Your queue number will decide if you get to select a flat. You will only be able to select a flat if there are still flats available when it reaches your queue number.
Also read:
This Pastel Pink Hello Kitty HDB Flat Cost $20K To Renovate And Is Every Sanrio Fan's BTO Dream Come True
Step 6: Booking a BTO
If you're successful in the balloting process, you'll be invited to book a flat at the Sales Display Area of the HDB Hub.
At the booking appointment, you'll be required to pay an Option fee for booking the flat. This payment can be done via NETS.
Documents to bring:
If you've taken a HDB housing loan, the option fee (~S$500 to S$2000) would be reimbursed in cash if there is enough money in your CPF to pay the down-payment. Otherwise, the option fee goes towards the cash portion of the down-payment.
If you have booked a flat, you can also apply for the following, if eligible:
Step 7: Signing of Lease Agreement
Once you have chosen your flat, you are then required to sign the lease agreement within four months.
This is where you're required to pay legal fees, down payments (10% to 50%, dependent on type of loan), and stamp duty fees as well. You can check your costs and payment methods here.
You will also be notified of the Estimated Completed Date (ECD) of your BTO flat via HDB InfoWeb.
Documents to bring:
Step 8: Collecting your keys
Depending on the construction timeline, your BTO flat might be finished earlier than the ECD. Once you are notified of its completion, you can make an appointment to collect your keys at the HDB Hub.
Documents to bring:
You'll need to pay a survey fee (S$150 to S$375, depending on size of flat).
You may also need to pay registration fees (S38.30) and stamp duty on the Deed of Assignment (0.4% of the loan amount, subject to a maximum of S$500, payable if you are taking a housing loan from a bank).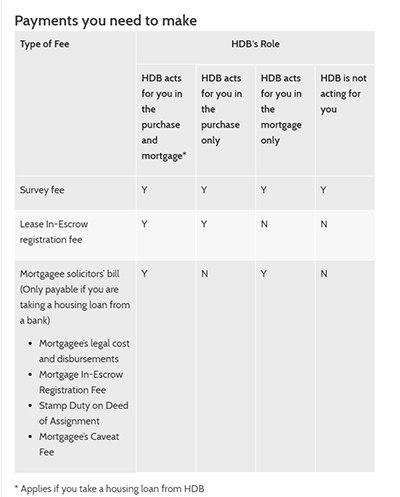 Step 9: Setting up electricity and water supply
As you're conducting checks, set up an account with SP Services to activate the electricity and water supply to your unit.
Step 10: Check for defects
Once you've received the keys to your new home, you must first check for defects. As all new properties are covered by the 1-year Defects Liability Period (DLP), homeowners are required to provide a feedback form within 7 days so that HDB contractors can make the necessary repairs ASAP.
When checking for defects, follow the J.E.S.T assessment to ensure you don't miss anything.
J: Joints
Ensure the joints between the tiles are straight and of consistent colour. If they're not, use tape and markers to indicate the exact location of the defect.
E: Evenness
Bring along a spirit level to check that the floors are even. Tip: tapping a coin or key against the floor will help detect hollow spots as well.
S: Surface
Surfaces shouldn't have cracks, scratches or chip-offs. If so, report it to your contractor.
T: Tonality
Make sure the tiles are of the same shade, pattern and colour throughout. (Though this applies more to after the renovation is complete)
Also, check for plug socket defects, and make sure all sockets have running current. Bring a plug-in light to test your sockets.
After you've inspected your new home, take a picture so you have a personal documentation of all the defects before you hand over to the contractors. HDB will take around 2 weeks to fix the problem areas before you can officially begin renovation.
Moving Into Your New Home
Congratulations, you're now officially a homeowner!
Now you can put the paperwork aside, and get to the fun part of renovating your dream home.
Related: How To Renovate BTO Flats Under S$20,000 (S$630/month For 3 Years) With Quality Materials For Budget Singaporean Couples
Also read:
How To Renovate BTO Flats Under S$20,000 (S$630/month For 3 Years) With Quality Materials For Budget Singaporean Couples
Cover image: Source