Singapore BTO Renovation
With the BTO paperwork and collection of keys out of the way, you and your partner are now proud owners of a HDB flat. The next step is to renovate, furnish and customise the bare layout to turn it into your dream home.
But splurging on your home goals shouldn't require S$60,000 in 'damages', or having to buy moldy, secondhand furniture.
If you own a steady WiFi connection, a little homework is all you need to spend wisely. For example, it makes more sense to spend more on the right flooring as it's a long-term investment, and save with Taobao for that non-functional unicorn decal.
So to bridge the gaps between cost-effectiveness, functionality, and gorgeous designs, we've compiled a guide for clueless Singaporean couples who are ready to "BTO Ai Mai".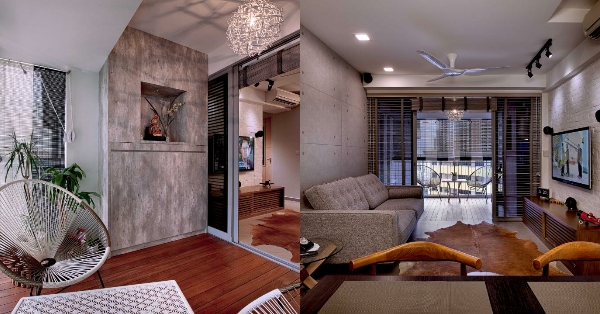 Source: Absolook Interior Design | 3-Room HDB BTO renovation cost: $18,000
Step 1: What to do if you're hiring an ID company
Interior designers (IDs) act as your 'middle man', who will provide floor plans, 3D drawings, and manage your renovation project. IDs may or may not have in-house contractors who will fix installations.
To save money, time, and effort, you can ask the ID company to do the basic reno work for essential items needed in your home, excluding decor that you can DIY or get on your own.
Here's an example of a reno package for basic reno work that costs approximately S$10,000:
And a sample 5-room HDB quotation for reno & design (S$20,000 budget):
* Highlighted in pink is the additional S$5,950 for vinyl flooring. By overlaying instead of redoing your tiles, you can save up to S$10,000.
Shortlisting interior design companies
Before you finalise an ID, here are some things to remember:
-Ensure ID portfolio pictures are actual completed works, not 3D perspectives.
-Choose ID companies that offer itemised quotations and check for hidden costs.
-Get as many quotations from different ID companies. Alternatively, use Qanvast to find five ID companies for free so you don't have to Google on your own.
-There is a Debris and Haulage cost (from ~S$215) to clear leftover rubbish and loose rubble from renovating your home; you would have paid for this service when you apply for a home renovation permit. Not all Town Councils offer this service, so do ring up your Town Council's office and enquire.
-Make sure warranty is included, and only make payment in stages once a reno phase is complete.
-Don't sign packages at road shows. The salesperson may promise you things that the company cannot deliver.
-Avoid starting your home renovation during the last quarter of the year (Oct to Dec) as contractors would be 'chiong-ing' to finish homes by the New Year. After Chinese New Year, most contractors have a lighter workload and might be able to produce 'better' quality work.
-Skip the sliding kitchen doors and utilise the open-concept plan to add storage spaces or counters.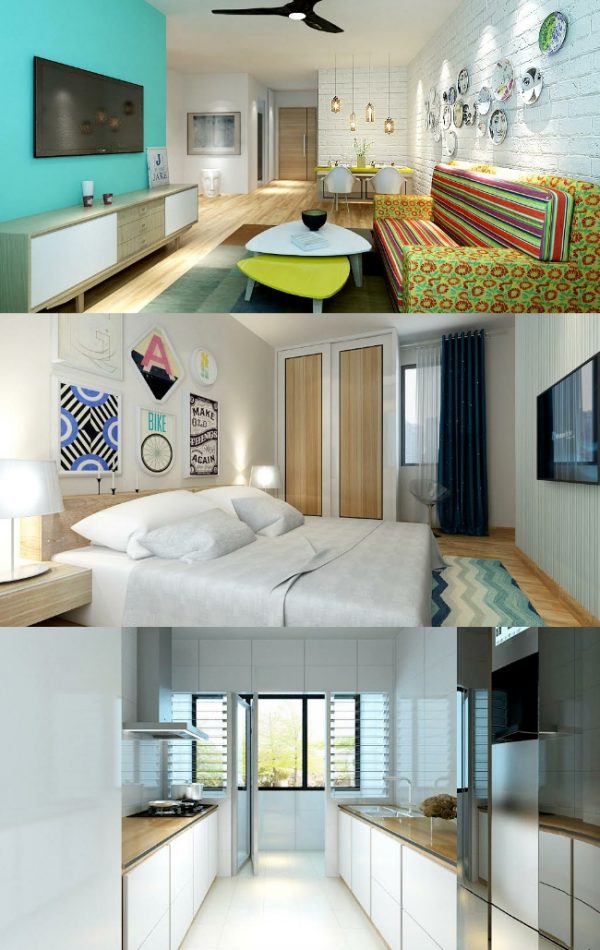 Source: reztnrelax.com | 4-Room HDB BTO renovation cost: S$20,000 (Edgedale Plains)
Step 2: What to do if you skip the ID and design your own home
Alternatively, you can skip the ID with Google SketchUp. Once you've decided to DIY your home plan, you can hire a contractor that is registered under HDB's list of Registered Renovation Contractors (RRC).
To decide on how your house should look like, browse through everything from Pinterest to interior design websites such as Lookbox Living and Interior Design Singapore for design ideas from local designers as well as renovation tips.
However, note that while there is no need to pay for renovation permits anymore, it is still mandatory to apply for a HDB renovation permit for certain works through the HDB website.
Step 3: What to do to save money on home decor and miscellaneous items (the fun part)
Get lighting and furniture from JB
Because the price for everything is divided by three.
If you want to get furniture from IKEA, try the IKEA outlet which has just opened in JB. Thanks to Singapore's stronger currency, it means you'll get more bang for your buck.
Tampoi Lighting Centre, Starworld Lighting, YES Electrical Supply and VIP lighting are some of the popular lighting stores to buy in JB if you prefer to physically inspect the products.
Pro tip: Most Interior Designers will help you install externally bought lightings if you ask nicely!
Source your own classy-looking countertops
Buy your own marble/granite countertops from ulu industrial warehouses that will make your furniture look classy AF at a low price.
Paint your house
Instead of paying your ID S$1,500 for five paint colours, you can DIY or buy wallpapers online. A typical HDB room takes about 3 rolls.
Get your own accessories
Check if your reno includes electrical switches, door knobs and handles in the package price. To save money, you can source for your own accessories so you won't be charged inflated prices for them.
Ezbuy everything with a S$2.99 unlimited shipping fee
Source: @tippytapp (she Taobao-ed all her decor!)
To save on furniture costs, use Ezbuy or Taobao to find affordable alternatives to expensive household items.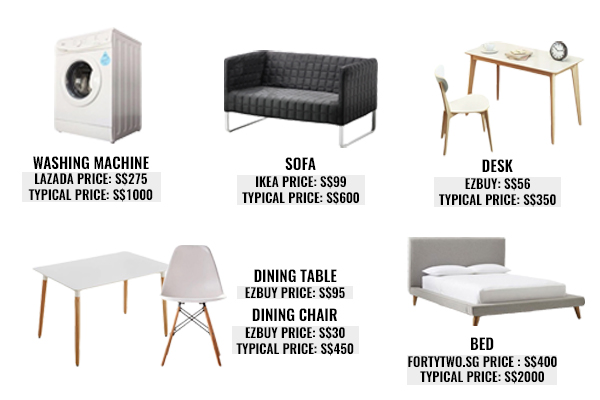 A little bird told us that Ezbuy Prime trial has a S$2.99 shipping option for unlimited parcels & weight per checkout. You can also opt for another S$7 to S$8 home delivery fee so you can sit back, relax, and receive your items at your doorstep.
Pro tip: If you've already used up your Prime trial, find Carousell 'sellers' who will be able to help you order with their Prime account in exchange for a minimal fee (~S$1).
Alternatively, you check out our Taobao English Guide For Singaporeans Who Can't Chinese.
Home Renovation Ideas In Singapore
While we all wish to build a haven that we can retreat to after a long day, we shouldn't neglect the financial costs involved in making your dream home a reality. Home renovations can impact one's cash flow significantly if not planned properly.
One hack in exercising financial responsibility is to use Singsaver.com.sg to compare the various personal loans available across Singapore, and find a loan most suitable for you.
One recommendation would be the Citibank Personal loan, which has one of the lowest interest rates on the market.
Whether it's for home improvements or your university degree, you'll be able to see the most up-to-date interest rates, rewards, and sign-up bonuses at one glance.
In addition to their easy-to-use comparison tools, Singsaver.com.sg also provides practical money-saving tips for Singaporeans through their blog, eBooks, podcasts, and guides, making personal finance more accessible to everyone.
Related: Easy BTO How-To Guide For Clueless Singaporeans (2018)
This post was kindly sponsored by Singsaver.