BTS Meal Sneakers 
Unless you've been living under a rock, you would know that the long-awaited BTS Meal hit our local McDonald's outlets on 21 June 2021. And, in true Singaporean fashion, the BTS Meal packaging has already been preserved and made available on our Carousell feeds. However, artist and fashion designer, Josiah Chua has taken it one step further to create custom BTS Meal sneakers. 
Read on to find out more about the design of these kicks that'll put the run in an episode of Run BTS.
Sneaker design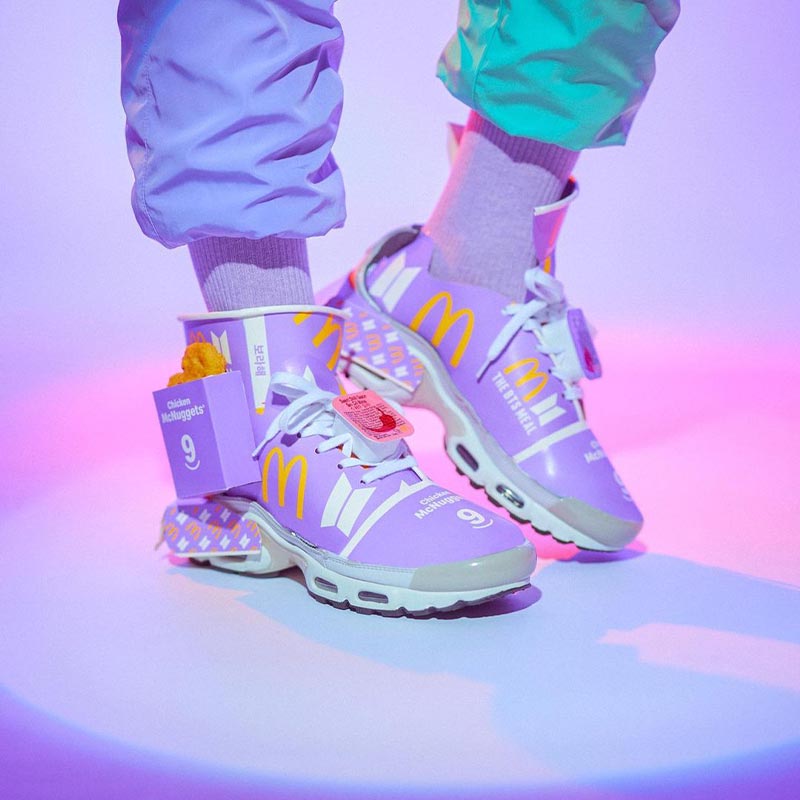 Within 1 day of the BTS Meal's launch, Josiah got his creative juices flowing and released his design of the custom sneakers on his Instagram, with photos shot by @jaydenation.  
You've heard of upcycling old fashion pieces, but the local artist has taken it to another level with his BTS Meal sneakers. What's even more impressive is that it seems like almost all the packaging items in the meal, from the cup to the sauces, have been incorporated.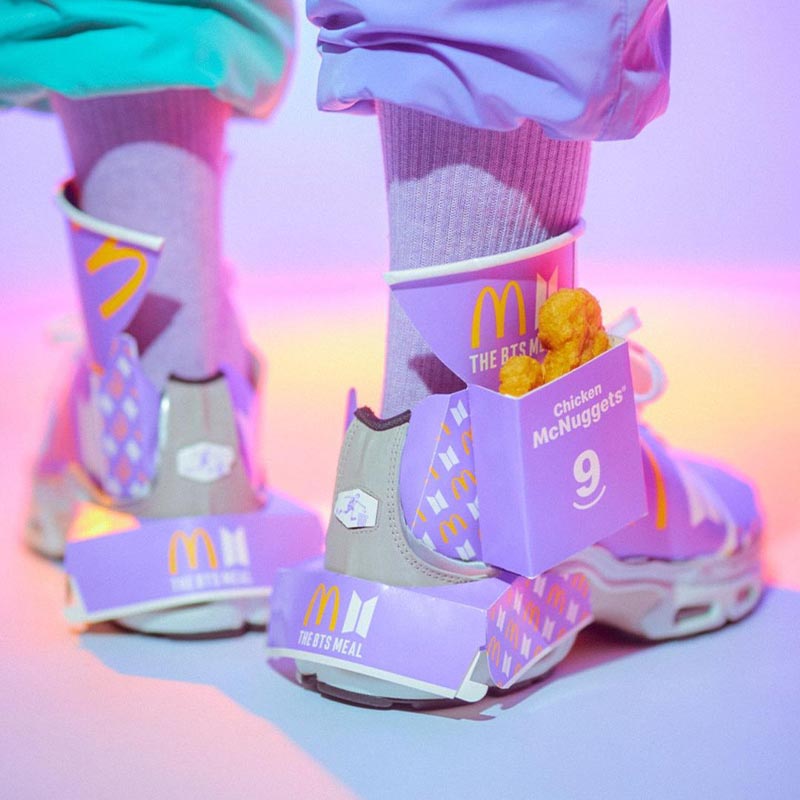 Josiah made use of the BTS meal drink cup to create a unique half high-cut, half low-cut silhouette on the sneakers. Forget Dr. Martens (or SAF footwear for the guys), who needs those when you have ARMY boots created by Josiah?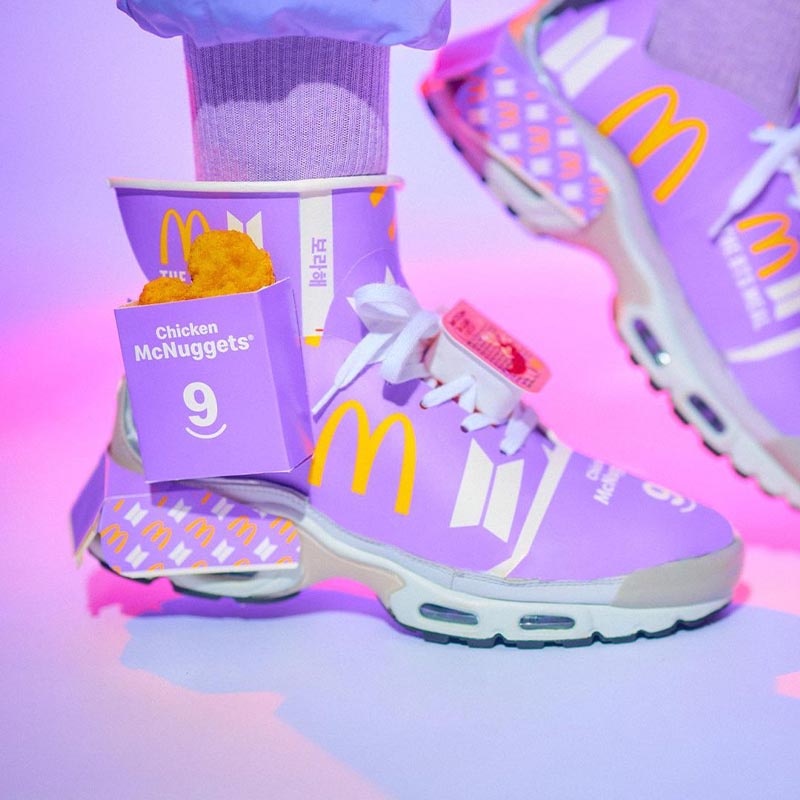 There's even a special pocket on the side of the shoe created from the 9-piece nugget box, conveniently placed to store chicken nuggets on the go. 
Also read: 
The New BTS Pop-Up At Funan Is Now Open For ARMYs To Get Butter-ed Up With Exclusive Merch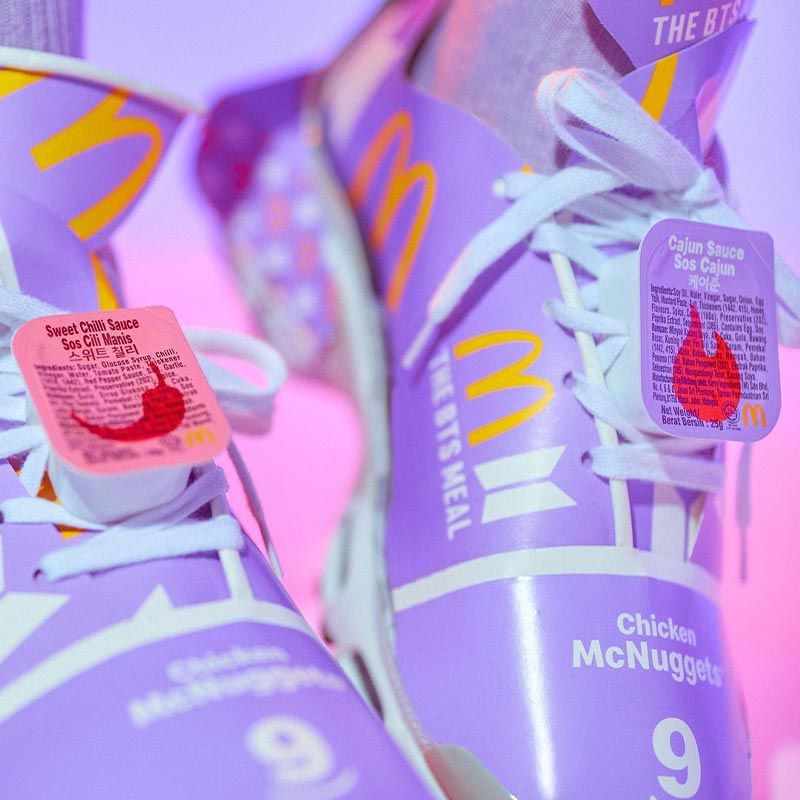 The Sweet Chili Sauce and Cajun Sauce boxes are incorporated as lace charms on the kicks. If you look closely, these boxes aren't simply pasted on. Josiah actually cut holes in them to thread the laces through, so you never need to worry about them falling off.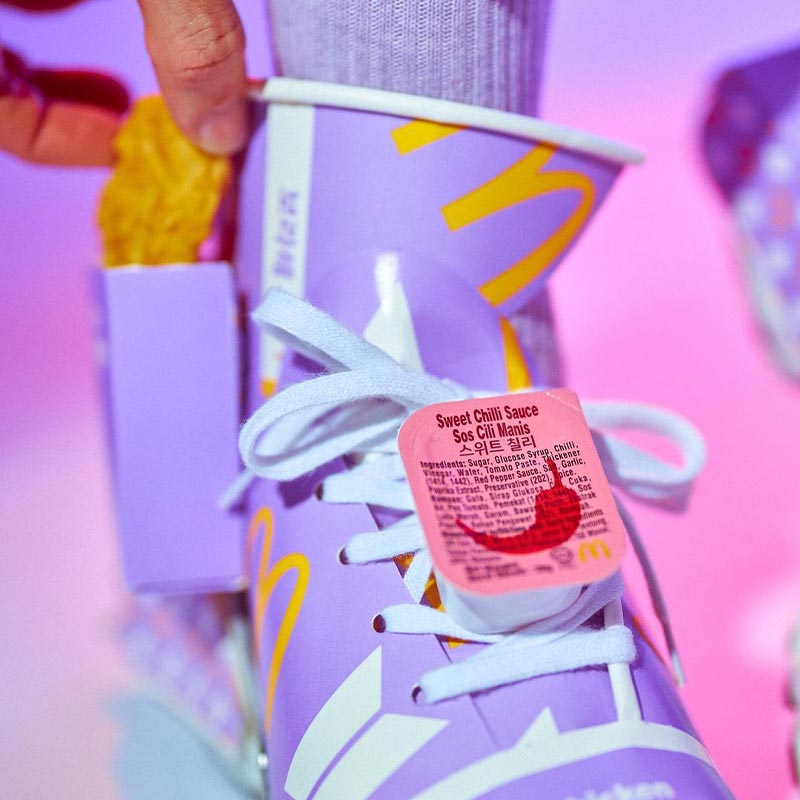 Honestly, these BTS Meal sneakers, if made commercially available, might blow the existing BTS x McDonald's merch collections out of the water. When it comes to a shoe's design, Josiah certainly knows how to "Make It Right".
These Custom BTS Meal Sneakers Will Make You Want To DIY Your Own With Nugget & Sauce Boxes
With the release of the BTS Meal and the latest pop-up at Funan Mall, Bangtan fever is stronger than ever here in Singapore. Fingers crossed that Josiah will be taking orders for custom BTS Meal sneakers sometime soon. Although, ARMYs probably won't wear them out because they're simply "2 Cool 4 Skool", or anywhere for that matter. 
To end with a little PSA: demand for the BTS Meal is no doubt through the roof now, so make sure to be understanding towards delivery riders if there are delays!
All images courtesy of: Source 
Also read:
These BT21 Night Lights Have Motion Sensors To Easily Leave Them "On" And Accompany You At Night