BTS Pop-Up At Funan Mall
It's a good time to be an ARMY. With the recent BTS event at Suntec City and BTS temporary tattoos, there is no shortage of love from the Bangtan Boys. Hot off the heels from their new single "Butter", a new BTS pop-up store: Space of BTS is now open here in Singapore. Read on for more details about the BTS pop-up store at Funan Mall.
BTS Pop-up: Space of BTS 
Prior to HYBE Corporation's (BTS' management company) announcement of the pop-up, one keen-eyed Twitter user, @wanderstrucked, took notice of the retail space's construction at Level 2 of Funan Mall.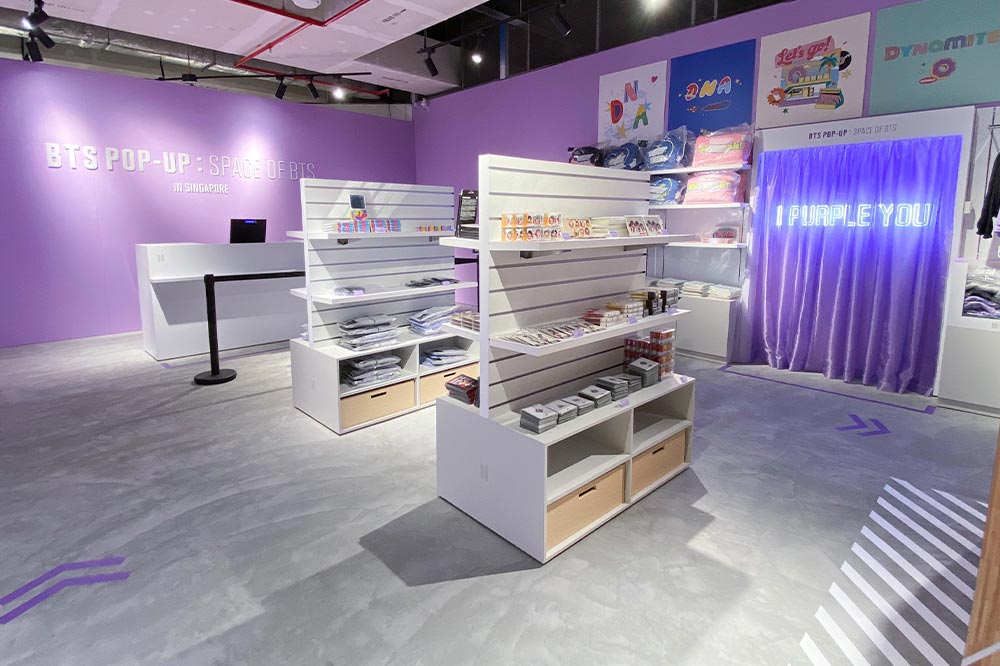 Thanks to the same Twitter user, we can also see previews of the completed store. The walls are bathed in pastel purple, BTS' signature colour.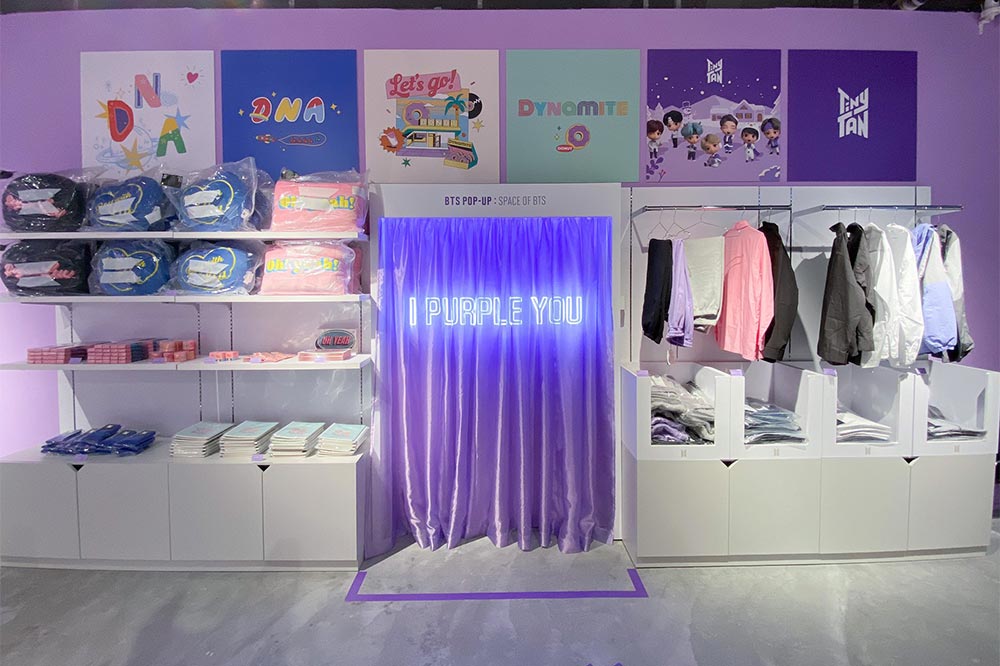 Of course, no pop-up is complete without photo-ops. When you do make a trip down to the store, be sure to commemorate your time there with a picture in front of the purple curtains.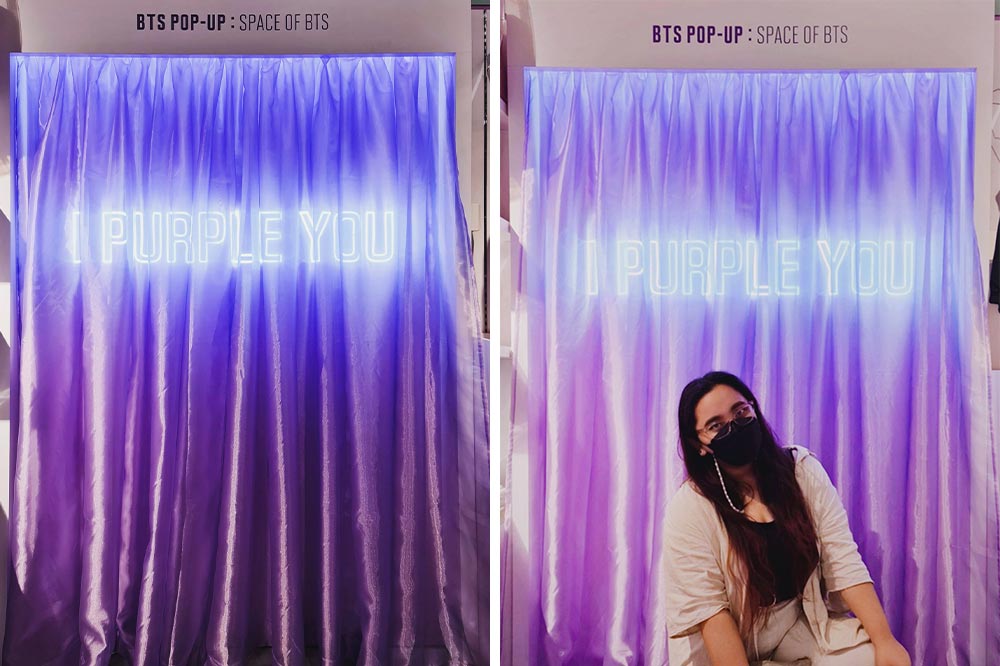 A neon sign reading "I Purple You" which means "I Love You" in the BTS fandom is displayed. In fact 1 eager Twitter user, @mrsjeonjoy, has already visited the store and snapped a few shots, setting an example for other ARMYs.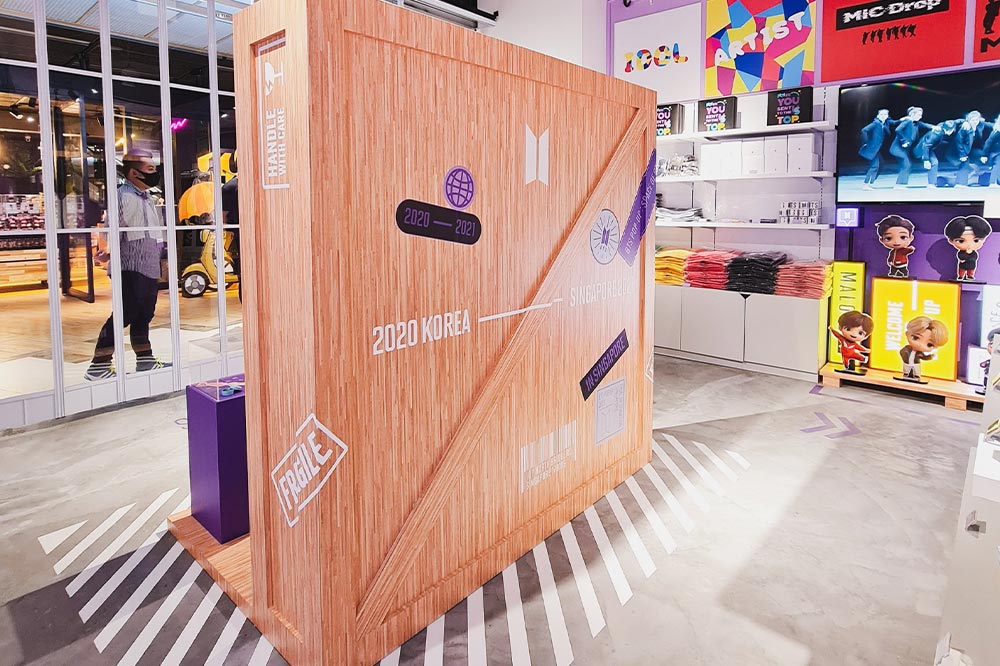 Another good backdrop for your pictures would be the store's big front display. Perhaps the crate-like design symbolises the impact BTS is making all over the world.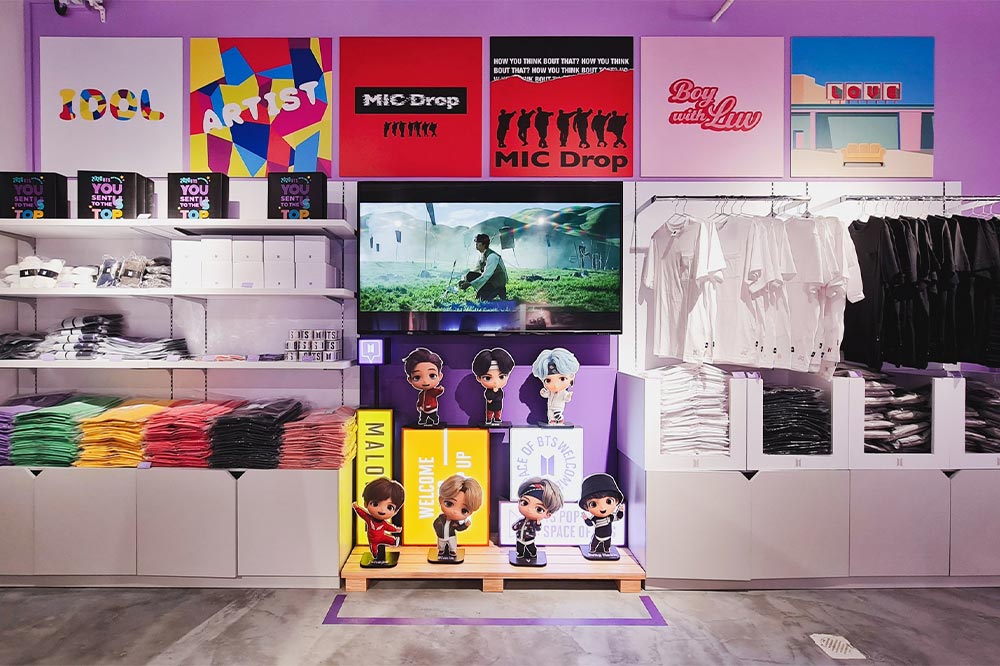 The posters on the walls display titles of various BTS singles including "Mic Drop", "Idol" and "Dynamite". From the looks of it, the Space of BTS pop-up at Funan will celebrate all eras of the band's career. Whether you're an OG fan or a new recruit to the BTS ARMY, there'll be something for you. 
Also read: 
BTS Temporary Tattoos Let You Show Your Love For The Band On Your Skin & They Are Dynamite
Butter merch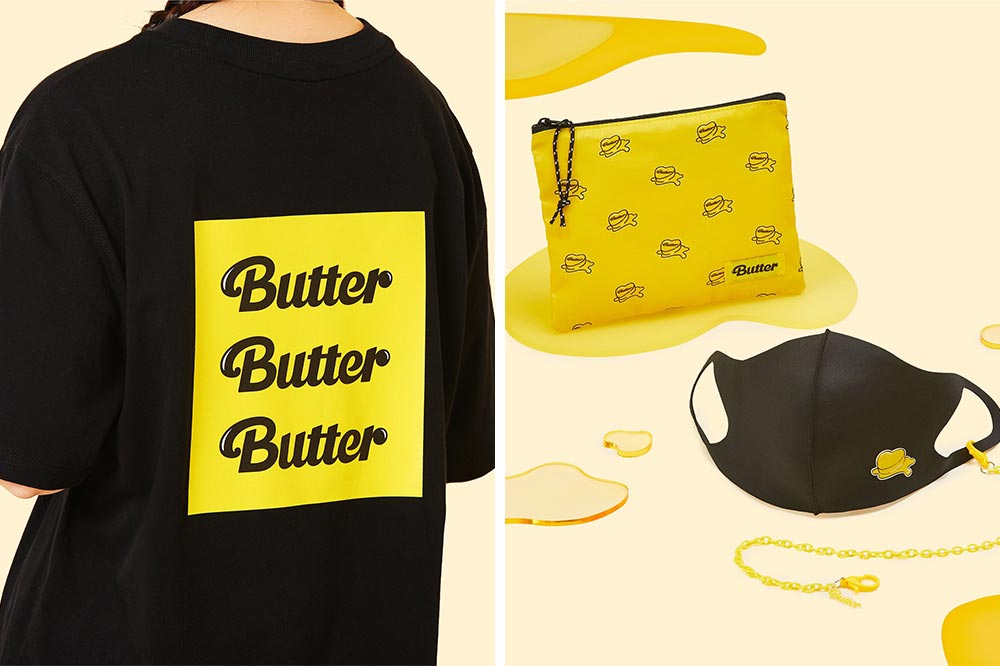 ICYMI, BTS dropped their latest all-English single "Butter" last Friday on 21 May. As with many songs from the group, the track quickly gained immense popularity. "Butter" has already broken many records including most Youtube views within 24 hours and biggest global Spotify debut. 
It's therefore not out of the realm of possibility to expect BTS' freshly released merch inspired by the hit single at the Space of BTS pop-up at Funan Mall too. Included in the collection are items such as face masks and t-shirts so cute that it will "melt your heart into two".
BTS pop-ups around Asia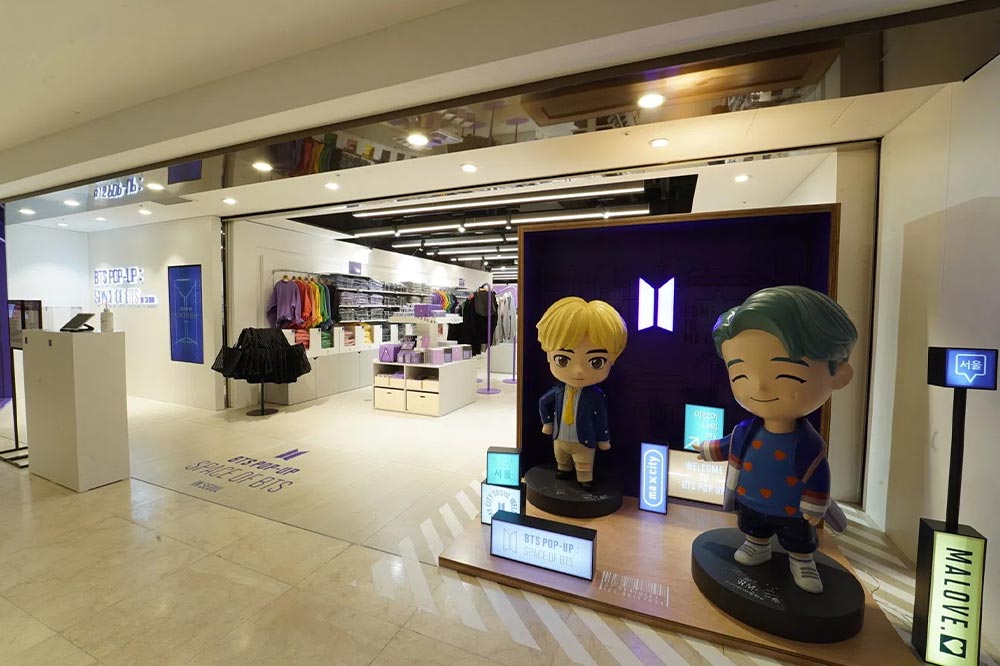 Space of BTS pop-up store in Seoul 
Source
While Singapore is the first in Southeast Asia to host the Space of BTS pop-up, it's not the first in the world. Previously, this edition of BTS' showcase made its rounds in South Korea and Japan.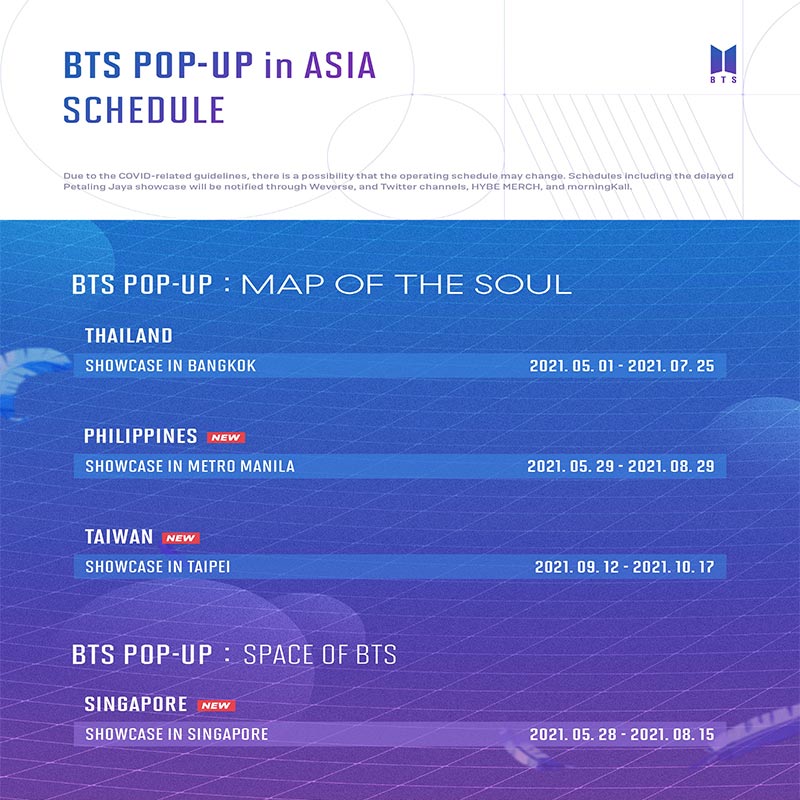 Other countries in Asia will also be hosting BTS pop-ups as well. However, unlike Singapore, the showcase they will see is BTS Pop-Up: Map of the Soul.
This pop-up store is similar to the previous BTS pop-up in Singapore that was held at Plaza Singapura. 
Get Fire-d Up For The Space Of BTS Pop-Up At Funan Mall 
The Space of BTS Pop-Up at Funan Mall is now open and will run until 15 August 2021. It will operate from 10am to 10pm daily.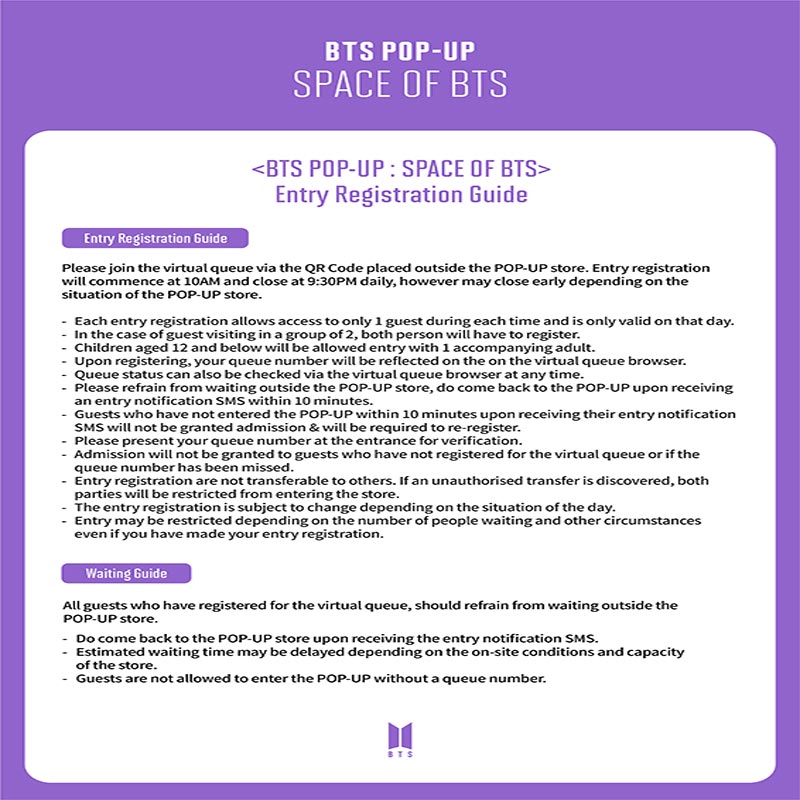 Given the current COVID-19 situation, it's a no-brainer to expect social distancing rules and entry restrictions. To enter the pop-up, you will have to join a virtual queue by scanning a QR code displayed at the storefront. Each guest will have to scan the code and slots are non-transferrable, meaning no queuing for your friends. Registration commences at 10am and will close at 9.30pm. For more details you can check out the official Twitter account. 
Hopefully, the news of this pop-up store will ease the disappointment of BTS stans as the highly anticipated BTS Mcdonald's meal's release date has been postponed to next month.
This article was first published on 24 May 2021 and last updated on 28 May 2021. 
Cover: Source, source
Also read: 
This BTS ARMY's Pastel HDB Flat Looks Like A Part Of The Dynamite Music Video Set