Carolyn Zhuang AWWA Care Specialist
Women At Work is a new series where we uncover females making waves in their respective industries, carving out an inspiring career for themselves and for others. 
—
Getting our first job is like a rite of passage into adulthood — it's a pretty daunting process that makes adulting feel extra real. After graduation, many of us may struggle to figure out what exactly we want to do. Plus, job hopping is a common sighting nowadays, with more people pursuing different careers throughout their working life. 
But for Carolyn Zhuang, a Care Specialist at AWWA Home, joining the social service industry at 21 years old felt just as natural as it being an extension of her personality. Now, 15 years later, she remains just as passionate and committed to helping people with additional needs and disabilities. 
We spoke to Carolyn to find out what it's like to pursue caretaking as a career, the ups and downs of her job scope, and what advice she has for the public to be more encouraging towards people with disabilities.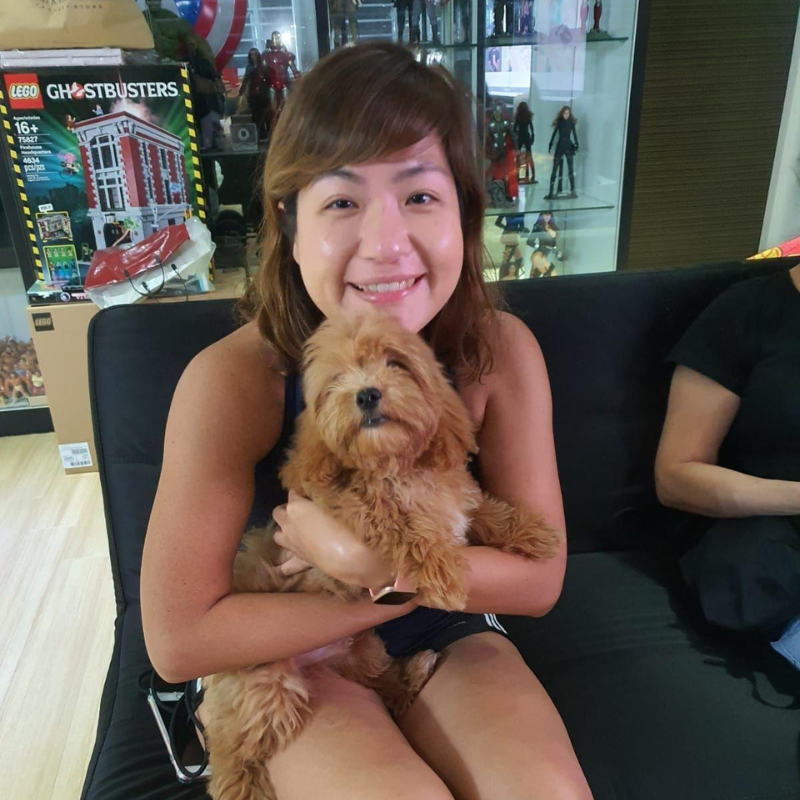 Can you give us a brief introduction of yourself?
I'm Carolyn and I'm 37 years old this year. I'm currently working as a care specialist in AWWA Home, and my hobbies include swimming and reading. 
You started your journey with AWWA in 2007 at just 21 years old, when most peers your age would have chosen to go down the corporate sector route instead. What made you decide to do so?
After my O Levels, I was undecided on my educational and professional aspirations. I explored the early childhood sector earlier on, but it didn't feel like the right fit for me. 
One day, my cousin, who was working at AWWA, suggested that I should consider a position with the AWWA Special Student Care Centre. It was a relief position at that time and the centre was also newly set up. I was very hesitant, but I eventually thought "why not just give it a try?" 
I had zero knowledge on people with disabilities and special needs then. Despite that, I decided to just step right in and take up the challenge.
Did you feel any pressure from your family and friends to do something else instead?
No, I believe that my journey today was shaped by my family and friends, who have supported me wholeheartedly in my decisions.
My family views the values of compassion and empathy as core tenets in life. Looking back at my journey so far, it was very natural that I came into this line, since I grew up in an environment and cultivated these values. In a sense, my job suited my personality.
Are there any stereotypes and misconceptions that you wish to address about your job scope and the industry?
When people hear the term "disabilities", they tend to assume that people with additional needs are pitiful and incapable of living fulfilling lives. I would think that as an advocate, I endeavour to change the mindsets of people around me one step at a time. 
I try to provide decision-making opportunities for clients I work with. It's usually very simple — it could be things such as what clothes to wear or what drink to consume. These may seem like small efforts, but it helps the empowerment of others. And I think it's more powerful than we often give it credit for. 
By encouraging choice-making, we can build up a person's self-identity and increase participation in everyday life. 
Specialising in caretaking for 15 years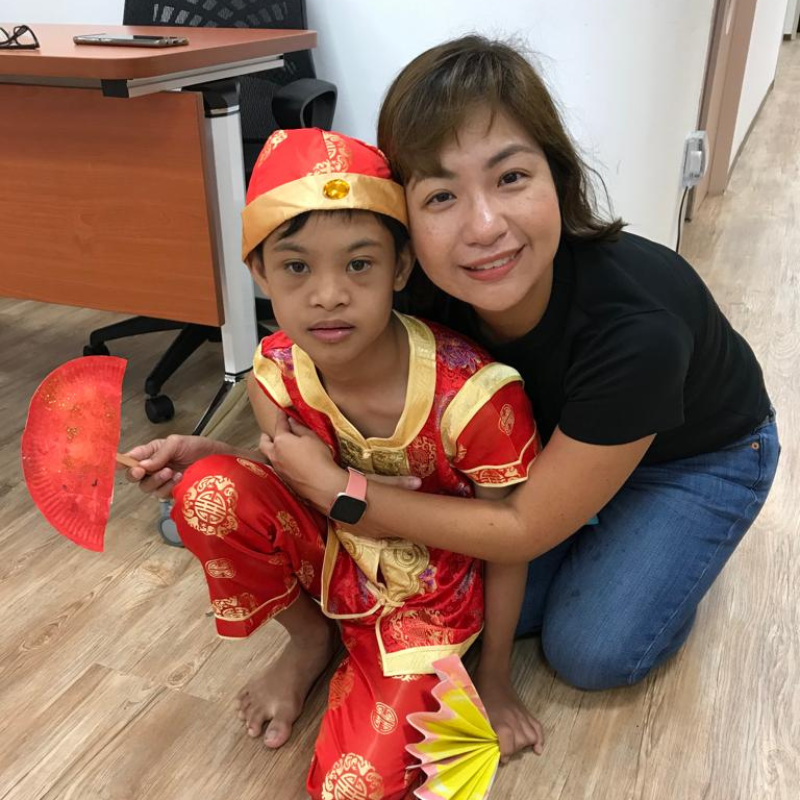 You were an instrumental member of the Special Student Care Centre. Can you share with us more about your role back then?
I started as a Programme Assistant. The Special Student Care Centre is an after school centre that provides care and opportunities for students from 7 to 18 years old. It also provides respite and opportunities for their caregivers to remain in the workforce. We implemented programmes such as arts and crafts, simple meal preparations, music and movement, and more enrichment activities for students under our care.
I also work very closely with their caregivers to identify and work on their goals, strengths, likes and dislikes together. We had two staff members taking care of 10 students in a team. Before the pandemic, we used to have up to 50 students.
Since there's a diverse range of students, there's never a one-size-fits-all programme that meets everyone's needs. So it's always important to exercise creativity when planning programmes and activities for the students. 
It can be challenging and tedious on some days. Of course, sometimes students would display behaviours of concern. But with help from our team of psychologists and school teachers on a daily basis, we find out how we can manage these behaviours and if these strategies can be carried forward to our centre.
Why is specialising in this field so important to you?
I've been in this field for almost half my life. Over the years, there have been many programmes to support children, the youth and the elderly. I believe that there are many more that can be explored for adults with disabilities. 
I decided to join AWWA Home because I have worked with children previously, so it would be interesting to see how it is to work with adults with disabilities too.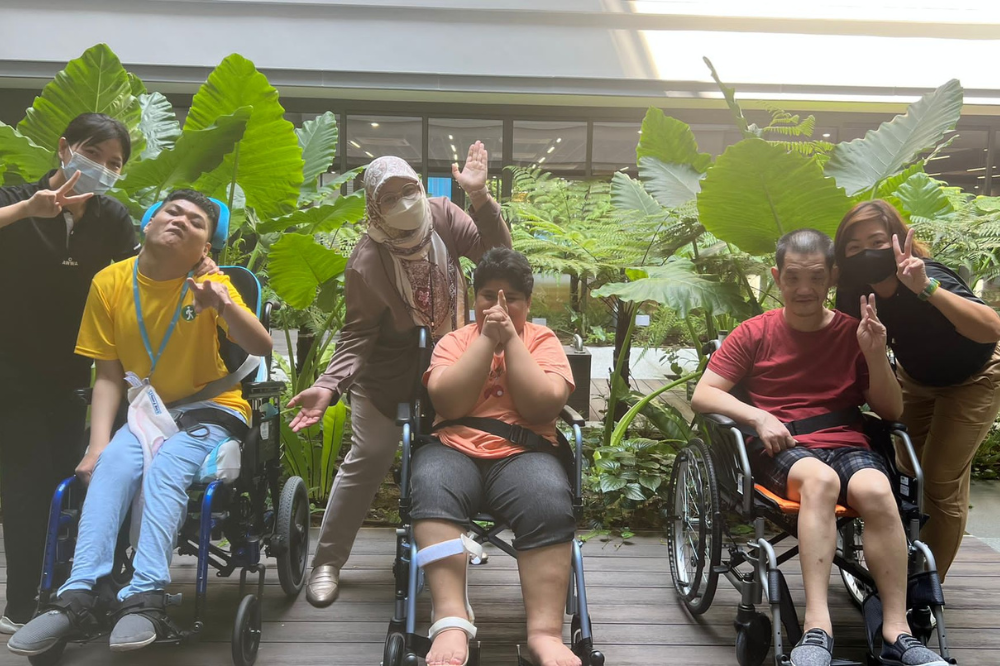 Carolyn (right) with her team and residents in AWWA Home
Now, you are a Care Specialist for adults with physical and/or multiple disabilities. Can you share with us more about your role?
I work closely with a multi-professional team consisting of physiotherapists, nurses, healthcare assistants, speech and occupational therapists. As a team, we provide care and support to the physical and social well-being of our residents. 
AWWA Home provides 24/7 care, but I work from 9 to 6, and for the rest of the time, the healthcare aids will be taking care of the clients' needs. I start off my day by reading documentation updates and catching up. If there are any changes related to behaviour, I will follow up with my team members. 
For the rest of the time, I would spend it with the people I support. It could be small group activities such as working with them 1-to-1 to meet their Activities of Daily Living (ADL) goals and Community Living Support (CLS) goals. ADL includes things like tooth brushing, eating, putting on a shirt and shaving while CLS is more about money management, money concepts and preparing a simple meal. 
I think the biggest challenge of our job is that it's a 24/7 care. We are responsible for all aspects of client care, which requires us to be physically present with our residents as much as possible. 
But I would also say that 24/7 care can be a pro too. Since we spend a lot of time with our clients, we have multiple opportunities to bond with them. I don't think typical 9 to 6 jobs allow you these opportunities to foster such relationships.
Biggest takeaways from work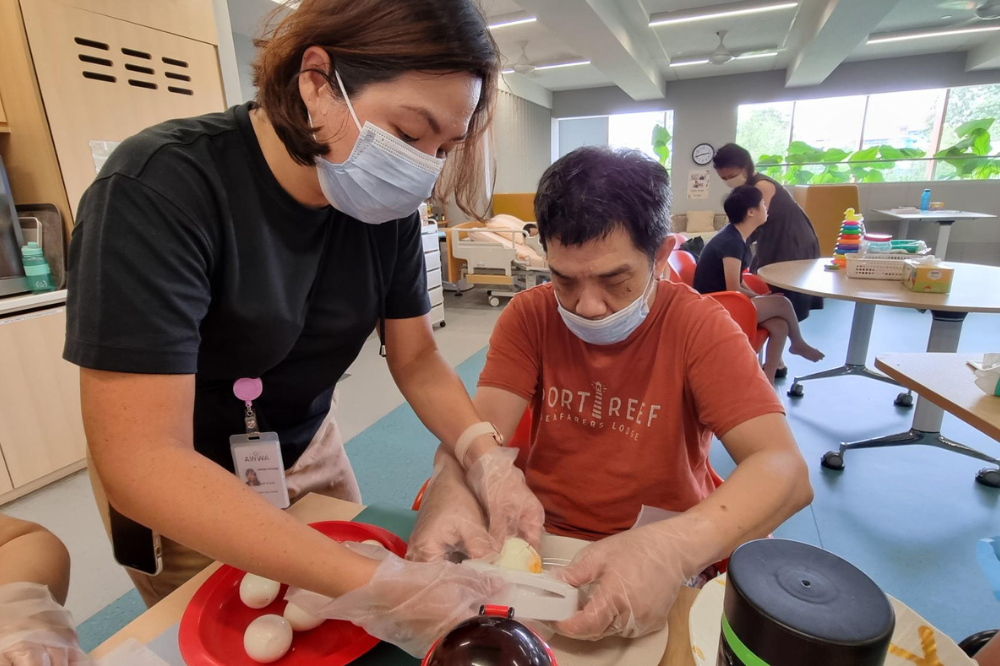 Were there any heartwarming incidents with your clients that touched you? 
At AWWA Home, one of our weekly programmes is meal preparation, which is also our residents' favourite activity. Food preparation is an example of an important activity of daily living, and through this, we explore different methods and recipes, which vary in scale and difficulty from potato salad, to French Toast and muffins.
My cooking and baking skills are subpar at best — the only times I step into my kitchen at home is to raid the fridge for snacks. But during every meal preparation session at AWWA Home, the food gets devoured in record time, and our residents often ask for second helpings. 
I think I particularly impressed the residents with my French Toast recipe and since then, they started calling me "Chef". The nickname stuck and a caregiver even came up to me one day to ask me if I was the Home's official cook!
 These experiences give me a sense of satisfaction, and I feel deeply appreciated, because a lot of planning goes into crafting meal preparation sessions that are suitable for everyone. Seeing how something like baking may seem ordinary to others, but extraordinary to our residents, drives me to always do better. In fact, because of the positive feedback I have gotten, I feel inspired to sign up for cooking and baking classes.
Having the opportunity to contribute to these young lives over so many years, and to see them grow to be as independent as possible so that they remain integrated in society, is my greatest motivation.
What are your biggest takeaways from your daily achievements at work?
Having worked with people with different needs over the years, I have learned that empathy is sorely undervalued. Empathy allows us to have an appreciation for diversity, to see others for their strengths, and to collaborate well with those who have different personalities and needs. 
It allows us to engage in both teaching and learning, and it sharpens our ability to navigate social situations better, because the world is made up of different people with different preferences and ideas. 
I make it a point to practise empathy everyday with not just my clients, but with my teammates too, such as when we try to resolve disagreements by finding a balance between views. And I count these as daily small wins at work.
Also read:
Women At Work: How This 24-Year-Old Author Got A 6-Figure Book Deal With A Story Based About Singapore
Plans for the future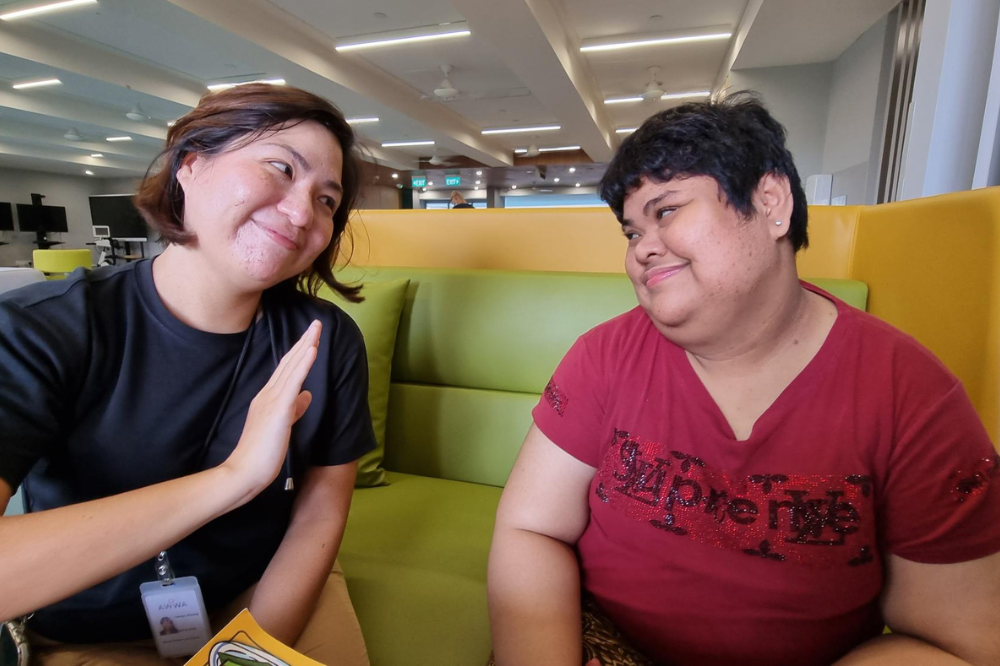 What are your plans for the future, both in terms of your job and your personal life?
I have clients who use sign language to communicate, so I would like to learn sign language too. Personally, I would also like to travel again — it's something that I've been wanting to do since the pandemic struck. 
What do you hope for the adults with disabilities under your care?
I want them to feel valued and have a sense of belonging in our home. We envision our home to be a home without walls. I hope that we will eventually spread these positive feelings to the wider communities, as providing a sense of comfort and security is important for our clients to live out their dreams and aspirations as much as they can.
Currently, we are working with people from 18 to 57 years old. It's quite a big age group and I'm handling a lot of people at once, but we're just starting out and still getting people in.
Advice to the public
What advice do you have for the public, when it comes to being more encouraging and supportive of adults with disabilities?
We should create more opportunities to interact with people with disabilities, especially when this area is very unfamiliar to many people. Within our home, we are seeking to foster a strong sense of kampung spirit by involving our residents, people working nearby, or even school facilities, to come and be part of our activities. 
With more opportunities created from people of all walks of life to interact, I believe that everyone will have greater appreciation and understanding of one another. Just keep an open mind and a willing heart.
Any advice to youths who are passionate about joining a similar industry as you, but are pressured by the idea of going down a different path from their peers? 
We have more young adults coming in with various interests and expertise — there are people from finance, communication and even IT, choosing to develop themselves professionally here. 
At the end of the day, every job will provide one with a learning experience. It's important for anyone who's embarking on their professional journey to decide what gives them meaning and what kind of values they should stand for. If you have a strong will to improve the social impact foundation, then go for it. Join the social service sector.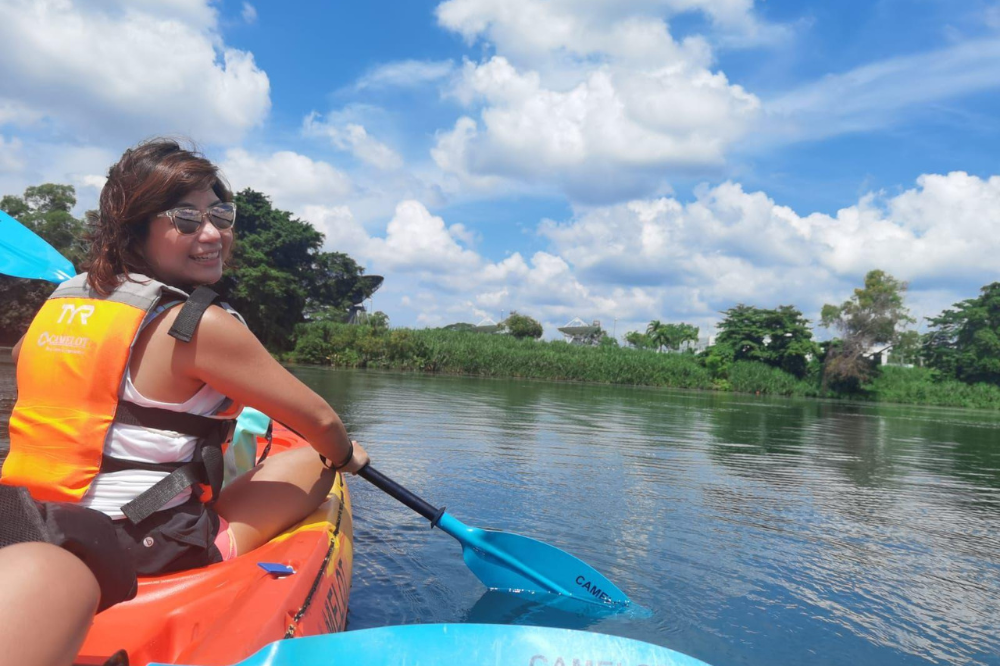 What is one quote you live by?
"A person who has good thoughts cannot ever be ugly. You can have a wonky nose and a crooked mouth and a double chin and stick-out teeth, but if you have good thoughts, it will shine out of your face like sunbeams and you will always look lovely."
This quote is from Matilda by Roald Dahl. It stuck with me because I realised that no matter who you are, it's about sincerity in what you do. And about treating people like how you want to be treated.
Pursuing Caretaking For Over 15 Years Taught Carolyn Zhuang To Have An Open Mind & A Willing Heart
Ending off the interview with what Carolyn finds valuable about the social service industry, she shares, "it accords me multiple opportunities to advocate for a world in which everyone can live out their unique dreams and aspirations, and I can be a voice for those who may not yet be able to express or speak for themselves."
Through pursuing caretaking for over 15 years, Carolyn has learned many valuable lessons — one of which includes having an open mind and a willing heart, something that we, as a society, can strive towards to encourage inclusivity. 
All images courtesy of Carolyn Zhuang.
Some quotes have been edited for brevity and clarity.
Also read:
Women At Work: This 29-Year-Old Went From Acting In DBS Bank's Web Series To Joining Their Tech Department