Jamie Xia DBS Sparks
Women At Work is a new series where we uncover females making waves in their respective industries, carving out an inspiring career for themselves and for others. 
—
Growing up, most of us would recall entering arts and science streams when we were in secondary school. Yet, not all of us stick to our field of studies forever, which goes to show that life is full of surprises.
Meet Jamie Xia, a Hong Kong-based model and actress, who made her acting debut in DBS's award-winning mini-series DBS Sparks. But earlier this January 2023, she took a leap of faith by stepping into the tech industry with no formal training or degree in the field. 
Currently, Jamie is part of the DBS's Technology and Operations department, and we spoke to her to find out more about the reasons behind her career switch, from addressing stereotypes to tips on surviving in the ever-changing tech industry. 
Moving halfway across the world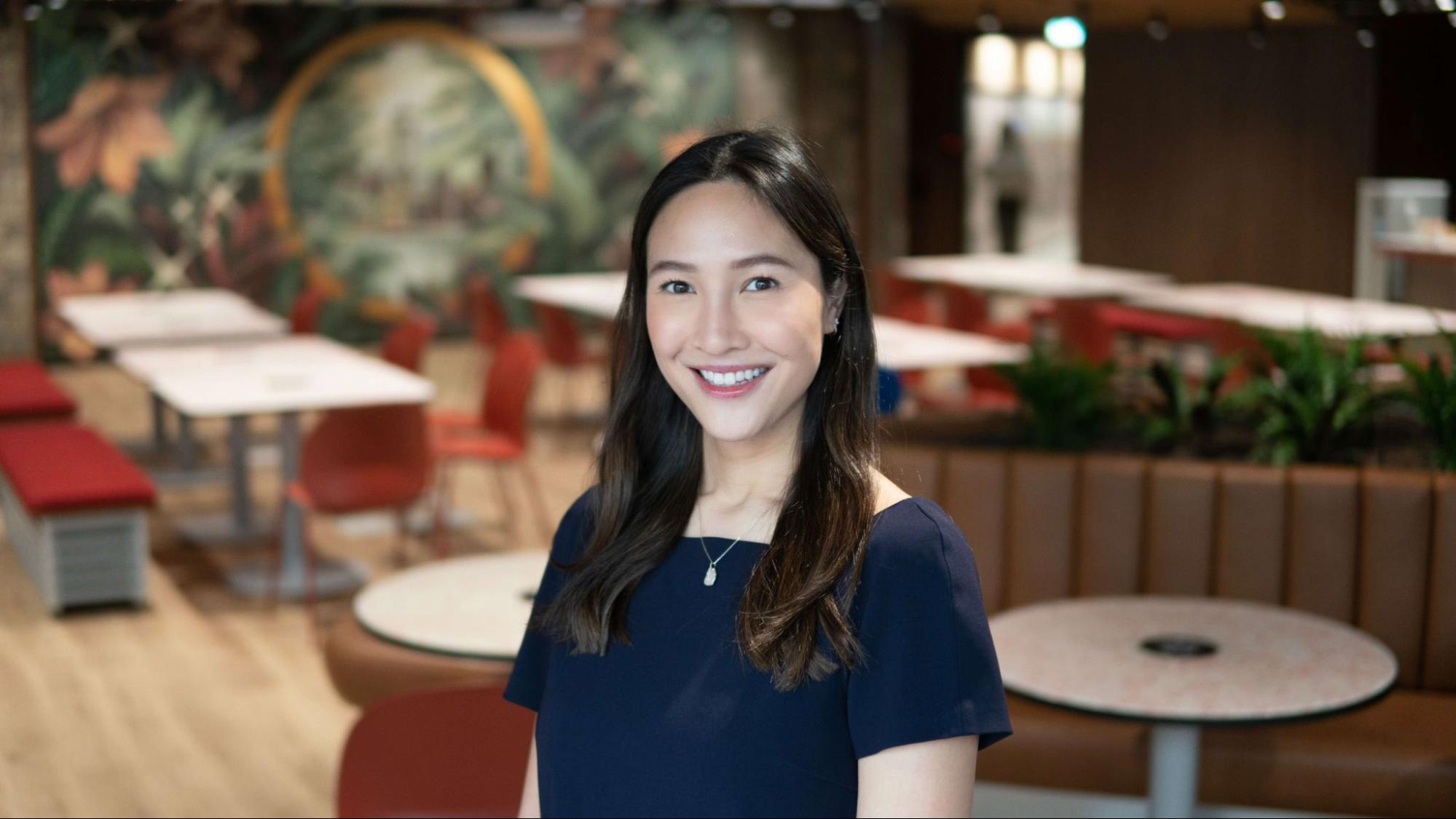 Image courtesy of DBS
Share with us more about yourself.
My name is Jamie and I am American-born Chinese. I moved from Seattle to Hong Kong about 10 years ago when I was 19 years old. I didn't expect myself to fall in love with the city and live here for the long term. 
Right now, I am 29 years old, and I currently work in DBS's Technology & Operation department.  I am part of the Consumer Banking & Core Engine team, and I work with the business department as well as the developers and the support units. 
Was being a model and actress something you dreamt of when you were younger?
Honestly, I never thought about it, but now that I look back, I realise everything I did when I was young has been quite aligned. 
When I was younger, I was very into dancing, and I was also a gymnast, so performing was something I was always comfortable with. Since I grew up with a creative mindset, everything felt quite natural with opportunities like modelling fell into place.
Debuting as an actress through the DBS Sparks series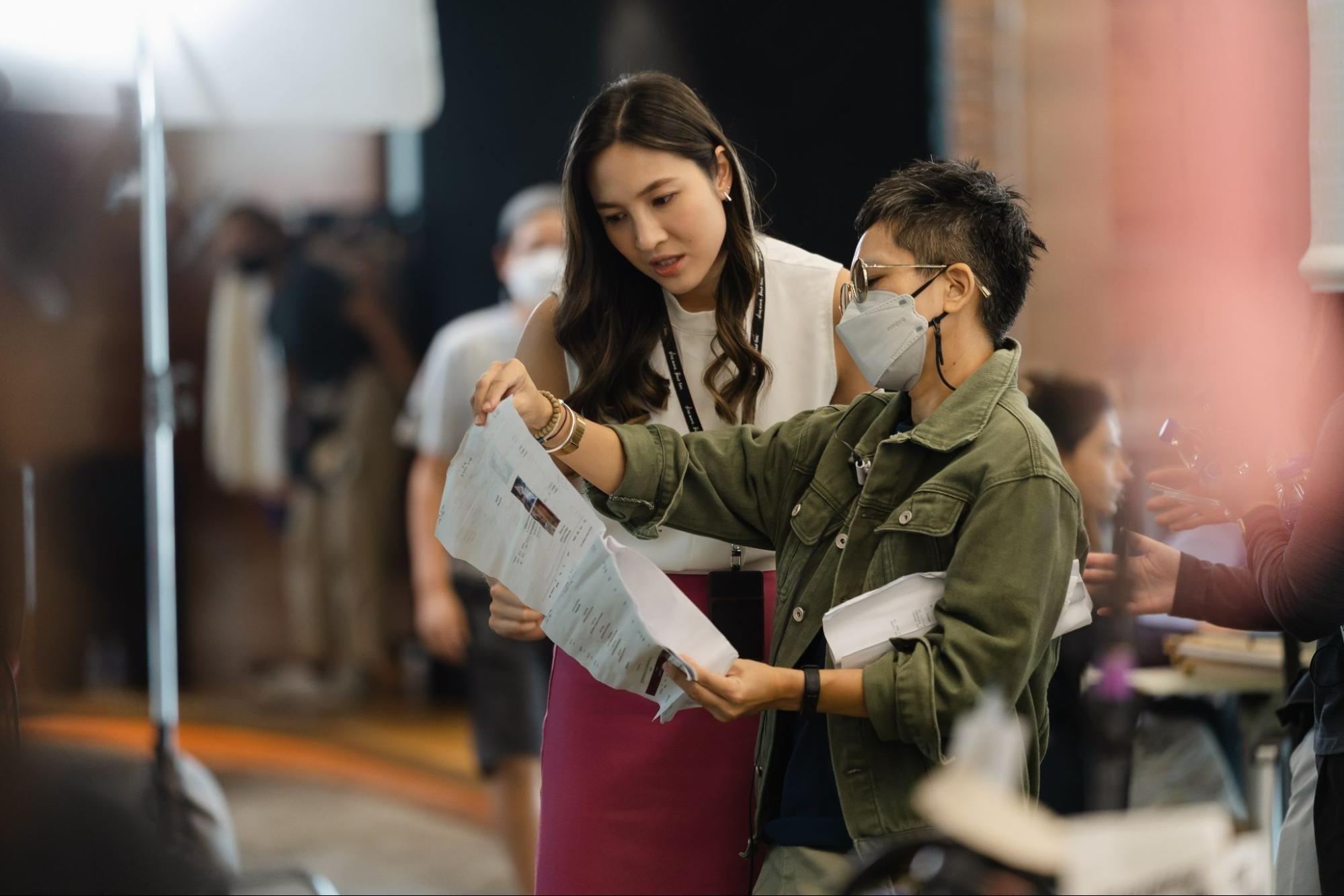 Image courtesy of DBS

How did you land the acting role as Claire in the DBS Sparks series?
Back when I was with my modelling agency, they received a casting call for DBS Sparks and asked me to head down for the audition. It was similar to any other casting call except it was for acting, which at that time, I had no experience in. 
I have always liked the idea of acting but because my Cantonese was not fluent, it would have been tough for me if I ever acted in Hong Kong. As such, I never really looked into working on my acting skills. 
Luckily, the casting for DBS Sparks came along, and my agent told me that they needed a fluent English speaker so I thought it was perfect. It was a great opportunity, especially for me to get into acting. 
During the audition, she told me to turn around and look into the camera when she shouted the character's name Claire. That particular take was part of my casting video, and it was later shown on screen to the director David. 
He only told me many years later that when he first saw my video, he instantly knew that I was suited for Claire. His words gave me goosebumps because they made me feel really special. 
Sometimes in life, you try so hard to get a role or to get a job interview, but it is like the saying: "if it's meant to be, it's meant to be".
What was it like acting alongside veteran actors such as Adrian Pang and Tan Kheng Hua?
One thing is for sure ‒ both of them were really professional. 
The best skill that they possess, and I think many actors also have, is the ability to stay serious. 
Acting is a job at the end of the day, and when you work with a lot of people, there is a chance that you might become emotional. 
We've all heard stories of how certain actors get cranky or emotional, but they stayed really professional throughout the filming.
What was your takeaway from filming the mini-series?
Thanks to the mini-series, DBS's effort in being environmentally-friendly has taught me a lot about how I can contribute to a greener lifestyle. 
Recently, I visited one of DBS's newly renovated offices, and I noticed that all the tables in their pantry are made from recycled materials. I find that really cool and special because DBS is trying to implement greener living in their employees' daily lives in the ways that they can. 
On my end, I try not to order food, especially since most of it is delivered in plastic containers. I'm very big on not using straws too, and I make sure I bring my own bags when visiting the grocery stores. I also carpool with my friends whenever I can.
Also read:
This Mother Of 4 Shares How Her Teenage Pregnancy & Breastfeeding Struggles Led To Her Breast Pump Business
Making a career switch at the age of 29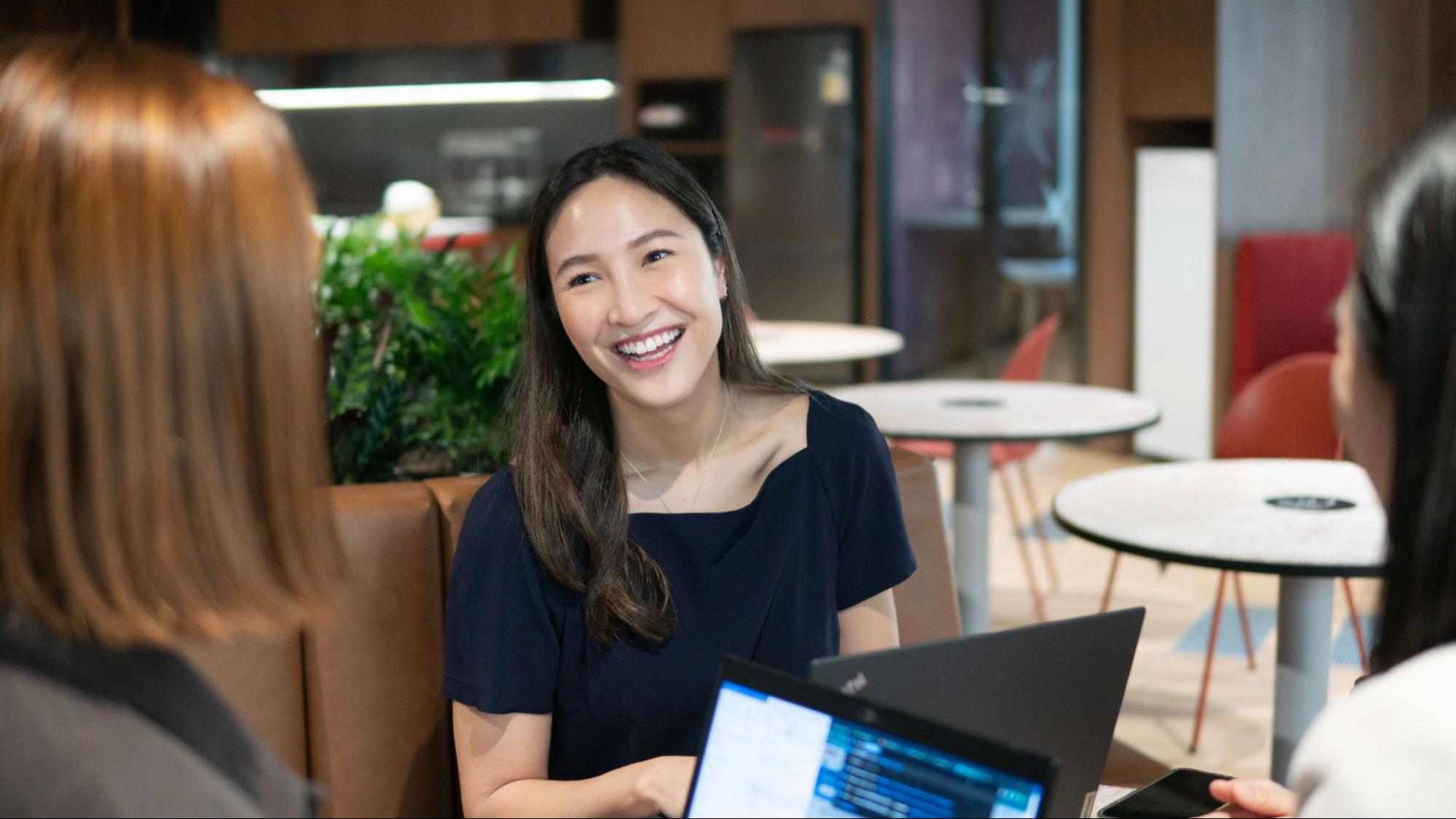 Image courtesy of DBS
Why did you decide to join DBS's Technology & Operation department? 
Before joining DBS, I actually took on corporate roles in different companies. My previous job was a digital role so it wasn't so much of deep tech, but I was very in touch with the digital realm like metaverse and Web 3.0. 
I seriously considered becoming a software engineer and learning coding because I love the fact that coding has its own language. Since it was very hard for me in Hong Kong to read and write Chinese, the idea of coding having its own universal language inspired me to work on that. 
With DBS, I know that their company does a lot of digital transformation. They are really strong on their tech front and forward-thinking even though they're seen as a bank at the end of the day.
How did the opportunity come about? 
After talking to some of my girlfriends who are coders, they inspired me and it got me thinking about switching jobs. So I reached out to DBS and put in some applications for a couple of roles, and at that time, I didn't think I was going to get any callbacks. Surprisingly, they called me and I spoke to a few people before figuring out what role was right for me. 
But after the interviews with DBS, I actually didn't hear back from them for quite a while, so all this time I was thinking "Do they want me? Or do they not? Will there be something for me? Do they think I fit?". It was very heart-wrenching since I had all these thoughts going through my head. 
After that whole process, I received the call that I got the job. It felt like those moments when you get a call from your dream university, or even like when I got the DBS Sparks role. 
Did you have any previous experience or knowledge in this field of work?
Honestly speaking, I didn't but I dived into computer science by enrolling in free courses online. There was a really good one that I took, and I did a lot of reading on data and cloud computing and tried to learn as much as possible without having a proper degree in tech. 
I tried my best to upskill because I found it important to be able to have conversations with people who would take me seriously at that point in time. 
Now, I am still learning. And since my current job scope requires me to test and read codes, I also get the opportunity to work with developers and learn from them. 
Do you feel that the tech industry is largely dominated by males? 
In general, people tend to think that the tech industry is heavily dominated by males. But nowadays, much more females are getting into tech, and there are a lot more software engineers who are females too. At DBS, it very much reflects that – I have a few girls on my team as well. 
Although most people still think that there are more males in tech, I feel that the idea is slowly shifting.
What are some of the stereotypes that you wish to address after joining the industry?
Some might think we have tons of workload. At least from what I have experienced, those working in the tech industry do have a work-life balance. DBS allows us to work from home or head to the office whenever necessary.
Another stereotype I've noticed is that some people think that tech is boring. Whenever people ask me what I do, and I share with them, they appear to get bored. But I think it eventually boils down to how much you care about it.
With tech, not everyone understands what daily projects are for and how small changes by companies in the tech industry affect our lives. They can seem really small-scale, but in the grand scheme of things, they are essential for true digital transformation. 
For instance, we recently saw the introduction of ChatGPT, but not everyone might understand immediately why those new technologies are necessary for us. You have to be patient about tech and know that is a long wait. 
How did your friends and family react to your career switch?
My friends were very supportive because they knew that I had dreams of getting into a technical role. The same goes for my family ‒ they knew that I've always wanted to challenge myself to new things. 
But I have to say that I probably shocked my parents a lot because no one from my family initially thought that I would be modelling or acting. Not to mention, I moved halfway across the world to pursue modelling when I was still at school at that time. So when they first heard about the career switch, they went, "Oh? She wants to work in tech?". 
What do you like most about the tech industry?
I love that you can always keep learning in tech, and I'm sure that it applies to many other industries as well. I find it beautiful that the tech language is universal and anybody could be part of the tech industry. 
As someone like me who entered the tech industry with no prior knowledge, I was also very touched when one of the managers on my team advised me with the phrase, "as long as I am willing to learn". It made me understand that tech is accepting of everyone as long as you have a positive mindset about it.
Surviving in the tech industry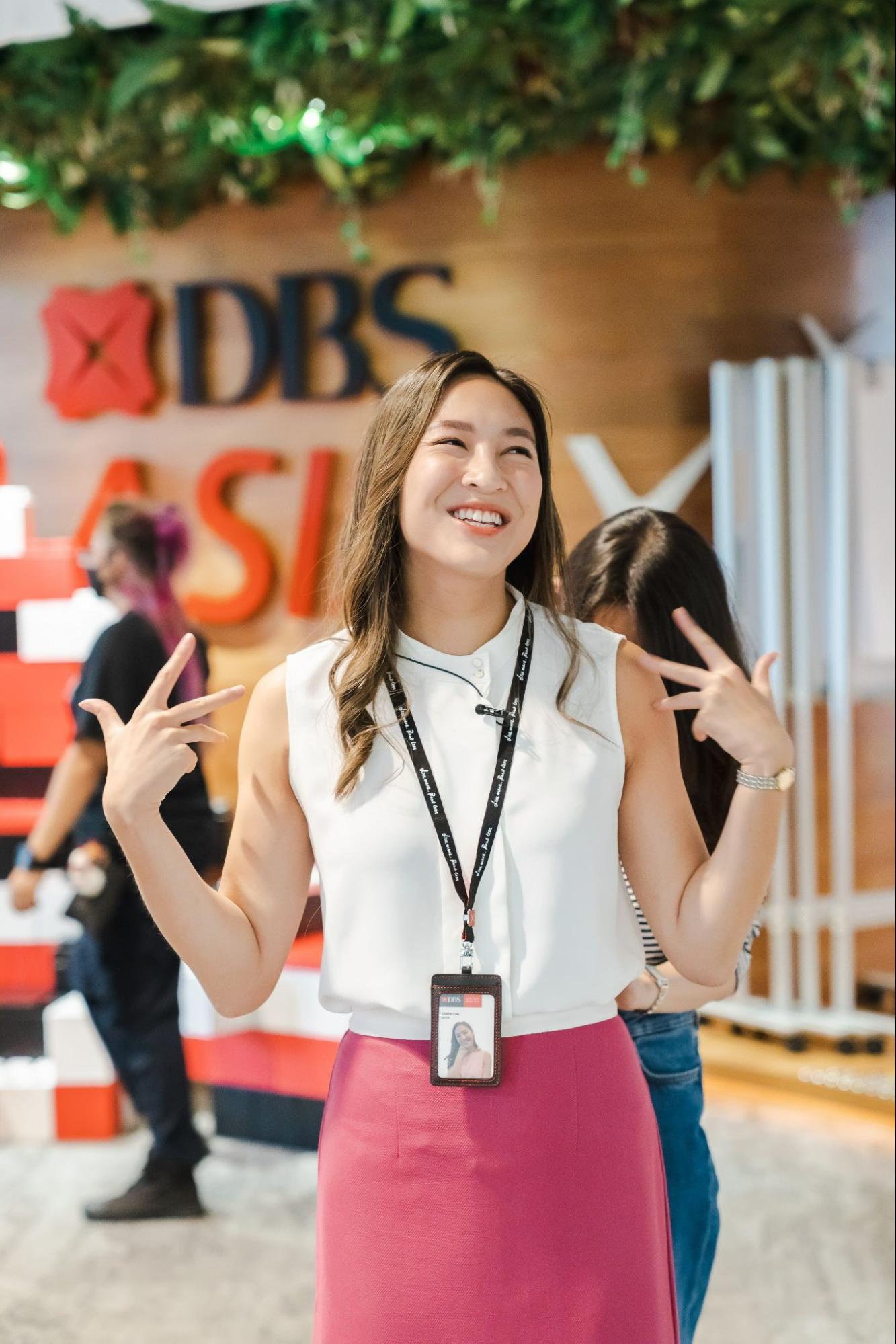 Image courtesy of DBS
What is one work challenge that you are facing right now?
There's this saying in Cantonese called "sam gap", which basically means to be eager. And for me, I tend to want to learn everything all at once. I want to be as capable as my peers because I think they are brilliant and I want to be able to understand them. I also want to be able to offer good ideas and support them, but all of these obviously are challenges for me because I still have a lot to learn.  
As such, I have to remind myself to slow down, and go step by step because I will learn them eventually. 
Are you affected by the tech industry layoffs? 
I definitely feel for the people who were laid off, especially since I have some friends in the U.S. who had to experience that. One thing that I kept telling them was that "you have to stay positive because right now, the world is shifting and it is out of our control". 
We have all experienced things that are beyond our control like Covid-19, but as long as we are resilient, I'm sure we can overcome any hardship. 
If you have a friend that needs help finding a new job, encourage them to put themselves out there and share about it on LinkedIn.
Can you share with us a brief summary of your daily workflow? How do you juggle between work and other gigs that come along?
Like any office worker, I work a 9 to 6 job, and because I enjoy being in the office, I'm usually there around 830am and I leave around 6pm or so. If there are any influencer or modelling gigs for my social media that come along, I usually schedule them on the weekends or at night after work. 
Right now, these events are considered my hobbies because I don't have to be so focused on them as compared to before.
Some people enjoy relaxing on the beach during the weekends, but for me, I look forward to a photoshoot whenever it is possible.
Plans for the future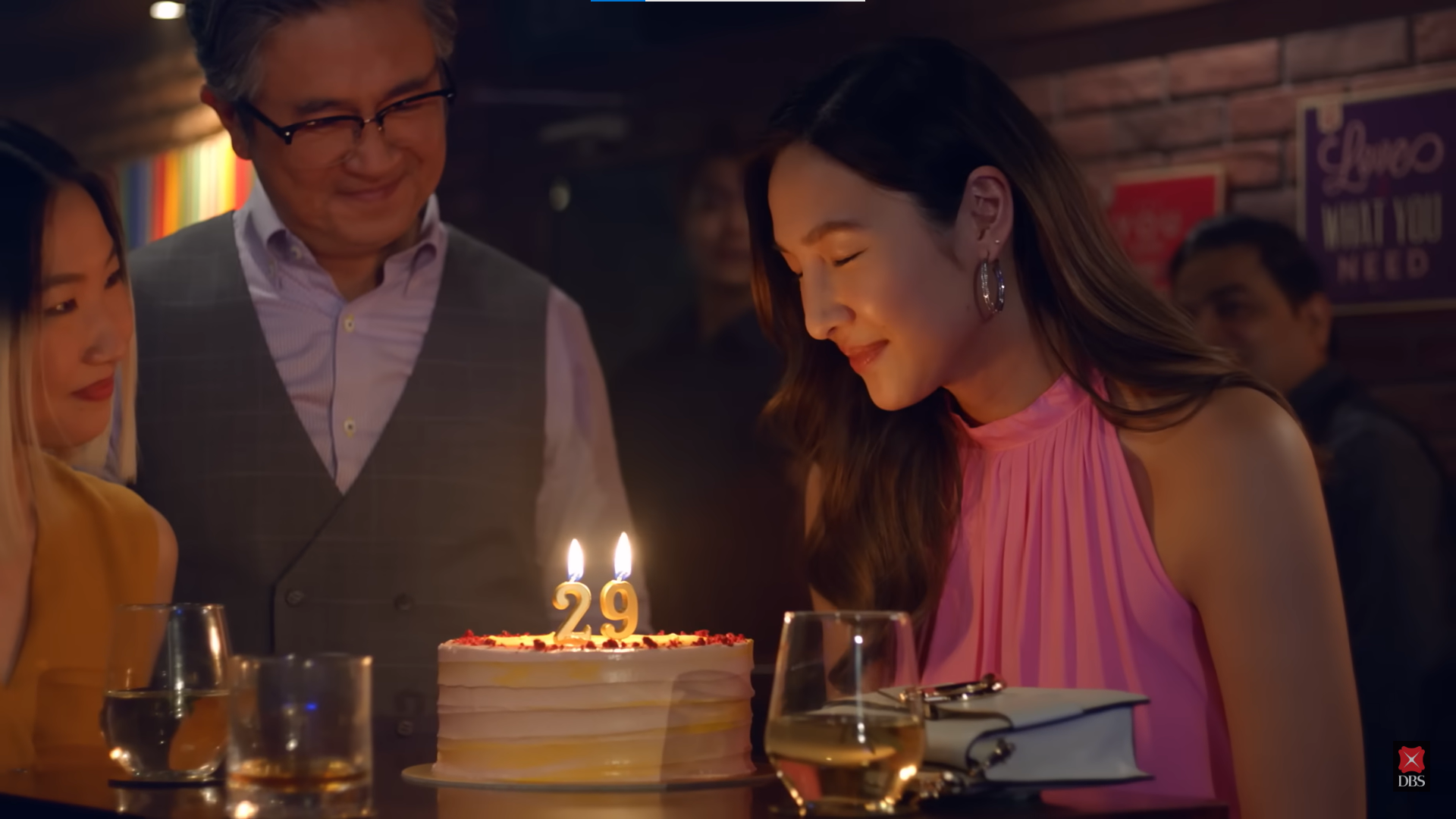 Source
What are your plans for the future?
I'm happy with where I am right now because it has only been slightly more than 2 months since I started at DBS. There's so much left for me to learn so it will be too soon to say whether I want to try another industry. I believe tech is the future, so no matter what I do, I want to continue to be part of it. 
I know that DBS is open to those who wish to try different types of roles. If I do find something that I want to go for one day, I might apply for an internal shift, so I'm not too worried about it.   
Do you have any words of advice or encouragement for those planning to make a career switch? 
Nothing is impossible, and of course, the best thing is to talk to people. Go out there and network in the industry you're looking to enter, and truly understand what it is that you wish to switch into. 
The hardest part is having the idea of making a career switch and actually putting the plan into action. Some might be scared and think that it is too late, but I'm 29, and I think it is always doable. 
It is also about being positive and working hard by upskilling yourselves. As long as you really want to do it and have an interest, nothing is impossible and never too late. 
What is one quote you live by?
"Always be curious."
If you are willing to work hard and ask questions, there are always ways to learn, upskill and challenge yourself. It doesn't apply to just careers, but also to life. Since the more you know, the better equipped you are, the more things will come to you.
Jamie Xia Shows That Anything Is Possible As Long As You Believe In Yourself
From modelling and acting to working in the tech industry as a corporate employee at DBS, Jamie's story shows that hard work does pay off. Her never-say-die attitude and positive mindset also inspire us to take the first step in achieving the dream we never dared to pursue. 
Curious folks who are also interested to check out Jamie's acting can also view the latest season of DBS Sparks below.
All images courtesy of DBS.
Some quotes have been edited for brevity and clarity.
Also read:
Women At Work: How This 24-Year-Old Author Got A 6-Figure Book Deal With A Story Based About Singapore