Celebrity Kids In Singapore 
When we look at our parents, we're reminded of both fond moments together and all their nagging over our bad habits. But imagine growing up seeing them on TV or having strangers ask them for their autograph on the street. Having celebrity parents can be both a blessing and a curse, depending on the situation. 
However, instead of staying in the shadows of their parents, these kids of local stars have been making themselves known for their own talents, ensuring that the label "daughter of" or "son of" isn't the only thing they're known for.
Read on to find out just what the daughter of Fandi Ahmad, son of Zheng Geping and more celebrity kids in Singapore are doing to claim their own rightfully-earned fame.
1. Iman Fandi, 22

Iman Fandi is the daughter of Fandi Ahmad, a local football star, and model Wendi Jacobs. Instead of pursuing sports like her father, she seems to be taking after her mother by making waves with her own career in modelling and music.

The 22-year-old has modelled for publications like HerWorld and Vogue Singapore, on top of working with brands like Estee Lauder and Adidas. 
Despite going to a sports school in her younger days for track, her current interest seems to be laser focussed on music. With a single titled "Time Frame" released just earlier this year, it's clear that she's talented in more ways than one. 
A look at her Instagram account will show pictures of her at shoots, her travels and a range of stunning wardrobe choices. It's no wonder she has already amassed a whopping 71.3K followers. 
2. Chen Yixin, 22

As the daughter of one of Singapore's most beloved couples, Edmund Chen and Xiang Yun, Chen Yixin is following in her parents' footsteps with acting. The young starlet and social media influencer can be seen most recently in the lead role of Teenage Textbook: The Series, a readaptation of the 1998 movie and novel.
While she avoided performing in her younger days, it was through dance that her interest in the arts industry was sparked. Not only can you can catch her acting and dancing, but also modelling, singing and even dabbling in photography. While she doesn't appear to be working on any shows at the moment, you can catch her on TikTok flaunting her acting skills.
3. Eleanor Lee, 22

At just 22, Eleanor Lee has already made a name for herself through her acting and modelling career. Having starred in dramas from China like My Love, Enlighten Me, Fake Princess and many more, she's collecting fans globally. This international superstar just so happens to be the daughter of Peter Yu and Quan Yi Fong as well, who are both talented local actors themselves. 
The budding actress is also a singer and guitarists for the band #NoLabels, so to say she's got talent coursing through her veins is an understatement. And if all that wasn't already astounding, she also spends her free time with art, painting and drawing pieces that she posts online. 
4. Chantalle Ng, 27

Already with multiple Star Awards to her name, Chantelle Ng, daughter of "Love Thy Neighbour" actress Lee Meijiao, is making a name for herself in all the right ways.
With appearances on Channel 8 dramas like "While We Are Young", "Terror Within" and more, she's become a familiar face in local media – and she's only 27. Alongside acting, she also serves as the co-founder of Yuan Collagen, which sells slow-boiled soups made from all-natural ingredients. 
You can add "modelling" and "Science degree graduate" to her already extensive list of accomplishments too. If you're wondering how she finds the time to get some much done, we'd sure like to know ourselves. 
5. Callista Cuaca, 23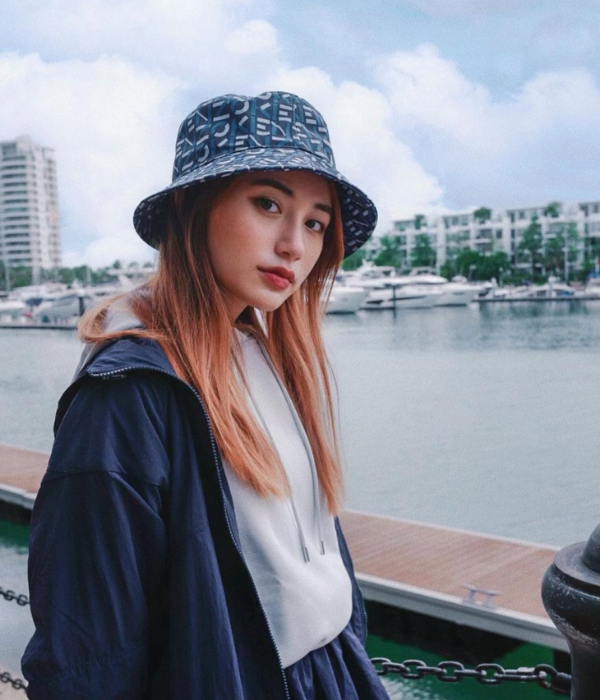 The name Jamie Chua should be familiar to those who keep up with the local rumour mill, but have you heard of her daughter Callista Cuaca? If you've not, you ought to. This fashion influencer, jewellery designer and YouTuber seems to have it all – from good looks to exquisite taste in clothing.
Now aged 23, she has over 42.4k subscribers on her Youtube channel and a remarkable 309k following on Instagram. She's been featured in magazines like Harper's BAZAAR Singapore and Cleo, taking on modelling gigs while also working with numerous cosmetic brands. 
While her YouTube uploads share videos of her spending time with her mom, her Instagram takes on a more edgy vibe with OOTDs of her in stunning outfits. 
6. Calvert Tay, 22

Calvert Tay is the son of Zheng Geping, a local actor and producer. For those who've watched "While We Are Young", you'd have caught him playing the role of spoiled, young Tang Yi Jie, when he was just 17 years old. 
Realising his passion for music at a young age as well, he was enrolled into the music school, Academy of Rock. There, he picked up a couple instruments, such as the guitar, and worked on his vocals in pursuit of a career in music. In fact, just earlier this year, he released his very first English single titled "Right Side".
He has mentioned future plans to release more music while continuing to work on his acting. Guess we'll just be keeping our eyes peeled for his next big cameo. 
7. Tay Ying, 26

Calvert Tay's older sister, Tay Ying, is also carving out a career with her own set of abilities. Both an actress and influencer, she has taken on roles in both English and Chinese dramas. 
On top of a lead role on the series "The Good Fight", she acted alongside her brother on the series "While We Are Young". As an influencer, she also has a whopping 70.2k followers on her Instagram where she shares her dancing skills and her fitness regimes. 
Most recently, she opened Art Republic Studio with a friend, where you can get your dance-on to both English and Chinese songs. 
8. Ikhsan, 23 & Irfan Fandi, 25

The eldest 2 Fandi brothers, Ikhsan and Irfan have definitely followed in the foot–ball–steps of their father, both of them presently members of the national team in Singapore. Besides that, Ikhsan plays for the Norwegian First Division club, Jerv, while his brother is in the Thai League 1 club, BG Pathum United. 
Aside from being known for their passion and commitment to football, they both also do their fair share of modelling, just like their sister, Iman. They've clinched collaborations with brands such as Adidas, Hugo Boss and Louis Vuitton. 
9. Zack Pang, 22 & Xander Pang, 21

Zack & Xander with their parents
Source
Zack and Xander are the two kiddos of theatre veteran Adrian Pang. If you were a big fan of OKTO, you would have likely caught the two acting in some of the shows you watched when you were younger, such as Zero Hero. 
They appear to have taken after their dad with their knack for theatre too, performing together with their father in plays, on separate occasions. Zack acted in "The Son" early last year, while his younger brother Xander was on "Late Company". Both productions were by Pangdemonium, which is run by Adrian and his wife Tracie Pang. 
In their case, a family that acts together, stays together. 

10. Shalynn Tsai, 22

The middle child of Chen Xiuhuan, Shaylynn Tsai has made herself known through her skills as a violinist and actress. 
At just 18, she held her own solo concert at Esplanade where she showcased her violin abilities. Similar to others on this list, she was part of the cast of "While We Are Young" as one of the main characters. Although her acting seems to have taken a pause, she's been filling up her time completing her University studies in Dentistry.  
She's now additionally pursuing another passion: spin-cycling. Working as an instructor at Aurora, she teaches about 8 classes a week sharing her love of fitness with class attendees. If you've been thinking of taking up a new gym regime, perhaps you can join one of her classes and learn from her firsthand. 
11. Shanisse Tsai, 24

The daughter of Chen Xiuhuan, Shanisse Tsai is both an opera singer and a doctor — so you could say she's smart and artistically skilled. 
She graduated from NUS School of Medicine in April this year, and has been working at Tan Tock Seng hospital since then. After receiving her first paycheck, she sent her mother an angpao to show her appreciation for all the support, proving she's truly a mummy's girl. 
Unlike her sister Shaylynn, she's more reserved on social media, although they both share a gift in music. Shanisse is a trained opera singer, who's performed at Esplanade, Carnegie Hall in NYC and Los Angeles' Walt Disney Concert Hall in 2018. 
12. Joel Choo, 28

Son of longtime Channel 8 actor Zhu Houren, Joel Choo has become a name many have heard of, From making music to acting, he is definitely doing his father proud with his success in the media industry. 
A member of the band Maxime, he rocks out on the guitar and sings with friends from his poly days. On his Instagram boasting 22.7k followers, you can spot pictures of his modelling gigs and sweet moments spent with family too.
Before formally leaving Mediacorp in early 2021, he acted in Channel 8 dramas which included Jalan Jalan and C.L.I.F, a series centred on the local police force. Aside from those, you can also subscribe to him making silly videos on TikTok, with a couple of clips even featuring his father. 
13. Chen Yi Xi, 31

The oldest of Edmund Chen and Xiang Yun's two children, Chen Yi Xi, has acted in many local TV series including "My One in a Million". The Mediacorp artist has an Art and Design Media degree from NTU, where he also picked up Japanese, making him not just dualingal but trilingual. 
His array of talents also include taekwondo, playing the guitar and drawing. If you want to get a glimpse of his illustrations, he posts pictures of them on Instagram and has a site "The XI Atelier" where he sells his art and offers workshops for those interested in drawing. 
These Kids Of Local Celebs Are Paving The Way To Their Own Stardom 
These young individuals are living proof that the apple doesn't fall too far from the tree. 
Despite having parents who've already found stardom, these individuals have chosen to make it on their own with their burgeoning careers. At the rate they're going, it won't be a surprise if they become the superstars of the next generation. 
Also read:
15 Self-Made Entrepreneurs In Singapore Below 35, Like The Founders Of Love, Bonito & Secretlab