Charitable Beauty Brands In SG
Treating yourself to a luxurious lipstick and supporting a philanthropic initiative don't have to be mutually exclusive actions. Beauty brands are now using their platforms to champion charitable causes, donating their proceeds to organisations in need with every purchase.
To get involved in this feel-good movement, keep reading to discover fresh local brands and rekindle your love with reliable go-tos that give back to charities and organisations all year round.
Left to right:
WANT Beet This Honey Cleanser ($29)
WANT Hot Cocoa Body Scrub ($49)
WANT The Face Oil ($69)
With sustainability at its core, WANT is an ethical beauty brand that sources organic, fair-trade ingredients like raw honey, cocoa butter, ginger and baobab oil from local communities in Bali, Indonesia and Benin, Africa to aid women in cooperatives.
This natural skincare brand packs its products with antioxidants, vitamins and fatty acids to nourish and moisturise. You'll also find handwoven bags and scarves available for purchase, all made by Balinese women.
Left to right:
Balm Kitchen Awakening Skin Tonic ($58)
Balm Kitchen Perk Up Multi-Purpose Dry Oil ($56)
Balm Kitchen Berry Licious Sheer Tint Lip Balm ($9)
Balm Kitchen works with fair-trade organisations to source organic cocoa and shea butter for its formulas. Crafted in Singapore, its vegan, cruelty-free products are often infused with botanical ingredients that are unique to Asia, such as perilla, goji berries and ginseng.
Balm Kitchen also gives back to charity groups in Singapore, such as the Bone Marrow Donor Programme Singapore and the Society for the Prevention of Cruelty to Animals (SPCA).
Left to right:
Kahina Giving Beauty Argan Oil ($122)
Kahina Giving Beauty Brightening Serum ($105)
Kahina Giving Beauty Antioxidant Mask ($100)
Argan oil is the key ingredient in Kahina Giving Beauty's skincare line, so the brand works with Berber women in the south of Morocco to harvest organic argan oil from the nuts of argan trees.
The natural beauty brand also collaborates with cooperatives and non-government organisations (NGOs) to aid educational, environmental and clean water initiatives to support women and their families.
Left to right:
Tatcha The Rice Polish Gentle ($95)
Tatcha Luminous Dewy Skin Mist ($69)
Tatcha The Silk Canvas ($72)
Inspired by the beauty secrets of a modern-day geisha, Tatcha's Taiwanese-American founder, Victoria Tsai, learned that "beauty begins in the heart and mind." Since 2014, the brand has teamed up with Room to Read, an organisation based in San Francisco that focuses on girls' education.
With each purchase from the luxury beauty brand, Tatcha will take a portion of the sales to fund a day of school, providing education for girls in Asia and Africa.
Also read:
11 Local Organic/Natural Skincare Brands That Even Sell Bandung and Kopi-O Lip Balms
Left to right:
Chantecaille Lip Cristal ($72.54)
Chantecaille Tree of Life Lip Veil ($68)
Chantecaille Philanthropy Cheek ($62.50)
At the heart of Chantecaille lies a deep concern for climate change and our planet's endangered animals. So with every purchase of its Lip Cristal, the luxury beauty brand will plant a tree in Kenya to combat global warming.
In support of Space for Giants, Chantecaille has also created the lightweight Tree of Life Lip Veil to protect the elephants of Africa. To top it off, the brand's Philanthropy Cheek collection is dedicated to the welfare of endangered species from coral reefs to Monarch butterflies.
Left to right:
The Body Shop 100% Natural Shea Butter ($31)
The Body Shop Brazilian Cupuaçu Scrub-in-Oil ($56)
Ever since The Body Shop partnered with Trade Not Aid in 1987, the brand has been sourcing ingredients and materials from all over the globe to assist the communities and women that provide them.
The Body Shop works with the Tungteiya Women's Association in northern Ghana to source its community trade shea butter and a non-profit organisation called Candela in Peru to source its Brazil nut oil. Even the paper used for the brand's gift bags and boxes are handcrafted by Get Paper Industry in Nepal.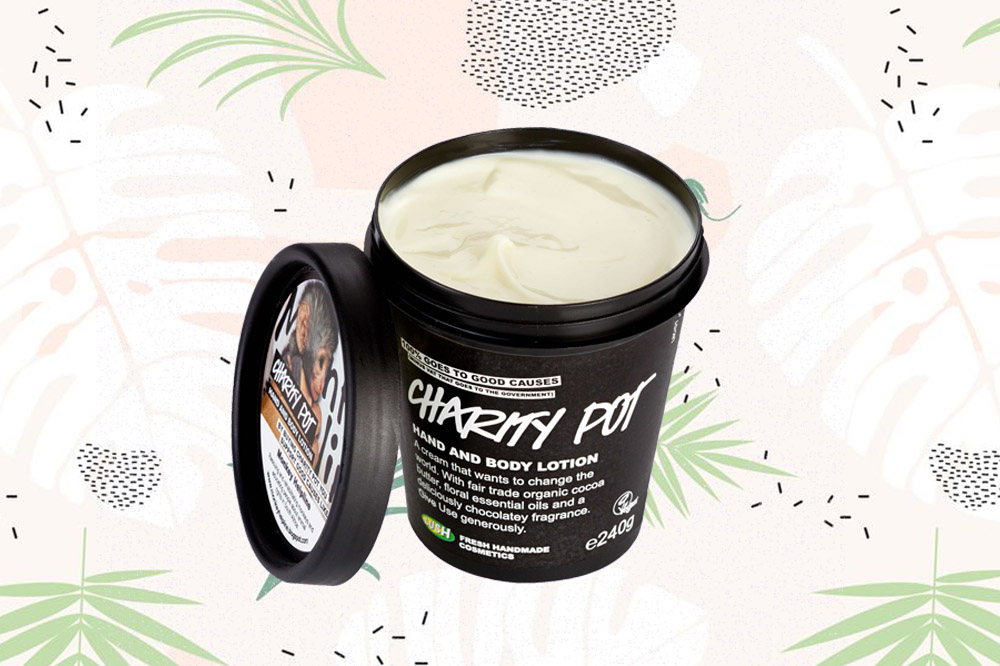 Lush Charity Pot Hand and Body Lotion ($17 for 45g, $58 for 240g)
Charitable giving is fundamental to Lush. The ethical brand seeks to support causes and help those in need, which is why it gives back to local and international organisations through its Charity Pot initiative and Sustainable Lush Fund.
With every purchase of Lush's Charity Pot, a floral-scented hand and body lotion, the brand will donate 100% of the proceeds to small grassroots organisations in 42 countries to support animal welfare, environmental conservation and human rights.
Freedom Menstrual Cup ($35)
Feminine hygiene belongs under the umbrella of beauty too, which is why we're shining a light on Freedom Cups, founded by Singaporean sisters Joanne, Rebecca and Vanessa Paranjothy.
These reusable, cost-effective menstrual cups are made from medical-grade silicone to collect menstrual fluid and reduce the amount of waste generated from sanitary products. When you purchase one menstrual cup, the company will donate a cup to an underprivileged woman in a rural area.
Charitable Beauty Brands In Singapore
The next time you're shopping for a new beauty item, consider these brands that give back to charities and organisations in need, so you can do some good while looking good.
Also read:
10 Places To Donate Clothes In Singapore—Gowns For Stillborns, Low-Income, Teenage Mums