Cheongsam Face Masks
Chinese New Year may be a few months away, but that doesn't mean you can't already start planning your CNY OOTD shots now. Get into ah-ma's good books by pairing your cheongsam with a matching cheongsam face mask. Designed by Joanne Ual, who sells handmade items on Etsy, there are 6 colours available, so you and your squad can have 1 each.
Floral masks
For a fierce look, opt for the red and black masks. According to Joanne, the outer layer is made of satin silk while the inner layer is 100% cotton. It is reusable and there is a filter pocket with a N95 washable filter sewn in. This way, you can wear it not just for the new year, but the rest of 2021 as well, seeing as face masks are going to be sticking around for a while.
For the soft girls, the masks are also available in more feminine colours like gold and pink. There are adjustable ear loops for all of the masks and a nose wire to help it stay in place.
Joanne usually makes both adult and children-sized masks for her designs, so you can match with your daughter for a cute Mummy and Me shot, or your niece to look like the cool aunt.
Lastly, there are also blue and black masks for those who prefer more minimalist looks. These have the same simple floral designs in a complementary white or grey tone.
Also read:
Why This 25-Year-Old Modern Cheongsam Dressmaker Loves Her 'Old-Fashioned Auntie' Job: Hu Ruixian
BTS mask, cupholder and coin purse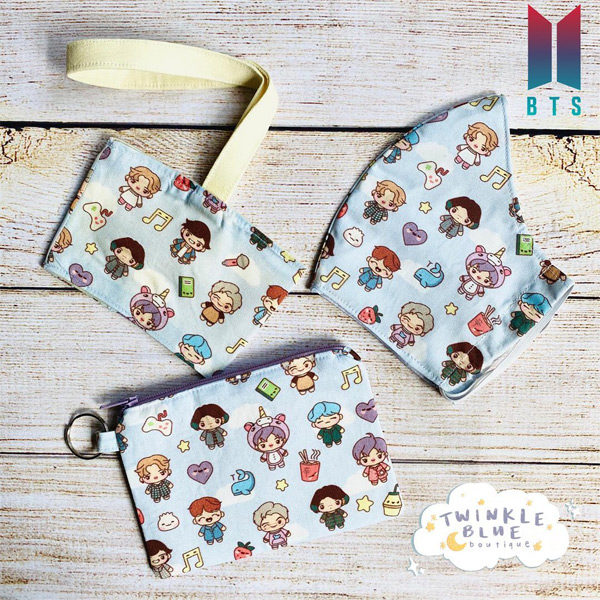 Source
For BTS fans, Joanne has also previously launched a series featuring the popular K-pop group. Made with a fabric designed by MikaBee, there are 3 items in this series; namely, a coin purse, cup holder and, of course, a Bangtan face mask.
They are currently not available on her Etsy store at the moment. However, you can send in a request for a custom order once she starts taking them in again.
Level Up Your #OOTD Game With These Cheongsam Face Masks This Coming CNY
These cheongsam face masks are a great mix of tradition and modernity. Go visiting while wearing this and you'll be sure to get the stamp of approval from your ah-ma and aunties. 
They are currently sold out on Joanne's Etsy store, TwinkleBlueBoutique. Her next drop will be happening on 22 November 2020 at 6pm EST (ie. 23 November 2020 at 7am SGT). While shipping to Singapore, you can try contacting her via her Etsy page to enquire about available delivery options. In the meantime, stay tuned to her Instagram page for more updates.
Also read:
5 Easy Ways To Upgrade Your CNY #OOTD IG Shots At Common HDB Spots